Edited Press Release
Wellington, FL – February 18, 2022 – The 2022 Winter Equestrian Festival (WEF) continued on Friday, February 18, with international show jumping on the grass Derby Field at Equestrian Village. Out of field of 102 entries and in a California split, Ali Wolff (USA) with Blacklick Bend Farm's Casall and Karl Cook (USA) riding Fecybelle, owned by Helen Signe Ostby, came away with victory in the $37,000 Adequan® WEF Challenge Cup Round VI CSI3*.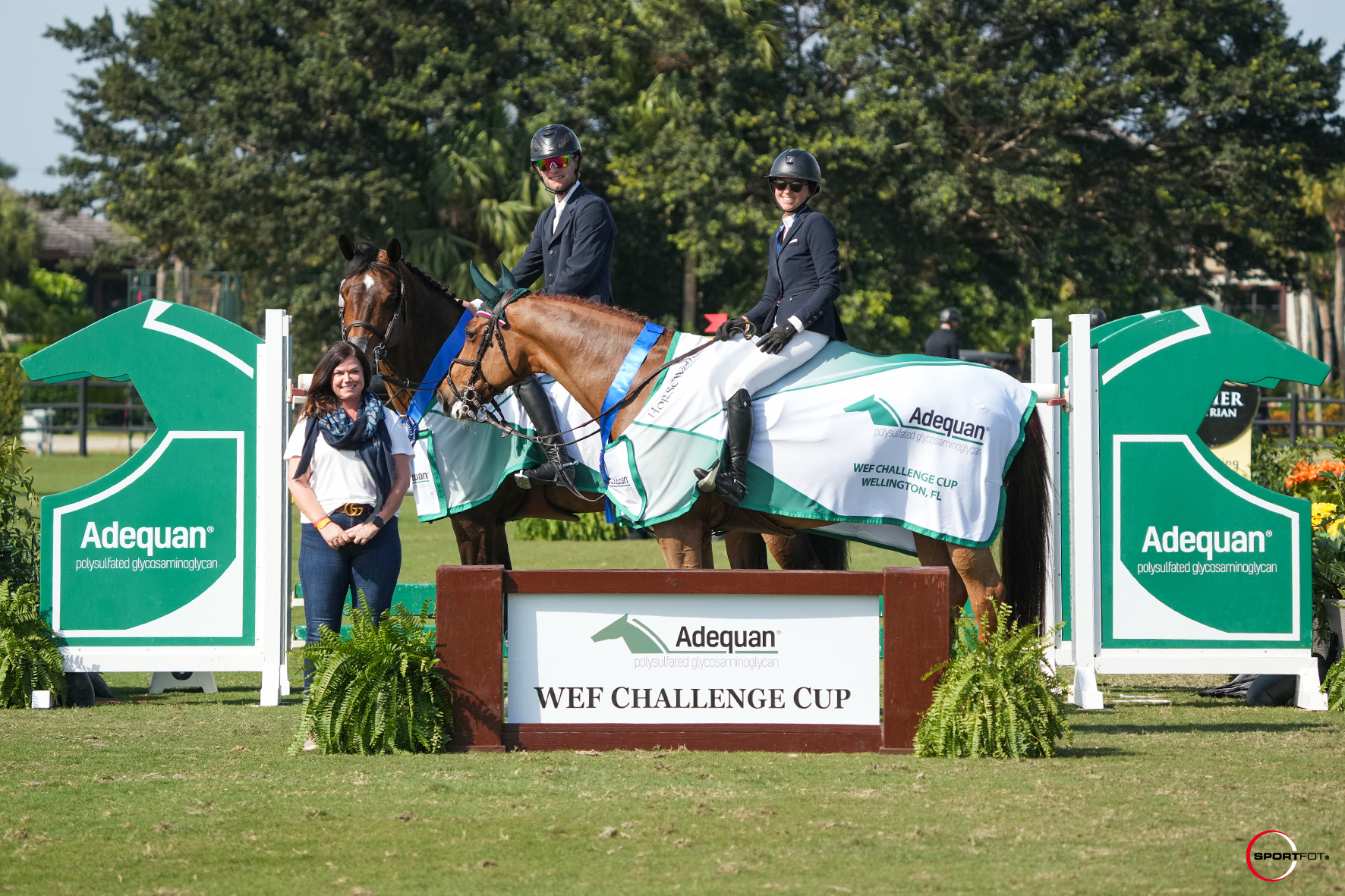 As the only class on the Derby Field on Friday, the Adequan® WEF Challenge Cup Round VI featured a challenging course from designer Ana Catalina Cruz Harris (MEX), who was able to narrow the field down to 16 for the jump-off with nine countries represented. Of those, three chose not to return.
In the fifth spot of 13 in the returning order, Cook and Fecybelle took to the field for their jump-off round. They were chasing a time of 40.52 with a clear round set by Samuel Hutton (GBR) on H&C Kirlo van den Bosrand, owned by Abdel Saïd. They finished second in Section B.
Cook was able to lower the leading time to 39.22 seconds, which would hold up for the Section B victory.
It was a welcome return to the show ring for Cook and Fecybelle, a horse he has ridden since May 2019. After the mare's injury at her first show in the winter of 2021, Cook brought her back slowly and only competed in one 1.45m class in December 2021.
"It's great to have her back," said Cook of his 12-year-old KWPN mare by Carambole x Sjapoo. "It means a lot not only for her because of how long of time she's been out, and it just feels great to have her back, but also last week with the mistake I made in the grand prix. Being able to come out this week and reset and just keep going feels good."
Cook, who is from Rancho Santa Fe, CA, almost passed on Fecybelle after seeing her on video, but after examining her show record and seeing clear round after clear round, he made the decision to buy her.
"Very quickly it started to work," he recalled. "She's like a gamer-type horse. She's not very flashy when she jumps, but she wants to go. She really understands it. It's really fun to ride when the horse understands the job, and she's so good at it."
Second to last to go in the jump-off, Wolff guided her veteran partner Casall through the jump-off to record the fastest time of 39.15 seconds for the Section A victory.
Wolff likens Casall to a "fine wine – better with age." She added, "Maybe this is entering our second prime."
Wolff, of Columbus, OH, has ridden the 17-year-old Holsteiner gelding by Casall x Capitol I since he was seven years old, and he has stepped up at various points of Wolff's show jumping career, including as an eight- and nine-year-old. Together they have scored major victories, including in the 2018 Upperville Grand Prix CSI4*, and they helped the U.S. team to victory in the 2015 FEI Nations Cup CSIO4* with two clear rounds in Coapexpan, Mexico.
"When [he was eight years old], we saw what he could really do and what he was capable of," said Wolff.
As Casall has aged, Wolff has found that the main grand prix ring at PBIEC is not as much to his liking, but the grass Derby Field was where he shined. The pair was double clear and third in the $216,000 Bainbridge Companies Grand Prix CSI4* during WEF 4.
"He loves this footing, and this footing has been fantastic," she remarked. "I decided this year I'm just going to only stay here and only jump FEI here with him. And so far, knock on wood, it has paid off for me."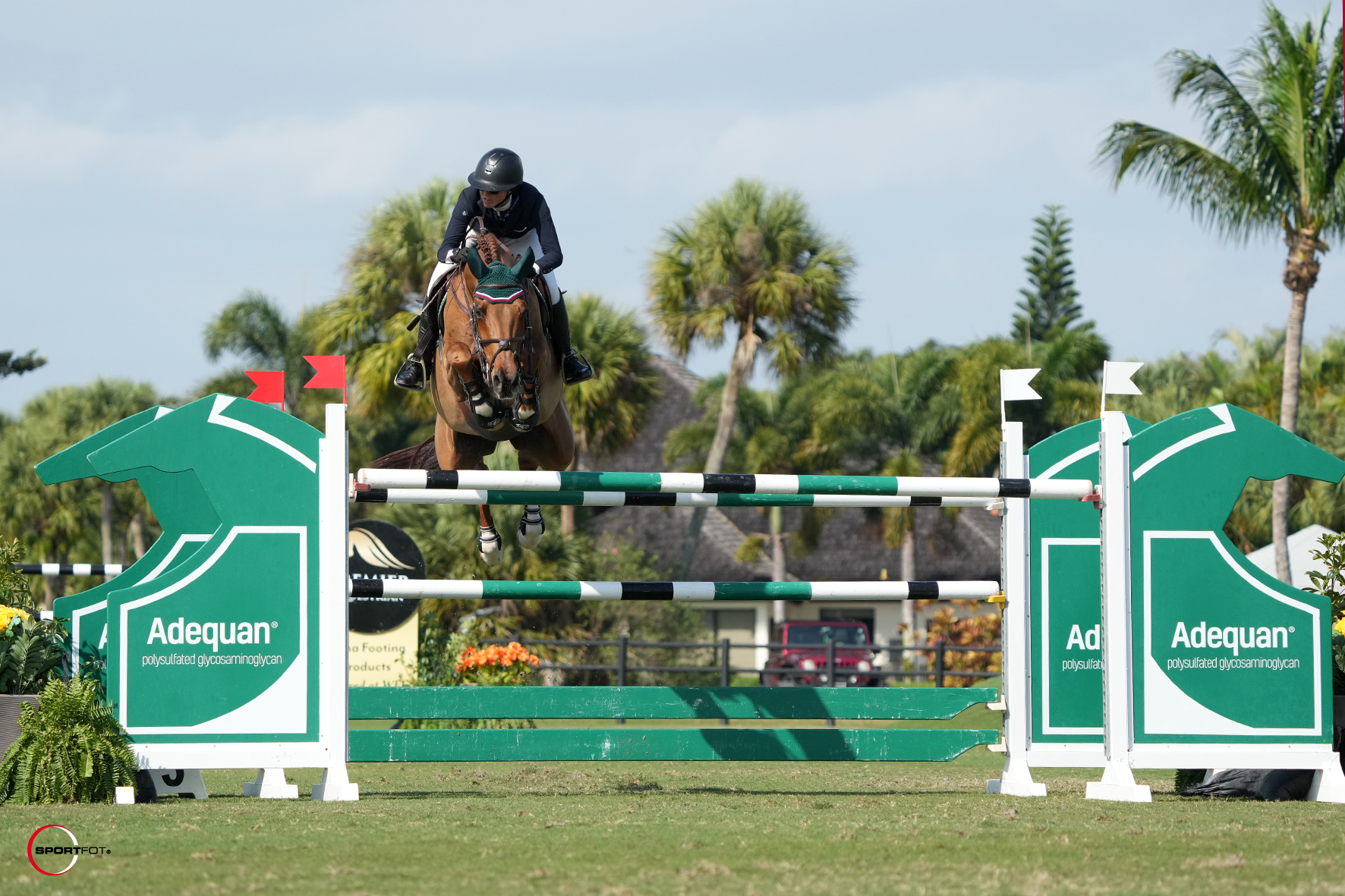 Wolff has found that the grass field opens up horses as well. "These horses get massive strides out here. This field is huge, and they get this gallop and it's like a 14-foot stride," she said.
As for Casall's signature incredible jumping style, Wolff has adjusted to it over the years.
"When he jumps well, it kind of pops into your chest a little bit," she described. "He jumps the most beautiful jump, but he kind of squirrels over it a little bit too. He doesn't clear it by a lot, and he's kind of grown into that style and now he knows exactly where his feet are, exactly where he needs to pick it up. I think that's also allowed us to be a little bit quicker. Over the years, we've really tried to focus on getting quicker. We're not the fastest across the ground, and that's been our only challenge out here on the field. But when it comes turning and everything, I think that's where we can kind of catch up."
Following Wolff in second place in Section A was Beth Underhill (CAN) riding Chacco Kid Group's Chacco Kid. They were clear in 39.37 seconds. Third place went to Jonathan McCrea (USA) and Fantasy BB, owned by Windsor Show Stables, in a time of 43.48 seconds.
Hutton held onto second place in Section B, while fellow British rider Amanda Derbyshire piloted Cornwall BH, owned by Gochman Sport Horses LLC, to third place in 45.86 seconds.
Final Results: $37,000 Adequan® WEF Challenge Cup Round VI CSI3*
SECTION A
1. CASALL: 2005 Holsteiner gelding by Casall x Capitol I
ALI WOLFF (USA), Blacklick Bend Farm: 0/0/39.15
2. CHACCO KID: 2006 Oldenburg gelding by Chacco-Blue x Come On
BETH UNDERHILL (CAN), Chacco Kid Group: 0/0/39.37
3. FANTASY BB: 2010 KWPN mare by Cardento 933 x Labor's VDL Indorado
JONATHAN MC CREA (USA), Windsor Show Stables: 0/0/43.48
4. DAWA DE GREENBAY Z: 2012 Zangersheide stallion by Diarado x Schilling ET
ZOE CONTER (BEL), Stephex Stables: 0/4/40.75
5. JET BLUE: 2011 KWPN gelding by VDL Zirocco Blue
CARLY ANTHONY (USA), Portfolio Horses LLC: 0/4/42.82
6. DEZ OOKTOFF: 2008 KWPN gelding by Colandro x Lys Rouge
ROBERTO TERAN TAFUR (COL), Roberto Teran Tafur: 0/4/44.53
7. DIARADO'S FLYING DUTCHMAN: 2010 Oldenburg gelding by Diarado x Landadel
LAURA CHAPOT (USA), Laura & Mary Chapot: 0/9/53.68
8. GREAT-TIKILA J: 2011 KWPN mare by Carosso VDL x Nabab de Reve
DARRAGH KENNY (IRL), HKC Collection LLC: 0/WD
9. FREAKY LIEFHEBBER: 2010 KWPN gelding by Darco x Litho X
JACQUELINE STEFFENS (CAN), Jacqueline Steffens: 1/79.66
10. H5 CHACCO-SAN: 2011 Hanoverian gelding by Chacco-Blue x Sandro boy
CARLOS HANK GUERREIRO (MEX), H5 Sport Horses LLC: 4/74.40
11. MONACO: 2009 Holsteiner gelding by Cassini II x Contender
HARRIE SMOLDERS (NED), Evergate Stables LLC: 4/75.43
12. FARONA: 2010 KWPN mare by Baltic VDL x Lux Z
DANIEL COYLE (IRL), Ariel Grange: 4/75.82
SECTION B
1. FECYBELLE: 2010 KWPN mare by Carambole x Sjapoo
KARL COOK (USA), Helen Signe Ostby: 0/0/39.22
2. H&M KIRLO VAN DEN BOSRAND: 2010 Belgian Warmblood gelding by Cardento 933 x Utrillo vd Heffinck
SAMUEL HUTTON (GBR), Abdel Saïd: 0/0/40.52
3. CORNWALL BH: 2008 Holsteiner gelding by Con Air x Cambridge
AMANDA DERBYSHIRE (GBR), Gochman Sport Horses LLC: 0/0/45.86
4. HALITA O: 2012 KWPN mare by Eldorado vd Zeshoek x Heartbreaker
PETRONELLA ANDERSSON (SWE), Stephex Stables: 0/4/41.09
5. CHACCATARA: 2010 Oldenburg mare by Chacco-Blue x Cento
ANTONIA PETTERSSON HAGGSTROM (SWE), Abdel Saïd: 0/4/43.91
6. BOHEME DE FLEYRES: 2011 Selle Français mare by Vargas de STE Hermelle x Easy Boy
ASHLEE BOND (ISR), Ashlee Bond Show Jumping: 0/8/40.66
7. CORONADO: 2009 Holsteiner gelding by San Patrignano Cassini x Acord II
NAYEL NASSAR (EGY), Evergate Stables LLC: 0/WD
8. CHAKRA 9: 2010 Holsteiner mare by Casall x Quidam de Revel
EOIN MCMAHON (IRL), Beerbaum Stables: 0/WD
9. CARAMBA 92: 2011 Westphalian gelding by Comme Il Faut 5 x Baloubet du Rouet
RICHARD VOGEL (GER), Horse Management GMBH: 4/74.10
10. HELLCAT: 2011 Belgian Warmblood mare by Cassander van het Bremhof x Conan Z
PAUL O'SHEA (IRL), Eye Candy Jumpers: 4/75.34
11. DJANGO II: 2011 gelding by Lordano
KATIE LAURIE (AUS), Katie Laurie: 4/75.67
12. EGALINI: 2009 Anglo European gelding by Cheers Cassini x Jalisco B
EVAN COLUCCIO (USA), Hampton Green Farms LLC: 4/75.88