Edited Press Release
Thirty-six top combinations of the Amateur-Owner 3'3" division decided to try their luck under the lights as Friday concluded at WEF 6 with the $5,000 WCHR Amateur-Owner Hunter 3'3" Classic. The event ran as a two-round format as all competitors were asked to contest the first round, and the top 12 entries with the highest scores were invited to return. Andy Christiansen, Jr. set a flowing track to challenge the mounts.
As the first into the arena, Kelly Sims took no chances setting the tone early and went straight to the top of the leaderboard with a score of 90 aboard her own Private I. Nearing the class's first-round end, many had tried but none were able to rise to the bar that Sims had set. John Ingram and Koala put forth the closest effort and produced a round earning a score of 89, but as the second track was set it was Sims that remained on top.
The lineup changed throughout the second round and Nashville, TN, native John Ingram emerged as the victor aboard the 14-year-old Swedish Warmblood gelding Koala (Carmargue x Falma Hastak). Ingram paired his original score of 89 with an almost identical 88.5 for a total of 177.5.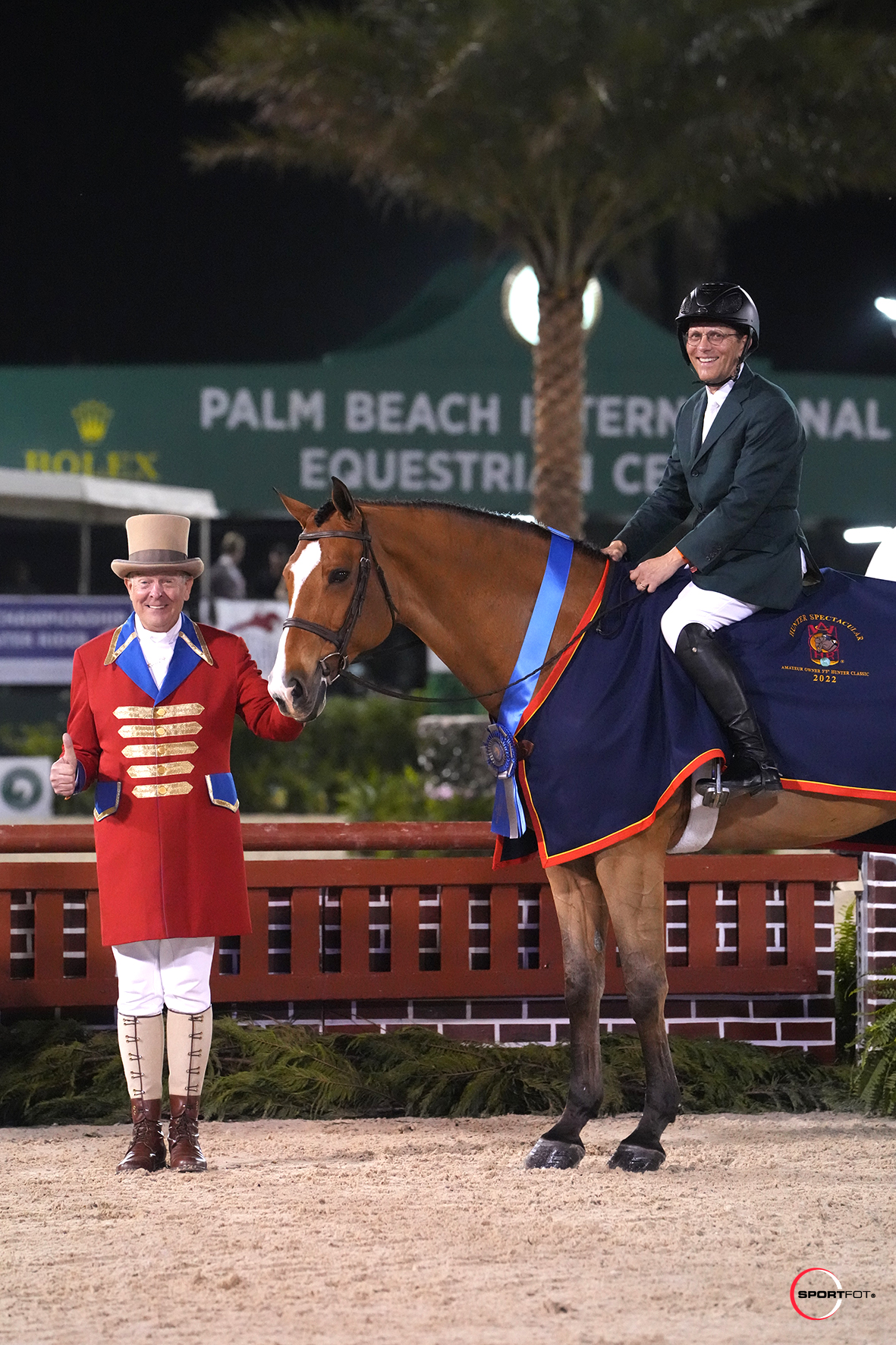 "My plan was just to go out there and do it; I knew what I wanted to do, and he was there for me, so it worked out," described Ingram. "We have had Koala for a long time, and he has always been just a good, solid guy. We have moved him down to the 3'3" due to his age, but he seems to enjoy it and he is pretty consistent. I had this feeling like this could be his week, and lo and behold it was."
Success in the class is certainly a shared family attribute as barn-mate Brad Wolf was the victor the year prior, and Ingram's own daughter, Martha, the winner two years past.
"We've got a great organization of people in our stable that really put their heart and soul in it," said Ingram. "Everyone on our team does a great job which we are very appreciative of, and they like winning as much as we do!"
The partnership of Callie Seaman, of New York City, NY, and her own 13-year-old Zangersheide gelding Prolific (Cassini II x Alette) earned the runner-up title with a second-round score of 90 and a combined overall score of 177, just half a point shy of the winning combination. Division champion of the Amateur-Owner Hunter 3'3" 36 and Over, Brad Wolf, of Memphis, TN, and his 12-year-old Holsteiner gelding Sebastian (Cancara x Luna XVII) rose to the third position on a total score of 167.