Edited Press Release
The Rosenbaum PLLC Junior Hunter 3'3" 15 & Under division was extremely competitive with a California split resulting in two champions and two reserve champions Friday at WEF 6 WCHR. In Thursday's competition in the Rost Arena, Ellie Sadrian picked up a third-place in the hack, first in the handy with an 85, and second in the second over fences class with a score of 87 with Wonderous, her 10-year-old Warmblood gelding. Sadrian really brought the heat on Thursday picking up a second place in the hack and a win in the second over fences class with a score of 88 with her other mount, Winterfell, an 11-year-old Warmblood mare Sadrian leases from Katherine Dewar. Coming into Friday's stake class in the International Arena, Wonderous and Winterfell were the two overall division leaders. While some minor mistakes kept them out of the ribbons Friday, their impressive results from Thursday could not be matched, making Sadrian champion of both the A section and the B section.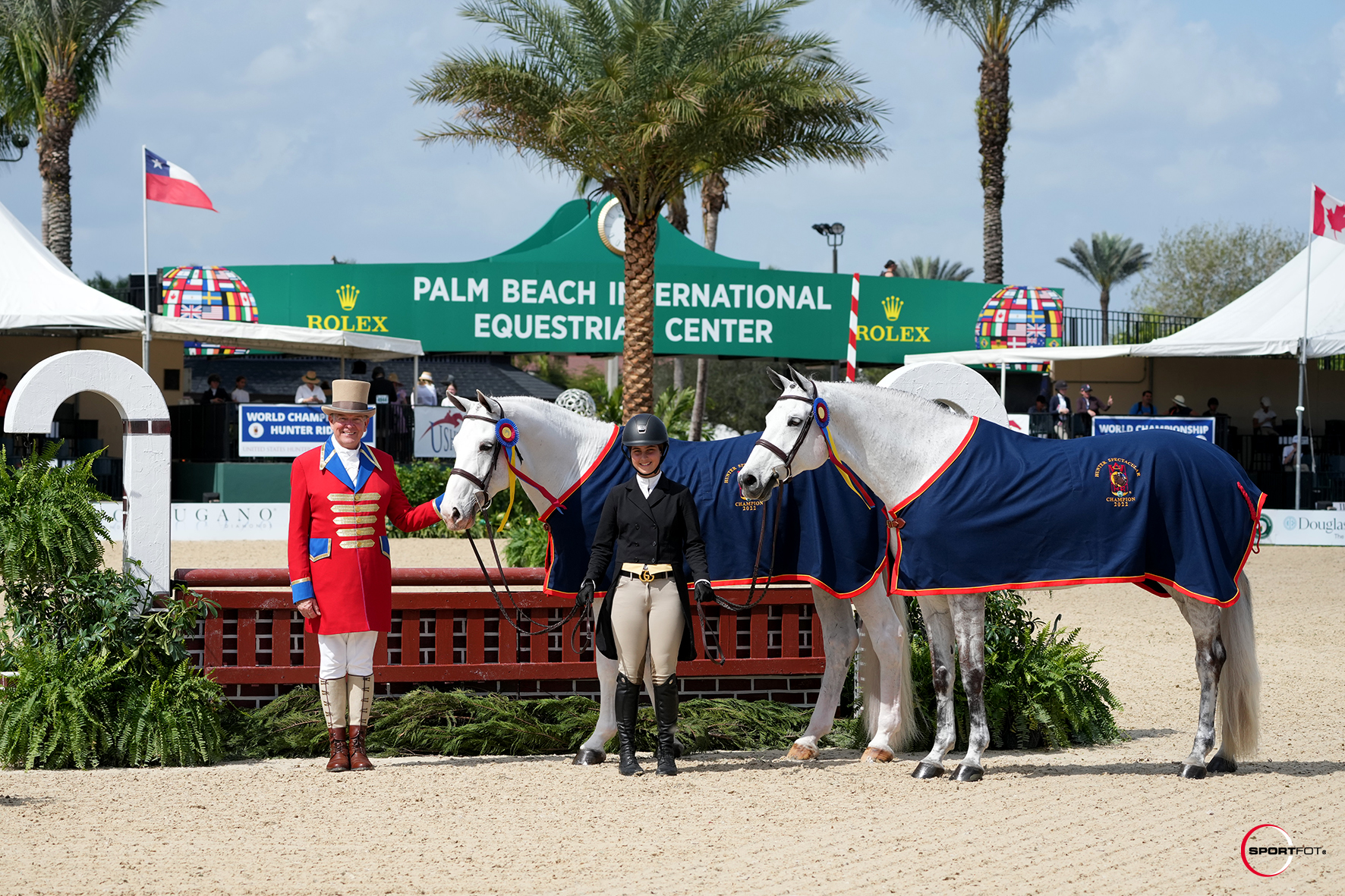 Though they are alike in color and both have sweet, outgoing personalities, Sadrian's two mounts are very different to ride. She explained, "For Wonderous, you have to really keep going, but the best thing about him is his jump. I love his jump. Winterfell's canter is so nice and it's really rhythmic, but for her you have to go as slow as possible."
Sadrian was happy with both of her horses, noting, "I think they were both really good. I made a little mistake on Wonderous in one line counting, but he still jumped so well. I was really proud of Winterfell too." Sadrian was also really appreciative of the support of her mother and trainers who were there to share in the excitement of the day.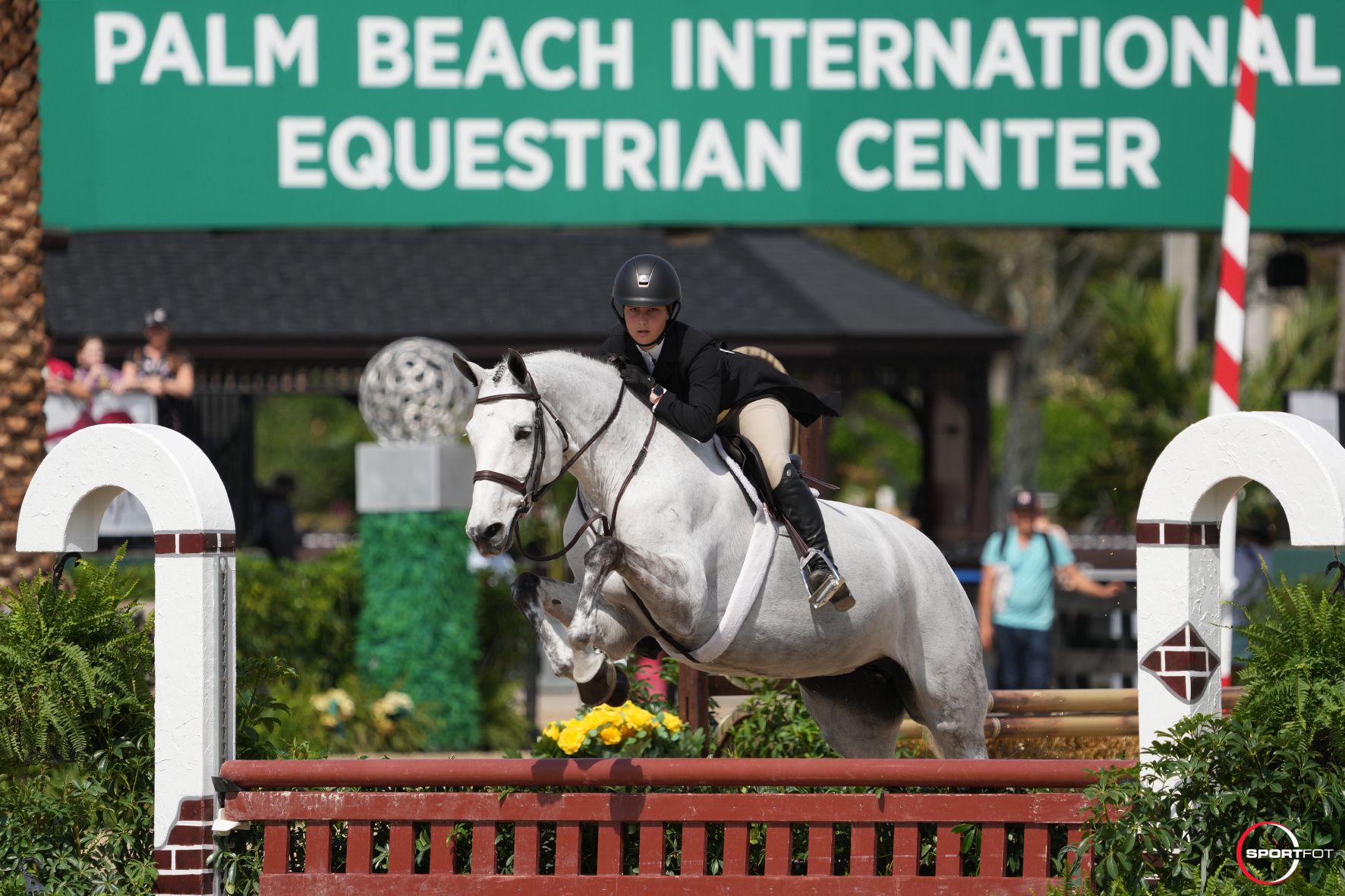 The reserve champions of the division were Hobbs Lane, ridden by Olivia Sweetnam and owned by Sunset View Farm LLC, and Dominik, ridden by Sydney Raidy and owned by Joe Currais. Sweetnam notched a win after scoring a division-high 90 over fences on Thursday, and Raidy earned a win in Friday's stake class with a score of 86.
Once again, the Sam Edelman Junior Hunter 3'3" 16-17 division also saw a California split, which led to the naming of two division champions and reserve champions. Caroline Maude Hedges normally has the ride on both of her horses Fedor and Speak Up for this division, but a back injury last week prompted her to ask Tessa Downey to take the reins this week. Downey sat on both horses for the first time on Wednesday, but by Thursday's competition she was ready to rumble. Downey kicked off the division by strutting to a one-two finish in the under saddle class with Speak Up and Fedor respectively. She was just as sharp over fences, picking up two more wins with Speak Up, scoring an 86.5 and then an 89 in the handy class. Fedor scored an 84.5 in the handy for a second-place finish.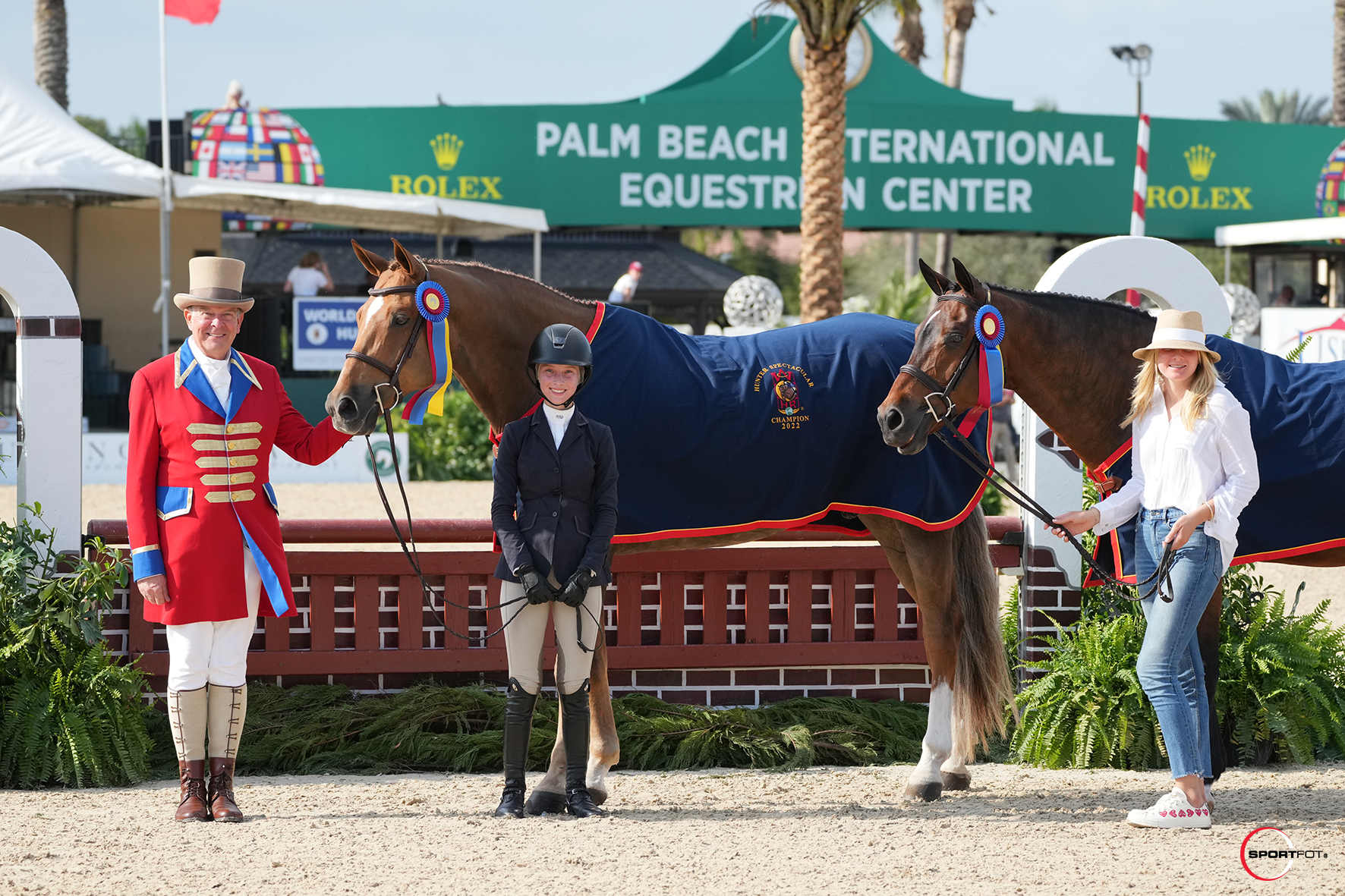 Having already sealed the deal with Speak Up for the overall title on Thursday, Downey was able to just enjoy her round in the stake class today with her trainer telling her, "This is just for fun!" The 13-year-old Dutch Warmblood gelding by Chico's Boy lived up to his dependable reputation, scoring an 80.5 in today's stake class for a third-place finish. Downey said, "The best thing about Speak Up is that he's up for anything. You can point him at anything, and he'll get you to the other side."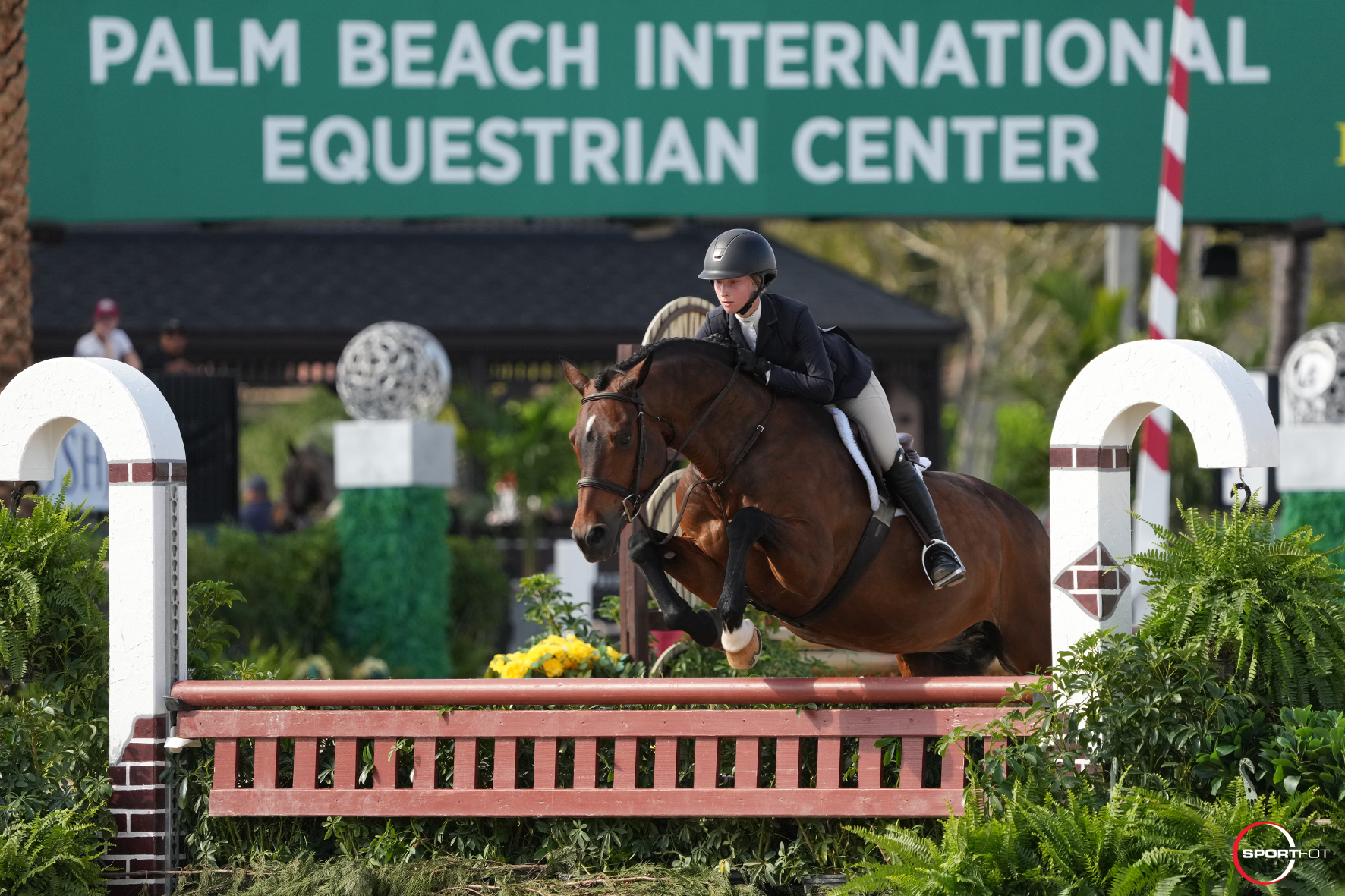 Downey's star of the day was Fedor, an 11-year-old Oldenburg gelding by Furst Romancier, who topped the stake class with a score of 87. "Fedor, especially, is just great. He just has that spark," continued Downey. "He was a bit more impressed in [the International Arena], so he jumped even better."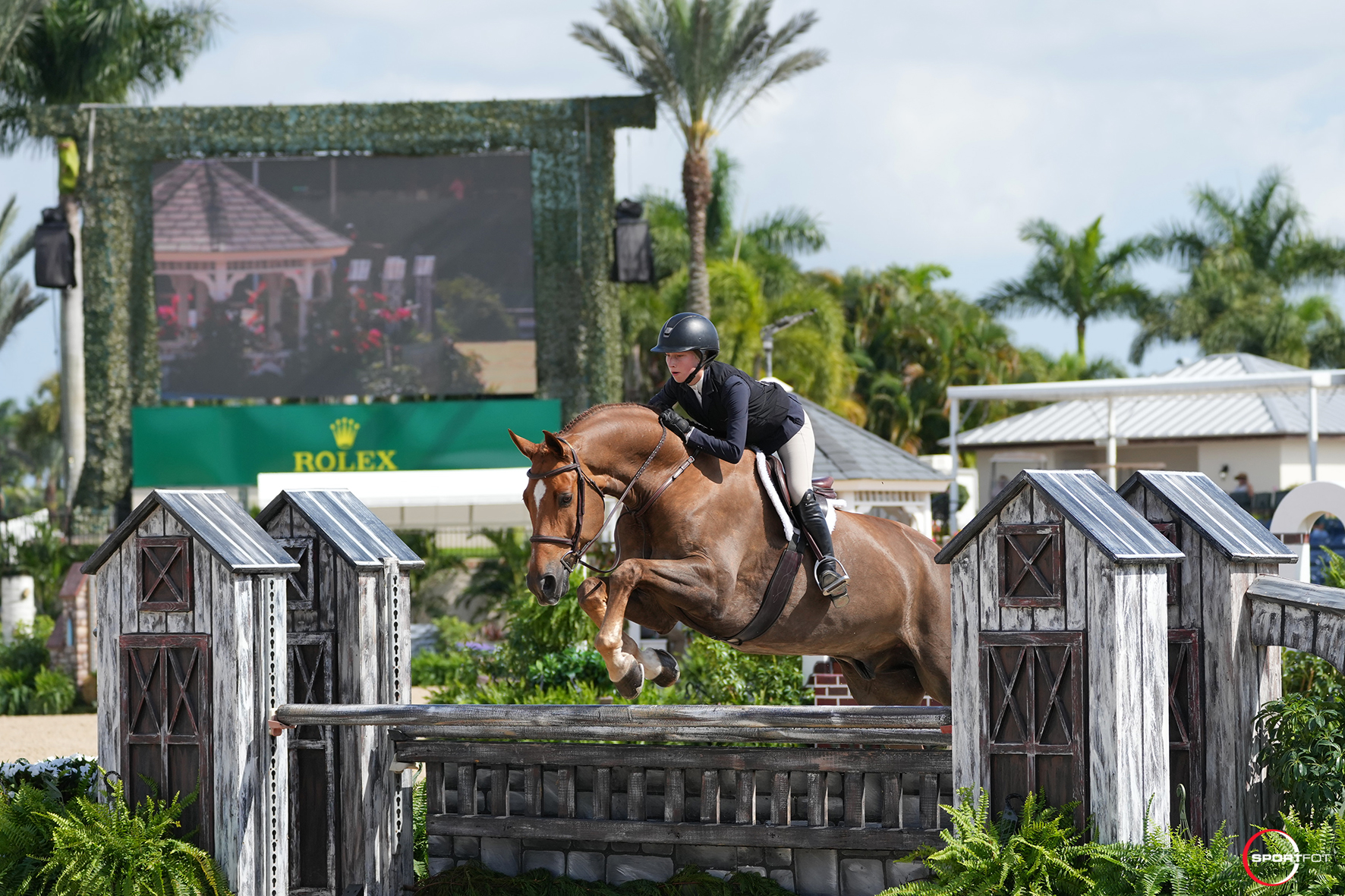 Fedor's win on Friday pushed him up the overall standings to claim the championship title in the B section of the division. The reserve champion of the A section was Topgallant, ridden by Caroline Hoover and owned by Madeleine Lohr, who won the flat class and bested the field in Thursday's over fences class with an 87. In the B section, the reserve championship honors went to Ardendelle, ridden and owned by Anna Pemble. Their solid results throughout the division were highlighted by their win on Friday with a score of 86.
Martha Ingram and Private Practice rode to yet another tricolor win after the final round of the Adequan® Amateur-Owner Hunter 3'3" 18-35 division concluded Friday afternoon. She and John and Stephanie Ingram, LLC's well-established gelding successfully landed top three placings over the entire division after picking up a first, two seconds, and a third place.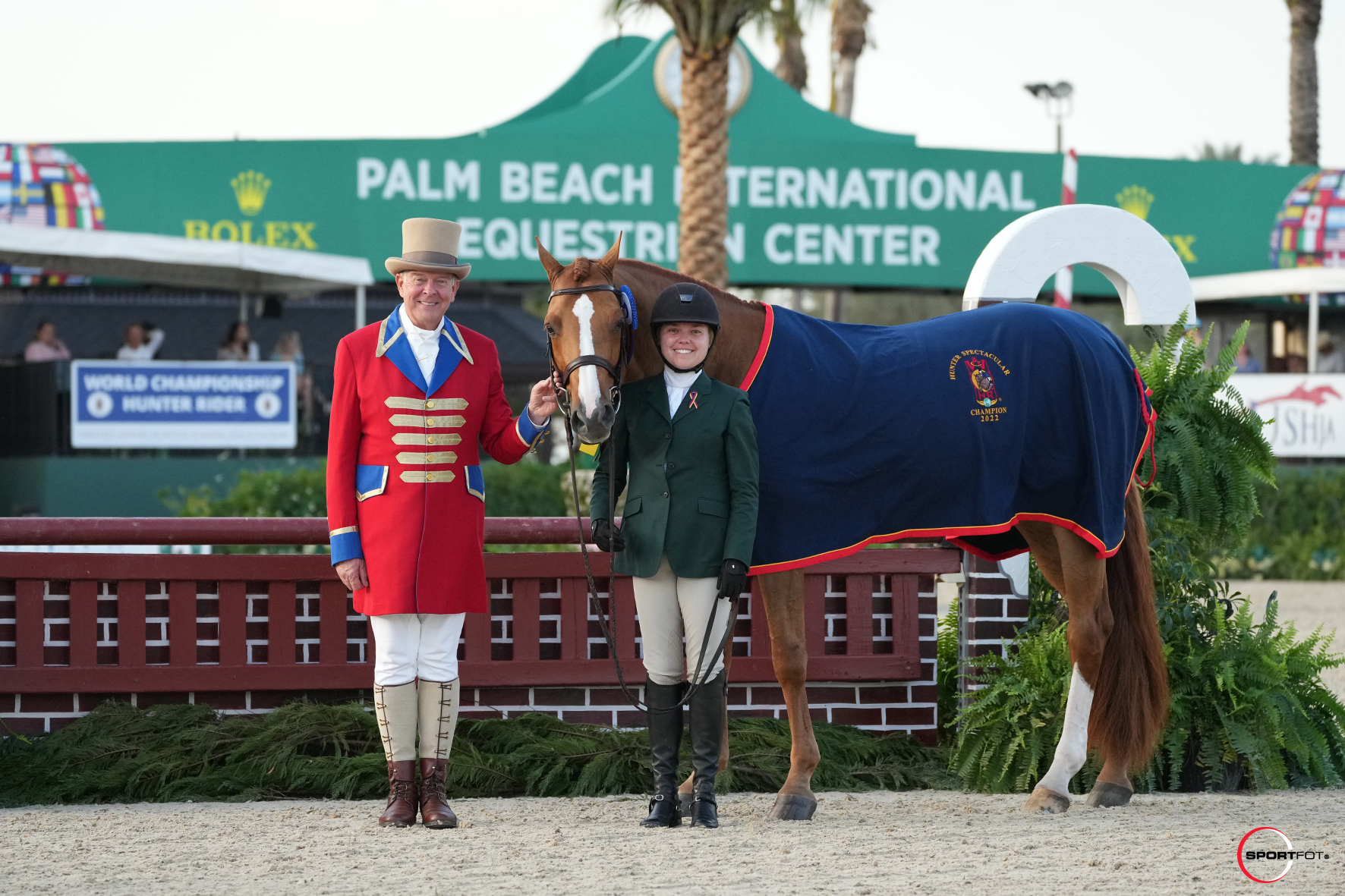 "We've had Private Practice since August of 2020," said Ingram. "Brad [Wolf] didn't really want to sell him but even he said that we were a perfect pairing, so he graciously sold him to us. He was what I consider an early birthday present, even though I got him in August and my birthday is in December."
The chestnut gelding has already established legendary status among the top hunter athletes having won many other titles before partnering with Ingram, including the 2018 USHJA International Hunter Derby Championship and the 2020 USHJA/WCHR Peter Wetherill Palm Beach Hunter Spectacular.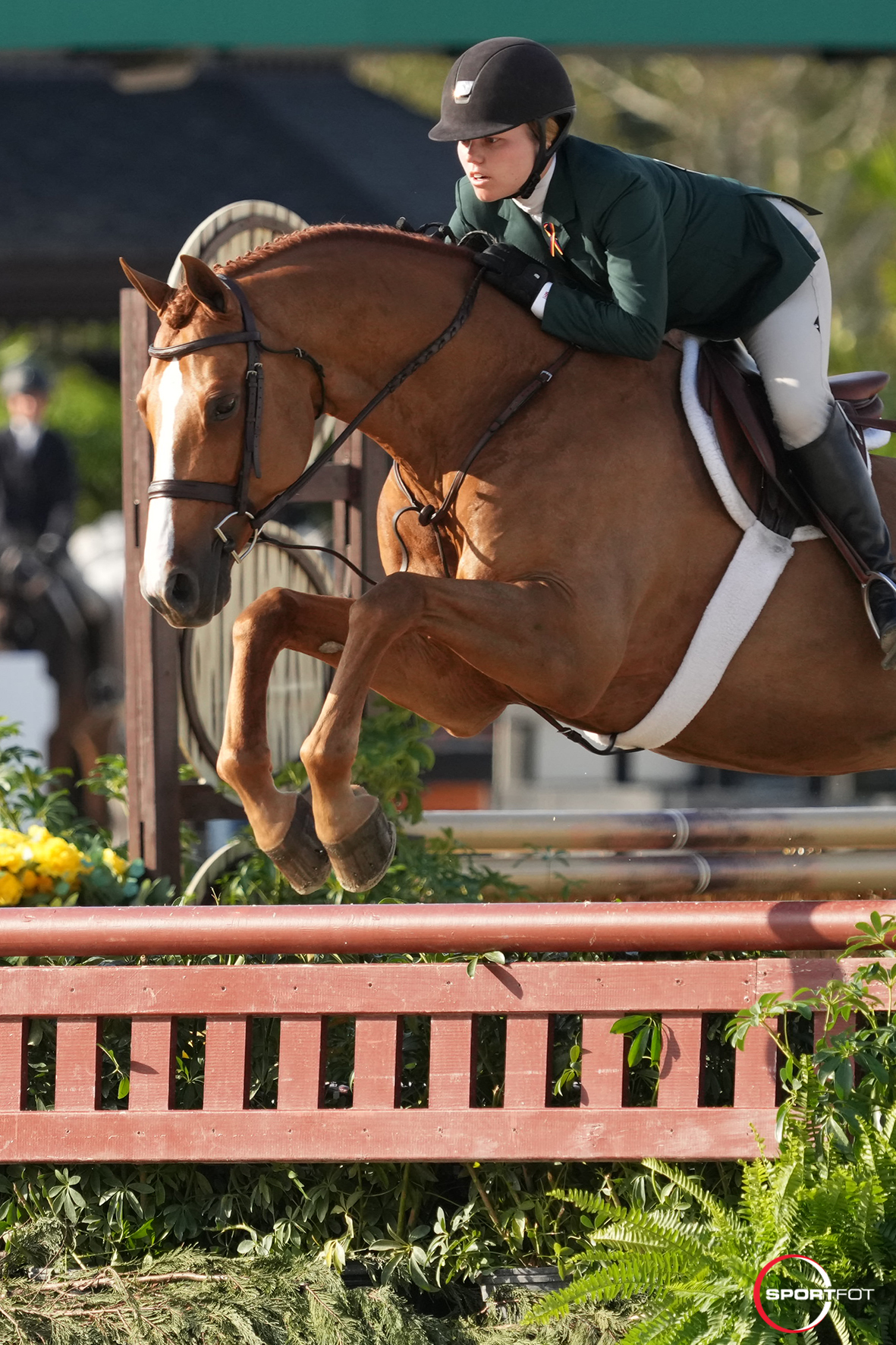 "He just loves his job so incredibly much," added Ingram. "He is talented, but he also enjoys what he does, and that makes the difference because they can have talent but if they don't like what they are doing they may not give it as much effort. He loves people, he loves to please, and he loves to win."
The pair will return to the International Arena for a final time of the week to contest other exhibitors in the evening's $5,000 WCHR Amateur-Owner Hunter 3'3" Classic. The reserve champion honors were received by Jamee Crawford and Legado Farms, LLC's Coldplay. First, second, and fifth places earned the pair the honors by putting them nine points below Ingram.
Ingram's barn-mate Brad Wolf picked up the championship in the Amateur-Owner 3'3" 36 and Over division aboard his own gelding Sebastian. With first, second, third, and sixth places, the duo earned 20.5 points to secure the win.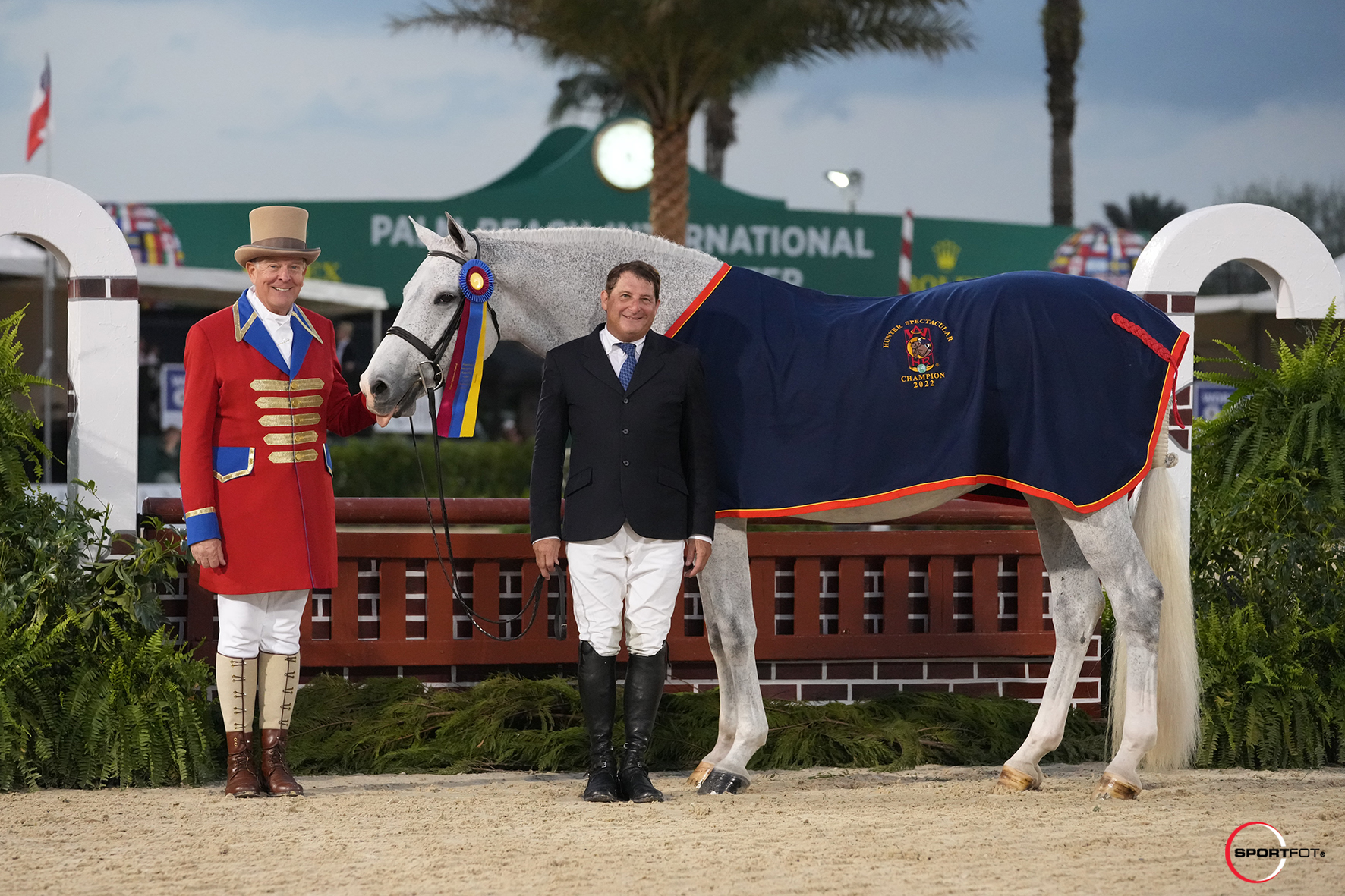 "My trainer Tom [Wright] came across Sebastian five or six years ago and told the owner that if she ever wanted to sell him, to call him," recalled Wolf. "We got that call last year because she was pregnant, and Tom told me not to even bother trying him, but to just go ahead and buy him. So I did, and I have loved him ever since!"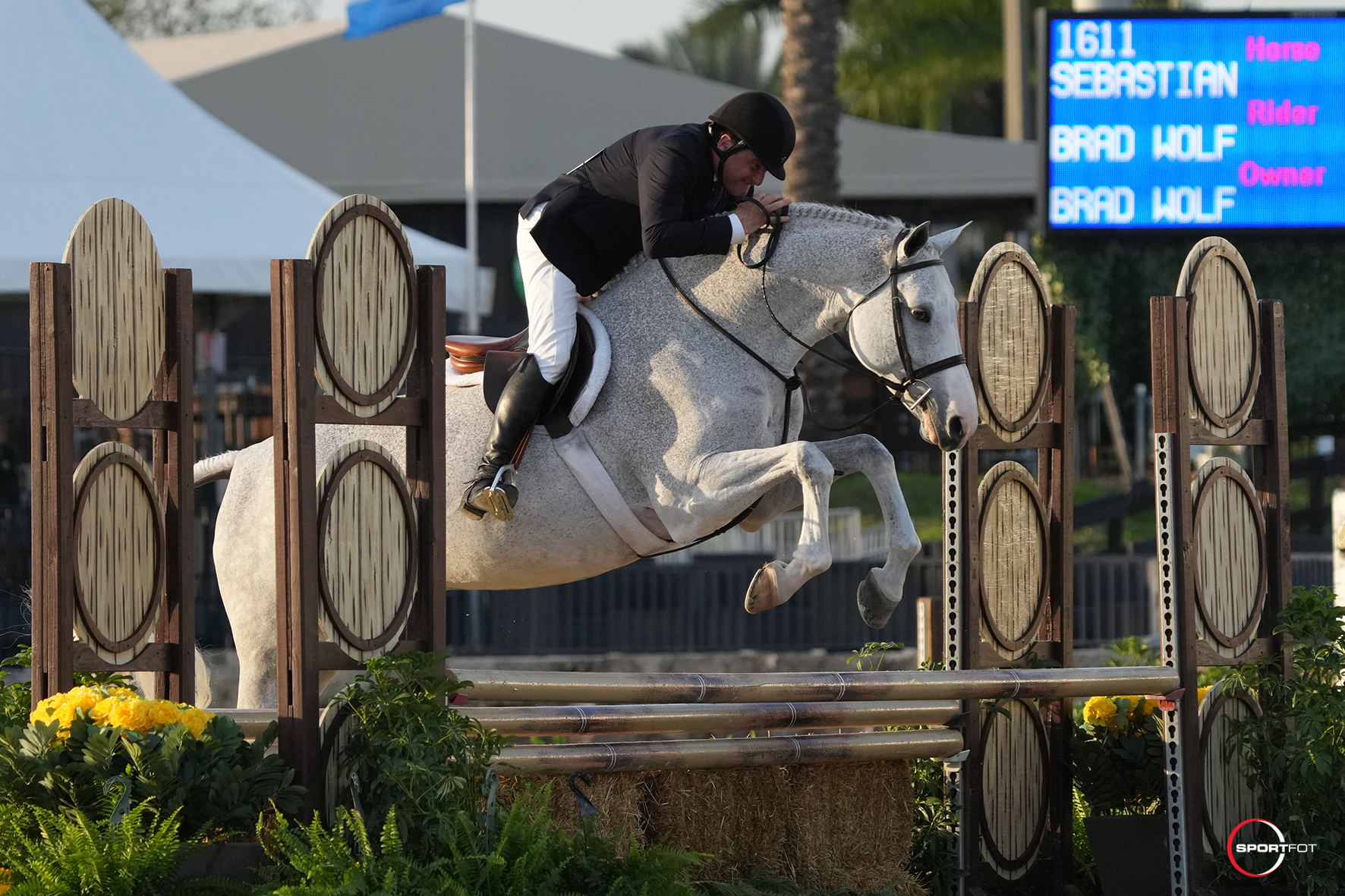 "I think our team is so successful because of two main people: Tom Wright, our trainer, and Torrey Hardison, our manager," finished Wolf. "Torrey is so good at getting the horses prepared and planning their therapies, and he is just an amazing manager. Tom is a master hunter trainer and has an incredible way about him to build up for the big classes. They are both essential to our success, as are the phenomenal horses we have."
John Ingram and his partner Koala placed as the division's reserve champions following closely behind fellow barnmate, Brad Wolf. He and John and Stephanie Ingram, LLC's gelding narrowly missed the top total of points after producing placings of first, second, and seventh.