Edited Press Release
Saturday morning of WCHR Hunter Week at WEF 6 started out in the E.R. Mische Grand Hunter Ring with the Amateur-Owner Hunter 3'6" 18-35 division sponsored by Palm Beach Equine Clinic.
After 21 entries and four classes, Quimby and Martha Ingram were named champion with 21 points, thanks to wins over fences and under saddle and a division high score of 90. Everglow ridden by Stella Propp claimed reserve with 17 points.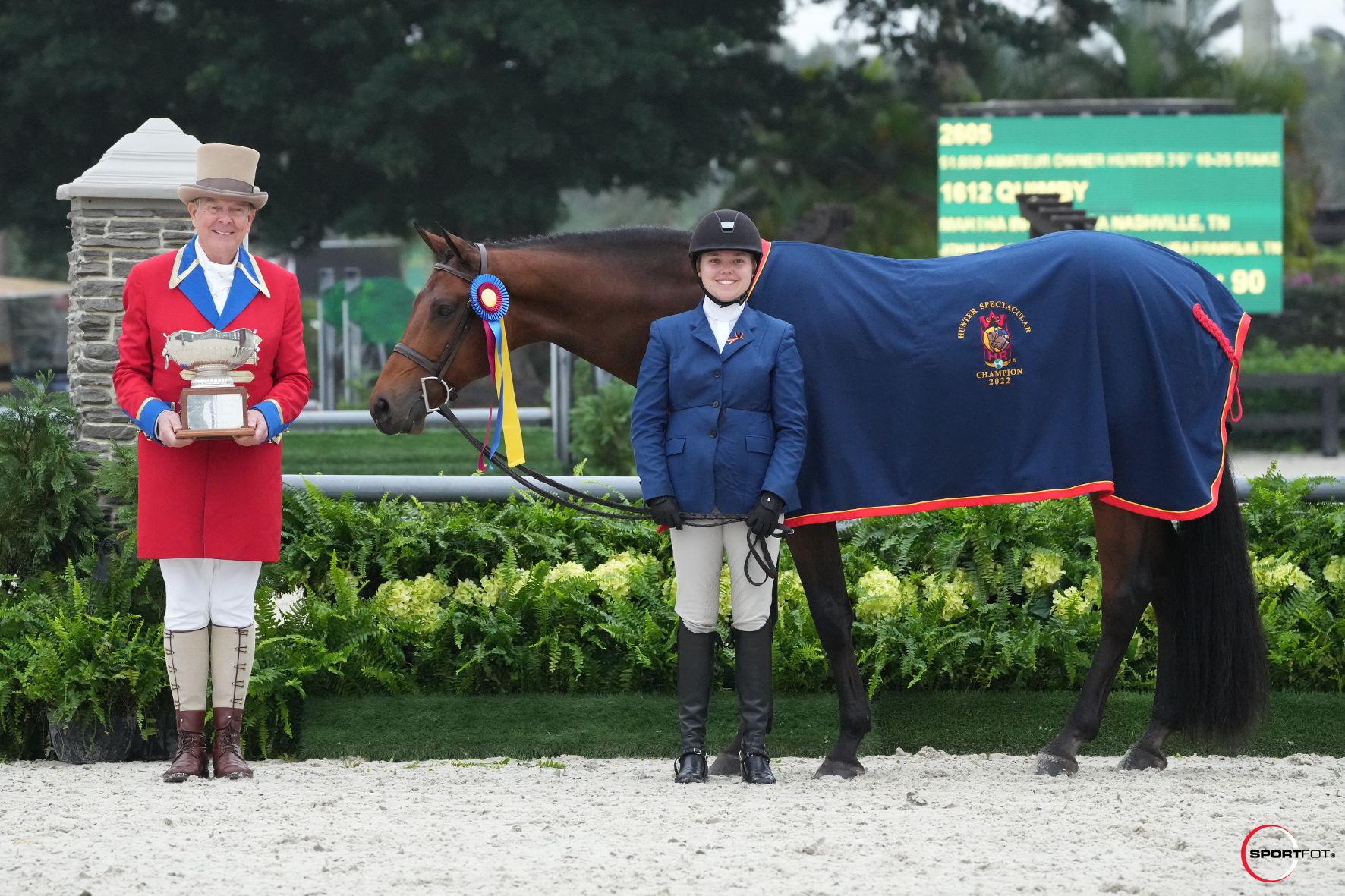 Quimby is an 11-year-old Holsteiner gelding owned by John & Stephanie Ingram, LLC.
"We just got him in December or January, but he's such a pro," said Martha Ingram. "My adrenaline kind of got me yesterday, and I didn't ride him the best that I could, so it was really nice to just go in and put down a solid round going in first today."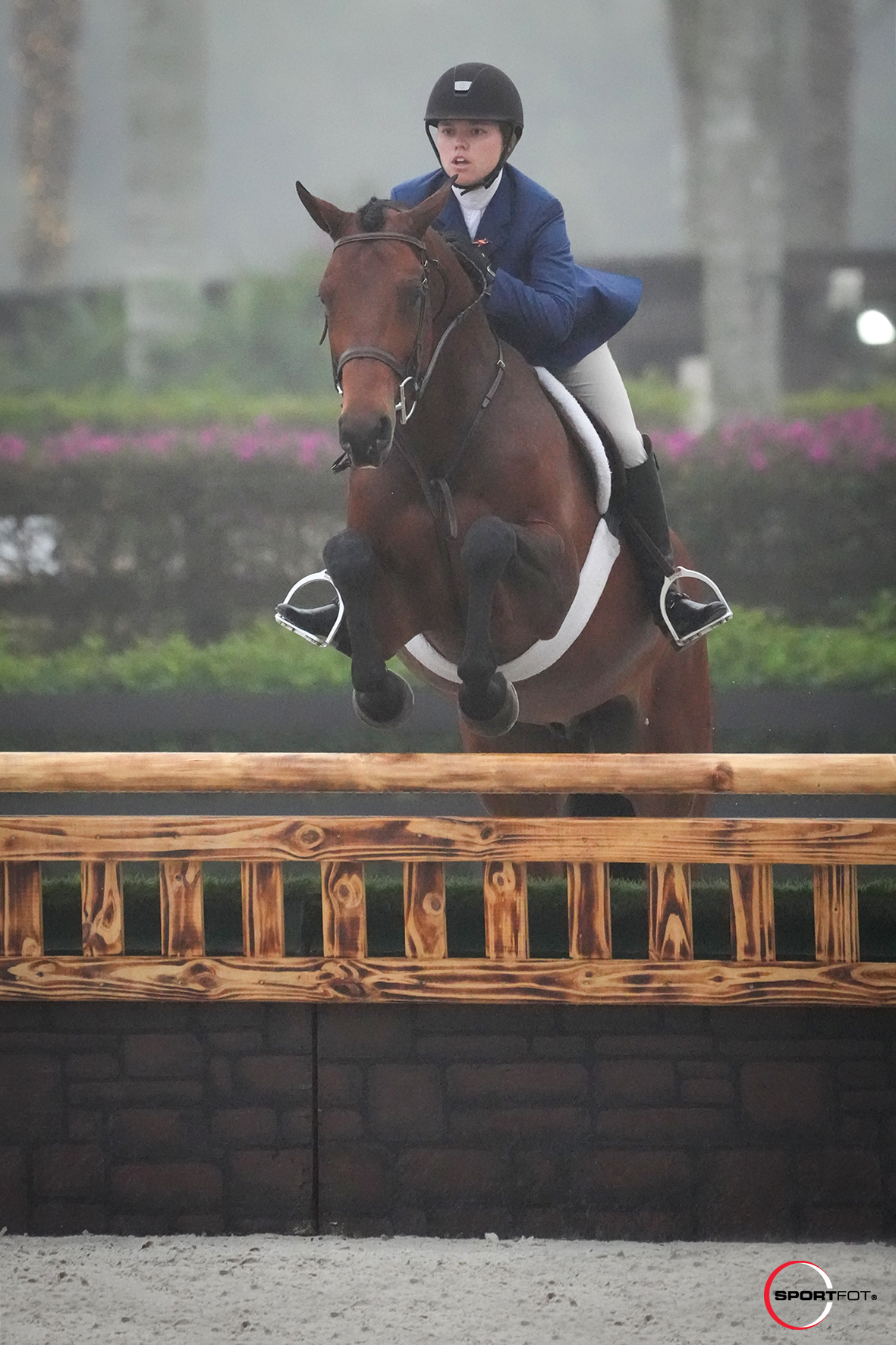 Ingram has already had a busy week earning the championship in the Adequan® Amateur-Owner 3'3" 18-35 aboard Private Practice, and with her father John Ingram coming in reserve on Koala in the NetJets Amateur-Owner 3'3" 36 and Over.
"I love hunter week," added Ingram. "It's a time the hunters at WEF really get to shine and have all the attention on them, so it's always special and one thing about the winter that we really look forward to."
Simultaneously, in the International Arena, the championship ribbon, cooler, and Later That Night Perpetual Trophy were being awarded to In Writing and Sterling Malnik.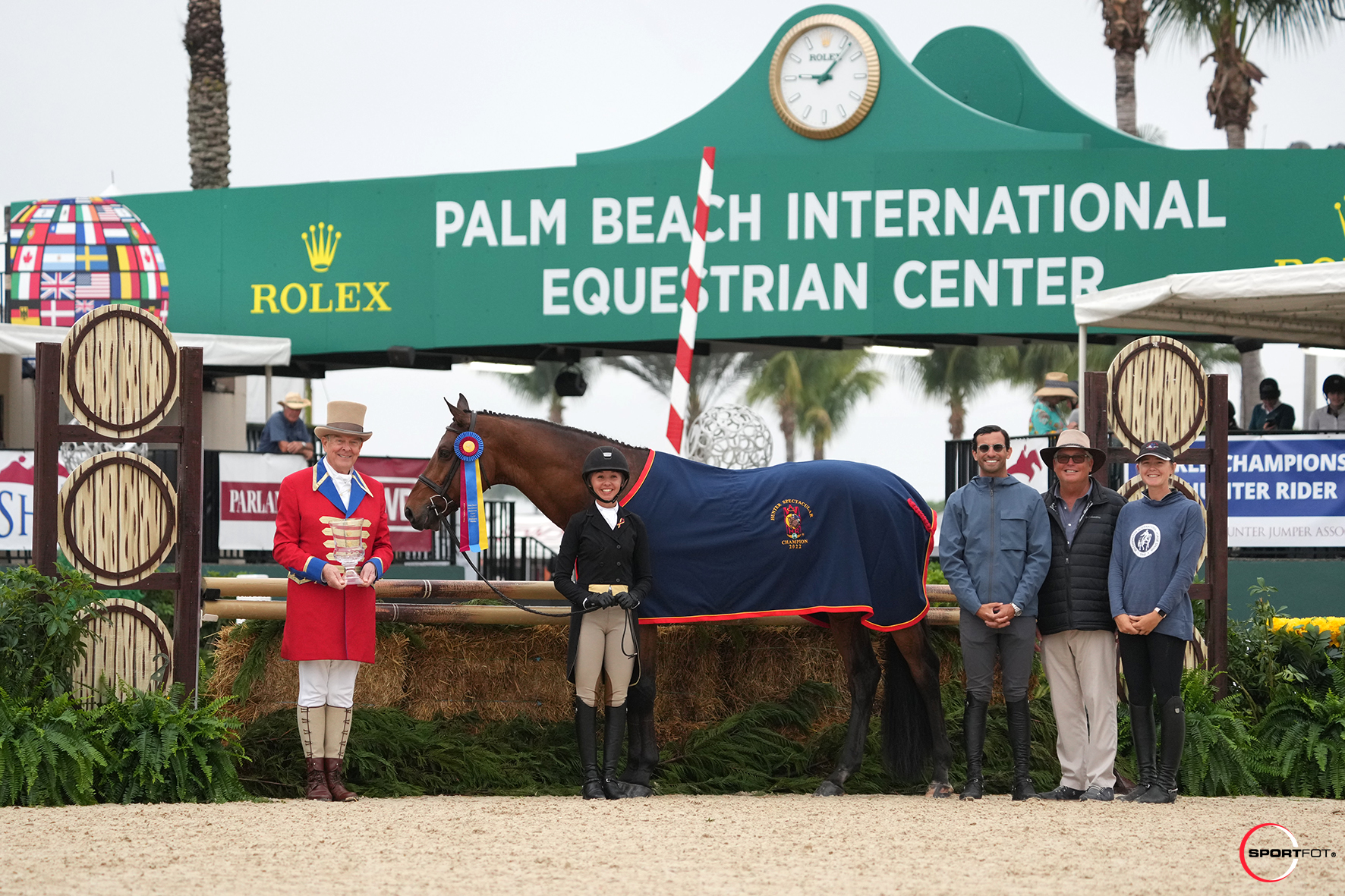 In Writing, a 13-year-old Holsteiner gelding, and owner/rider Sterling Malnik, of Ocean Ridge, FL, topped the competitive Large Junior Hunter 3'6" 15 and Under division sponsored by T&R Development. The pair earned their spot with 26 points after winning two of their classes and posting a division high score of 90 in the stake.
"I was very, very happy with how it went," said Malnik. "We did really well yesterday, so there was a little bit of pressure coming into today, but I just gave it my best ride and he couldn't have been any better. He was very focused and performed perfectly.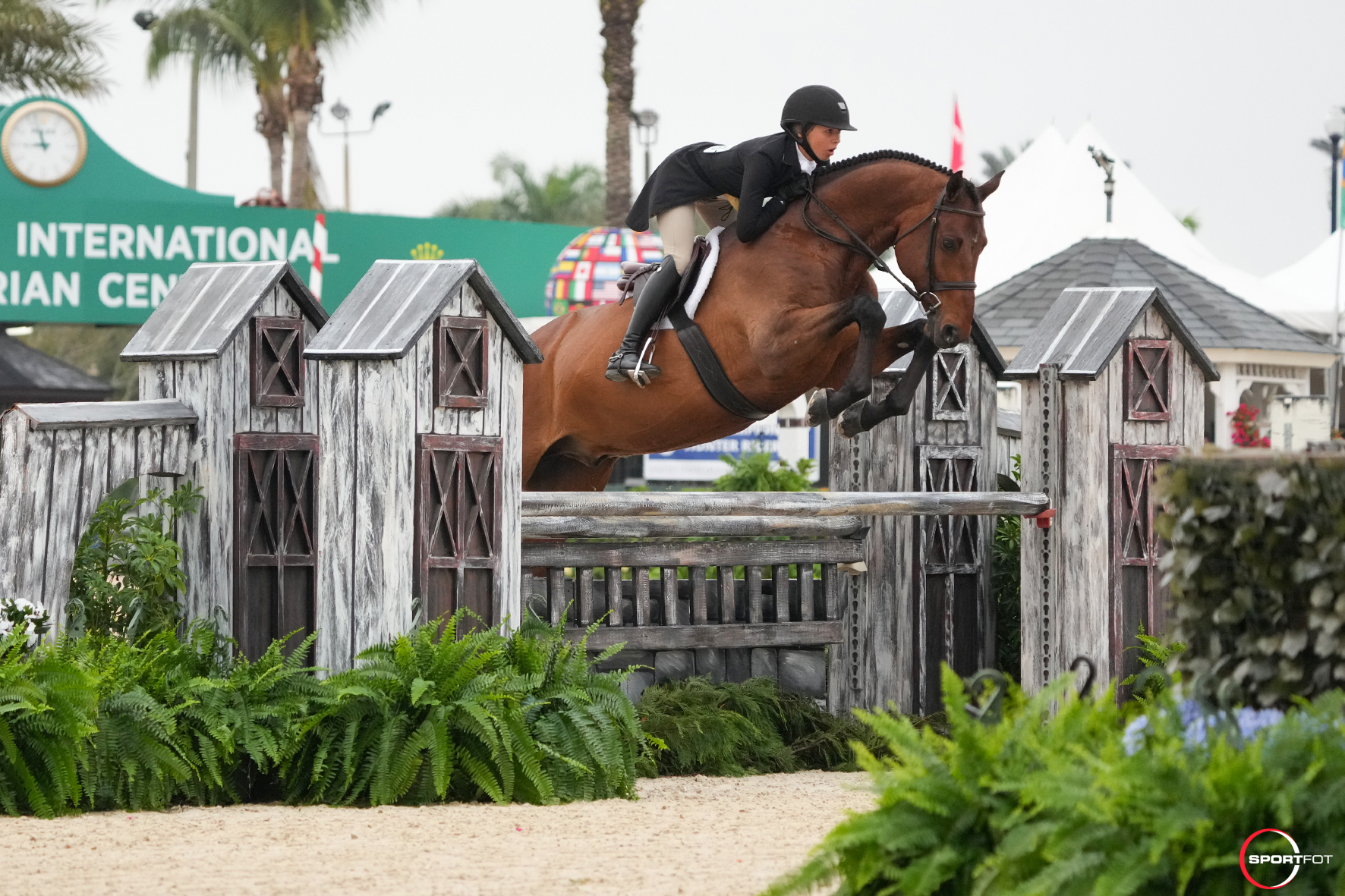 "I love hunter week," continued Malnik. "I think it's a great opportunity for the hunters to be able to show in the big ring, but it's definitely different [coming into the International Ring] because of the size, and there's a lot more to look at for the horses. I felt like he was so perfectly prepared though, so we just went in there very confidently and gave a great ride."
Reserve champion in the division was awarded to Five Star ridden by Jordan Gibbs of Colorado Springs, CO, for Dana Vollbracht.
Sterling Malnik continued her winning day with another tricolor performance, this time with Sweet Caroline in the Small Junior Hunter 15 & Under division. The division started Friday in the E.R. Mische Grand Hunter Arena where Malnik and Sweet Caroline quickly set the tone by winning the under saddle class. They went on to score a 90 over fences for another win and followed that up with an 87 in the handy class, good enough for fourth place, all of which was enough to claim the championship title.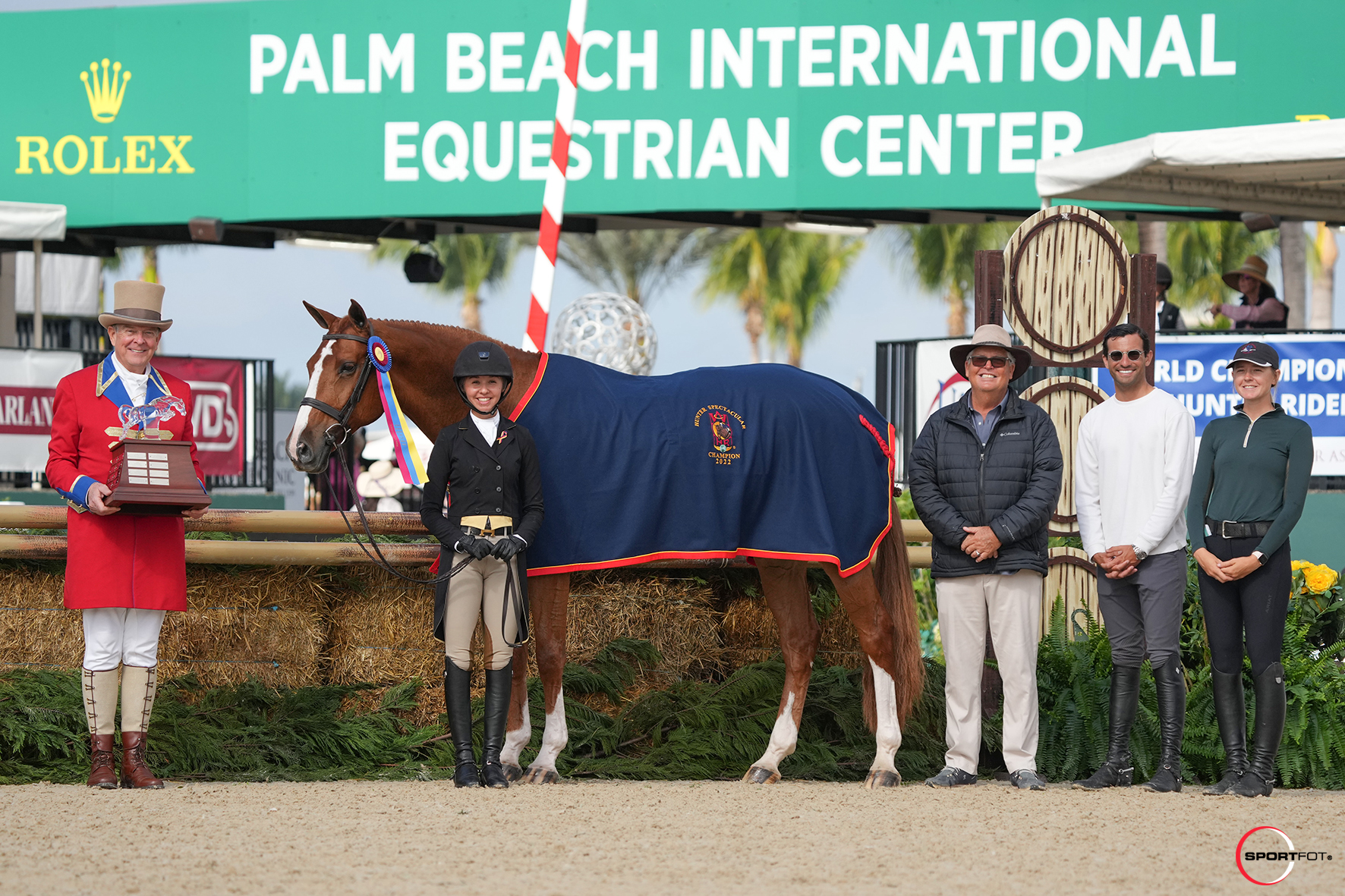 Sweet Caroline, an 11-year-old KWPN mare by Spartacus TN x Corland, previously had a career as a jumper and had only dabbled in a few hunter derbies before Malnik bought her. True to her name, the sweet, personable chestnut is now excelling as a full-time hunter.
"She's a beautiful mover, and she has an incredible jump. She has such a big heart and will jump her heart out for you every time," said Malnik. "Her brain is so good, so she's so brave. You can put her in front of anything and she'll jump it." That dependability is a confidence booster for Malnik, who made her Saturday night Hunter Spectacular debut this year.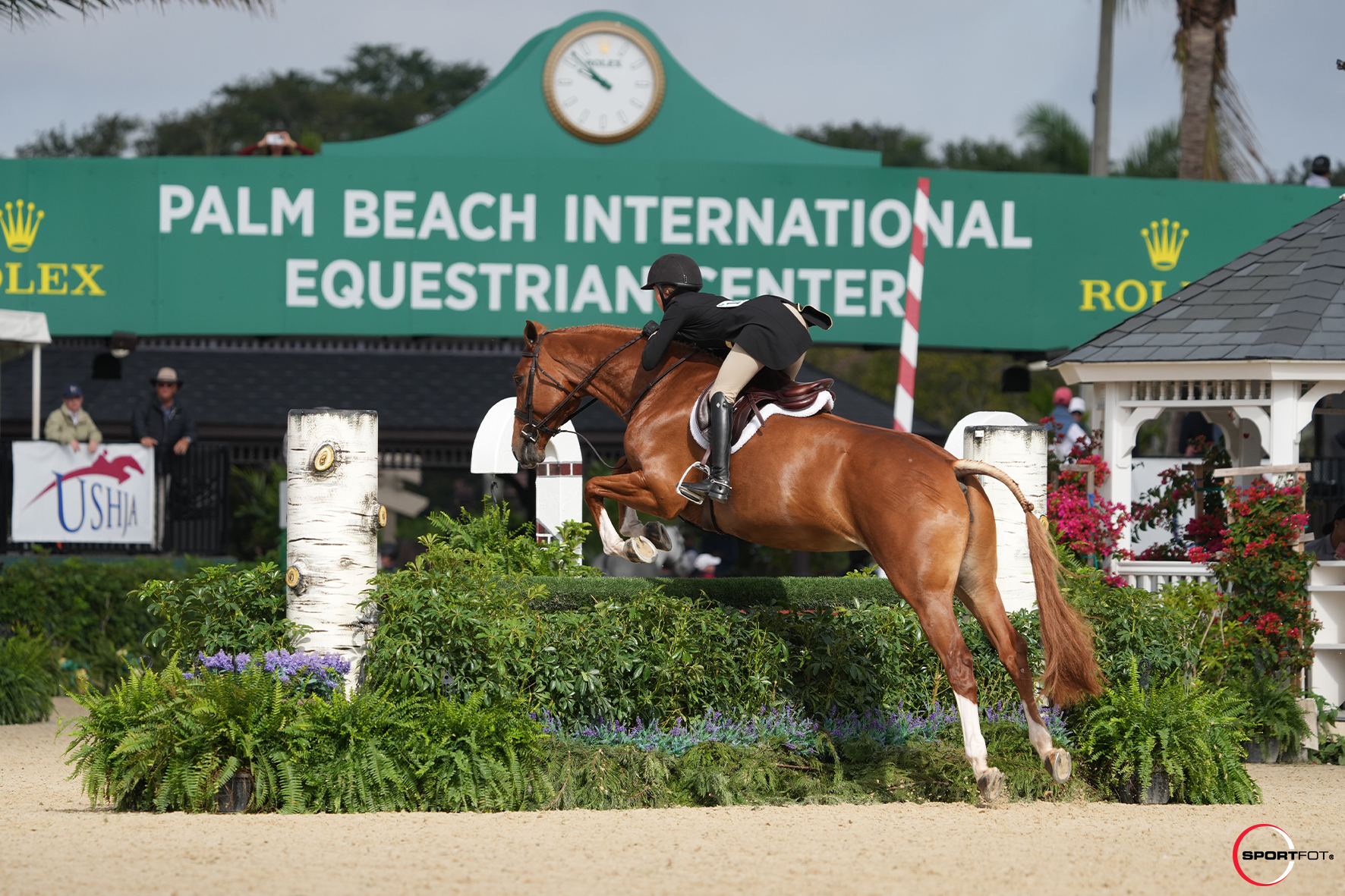 Reserve champion in the division went to Consent, ridden and owned by Kat Fuqua. They scored an 88 in Friday's over fences class for second place behind Malnik, and then scored a division-high 92 in Saturday's stake class.
Catch Me, a 15-year-old Holsteiner gelding by Casiro I, is a super-star veteran to WCHR Week at WEF, having won the Hunter Spectacular twice with Scott Stewart in 2016 and 2017. Mimi Gochman has had the ride on Catch Me now for a year with plenty of accolades of her own, adding this year's championship in the Voltaire Design-sponsored Large Junior Hunter 16-17 division to the list. Her newer mount, Montauk, a 13-year-old Warmblood gelding, finished with the reserve championship.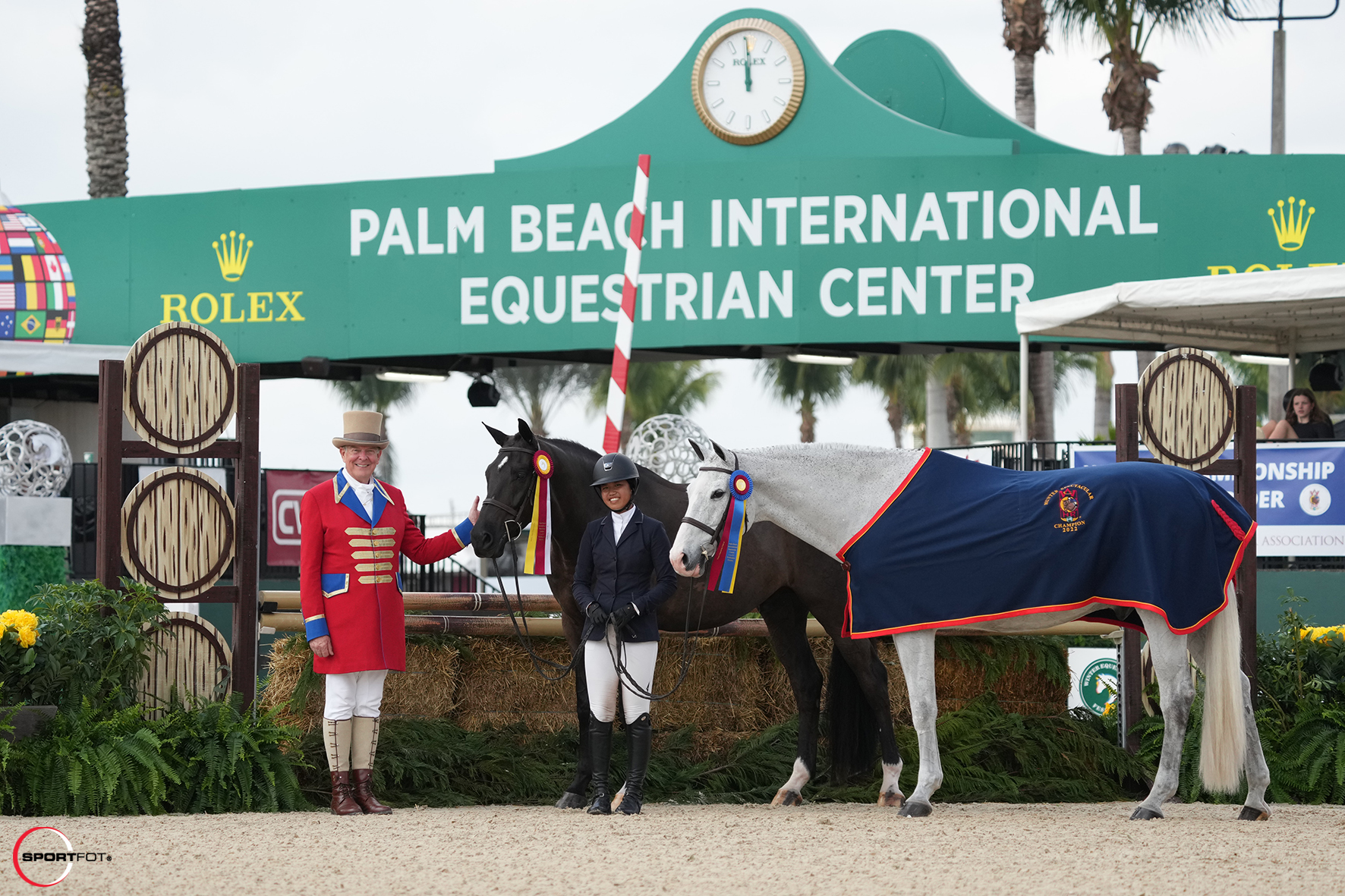 While the two geldings are different to ride, they share a lot of the same winning attributes. "They're both very competitive and level-headed, and they know it's very important, so they'll jump to the occasion too," explained Gochman. "They're both fantastic jumpers, and they both have big strides and love a big gallop."
That grandeur was on full display throughout the division. On the first day of competition, Catch Me won the under saddle, scored an 86.5 over fences for a second-place finish, and earned an 89 in the handy for another win. On Saturday, Gochman put the exclamation mark on their performance, claiming another victory with a 91 in the stake class. The only class the pair did not win in the division was won by Gochman's other mount, Montauk. With their dominant showing and highest overall point total, Gochman and Catch Me were awarded with the Grand Junior Hunter Championship in addition to the division title.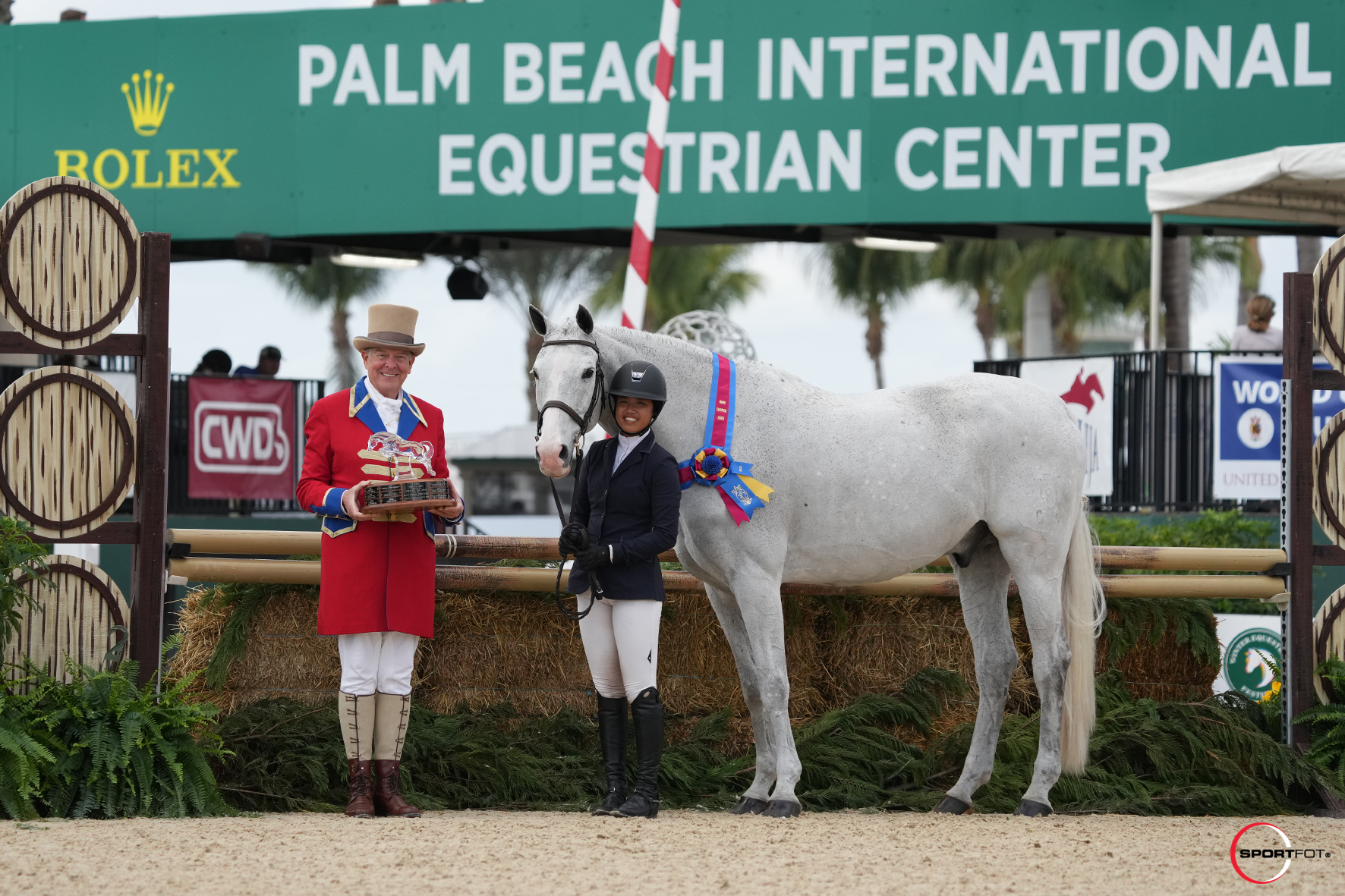 Augusta Iwasaki picked up the reins on the catch ride Bettina, owned by Glen Eden LLC, just a couple weeks ago. Though it was only their second show together, Iwasaki and Bettina, an eight-year-old KWPN mare by Entertainer, made it a winning one with the championship in the Acute Plus Small Junior Hunter 16-17 division. They notched a victory on the first day of competition over fences with a score of 86 and then repeated that score and result on the deciding day in the stake class. It was just enough to edge out reserve champion Henry Healy and Blue Mountain LLC's Reston by one point.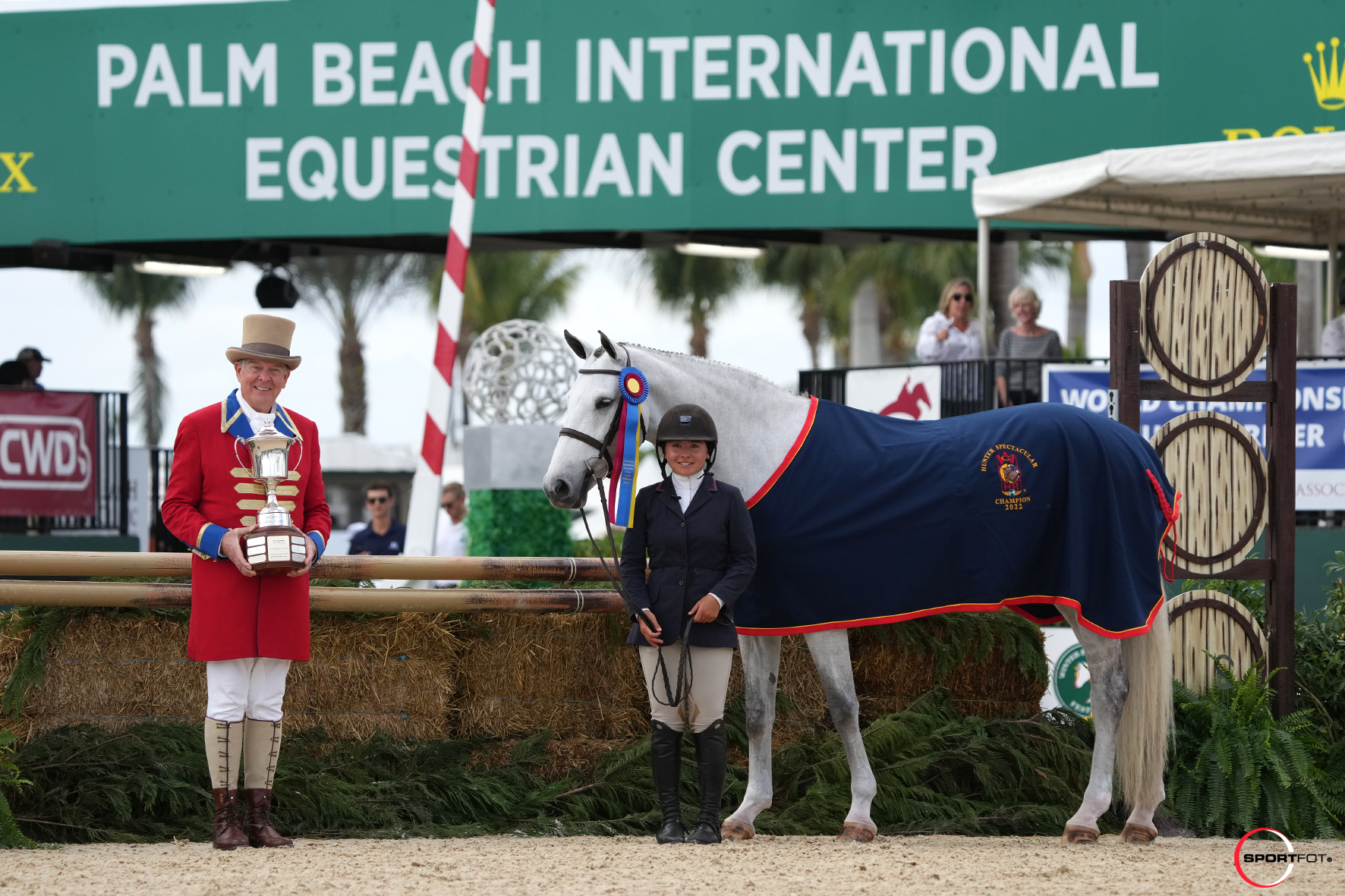 It was no surprise to Iwasaki that her wins came over fences given how the mare felt in their rounds. "She's a small horse, but she's really scopey and stridey, which I love. I think she has a really fun, round jump, and obviously the judges like it too," noted Iwasaki. "She always goes in the ring and all of her jumps are really, really beautiful and impressive."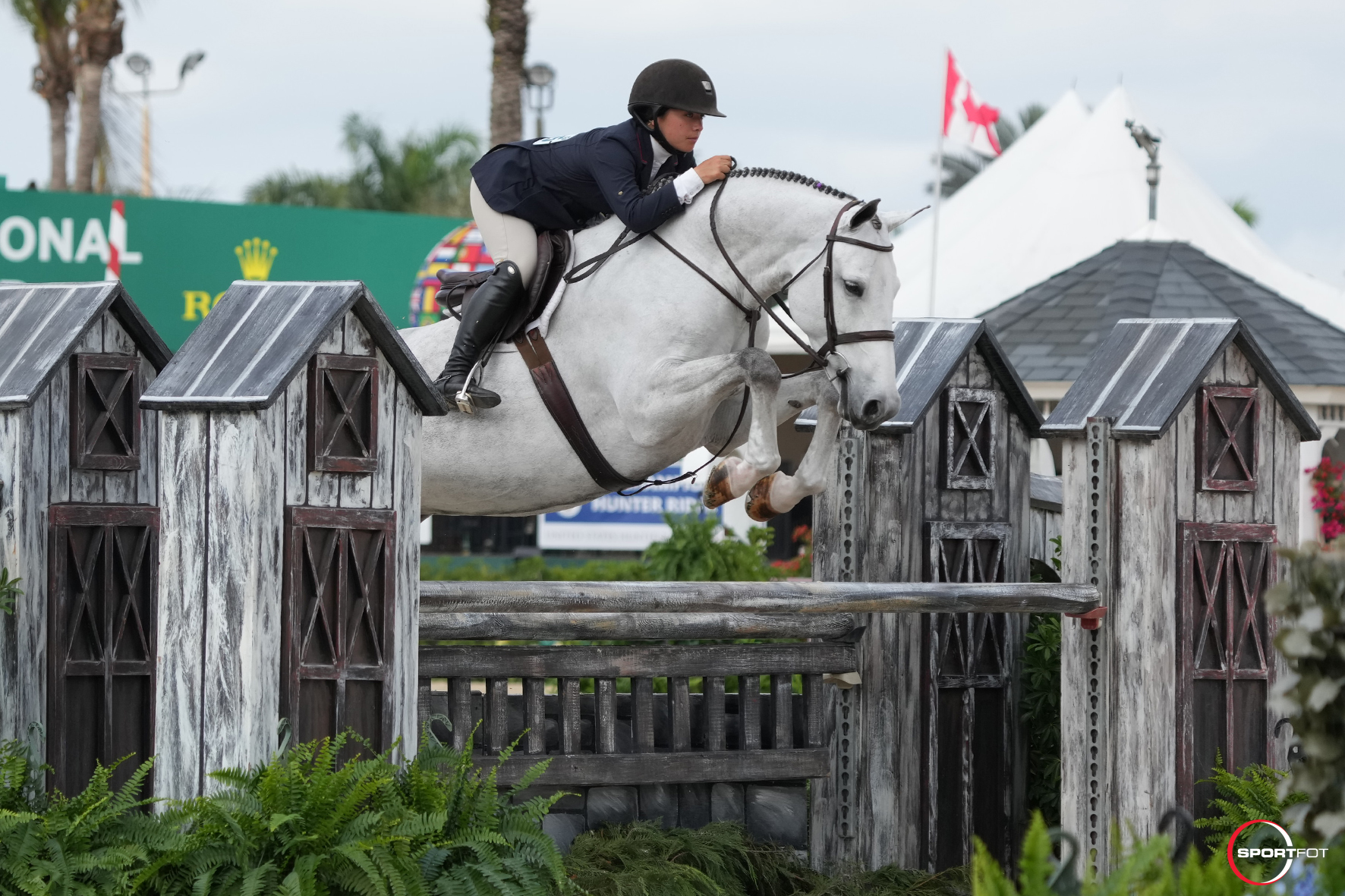 John Ingram continued his stellar week, picking up the championship cooler with Caristo in the Amateur-Owner Hunter 3'6" 36+ division, sponsored by Hunt LTD. Though a relatively new partner for Ingram, the nine-year-old Holsteiner gelding by Casall has picked up numerous tricolors already this circuit. This week, Caristo started the division on Friday with a score of 81 over fences for a second-place finish, followed by an 87 in the handy class for victory. Reflective of their consistency, Ingram was then able to guide Caristo to two more second-place ribbons, which came in the hack and the stake class after scoring an 86.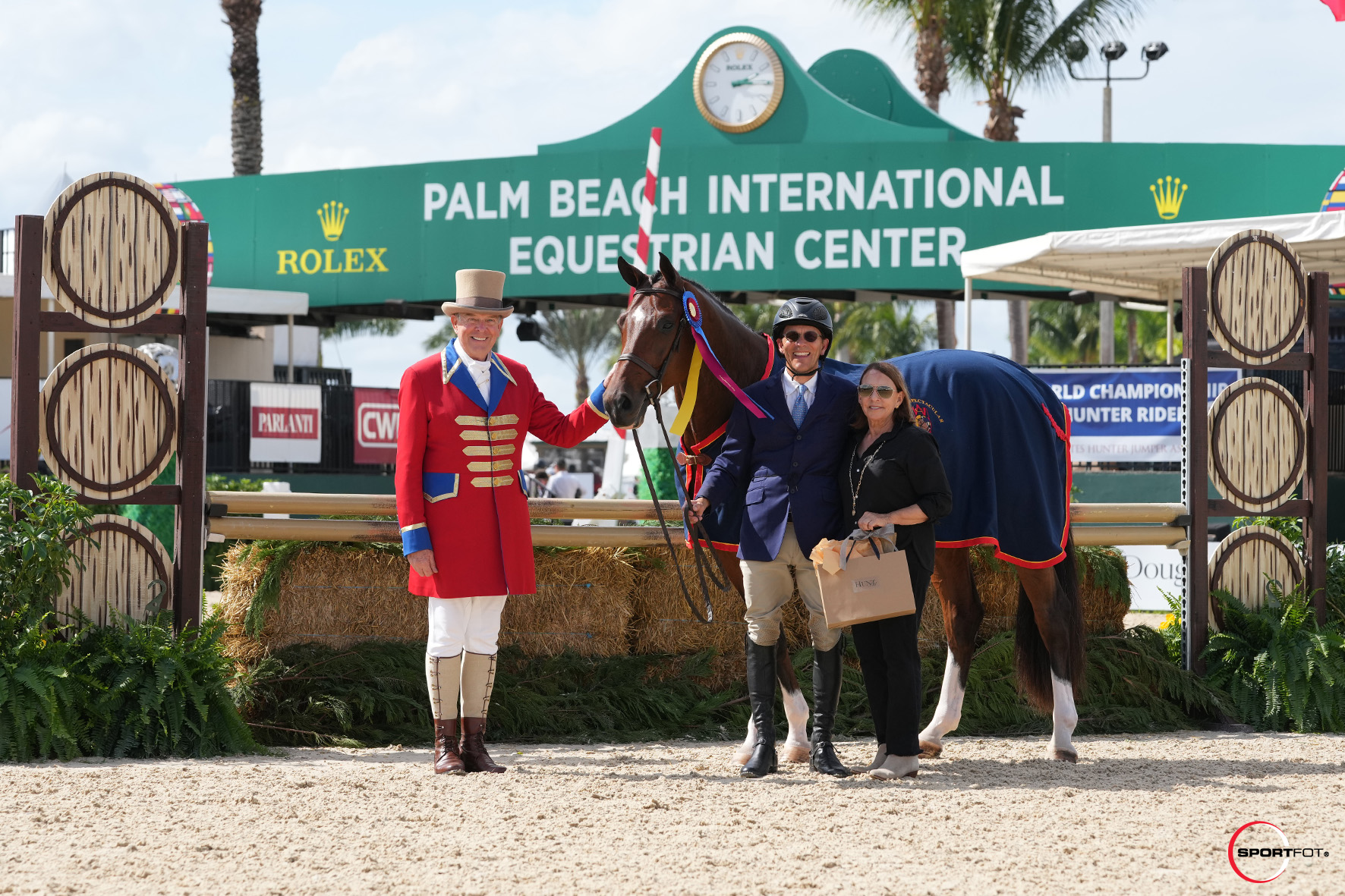 Ingram appreciates Caristo's obvious understanding of when he needs to shine. "He's a horse that when he steps in the ring, he's all business. Now, he's kind of all monkey business outside of it," mentioned Ingram with a laugh. "But once he gets in there he just gets in a beautiful canter, and it's just a pleasure."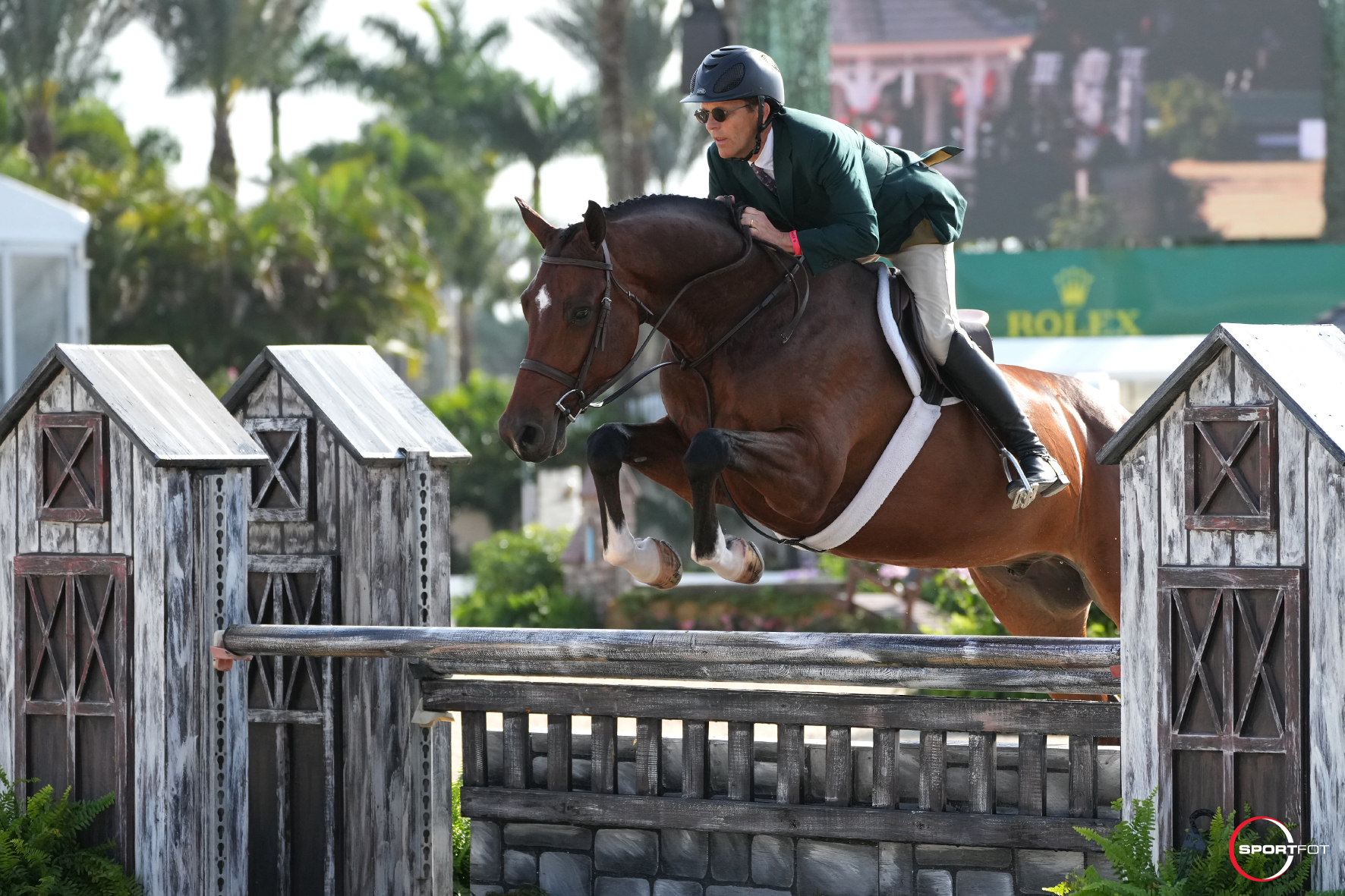 Brianne Goutal-Marteau qualified Caristo for the Hunter Spectacular earlier in the week as well, which presented Ingram with the dilemma of whether or not to show the gelding himself. "I thought, 'I'm going to flip a coin. Maybe I should just count my blessings and let her do it,'" he joked. "It really takes a village, and we have a very special village."
The reserve championship went to Verdict, ridden and owned by Jean Sheptoff, who scored a win over fences on Friday with an 85.