Edited Press Release
In another class full of talented combinations during WEF 6, it was Spencer Smith (USA) who rose to the top of the 82-horse field with Picobello Full House Ter Linden Z in the $37,000 CaptiveOne Advisors 1.50m Championship Jumper Classic. Course designer Ana Catalina Harris Cruz (MEX) winnowed down the original list to just seven to return for the jump-off on the grass Derby Field at Equestrian Village on Saturday.
"I thought the course was built properly," said Smith. "It wasn't small; it was about like the WEF [Challenge Cup] yesterday. I didn't think there would be that many clears. I knew the time was really tight, so I thought it was nicely built and made for us."
Smith was the first to return for the jump-off, and he put everyone on notice when he galloped across the field, urging his horse for speed and crossing the timers in 37.95 seconds, which would end up a full 2.71 seconds faster than the next clear competitor.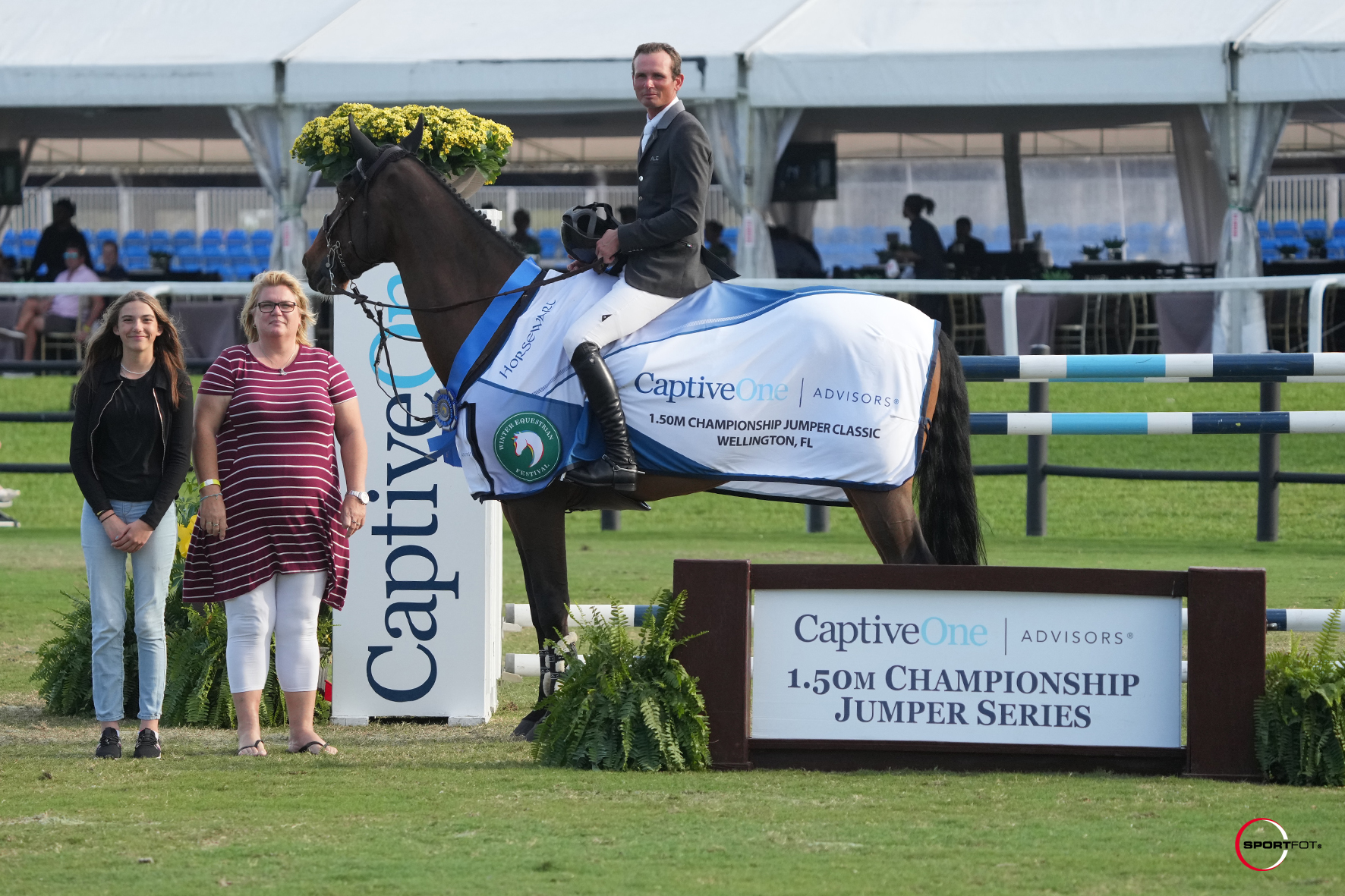 "If we're going to do it, we do it," grinned Smith, who trains with Jimmy Doyle and rides for Georgina Bloomberg as well. "I had a good gallop there and let him let his hair down a bit."
It was a solid win for Smith and Picobello Full House Ter Linden Z, a horse he has only had the ride on since last month thanks to Belgian show jumper Gregory Wathelet, David Simpson, and the horse's owners, Picobello Horses. Wathelet was the horse's previous rider, and they competed in 10 five-star shows in 2021.
"They gave him to me to ride for the season and sell," explained Smith of the 12-year-old Zangersheide gelding by Forever D'Arco Ter Linden x Cento. "He's been a super horse. I'm sure we'll find the right person for him."
Smith's horse enjoys competing on grass, and he said the gelding is "super easy at home." He noted, "He's just simple: kick, pull, and jump."
Of his victory, Smith said, "It's great to win here. In this three-star week with almost 100 riders in the class and the top horses and top riders, we're at the pinnacle of show jumping in America. To beat people here is something worth doing."
Second place went to yesterday's co-winner Karl Cook (USA), this time riding Kalinka Van't Zorgvliet, owned by Helen Signe Ostby. They finished the jump-off clear in 40.66 seconds. Emily Moffitt (GBR) and Poden Farms's Bacara d'Archonfosse were double clear with a time of 41.56 seconds for third place.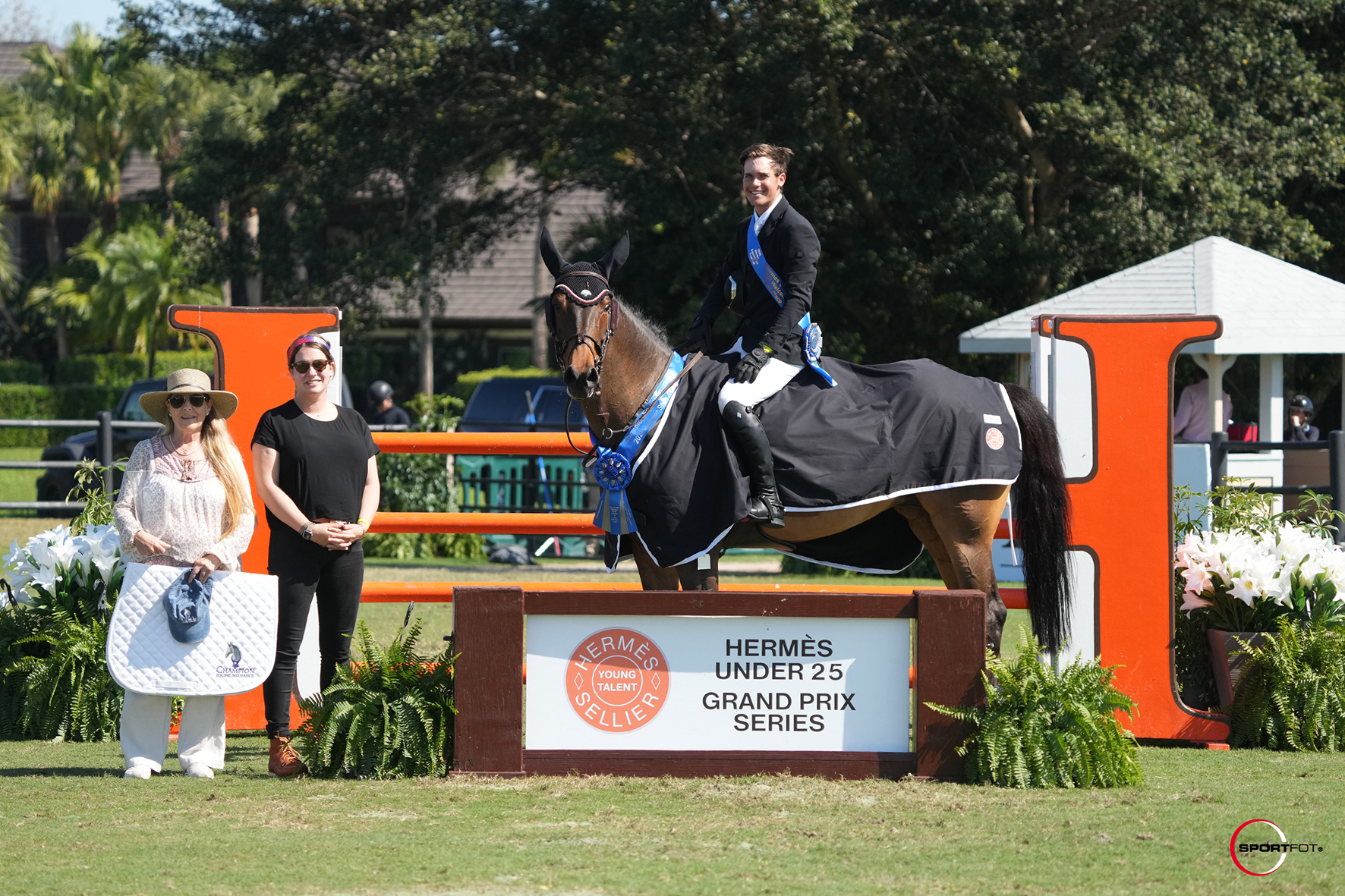 The winner of the $10,000 Hermès Under 25 Welcome was Tanner Korotkin (USA) riding Ideal, owned by Castlewood Farm Inc. and Sandalwood Farm. They were also presented with the Champion Equine Insurance Jumper Style Award. Emilie Conter (BEL) and Legolas Ter Wilgen, owned by Stephex Stables, won the $1,000 Hermès Under 25 1.40m.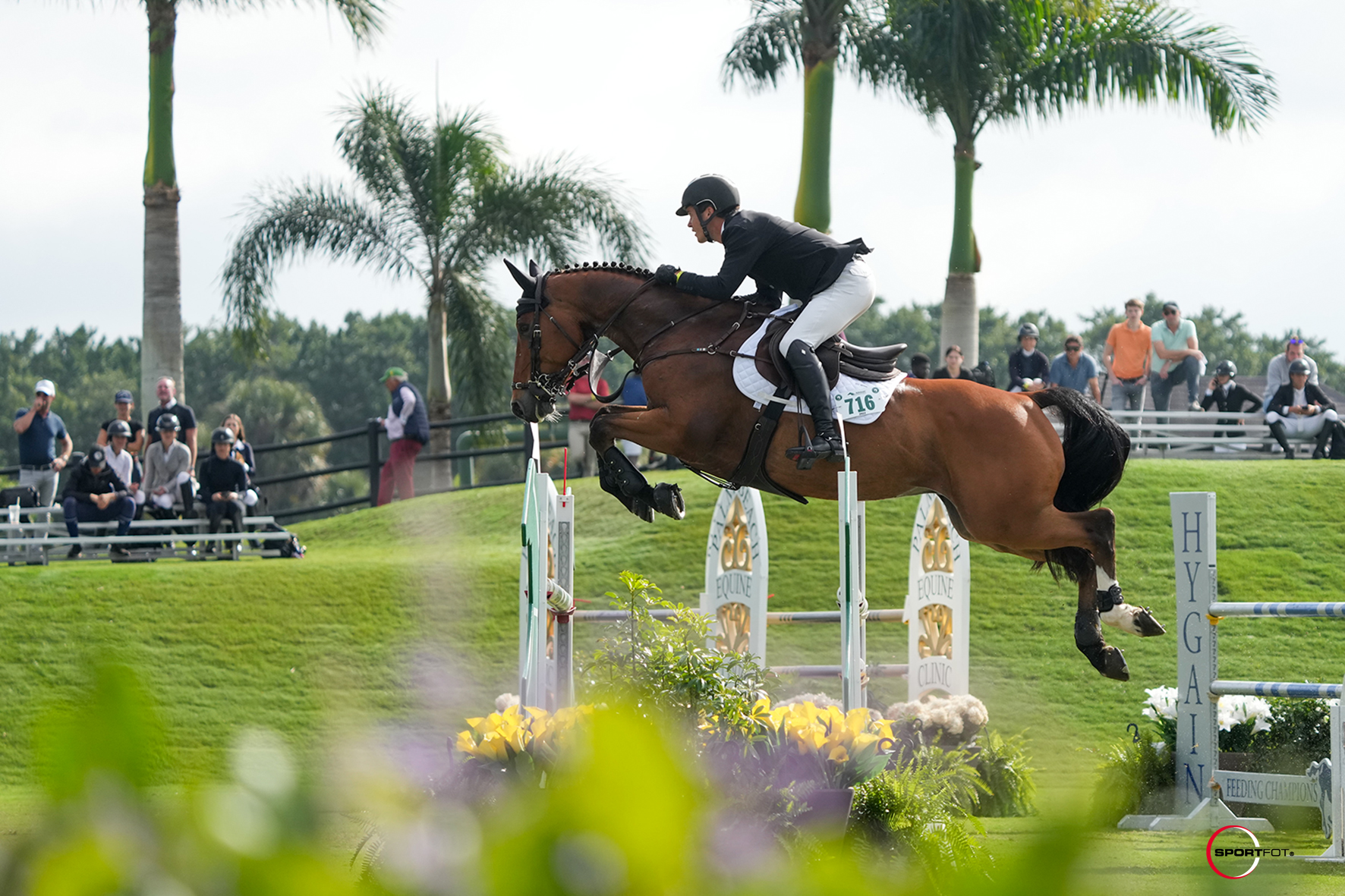 Final Results: $37,000 CaptiveOne Advisors 1.50m Championship CSI3*
1. PICOBELLO FULL HOUSE TER LINDEN Z: 2010 Zangersheide gelding by Forever D'arco ter Linden x Cento
SPENCER SMITH (USA), Picobello Horses: 0/0/37.95
2. KALINKA VAN'T ZORGVLIET: 2010 Belgian Warmblood mare by Thunder vd Zuuthoeve x Flipper d'Elle
KARL COOK (USA), Helen Signe Ostby: 0/0/40.66
3. BACARA D'ARCHONFOSSE: 2007 Belgian Warmblood mare by Asca Z x Kannan
EMILY MOFFITT (GBR), Poden Farms: 0/0/41.56
4. MEADOW VALE CRUISE: 2011 Irish Sport Horse gelding by Creevagh Ferro x Cruising
HECTOR FLORENTINO (DOM), Wyndmont: 0/0/43.00
5. CONNER: 2009 Westphalian gelding by Cornado NRW x For Pleasure
STEPHEN MOORE (IRL), Vlock Show Stables LLC: 0/4/40.19
6. CERA CARUSO: 2008 Australian Warmblood gelding by Casall x Capone
KATIE LAURIE (AUS), Carissa McCall: 0/4/41.65
7. AYAMONTE BG Z: 2009 Zangersheide gelding by Air Jordan x Capital
DANA ESCALES (USA), Buttonwood Show Jumpers LLC: 0/4/42.21
8. IDALVILLE D'ESPRIT: 2008 Belgian Warmblood gelding by Carabas vd Wateringhoeve x Nabab de Reve
DARRAGH KENNY (IRL), Heathman Farm LLC: 1/75.38
9. LAZZARO DELLE SCHIAVE: 2009 Italian Sport Horse gelding by Acodetto 2 x Gluecksgriff
TOM WACHMAN (IRL), Coolmore Show Jumping: 1/75.42
10. GAMBLE: 2011 KWPN gelding by Vingino x Indoctro
CONOR SWAIL (IRL), Asta Torokvei: 2/76.72
11. CLAPTONN MOUCHE: 2012 Selle Français gelding by Conrad x Elan de la Cour
PETRONELLA ANDERSSON (SWE), Stephex Stables: 3/77.96
12. INDRA VAN DE OUDE HEIHOEF: 2008 Belgian Warmblood mare by Casantos x Action-Breaker
SHANE SWEETNAM (IRL), The Blue Buckle Group: 4/70.73