Edited Press Release
The International Arena at PBIEC wrapped up World Championship Hunter Rider (WCHR) competition on Sunday. The $5,000 Peggy Cone Memorial WCHR Adult Hunter Classic started the day's competition with an impressive 92 entries vying for the blue ribbon. The large group of competitors meticulously made their way through Andy Christiansen Jr.'s track until 12 entries stood out from the rest and were invited back for the short handy course. With both rounds completed, Krysia Nelson emerged as the winner with her own Cobham Park after combining scores of 85 and 83 to produce the top total of 168.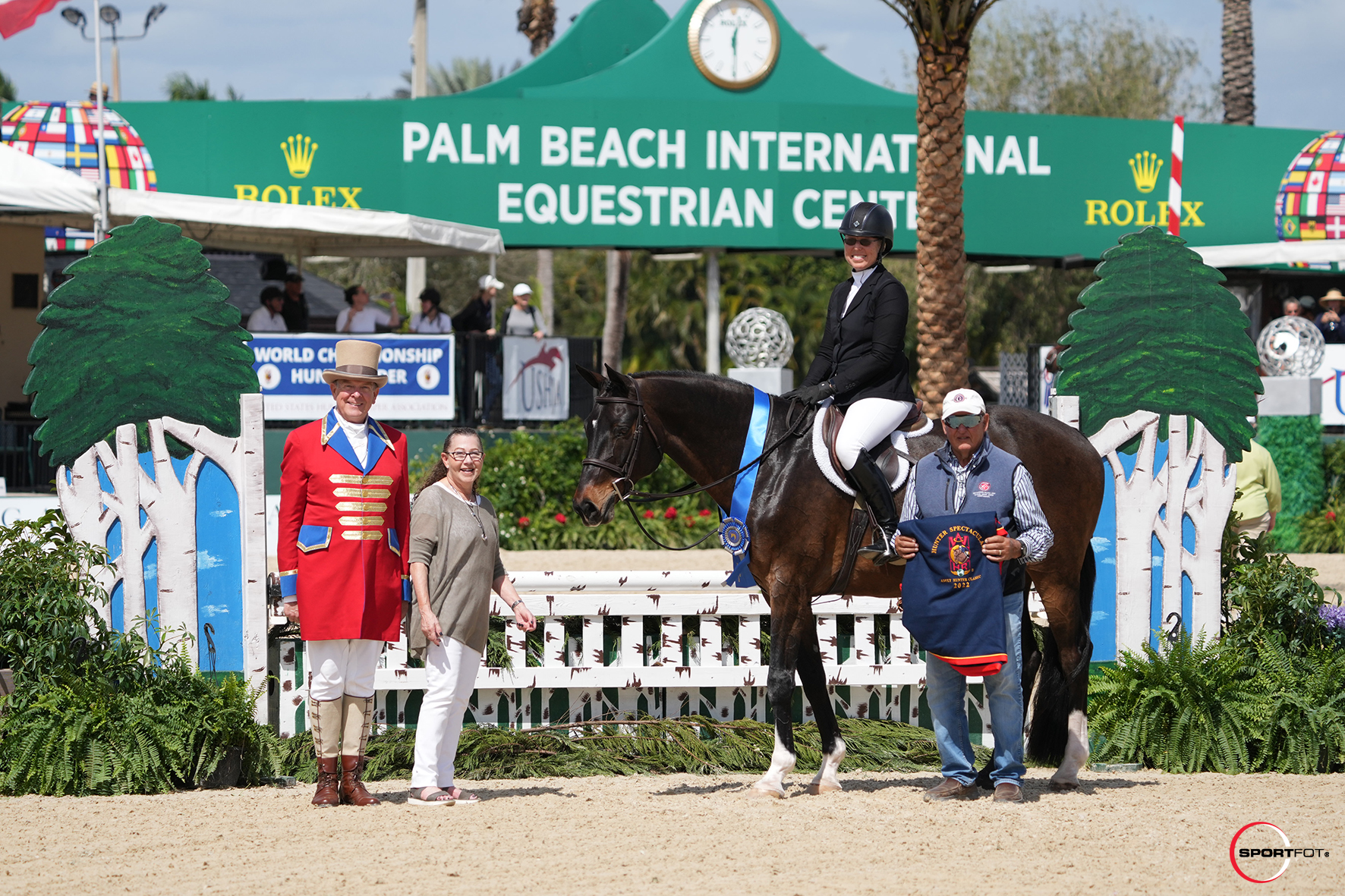 "Today was kind of amazing," stated Nelson. "I have only been able to ride since about two weeks ago because of a broken elbow."
Nelson took on the gelding as a four-year-old and has produced him to compete in the Amateur-Owner Hunter division. She has been his primary caregiver and jockey for the past eight years and has hopes of returning to their previous level of competition once fully healed.
"He is a game-on kind of guy," she explained. "He loves to jump and do his work, and when we are on it he is the easiest horse to just jump right on and gallop around a big atmosphere."
Second place in the classic went to Meghan Knapic with First Blue LLC's Cecotto's Joker as the pair totaled less than a point behind Nelson for a finish worthy of 167.25. Alison Stern and Joni Werthan's The Cardinal earned the last spot in the top three as they produced duplicate scores of 83.50 to finish with 167 total points.
The last of the junior riders then took to the International Arena for their chance to win the $5,000 WCHR Junior Hunter 3'3" Classic. The class was held in the California Split format with 74 pairs leading off the first round, and the 24 best combinations invited back for the handy round.
Down to the final few returning competitors, Adrianna Forte and First Blue LLC's Memorable leapt to the lead as they paired their first-round score of 85 with an 82.50 to take a 6.50 point lead over the next closest challenger by producing a final score of 167.50.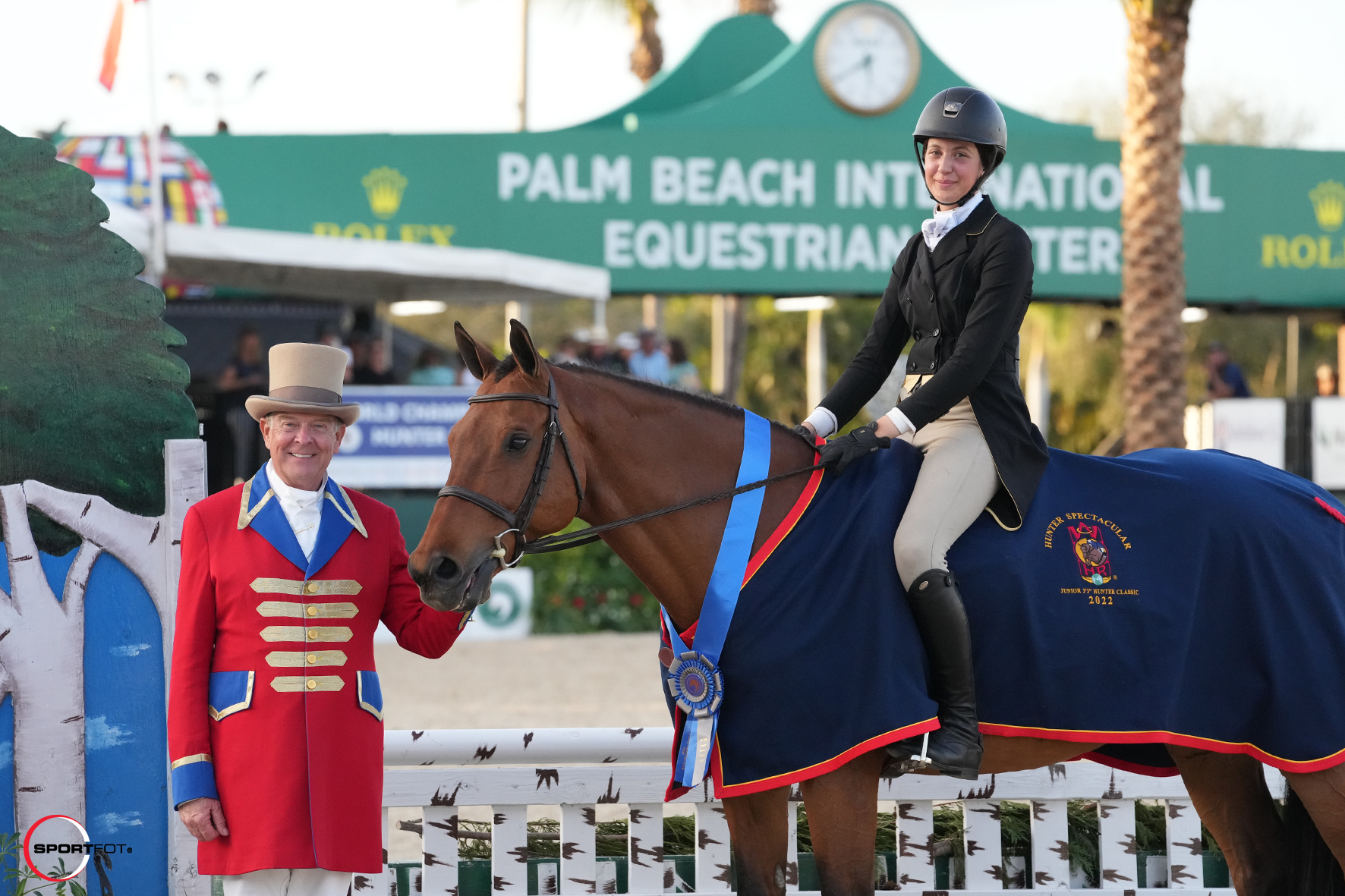 "I have only been competing at the 3'3" height for a few weeks so my main objective was just to stay calm," said Forte. "I haven't been in a big ring like the International Arena here or in such a large class so our overall emphasis was just for me to ride smart and smooth."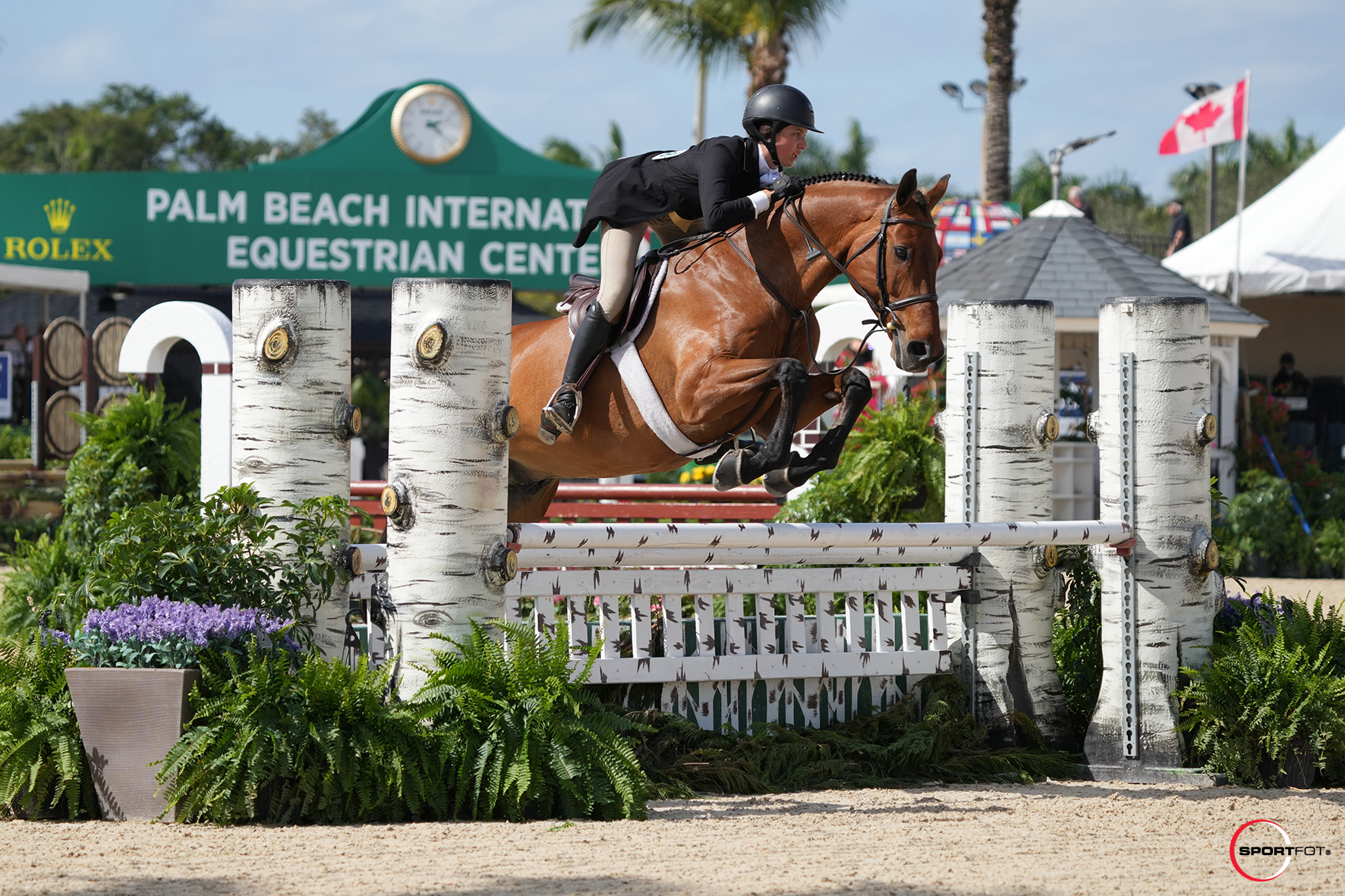 The 14-year-old junior athlete transferred to the First Blue LLC team in the summer of 2021 and is in her first season of WEF competition.
"Memorable is an amazing mover and jumper," said Forte. "We had a few minor mistakes but for my first time competing at WEF with this kind of competition, I was thrilled."
Topping the leaderboard of the Section B portion was Caroline Olsen with Elysian Stables LLC's Ladies First on a total of 161.50. The week was the five-year-old mare's first venture into the 3'3" height with Olsen only having been aboard for a few weeks.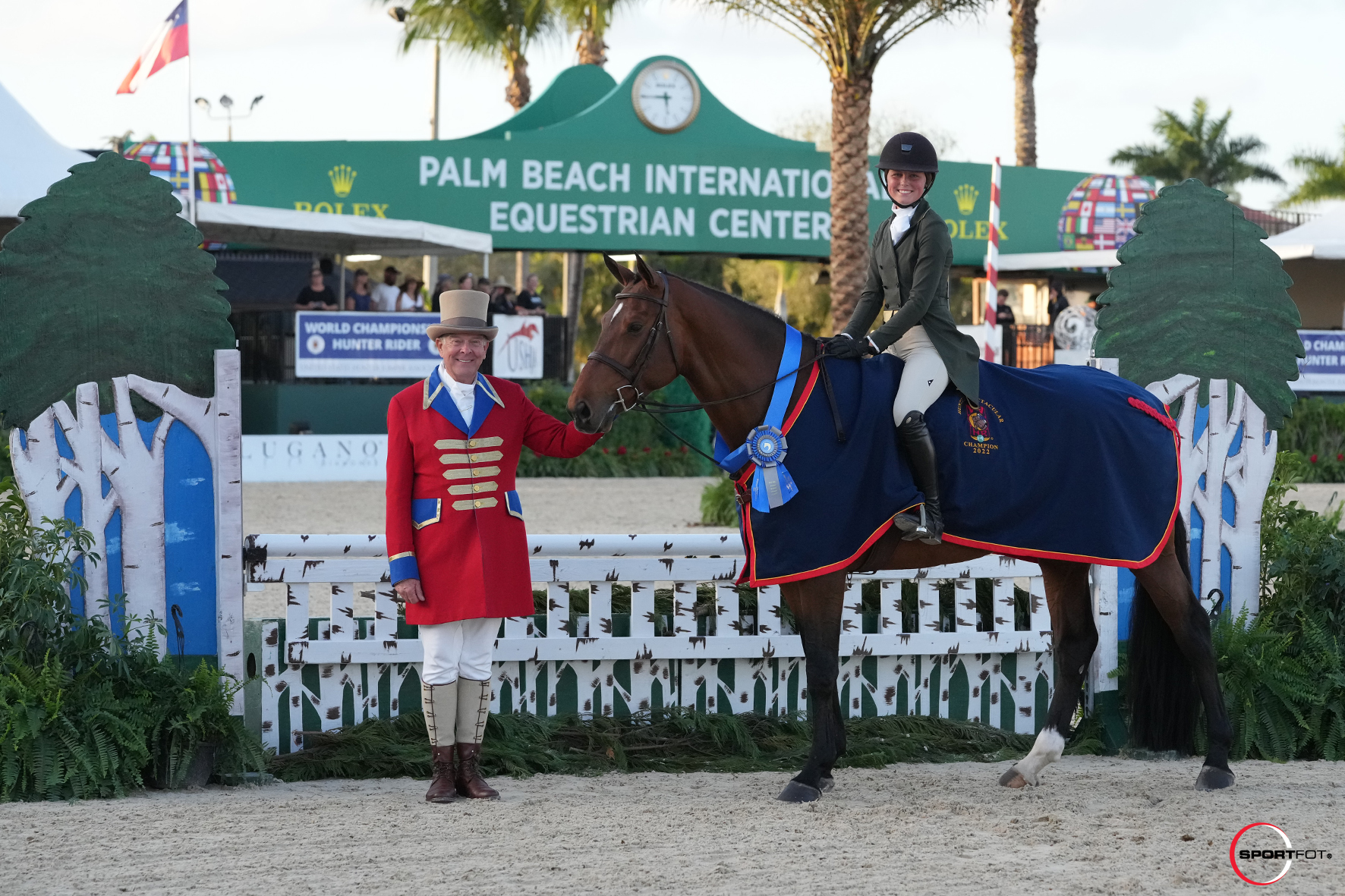 "I just started riding her recently and this week was her debut into the 3'3" divisions," explained Olsen. "Prior to that she had only started competing at the three-foot height several weeks ago but she was ready to move up. She is typically unflappable so we thought this would be a good experience for her, and she just stepped right into the International Arena with no concern. She has a pretty amazing brain, and we are all very excited for her future."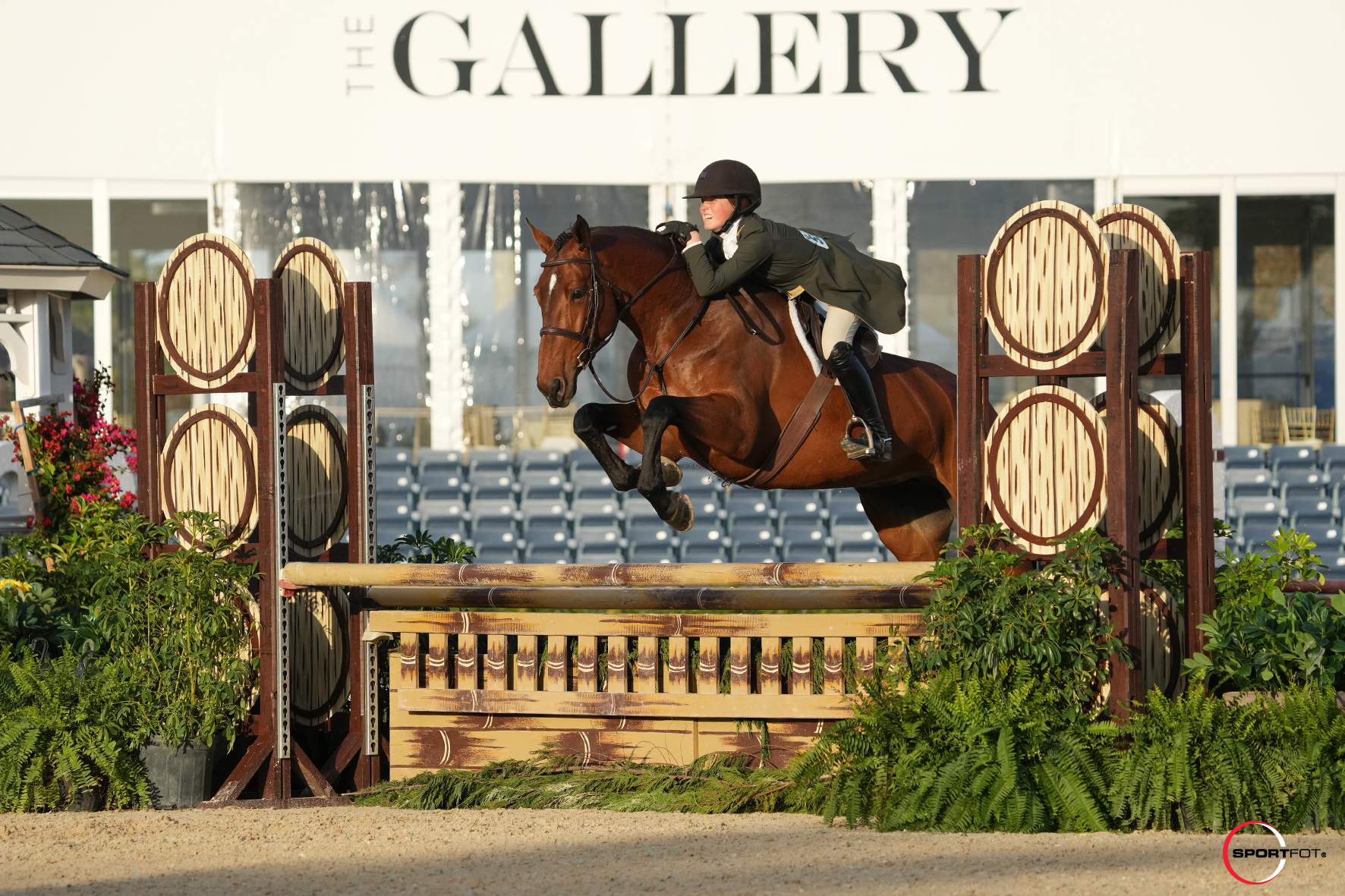 The El Manto, LLC Children's Hunter 14 and Under division saw two champions and two reserve winners as it also was pinned under the California Split guidelines. Lily Epstein and Forever Equestrian LLC's Fiat earned one champion ribbon with results of two firsts, while Amelia Burnside and Soledad O'Brien's Lord Nelson picked up the other tricolor on placings of two firsts and a third. Epstein also reigned supreme in the $2,5000 NAL Florida Children's Hunter 14 and Under Classic with a two-round total score of 169. Reserve champion honors were received by Grace Lowe and Eight Oaks Farm's So Fun, and by Maggie Berch with her own Higgs.
The Large Pony Hunters awarded two champions and two reserve champions with 31 entries forcing another California Split. The combination of Ava Barnes and her own Prestige were the first to receive a tricolor ribbon with three firsts and one second place. Olivia Sweetnam piloted Take 3 LLC's Goldmark to the other top spot after producing rides that earned them first, second, third, and fifth places.
Vivian Golden and Dr. Betsee Parker's Royalist produced a first, second, and third to secure a reserve champion ribbon alongside Prince Charming and Haily Guidry. The pair also bested 28 combinations to take the top placing in the $2,500 Florida Large Pony Hunter Classic with an impressive overall score of 171 points. Guidry and Honor Hill Farm LLC's gelding put forward three second placings for their ribbon.
Golden's success didn't stop there though, as the young rider was also co-champion and co-reserve champion in the Medium Pony Hunter division, sponsored by the Always Faithful Equestrian Club, with Funtastico and Baroness of Locheil respectively. She and Funtastico, also owned by Dr. Betsee Parker, had two firsts to their name for the win. After producing a two-round total score of 172, Golden picked up another classic win aboard Baroness of Locheil in the $2,500 Florida Medium Pony Hunter Classic.
The division's second champion was Robin Greenwood's By4Now and Ava Barnes after they picked up a first, third, and sixth. Collin Sweetnam and Sweet Oak Farm's On Your Mark rose to the occasion to pick up the additional reserve champion title with a first and second place.
Hayley Hewitt and Bass Equine, LLC's See More Blue rode to a total of 18.5 points for the CWD Children's Pony Hunter – Large division championship. The duo's rides earned them first, second, fourth, and sixth. Francesca Roman was named the division's reserve champion aboard Carolex Stables, LLC's Hobby Creeks Grey Goose with a first, third, and fourth.
The win in the $2,500 Florida Large Children's Pony Hunter Classic went to Sadie Berkhout and Cooper Spacek's Instant Gratification. They combined scores of 77 and 82 for a finish of 159 points.
The Children's Hunter Pony – Small/Medium division wrapped up with the top honor going to Lindsey Ward's Slumber Party and Ella Falco Bowery. The duo were champions with a first and a fifth place. Reserve champion went to Brent H Burman and Monkey Business LLC's Anisette with results of second, third, and fifth.
Section B champion was awarded to Bobby Mercer and TLP LLC's Beaverwood's Foxberry with two first places. Reserve Champion went to Dylan Clark and Artemis Equestrian Farm LLC's Mind Your Step. Lacy Powers and EJ Suhy LLC's Orchard Hills Penny Candy won the division's $2,500 Florida Small/Medium Children's Pony Hunter Classic with a total score of 167.
Sophia Maskinoff and Out of the Park Sporthorses LLC's Handsome DD co-championed in the Children's Hunter 15-17 division alongside Renaud Farm, LLC's Cayento Z and Eva Orlando. Masnikoff won the $2,500 NAL Florida Children's Hunter 15-17 classic with a score of 168 as well as placing with two firsts and a fifth. Orlando and Cayento Z earned two first-place ribbons to put them at the top. Reserve champion was shared between Madison Frankel with Valentino and Layla Khalily aboard Brendan William's Knightly.