By Summer Grace and Amanda Picciotto Feitosa for Jennifer Wood Media, Inc.
International show jumping was hot from the beginning on Wednesday's opening day of competition for week 7 of WEF, sponsored by Lugano Diamonds. John Perez (COL) was the first in the ring with Gigi-Carmen for the power-and-speed format $6,000 Palm Beach Equine Clinic 1.40m CSI2* class designed by Anthony D'Ambrosio (USA). They forced the rest of the field to unsuccessfully chase their blazing time of 30.13 seconds to ultimately run away with the win.
Perez and Gigi-Carmen were actually 30th on the original start list but requested to move up to the first position in the order. It was a plan that was particularly important since it was the mare's first time competing in the International Arena after having only jumped classes in the DeNemethy Arena and the Mogavero Arena.
"I try to always go first in the ring, because she's a little bit nervous in the warm-up. If the stewards allow me to go first, that's always the best for her," explained Perez. "For her to see this ring for the first time, I didn't know what was going to happen, but she was really relaxed. I can trust her a lot better now, and every time more and more."
Perez was able to utilize Gigi-Carmen's natural way of going to execute their speedy clear effort.
"She's quick anyway and normally goes best in that pace, so whatever turns I ask her to do, she does very fast. It went well today," he said.
Gigi-Carmen, an 11-year-old KWPN mare by Bacardi VDL x Oklund owned by Antonio Chedraui, is a fairly new partner for Perez, who just picked up the ride about three months ago. From their short time together, Perez is already thrilled.
When asked what is most impressive about his new mount he expressed, "The quality! The quality is not normal. It's unbelievable. Unbelievable! For her to touch a rail is almost impossible, so I'm very excited about the horse."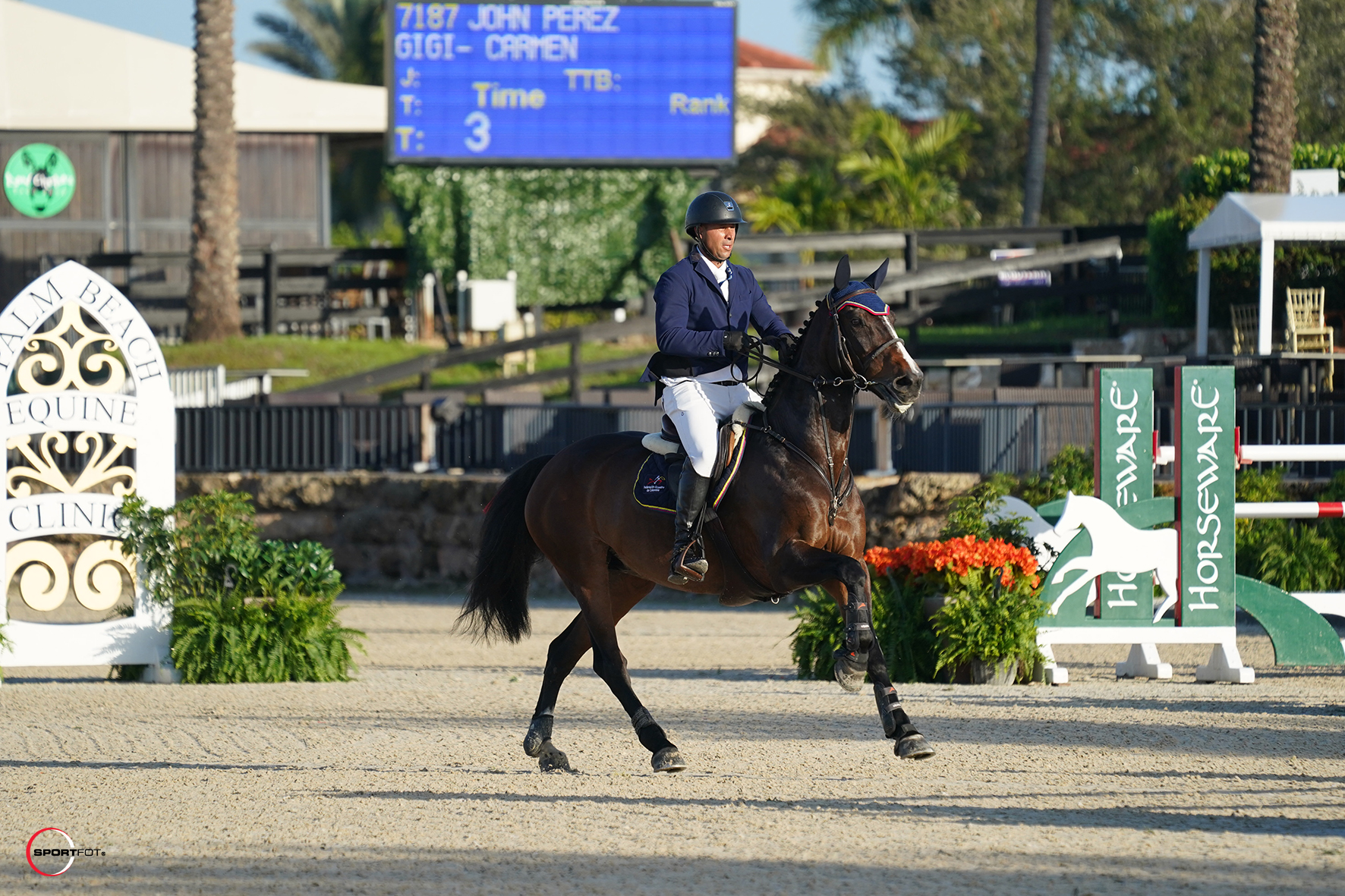 Perez is looking ahead with Gigi-Carmen to the $37,000 Palm Beach Equine Clinic Grand Prix Qualifier CSI2* on Friday, February 25, in hopes of contesting the $50,000 Palm Beach Equine Clinic Grand Prix CSI2* on Sunday, February 27. After that, they will see what their schedule develops into.
"For sure I think she can jump whatever I ask. I think she is a top, top horse. I just have to take my time and get to know her a little better," concluded Perez.
Final Results: $6,000 Palm Beach Equine Clinic 1.40m CSI2*
1. GIGI-CARMEN: 2011 KWPN mare by Bacardi VDL x Oklund
JOHN PEREZ (COL), Antonio Chedraui: 0/0/30.13
2. GABROVO: 2012 Hanoverian gelding by Grey Top x Graf Sponeck
ROBERTO TERAN TAFUR (COL), Susan van Lammers: 0/0/30.16
3. VALENTINO V Z: 2009 Zangersheide stallion by Verdi TN x Converter
MARIA COSTA (USA), Maria Costa: 0/0/31.13
4. NICKEL DE LA ROQUE: 2013 Belgian Warmblood gelding by Elvis ter Putte x Kannan*GFE
MARIE HECART (FRA), Normandie Connection: 0/0/31.40
5. MA POMME DE TAMERVILLE: 2012 Belgian Warmblood mare by Deauville van T L x Contendro II
ANNA WILKS (CAN), IN Showjumpers: 0/0/32.03
6. DAWSONS FLEX: 2013 Irish Sport Horse gelding by Flex A Bill x Kildalton Gold
MATIAS LAROCCA (ARG), Matias Larocca: 0/0/32.20
7. MISS MILLY MANOU: 2012 Oldenburg mare by Mylord Carthango*HN x Alexis Z
ANNA DRYDEN (USA), Double Meadows Farm LLC: 0/0/32.39
8. ARIANA: 2011 KWPN mare by Cantos x Tolan R
LORCAN GALLAGHER (IRL), HKC Collection LLC: 0/0/33.33
9. BACCARAT DU TERTRE: 2011 Selle Français mare by Putch des Isles x Indoctro
KAREN POLLE (JPN), Karen Polle: 0/0/33.42
10. CHATOU 7: 2009 Oldenburg gelding by Chacco-Blue x Toulon
NICOLETTE HIRT (USA), Iron Horse Equestrian: 0/0/33.50
11. SANTA ROSA YALTA: 2012 Mexican Sport Horse mare
DANIEL PEDRAZA LITTLEWOOD (MEX), Daniel Pedraza Littlewood: 0/0/34.09
12. NAZARINE VD AXELHOEVE: 2013 Belgian Warmblood mare by Emerald van 't Ruytershof x Chellano Z
SABINE COOPER (USA), Sabine Cooper: 0/0/34.44