Edited Press Release
Wellington, FL – February 23, 2022 – The 2022 Adequan® Global Dressage Festival (AGDF) began its week 7 competition on Wednesday, February 23, with five-star competition held at the Palm Beach International Equestrian Center, home to the Winter Equestrian Festival. It was an exciting return for dressage to the facility that hosts jumping competition throughout the year. Frederic Wandres (GER) and Bluetooth OLD came away with the win in the Grand Prix for Freestyle CDI5*, presented by CaptiveOne Advisors, while 2020 Olympic team silver medalist Adrienne Lyle (USA) and Betsy Juliano LLC's Salvino were victorious in the Grand Prix for Special CDI5*, presented by Havensafe Farm.
In their first competition back after the 2020 Tokyo Olympic Games last August, Lyle and Salvino set the winning tone with a score of 76.500% in the Grand Prix for Special CDI5*, presented by Havensafe Farm. Fellow American Ashley Holzer rode her own Valentine, a 12-year-old Hanoverian mare by Donnerhall I, to second place with a score of 70.696%. Seven-time Swedish Olympian Tinne Vilhelmson Silfvén and Lövsta Stuteri AB's Devanto, a 13-year-old Holsteiner gelding by De Chirico, were third with 68.739%.
"Honestly, I think that's one of his better tests we've ever done," revealed Lyle. "I was really happy with it. It may not have been our best score posted, but I just went back and watched the video and I'm thrilled with him and the feeling.
"With him, he's got so much power and movement that I'm always trying to just perfect that balance so it looks seamless through the transitions, and we can contain all that power," she continued. "His passage/piaffe is always quite strong. I thought it looked very rhythmic and smooth in and out of the transitions. He didn't really put a foot wrong or have mistakes, so I can't complain."
Lyle echoed the sentiment of enjoying the competition at the PBIEC venue, having already competed in the arena last June in the U.S. Olympic observation trial.
"It's really fun to be back and have more spectators this time," she said. "We're really thankful for this opportunity."
Lyle noted that it was "really extra special and really cool" to win the class that was sponsored by her owner, Betsy Juliano. "She's been such a huge supporter of mine for so many years, so to be able to win on her horse in the class she's sponsoring is definitely very special," she said.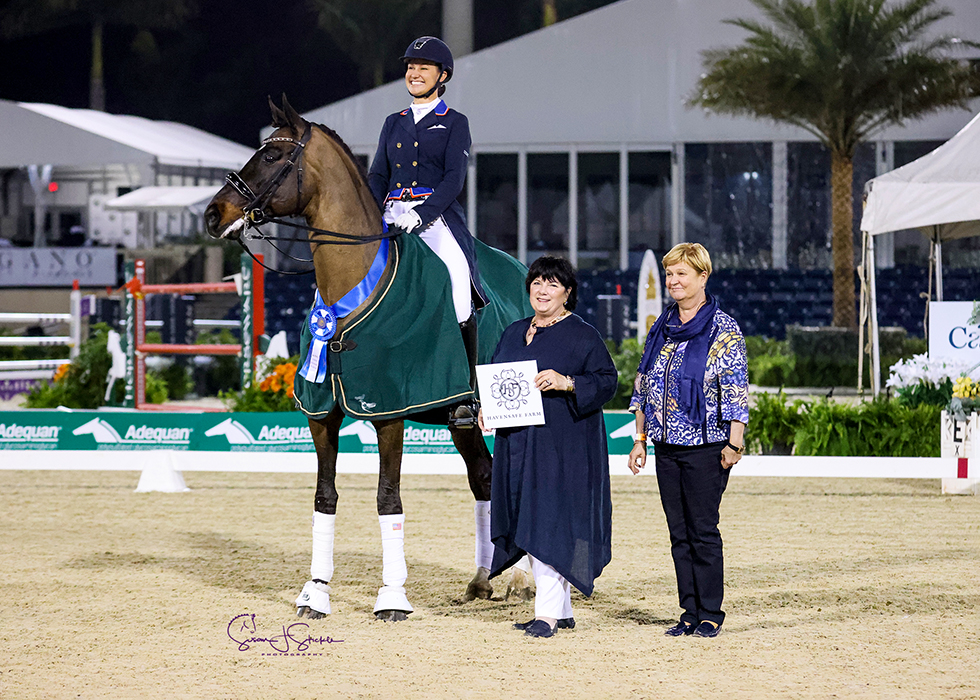 There were 13 strong contenders in the Grand Prix for Freestyle CDI5*, presented by CaptiveOne Advisors, and with a personal best score of 74.631%, Wandres and Bluetooth OLD picked up their fourth win of five starts at the 2022 AGDF.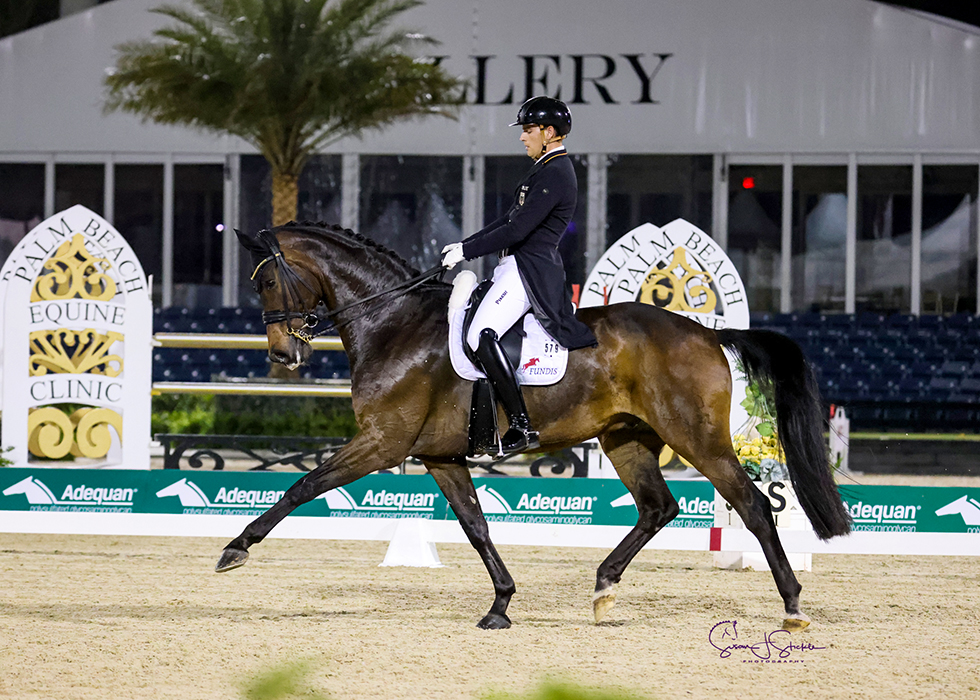 Up-and-coming American star Benjamin Ebeling celebrated a second-place finish with Illuster Van De Kampert, ACR Enterprises Inc.'s 14-year-old Belgian Warmblood gelding by Spielberg, on a score of 72.478%. Another American rider, Charlotte Jorst, filled the podium by scoring 71.674% with her own Kastel's Nintendo, a 19-year-old KWPN stallion by Negro.
"I'm very happy. I had no mistakes at all, and he gave me a super feeling," said Wandres of the 12-year-old Oldenburg gelding by Bordeaux owned by Elena Knyaginicheva and Sergey Knyaginichev. "It was our personal best and then at a five star, that is really what I'm looking for. We have been building him up at the season here. Now delivering that score is what I'm looking for daily. That makes our whole team completely happy."
Wandres felt the atmosphere in the PBIEC International Arena was electric, citing the stadium as "fantastic." He added, "The Americans are always creating a super atmosphere. We love to be here. Most of the horses love to be in an atmosphere, and they really feel it. They like it and they push a little bit and feel like, 'Now I want to shine and that is our moment.' For sure the horses can bring it into the arena and use it for shining better and being more impressive."
Citing development in the piaffe and no mistakes in the canter tour, Wandres feels confident going into Friday night's freestyle but won't rely on Wednesday's performance.
"Everything is open again, and everyone has to ride again on Friday night," he remarked. "I saw some other riders with nice tests today. Maybe they had a little mistake here or there, but they can develop also for Friday. The challenge is on."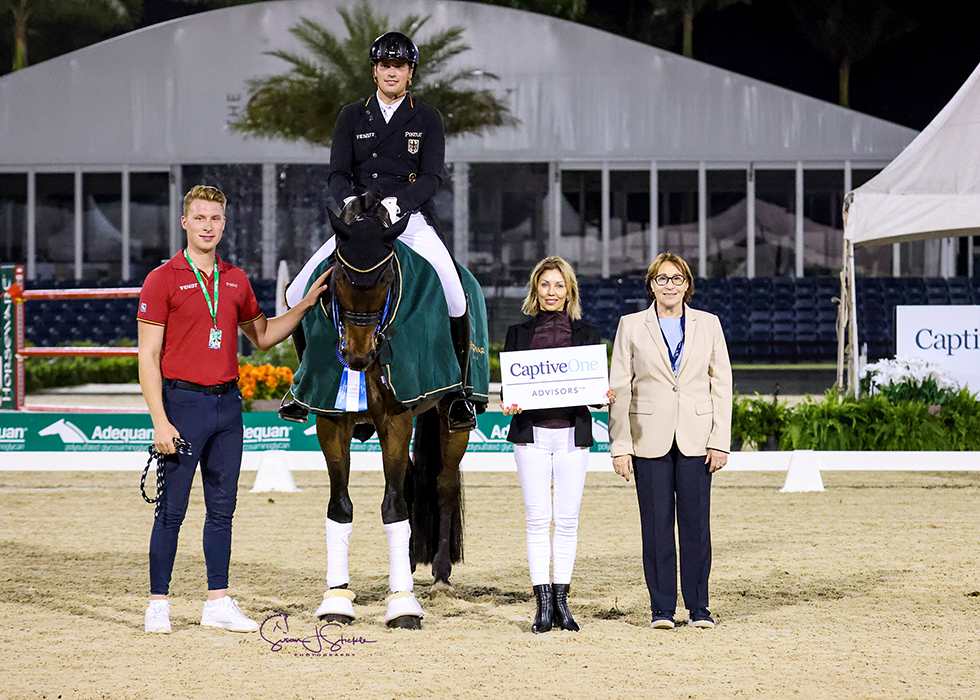 Final Results: Grand Prix for Freestyle CDI5*, presented by CaptiveOne Advisors
E, Monique Peutz-Vegter (NED); H, Janet Foy (USA); C, Evi Eisenhardt (GER); M, Elisabeth Max-Theurer (AUT); B, Clive Halsell (GBR)
1 Frederic Wandres (GER) on Bluetooth OLD, Elena Knyaginicheva & Sergey Knyaginichev's 12yo Oldenburg gelding by Bordeaux: 73.913, 75.870, 74.674, 74.783, 73.913, 74.631%
2 Benjamin Ebeling (USA) on Illuster Van De Kampert, ACR Enterprises Inc.'s 14yo Belgian Warmblood gelding by Spielberg: 72.174, 74.457, 73.696, 70.761, 71.304, 72.478%
3 Charlotte Jorst (USA) on Kastel's Nintendo, Kastel Denmark's 19yo KWPN stallion by Negro: 70.000, 71.522, 74.022, 73.478, 69,348, 71.674%
4 Susan Pape (GBR) on Harmony's Eclectisch, Harmony Amateur Sports Foundation & Susan Pape's 13yo KWPN stallion by Zenon: 71.304, 74.348, 71.739, 69.348, 71.304, 71.609%
5 Juan Matute Guimón (ESP) on Quantico, Juan Matute Azpitarte's 16yo Hanoverian gelding by Fighting Fit: 71.522, 71.739, 70.435, 72.283, 70.543, 71.304%
6 Brittany Fraser-Beaulieu (CAN) on All In, her own & Marc-Andre Beaulieu's 17yo KWPN gelding by Tango: 70.435, 70.978, 70.326, 67.935, 71.087, 70.152%
7 Laurence Vanommeslaghe (BEL) on Edison, Fiechter Quality Dressage Horse BVBA's 13yo KWPN gelding by Glock's Johnson TN: 65.326, 71.087, 72.065, 69.022, 69.783, 69.457%
8 Lindsay Kellock (CAN) on Sebastien, Lindsay Kellock & Enterprise Farm Equestrian LLC's 16yo Rheinlander gelding by Sandro Hit: 66.957, 67.935, 68.261, 68.370, 68.370, 67.979%
9 Paula Matute Guimón (ESP) on Delagronge, her own & Julie McAllister's 14yo Oldenburg stallion by De Niro: 67.174, 68.043, 68.152, 65.435, 67.500, 67.261%
10 Naima Moreira Laliberte (CAN) on Statesman, KML Inc.'s 15yo Hanoverian gelding by Sandro Hit: 65.543, 67.826, 67.826, 65.652, 68.261, 67.022%
11 Mikala Münter (USA) on Salsa Hit, her own & Paul Bint's 13yo Oldenburg gelding by Samba Hit III: 64.348, 66.630, 65.543, 65.543, 66.196, 65.652%
12 Yvonne Losos de Muñiz (DOM) on Aquamarijn, her own & Sylvia Ines Muñiz Losos's 17yo KWPN mare by United: 63.739, 65.587, 62.798, 62.870, 64.826, 64.000%
13 Jennifer Williams (USA) on Millione, Millione Partners's Danish Warmblood gelding by Milan: 61.630, 64.130, 62.283, 62.17, 60.109, 62.065%
Final Results: Grand Prix for Special CDI5*, presented by Havensafe Farm
E, Clive Halsell (GBR); H, Katrina Wüst (GER); C, Elisabeth Max-Theurer (AUT) M, Hans Voser (SUI); B, Evi Eisenhardt (GER)
1 Adrienne Lyle (USA) on Betsy Juliano LLC's Salvino, a 14yo Hanoverian stallion by Sandro Hit: 77.065, 77.065, 75.870, 76.739, 75.761, 76.500%
2 Ashley Holzer (USA) on Ashley Holzer's Valentine, a 12yo Hanoverian mare by Donnerhall I: 70.000, 72.935, 67.826, 71.957, 70.761, 70.696%
3 Tinne Vilhelmson Silfvén (SWE) on Lövsta Stuteri AB's Devanto, a 13yo Holsteiner gelding by De Chirico: 68.478, 69.239, 68.804, 67.826, 69.348, 68.739%
4 Diane Creech (CAN) on Diane Creech & Louise Leatherdale's Chrevis Christo, a 19yo DWB gelding by Chrevi's La Vi: 67.391, 69.022, 66.087, 67.500, 71.739, 68.348%
5 Christoph Koschel (GER) on Koschel Dressage GmbH's Favorito 11, a 12yo Lusitano gelding by Vulcano: 68.804, 67.065, 68.478, 67.065, 69.348, 68.152%