By Summer Grace and Amanda Picciotto Feitosa for Jennifer Wood Media, Inc.
Wellington, FL – February 23, 2022 – International jumper and national hunter, jumper, and equitation competition debuted Wednesday for the start of the 2022 Winter Equestrian Festival's (WEF) week 7, sponsored by Lugano Diamonds. On Wednesday, February 23, the highlight class was the $37,000 Douglas Elliman Real Estate 1.45m CSI5*. Speed class specialists McLain Ward (USA) and Catoki claimed the victory in the class.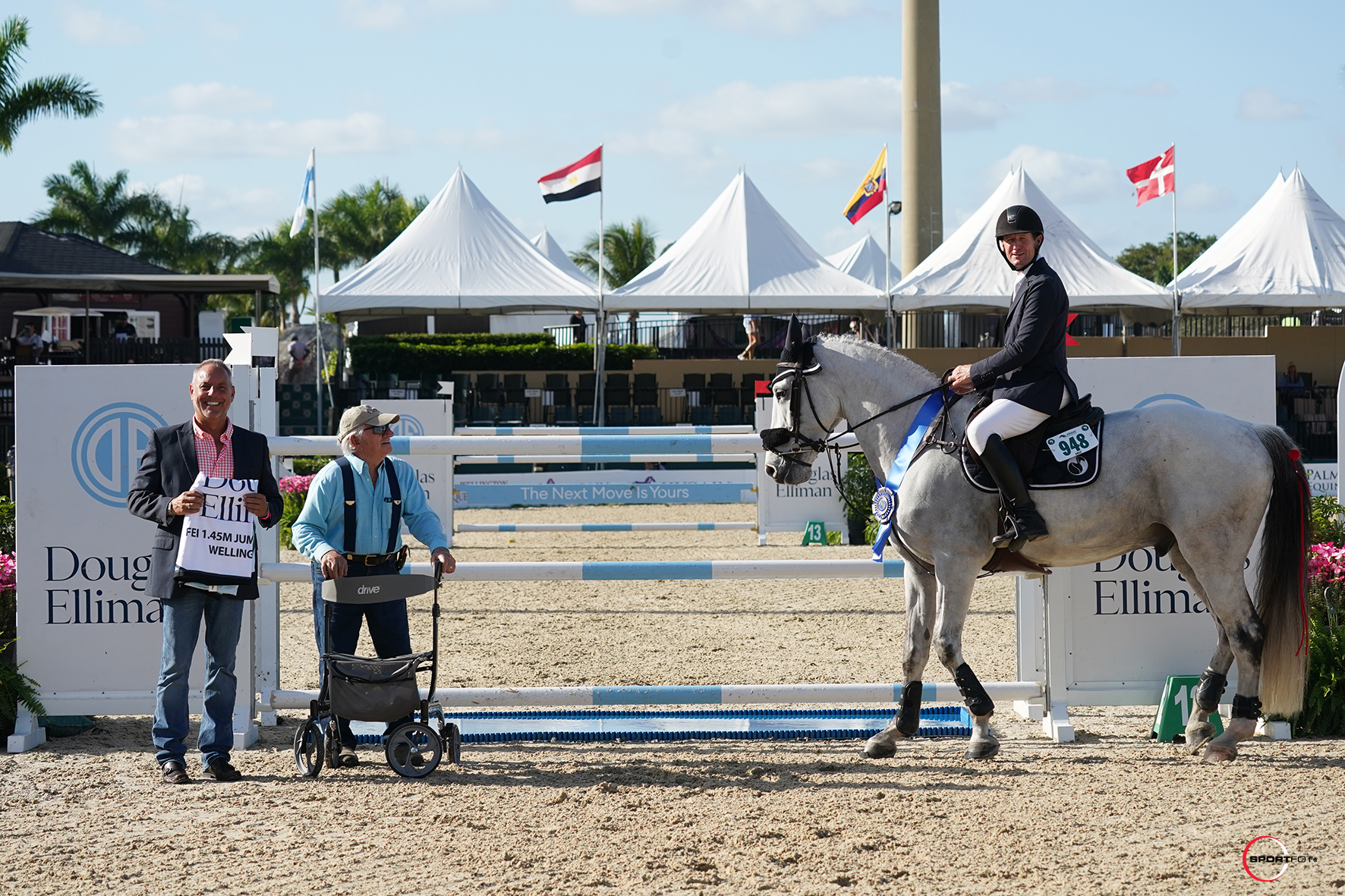 Anthony D'Ambrosio's (USA) track had 57 combinations contest the two-phase course. Representatives from 15 different countries made up the field during one of the series' top weeks. By the halfway mark of the class, Ward and Catoki resided in the top position having cleared both phases clean with a blazing time of 32.26 seconds.
Ward and the 13-year-old Westphalian gelding (Catoki x Caretello B), owned by Marilla Van Beuren, Bob Russell, and McLain Ward, are no strangers to a victory gallop at WEF having had top placings already this season including a win in the $75,000 Rosenbaum PLLC Grand Prix during WEF 1.
"This is really Catoki's job and what he excels at is these five-star speed and ranking classes," explained Ward. "He is naturally so fast that you don't have to do anything extreme which automatically gives you better odds."
"I thought the course was friendly today," continued Ward. "It was a bit short, which is never a bad thing for my horse. You can see these classes are super competitive right now, and the level of quality competition here is very high. You have to do everything you can and hope you come out on top."
The speedy combination of Lorenzo de Luca (ITA) and Dirka de Blondel fell just short of Ward's leading time but put in a valiant effort with a time of 32.34 seconds. He and the Poden Farms's nine-year-old Selle Francais mare (Very Berlin de Castel x Lautterbach) took the second-place position ahead of Australia's Katie Laurie. Laurie and Eadaoin Collin's 14-year-old Australian Warmblood Cera Caruso (Casall x Capone) were the third and final combination to stop the clock under 33 seconds but added just a touch more time on the clock in 32.52 seconds.
Earlier in the day, Darragh Kenny (IRL) and Oakland Ventures LLC Gouvernante VDL captured the win in the $1,000 Bainbridge Companies 1.40m CSI5* out of 47 entries.
Final Results: $37,000 Douglas Elliman Real Estate 1.45m CSI5*
1. CATOKI: 2009 Westphalian gelding by Catoki x Caretello B
MCLAIN WARD (USA), Marilla Van Beuren, Bob Russell, and McLain Ward: 0/0/32.26
2. DIRKA DE BLONDEL: 2013 Selle Francais mare by Very Berlin de Castel x Lautterbach
LORENZO DE LUCA (ITA), Poden Farms: 0/0/32.34
3. CERA CARUSO: 2008 Australian Warmblood horse by Casall x Capone
KATIE LAURIE (AUS), Eadaoin Collins: 0/0/32.52
4. HOCUS POCUS VAN DE LUCASHOEVE: 2007 BWP gelding by Chin Chin x Acord II
ABDEL SAID (BEL), Abdel Said: 0/0/33.40
5. BALLYOSKILL BIG BUCKS: 2013 Irish Sport Horse gelding by Royal Concorde
JORDAN COYLE (IRL), Elan Farm: 0/0/33.79
6. BOSTON ASK: 2008 Hannoverian gelding by Berlin x Quidam de Revel
JORDAN COYLE (IRL), Elan Farm: 0/0/34.06
7. NITHARD VAN DE PEERDENHOEVE: 2013 BWP gelding by Zirocco blue VDL x Corland
PETRONELLA ANDERSSON (SWE), Stephex Stables: 0/0/34.97
8. MYLORD MARLEY: 2012 Holsteiner gelding by Mylord Carthago*hn x Clarimo
EOIN MCMAHON (IRL), Beerbaum Stables: 0/0/35.11
9. NESPRESSO VAN'T LAEKHOF: 2013 BWP gelding by Cicero Z x Grandeur
NATALIE DEAN (USA), Marigold Sporthorses, LLC: 0/0/35.34
10. SEXY BEAST: 2013 OS mare by Cabachon x Stakkato
PAUL O'SHEA (IRL), Eye Candy Jumpers: 0/0/35.45
11. QUILIMBO: 2009 Holsteiner stallion by Quidam de Revel x Limbus
SCHUYLER RILEY (USA), E2 Show Jumpers: 0/0/36.69
12. NANINI VAN D'ABELDREEF: 2013 BWP mare by Kannan x Heartbreaker
ERYNN BALLARD (CAN), Ilan Ferder and Esperanza Imports LLC: 0/0/37.12