Edited Press Release
The International Arena welcomed 23 horse-and rider-combinations on Thursday morning to navigate a course set by Anthony D'Ambrosio (USA) for the $6,000 Palm Beach Equine Clinic 1.45m CSI2*.
With blue skies above, it was Ashley Vogel aboard Lucy In The Sky who donned the blue sash with a time of 62.65 seconds in the speed class as the fastest of seven clear rounds.
"I thought it was a really good course," said Vogel, of Wellington, FL. "There were only so many clear, and people were getting results even with four faults, so I think the course was challenging enough."
The difficulty of the course left unique opportunities for Vogel and Lucy In The Sky. "There were lots of rollbacks, and there were places in the course to be really tight and neat," noted Vogel. "She's naturally very fast across the ground too, so I think that helped.
"There was also a line against the left side of the ring on the outside that was a little shadowy," she continued. "It was tall and square coming in which I think caught a lot of horses, but she jumped it great. I'm really happy with her."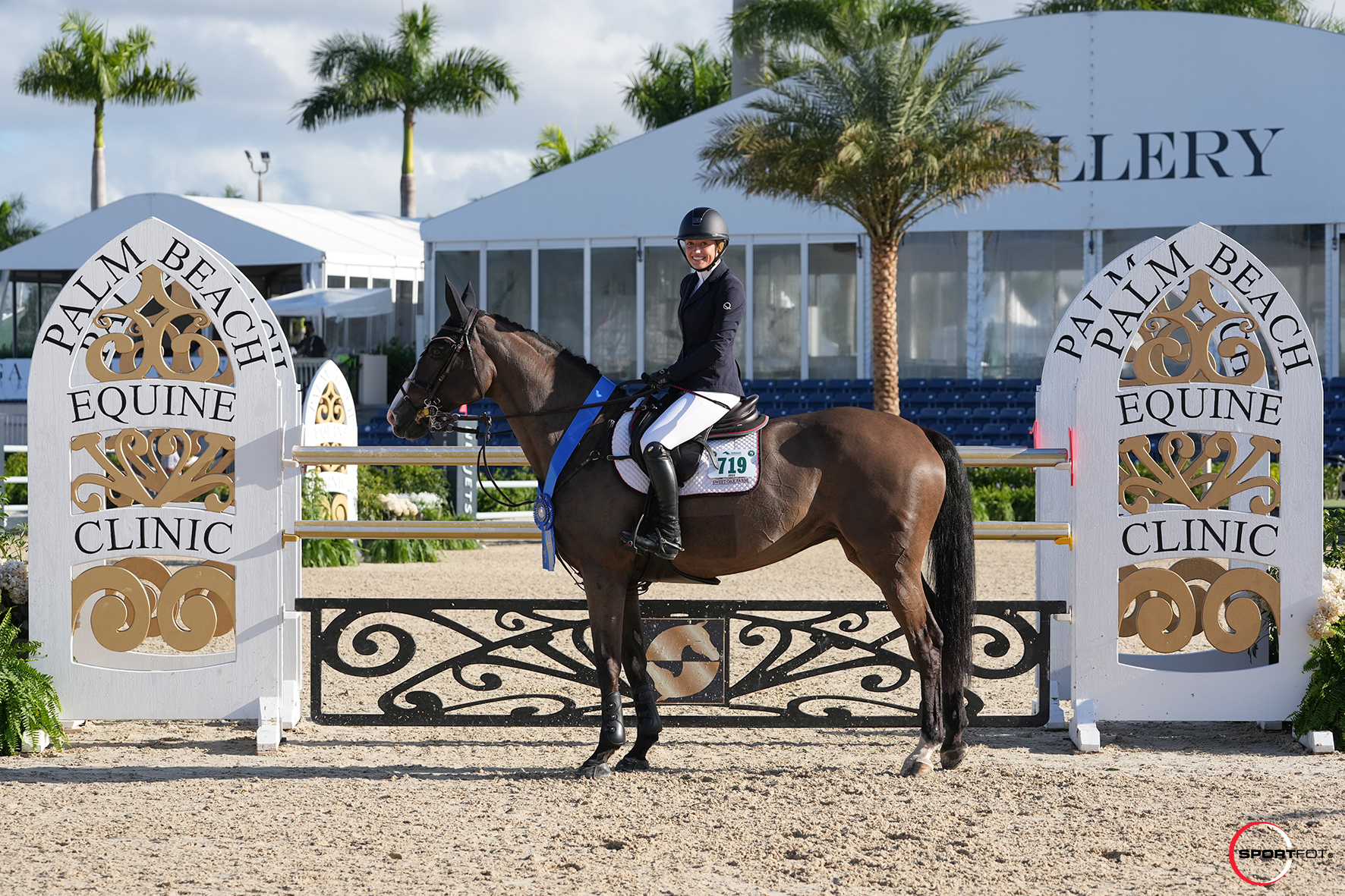 Lucy In The Sky (or "Lulu" as she's known in the barn) is a 13-year-old Swedish Warmblood owned by Vogel who has some history with the mare.
"She was my first high junior jumper to be competitive with," said Vogel. "She's the horse I've had in my group the longest, so we have a very special connection. She's really neat, has a huge heart, and tries really hard for me out there."
Already showing success at higher levels, Vogel intends to continue their partnership going forward. "In the last year and a half, I've gotten a lot of results on her, some speed classes and things, and now I'm starting to step up into some of the FEI classes and she's really excelling," she said. "I believe I'll be doing some more speeds throughout circuit though, some 1.40m classes, some 1.45m, and hopefully we'll see some more results and mileage for both of us, so I'm really excited for that."
The second-place ribbon went to Quentin Judge (USA) riding HH Qualido owned by Double H Farm with a time of 63.01 seconds, and Maria Costa (USA) rounded out the top three on her own Iceman B SFN with a time of 66.58 seconds.
Final Results: $6,000 Palm Beach Equine Clinic 1.45m CSI2*
1. LUCY IN THE SKY: 2009 Swedish Warmblood mare by Tornesch x Quantum
ASHLEY VOGEL (USA), Ashley Vogel: 0/62.65
2. HH QUALIDO: 2008 Hanoverian gelding by Quicksilber x Calido
QUENTIN JUDGE (USA), Double H Farm: 0/63.01
3. ICEMAN B SFN: 2013 KWPN gelding by Mylord Carthago*HN x Corland
MARIA COSTA (USA), Maria Costa: 0/66.58
4. BYZANCE MAIL: 2011 Selle Français mare by Iowa 960 x Carthago
LACEY GILBERTSON (USA), Seabrook LLC: 0/68.07
5. QUINTAGO VA: 2007 Holsteiner gelding by Quidam de Revel x Capitol I
UMA O'NEILL (USA), O'Neil Show Jumping LLC: 0/68.20
6. CASIANO: 2014 Anglo European gelding by Casino Berlin
LAUREN HOUGH (USA), Chandler Meadows: 0/71.24
7. URVOSO DU ROCH: 2008 Selle Français gelding by Nervoso x Grand D'Escla
TOM WACHMAN (IRL), Coolmore Show Jumping: 0/71.77
8. JERSEY GIRL: 2010 Swedish Warmblood mare by Careful x Turban Rose
REBECCA CONWAY (USA), Hilington Farm: 4/63.97
9. HAITIE: 2012 KWPN mare by Cayado 3 x Cassini II
SANDRA DALMAN (USA), Dalman Show Jumping: 4/67.42
10. CHAPEAU PS Z: 2014 Zangersheide stallion by Comilfo Plus Z x Calato Z
LUIS PEDRO BIRABEN (ARG), Miguel Madero & Luis Pedro Biraben: 4/72.80
11. VALENTINO TUILIERE: 2009 Selle Français gelding by Diamant de Semilly x Silvio
DARRAGH KERINS (IRL), Eve Jobs: 4/72.99
12. CARMEN DE BONNIERES: 2012 Selle Français mare by Kannan*GFE x Socrate de Chivre
CONOR O'REGAN (IRL), Sabine Cooper: 8/67.44