By Alice Collins for Jennifer Wood Media, Inc.
Wellington, FL – February 25, 2022 – The week seven's "Friday Night Stars" showcase at the 2022 Adequan® Global Dressage Festival (AGDF) in Wellington, FL, on Friday, February 25, 2022, was hosted in the spectacular International Arena at Palm Beach International Equestrian Center (PBIEC), home to the Winter Equestrian Festival.
German rider Frederic Wandres capitalized on his already lucrative season, winning the Grand Prix Freestyle CDI5*, presented by CaptiveOne Advisors, on Bluetooth OLD with 81.165%. Laurence Vanommeslaghe (BEL) filled second with an energetic performance on Edison (79.430%) and Spain's Juan Matute Guimón finished third on Quantico (78.925%).
"Bluetooth is getting better and better," said Wandres of the 12-year-old Oldenburg gelding by Bordeaux. "I get more and more the feeling that I can ride during the test, and he offers me a very good feeling. I'm super happy about his development here in the Wellington season. For him the season is finished now, and he has a few more weeks here to rest a little bit and enjoy the Florida sun before he goes home. Then we are looking forward and trying to take these things which we achieved and developed here together with us to Europe.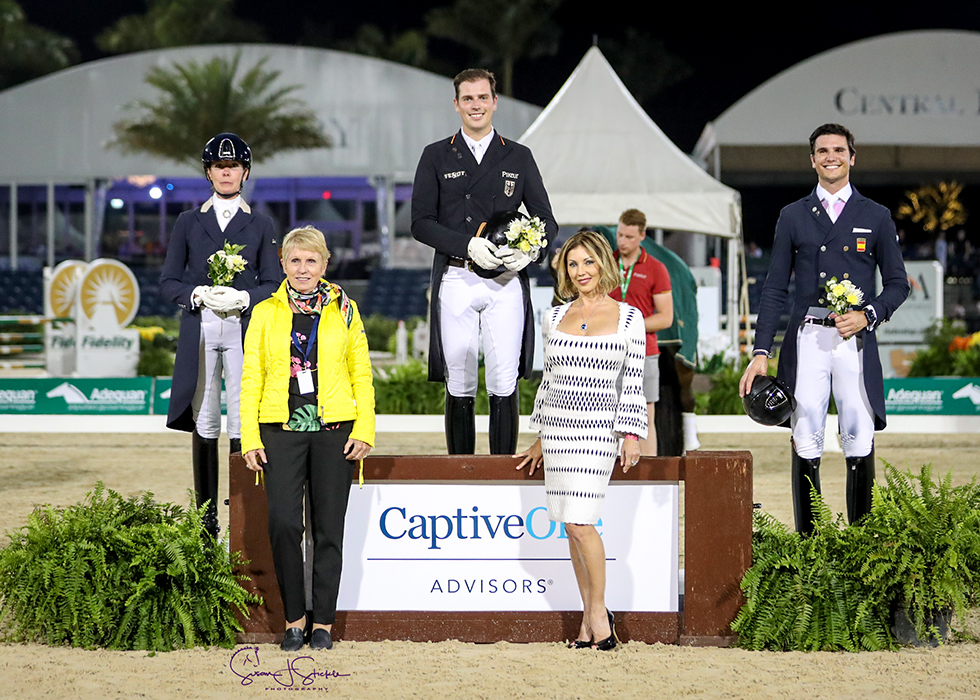 "This is an incredible feeling," he continued. "As a rider you know that it must have been not bad when the crowd is already clapping on the last centerline, and it always also pushes the horse a little bit more to shine. Bluetooth is a very elegant and completely happy horse. When I started to ride him one year ago, he was a very shy horse and was not able to bring what I had in the warmup into the arena. It's something that we have created better now."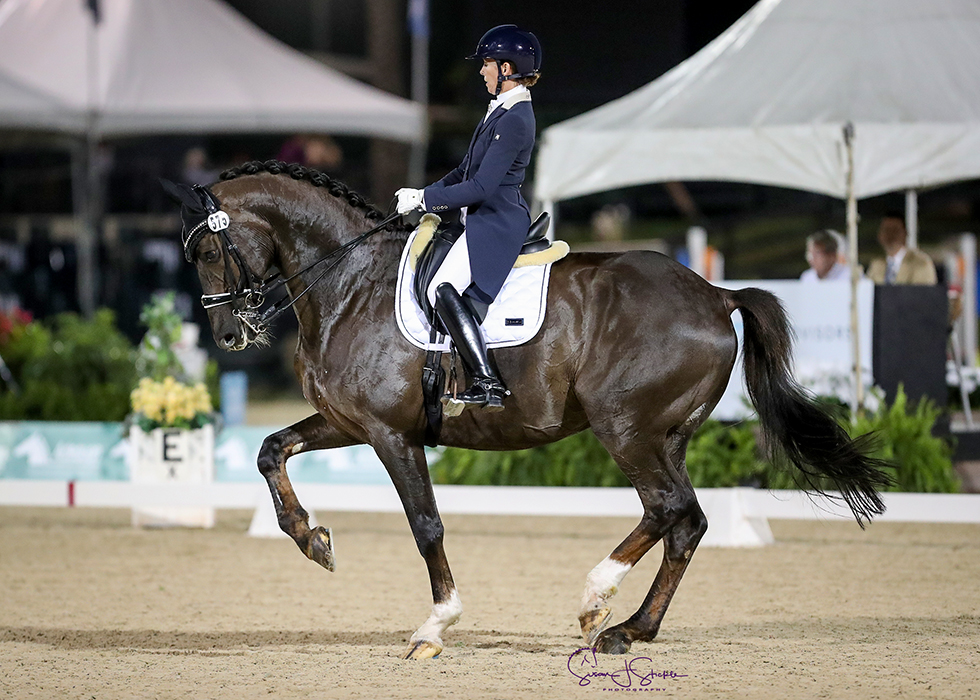 Second-placed Vanommeslaghe was pleased with her conclusion to the five-star week with Edison, the 13-year-old KWPN gelding by Glock's Johnson TN that she rode to a freestyle victory at AGDF 5.
"Several things that were a weakness in the grand prix, I tried to correct tonight," she explained. "I'm really happy that it ended better than it began. The feeling was really lovely with a better frame. I'm very proud, because the riders were very competitive. Almost all of them are in the top 50 best riders in the world, and I'm a nobody — an amateur rider."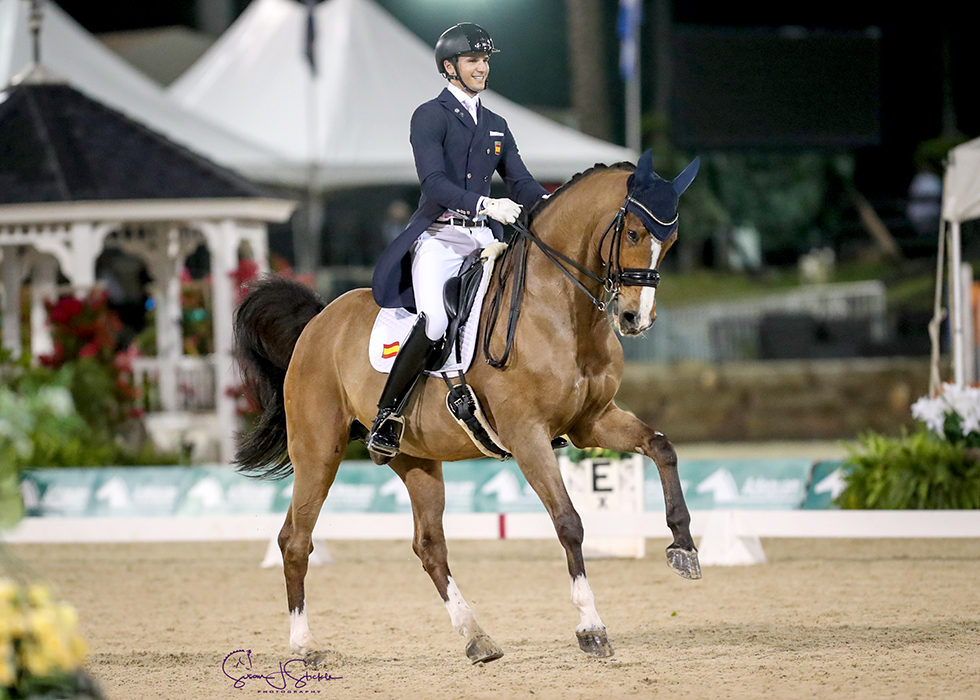 Third-placed Matute Guimón relished the opportunity to ride in the atmospheric jumping arena with Quantico, his 2018 FEI World Equestrian Games mount, as well as in the class with his sister Paula.
"My experience was phenomenal," he enthused. "I really enjoyed riding at WEF — that is something that I always dreamed of. Quantico is getting better and better, and he is allowing me to enjoy every step. There were no big mistakes, and I was really pleased with his attitude, with the frame; everything was pretty good. I'm very proud."
AGDF Director of Sport Thomas Baur said: "I always wanted to have a change of venue so that the horses see something different, so I'm really happy. I say a big thank you to Andreas Helgstrand who made it finally happen, and also to David Burton, who runs the jumping operation here. Also thank you to Anthony D'Ambrosio who is the course designer this week. They were extremely helpful and made this happen for us."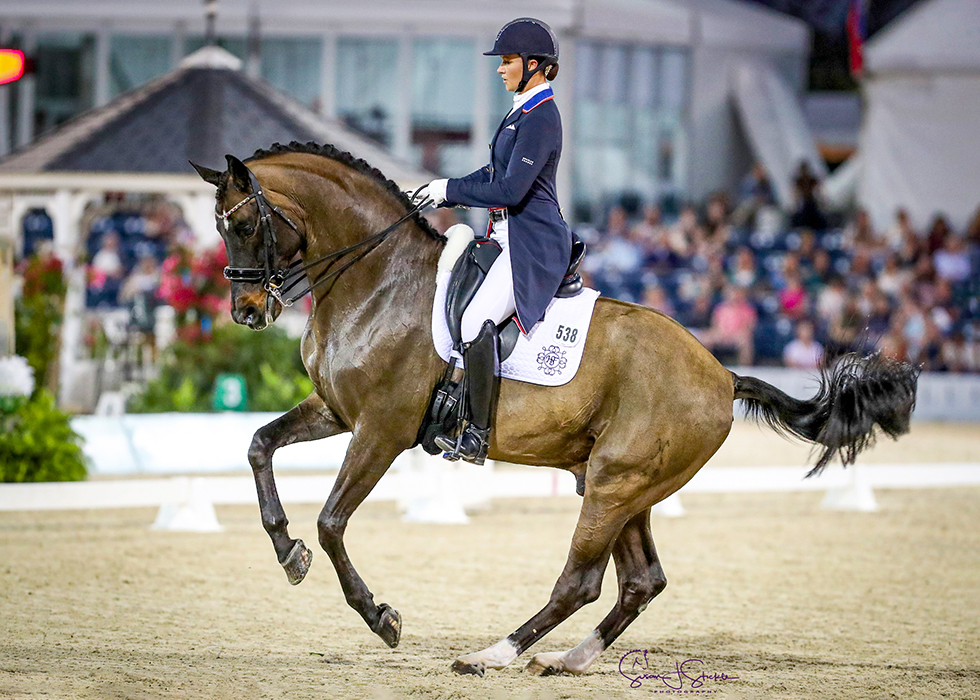 Adrienne Lyle (USA) and Salvino made it two wins from two starts in AGDF 7 when claiming the Grand Prix Special CDI5*, presented by Havensafe Farm. The 15-year-old stallion by Sandro Hit — part of the silver medal-winning USA team at the Tokyo Olympics — posted 79.511%, with a high score of 81.489% from judge Monique Peutz-Vegter.
Lyle finished 10 percentage points clear of second-placed Tinne Vilhelmson Silfvén (SWE) who scored 69.617% with Devanto. Germany's Christoph Koschel rounded out the international podium, claiming third, just a whisker behind Vilhelmson Silfvén, on 69.511% with the Lusitano gelding Favorito 11.
"I'm incredibly thrilled with him," said Lyle of her horse that is owned by Betsy Juliano of Havensafe Farm. "I think both our Grand Prix and the Special were possibly some of the best feelings I've had in the ring. He feels so strong, so solid in his work, and he's always such an incredible competitor. He didn't put a foot wrong both tests. I don't know what more I could ask for him. He's just absolutely amazing.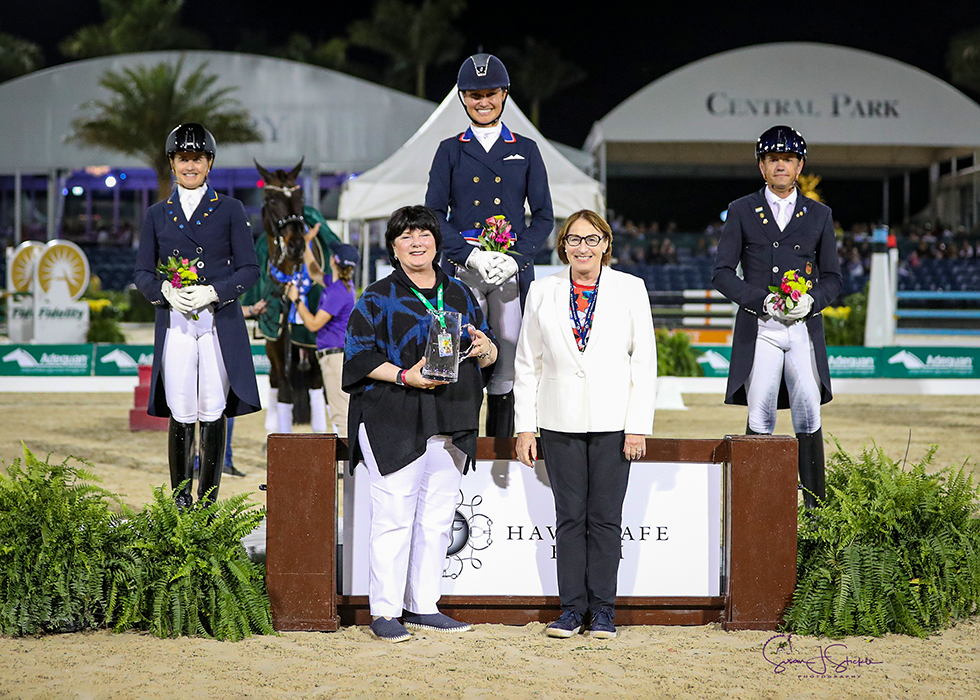 "He's got very powerful extensions and then an incredible ability for the collected piaffe/passage work, so I think this test really highlights that I can step on the gas where I need to," she continued. "Coming down that last centerline is always so incredible on him, because most horses when you get to the end they're a little bit tired, and him, you turn onto the last centerline and you can take a breath and be like, 'Take it home, baby, you got it.' He loves it."
Class sponsor and winning owner Betsy Juliano noted, "It's fantastic to have all of us here competing [at PBIEC]. I also think that it's particularly special to have riders from different countries, like Frederic, Laurence, Juan, and others who really enhance the sport and make everybody better. I think that for me personally to sponsor the Special, to have Adrienne in the Special, and then to have such a result is very touching and extremely meaningful to me."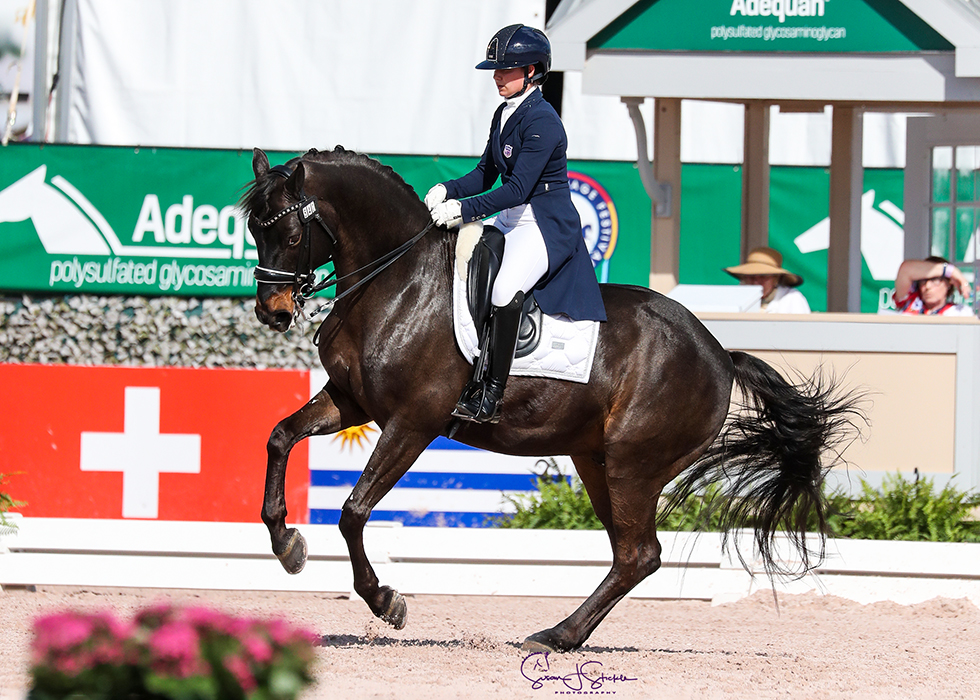 In only her second-ever senior big tour competition, Hope Cooper (USA) swept the Grand Prix Freestyle CDI3*, presented by Premier Equestrian. She and Hot Chocolate W attained 73.925%, with all five judges placing them first. Fellow American Susan Dutta debuted Don Design DC at CDI grand prix freestyle, claiming second with 72.320%, while Colombia's María Alejandra Aponte González filled third with her first-ever plus-70% score on Duke De Niro (70.345%).
Cooper, who rode Mary Mansfield's 17-year-old gelding by Dauphin, said of her win: "It's crazy and really surreal and — honestly — not something I thought would happen this year. I'm so proud of Chocolate. He feels so good, and he puts 100% into anything I ask him. To have this [result] as the second time we've done the freestyle is unbelievable. He felt like he was dancing."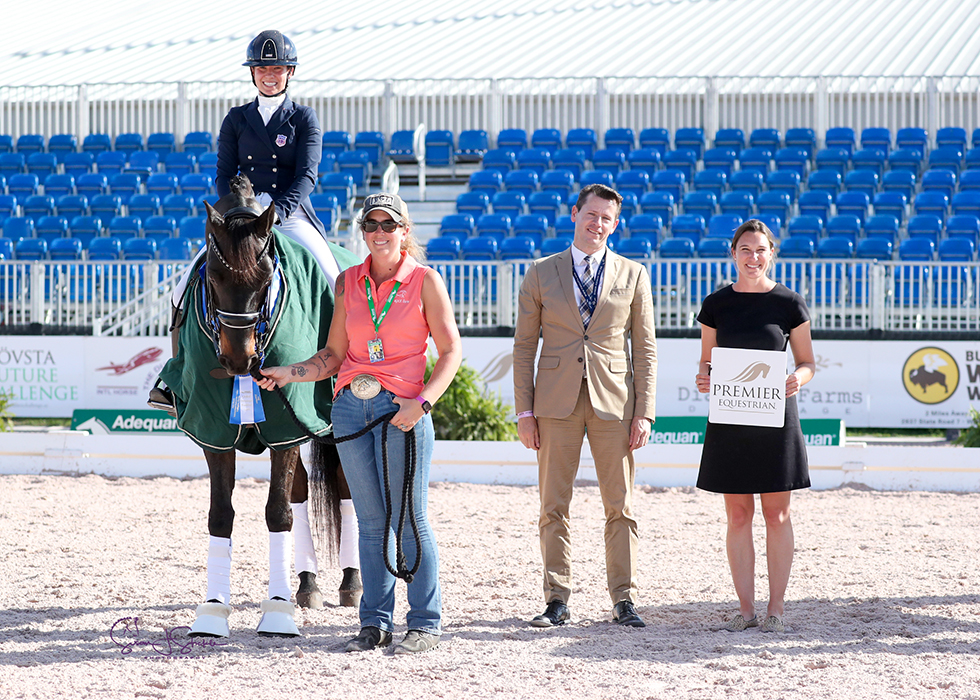 Cooper, from Massachusetts, rode to a Marc Anthony soundtrack. She has come up the levels with Hot Chocolate, competing him at under-25 grand prix level since 2019.
"Chocolate has so much suspension off the ground, especially in the passage," said the 25-year-old. "Having this music that has a lot of lift to it — and a lot of soul — is a cool thing to have for him, because he's such a heart horse.
"He's not the hottest horse on the planet, but he'll do it for you. I [try to] take the pressure off and have fun with it because it's our first year. The end has the words to the Marc Anthony song, so I sing that in my head, and he gets more alive on the last centerline," added Cooper, who trains with Christoph Koschel.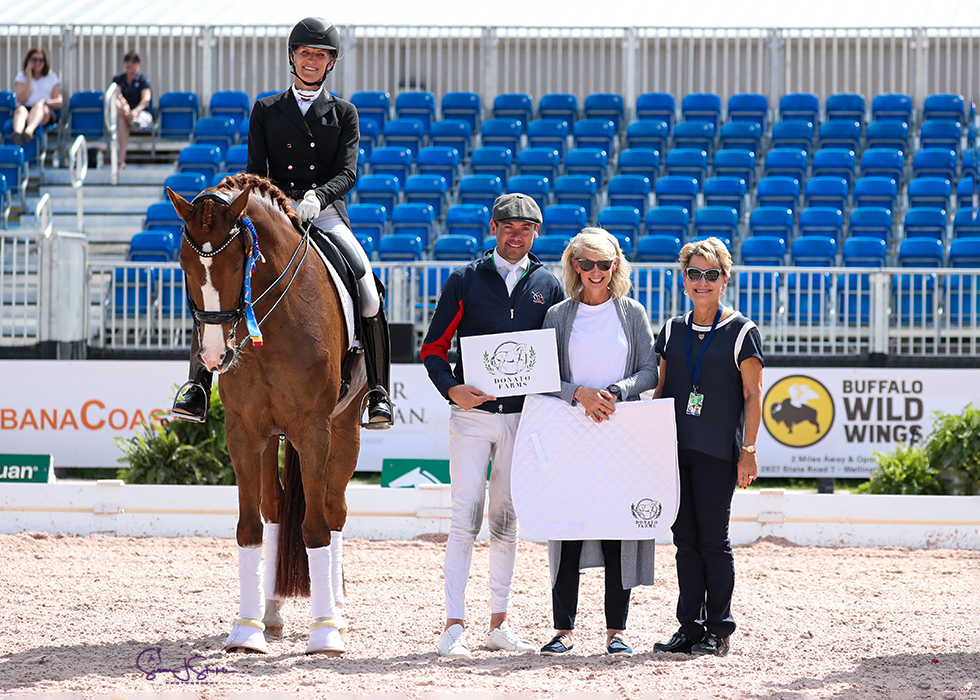 Bianca Berktold continued her winning form during AGDF 7 in the Intermediate I CDI3*, presented by Donato Farms. Having led Thursday's Prix St. Georges CDI3* class with 73% and a personal best, Berktold and Imperial stamped a 73.324% career best on Friday's Intermediate I. Last to go of the four all-American starters, Berktold was riding the youngest horse in the class, Imperial — her own nine-year-old KWPN mare by Charmeur.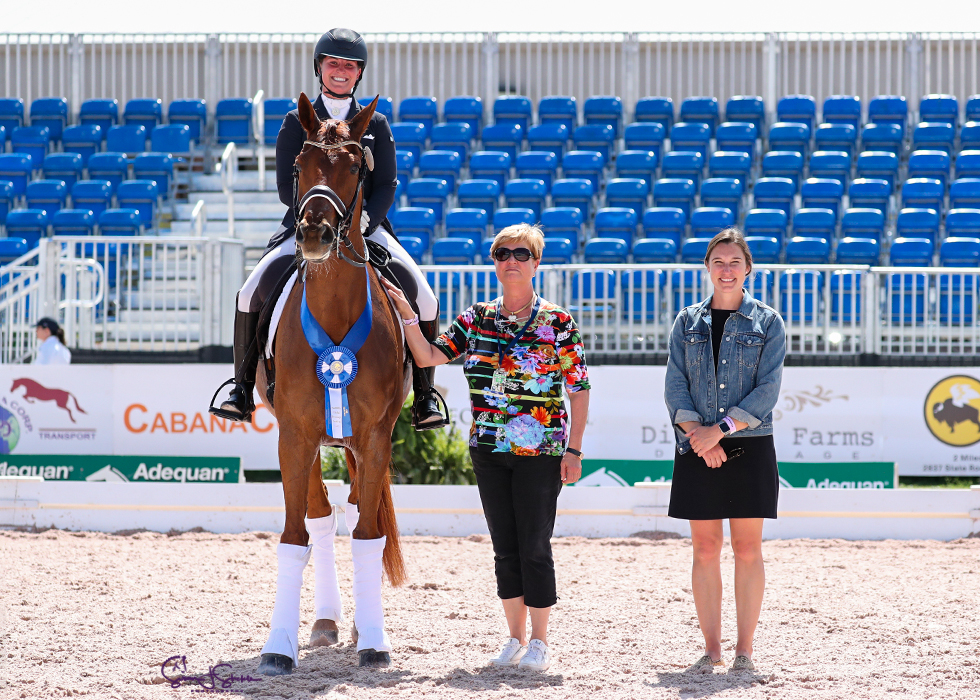 The Prix St. Georges CDI1* produced inspirational performances, with four of the top five finishers posting personal best scores. The winner, Canada's Beatrice Boucher, laid down 73.382% riding Summerwood's Limei for a unanimous win from the five judges. The nine-year-old Londonderry mare — formerly ridden by Heather Blitz — was contesting her second CDI show with Boucher, and this marked their first international win.
Boucher and Monica Von Glahn's Summerwood's Limei were the last to go of 15 competitors in the class, toppling María Alejandra Aponte González and Lord Of The Dance from the top of the leaderboard. They finished second with 68.471%, with Hannah Irons (USA) third with 67.676% on Scola Bella.
Final Results: Grand Prix Freestyle CDI5*, presented by CaptiveOne Advisors
E, Hans Voser (SUI); H, Evi Eisenhardt (GER); C, Katrina Wüst (GER); M, Monique Peutz-Vegter (NED); B, Elisabeth Max-Theurer (AUT)
1. Frederic Wandres (GER) on Bluetooth OLD, Elena Knyaginicheva & Sergey Knyaginichev's 12yo Oldenburg gelding by Bordeaux: 80.95, 80.425, 82.175, 80.575, 81.7, 81.165
2. Laurence Vanommeslaghe (BEL) on Edison, Fiechter Quality Dressage Horse BVBA's 13yo KWPN gelding by Glock's Johnson TN: 79.725, 78.6, 81.35, 80.1, 77.375, 79.43
3. Juan Matute Guimón (ESP) on Quantico, Juan Matute Azpitarte's 16yo Hanoverian gelding by Fighting Fit: 79.625, 78.875, 79.775, 78.7, 77.65, 78.925
4. Charlotte Jorst (USA) on Kastel's Nintendo, Kastel Denmark's 19yo KWPN stallion by Negro: 77.825, 78, 78.95, 78.375, 76.325, 77.895
5. Benjamin Ebeling (USA) on Illuster Van De Kampert, ACR Enterprises Inc.'s 14yo Belgian Warmblood gelding by Spielberg: 79.425, 76.425, 77.35, 75.875, 78.4, 77.495
6. Brittany Fraser-Beaulieu (CAN) on All In, her own & Marc-Andre Beaulieu's 17yo KWPN gelding by Tango: 77.75, 75.95, 79.625, 77.1, 76.325, 77.35
7. Susan Pape (GBR) on Harmony's Eclectisch, Harmony Amateur Sports Foundation & Susan Pape's 13yo KWPN stallion by Zenon: 74.1, 73.15, 74.45, 74.05, 71, 73.35
8. Jennifer Williams (USA) on Millione, Millione Partners's Danish Warmblood gelding by Milan: 74.075, 70.75, 73.7, 72.075, 74.35, 72.99
9. Naima Moreira Laliberte (CAN) on Statesman, KML Inc.'s 15yo Hanoverian gelding by Sandro Hit: 70.15, 70.775, 73.575, 70.75, 73.7, 71.79
10. Yvonne Losos de Muñiz (DOM) on Aquamarijn, her own & Sylvia Ines Muñiz Losos's 17yo KWPN mare by United: 72.125, 71.575, 71.875, 71.275, 70.525, 71.475
Final Results: Grand Prix Special CDI5*, presented by Havensafe Farm
E, Clive Halsell (GBR); H, Monique Peutz-Vegter (NED); C, Evi Eisenhardt (GER); M, Janet Lee Foy (USA); B, Katrina Wüst (GER)
1. Adrienne Lyle (USA) on Salvino, Betsy Juliano LLC's 14yo Hanoverian stallion by Sandro Hit: 79.362, 81.489, 77.872, 80.532, 78.298, 79.511
2. Tinne Vilhelmson Silfvén (SWE) on Devanto, Lövsta Stuteri AB's 13yo Holsteiner gelding by De Chirico: 70.213, 68.085, 68.723, 69.787, 71.277, 69.617
3. Christoph Koschel (GER) on Favorito 11, Koschel Dressage GmbH's 12yo Lusitano gelding by Vulcano: 69.681, 68.617, 67.021, 71.383, 70.851, 69.511
4. Diane Creech (CAN) on Chrevis Christo, her own & Louise Leatherdale's 19yo Danish Warmblood gelding by Chrevi's Cavallo: 67.553, 67.34, 66.596, 70.745, 70, 68.447
5. Ashley Holzer (USA) on Valentine, her own 12yo Hanoverian mare by Sir Donnerhall I: 66.064, 67.872, 70.426, 65, 66.809, 67.234