By Jennifer Wood and Sabrina Schmidt for Jennifer Wood Media, Inc.
Wellington, FL – February 26, 2022 – Irish Olympian Bertram Allen made history at the 2022 Winter Equestrian Festival (WEF) as he scored back-to-back grand prix victories on the same two weeks he had also won in 2021. A two-time winner of WEF 6's IDA Development Grand Prix CSI3* in 2021 and 2022, Allen again rose to the top on Saturday, February 26, 2022, in the $406,000 Lugano Diamonds Grand Prix CSI5* with Pacino Amiro, the same mount he rode to victory in 2021. WEF 7, sponsored by Lugano Diamonds, is the second of four five-star weeks during the WEF circuit.
Anthony D'Ambrosio (USA) and Andy Christiansen (ECU) set a challenging track for the 40 entries in the "Saturday Night Lights" class. Five were able to go clear over the first-round course while 12 fell victim to just one rail down. Fifteen countries were represented in the grand prix order, with four flags in the jump-off.
Bliss Heers praised the course designers, saying, "It's always tough building here because of the level of competitors and horse power. You want something difficult enough, but not something that will scare the horses because you want to keep them confident that the Saturday night class is going to be a good class. They did a great job, and it was fair."
First to return for the jump-off was Olympian Daniel Bluman (ISR) and Ladriano Z, a 14-year-old Zangersheide gelding by Lawito x Baloubet Du Rouet owned by Over The Top Stables LLC. With a rail for four faults and a time of 45.59 seconds, Bluman finished in fourth place.
Allen was next in, and he opened up Pacino Amiro's giant stride to gallop across the jump-off clear in 44.14 seconds.
"It was a little hard to know how fast to go with only five in the jump-off," admitted Allen. "It was a question of getting the line right between going mad and too fast and having a rail, so I tried to have as good of a round as I could without going mad. He's got a great length of stride, and any time there was an option, I was able to take one less, and I suppose that's what helped me today."
Another Olympic rider, Nicola Philippaerts of Belgium, came close to the winning time of 45.68 seconds, but a rail at the final oxer relegated him to fifth place with Katanga V/H Dingeshof, a 12-year-old Belgian Warmblood mare by Cardento 933 x Tornedo FCS.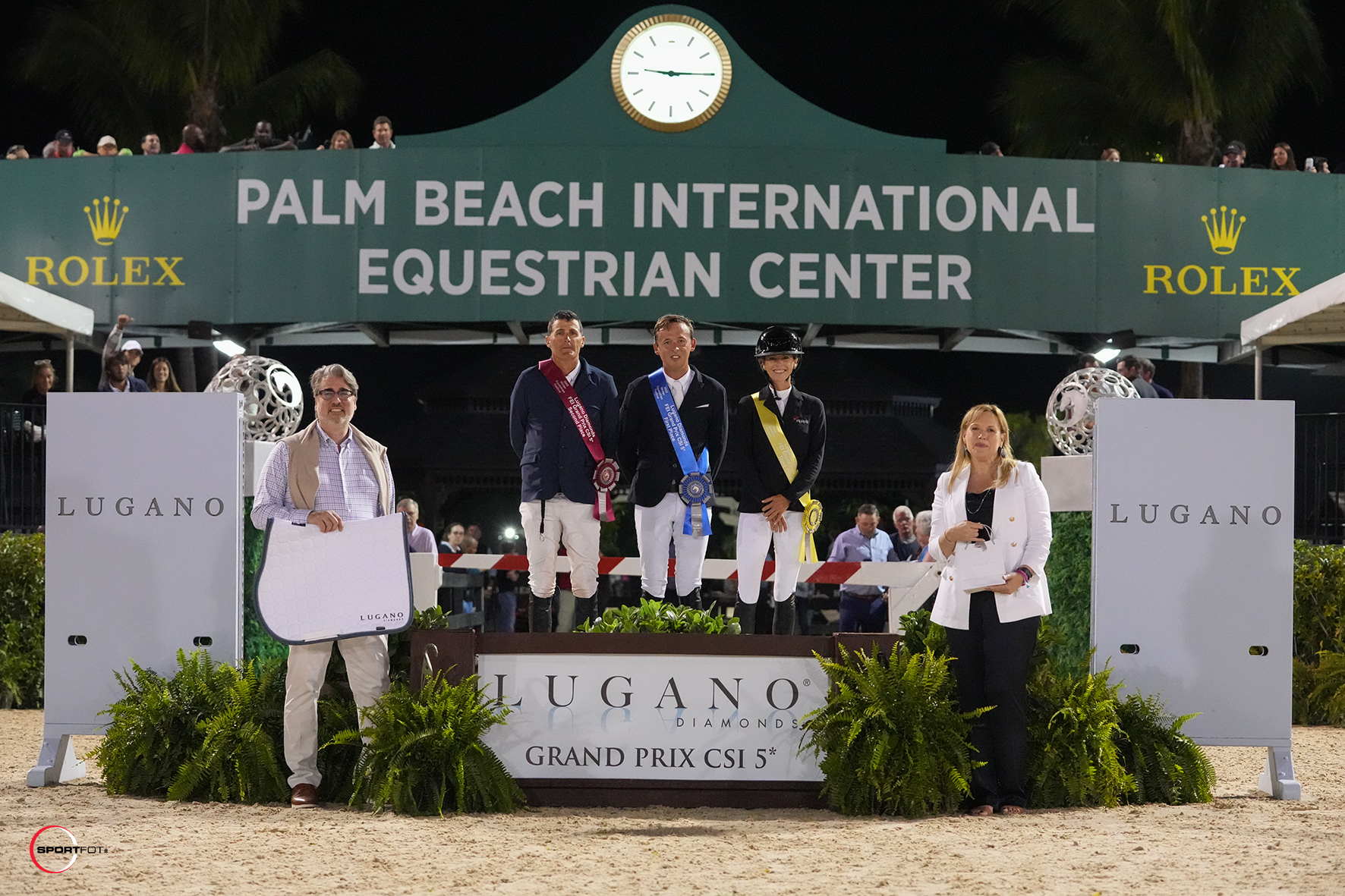 As the lone American in the jump-off field, Bliss Heers jumped to a podium finish after she and Antidote de Mars, owned by Bridgeside Farms LLC, were clear in 45.17 seconds.
"To be honest, I took the track I wanted to take," said Heers. "Knowing that my horse is naturally very, very fast, I could've taken a bit more risk than I did and trusted his foot speed a bit more. I think I definitely lost some time just by being more cautious, but then again you can take a risk and knock one down. I did my plan, and I'm very happy with the results."
Heers has enjoyed success with Antidote de Mars for three years and represented the United States in two Nations Cups in 2021.
"For me, he is the best horse in the world," she said of the 12-year-old Selle Francais stallion by Diamant De Semilly x Jarnac. "He does everything for me and has the biggest heart; he has every quality you would want in a show jumper, and as a personality he is the kindest soul. I trust him with everything. It is really fun to have a horse that I think almost thinks the same as me sometimes. Where I make mistakes, he is very keen on picking me up and helping me out. We are a good team that way; I support him, and he helps me out."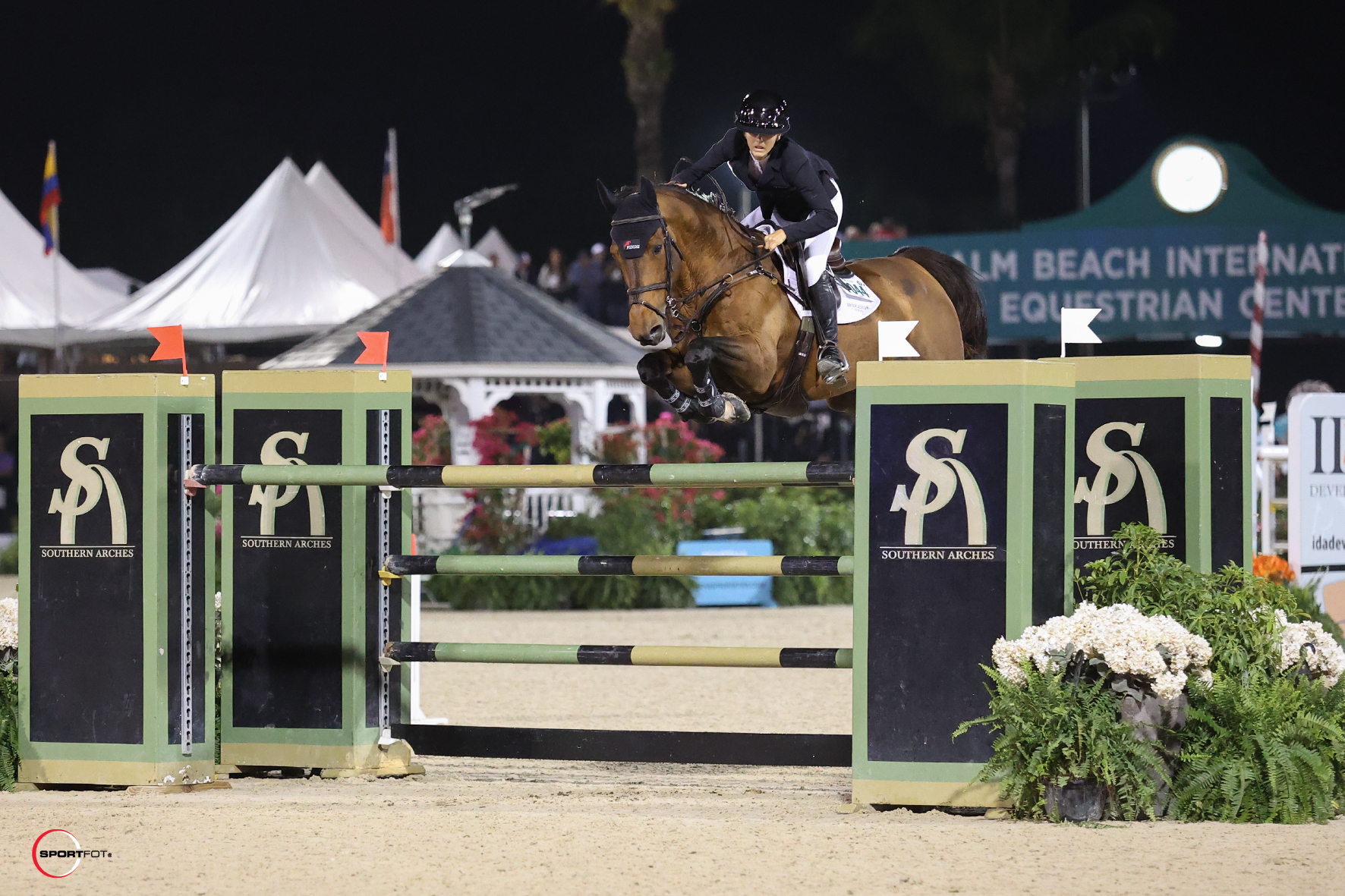 The final entry to go in the jump-off was Paul O'Shea (IRL) riding Trelawny Farm LLC's Chancelloress. O'Shea made a bid in the long run to the final oxer as the crowd roared, but they crossed the timers just off the pace in 44.49 seconds for second place.
Of the grand prix course, O'Shea commented, "When I walked the course, I thought it was tough, but the standard is so high here because there are so many top riders and horses. They did a great job; everything I walked made me think it was difficult, and it had a lot of options, so you had to make a plan. It was an advantage for me to go later because I could see a lot go and make a good plan."
O'Shea started riding Chancelloress, a 13-year-old Hanoverian mare by Chacco-Blue x Balou Du Rouet, almost three years ago and was able to keep the ride on her thanks to Cara Raether and Niall Carey, who purchased her in 2021.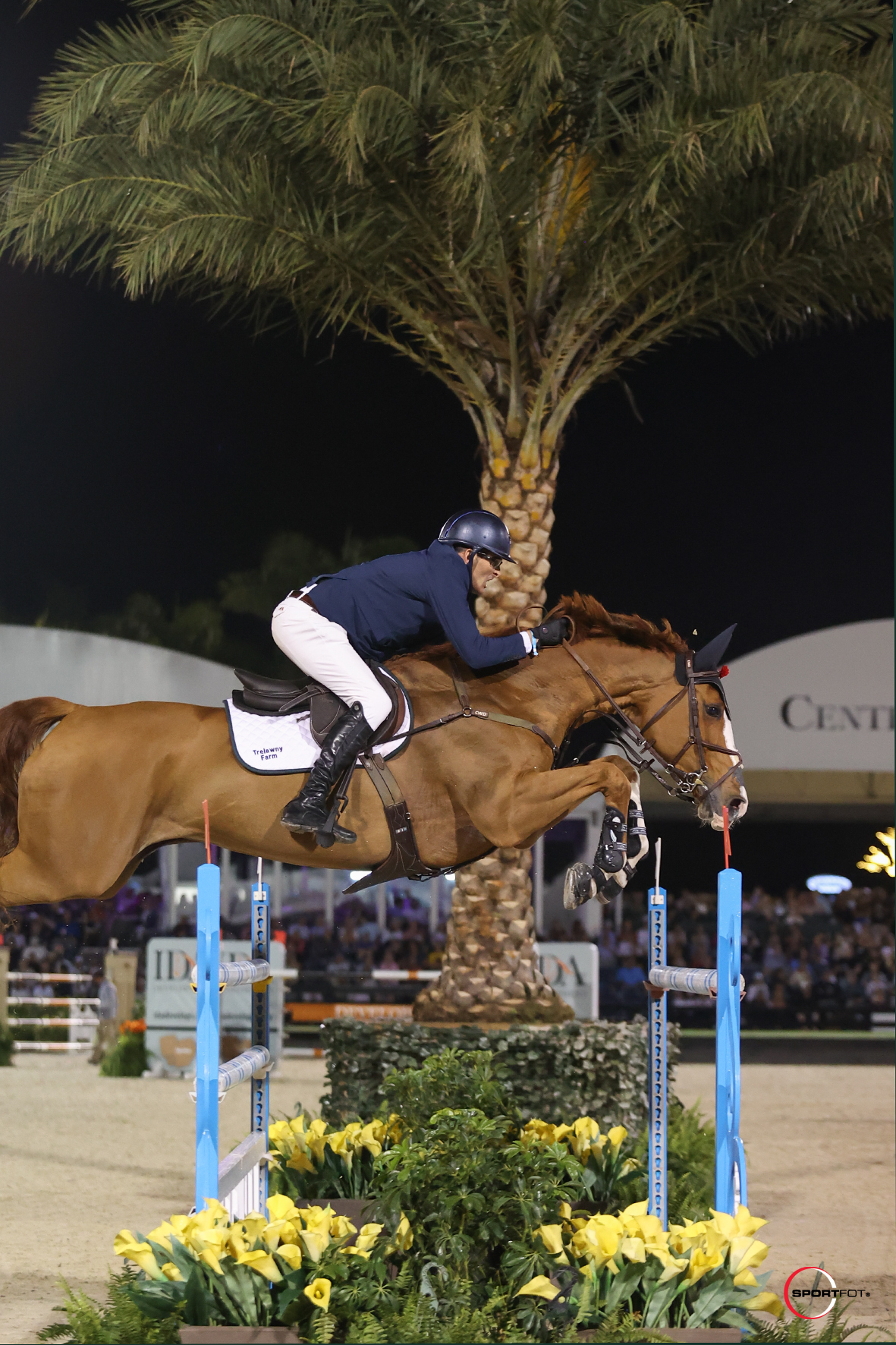 "She's very sensitive and very nervous of other horses," said O'Shea. "She's afraid of everything, but when she goes in the ring, she's like a lion. She's very unusual in that she's very timid outside the ring, even in the stable, but when she goes in the ring, she's very brave and tough which is a great quality."
Acknowledging the rarity of winning a grand prix at WEF, much less a five-star event, Allen said, "I've been coming to WEF for the past three years. It's great to win any class here, but especially a grand prix, and to win a five star is even more special. Last year it was great jumping here, but it was even better this year with a full house because you could really feel the atmosphere. Tonight was a tough grand prix, and we only saw a few clears so it was a great result."
In this grand prix in 2021, Pacino Amiro was nine years old and competing in only his second five-star. He went on to compete at the Tokyo Olympic Games, and Allen felt that the experience at WEF was "brilliant for him."
The now-10-year-old Irish Sport Horse gelding by Pacino x NC Amiro owned by Aiden McGrory "really felt at his best tonight," said Allen. He has been riding Pacino Amiro for three years, and the horse has exceeded his expectations.
"He's a little bit quirky because he's a big horse and has his own way of going, but he is a fantastic, genuine horse with lots of talent and brave as a lion," described Allen. "You're not worried about what the course builder is building because you know he can jump everything, so I'm very confident in him, and it's a nice feeling to have."
Recognizing the commitment of major sponsors at WEF like Lugano Diamonds, Allen noted, "Sponsors are everything; without them we wouldn't have shows like this, and I think all of us riders are very appreciative of that."
Final Results: $406,000 Lugano Diamonds Grand Prix CSI5*
1. PACINO AMIRO: 2012 ISH gelding by Pacino x NC Amiro
BERTRAM ALLEN (IRL), Aiden McGrory: 0/0/44.14
2. CHANCELLORESS: 2009 Hanoverian mare by Chacco-Blue x Balou Du Rouet
PAUL O'SHEA (IRL), Trelawny Farm LLC: 0/0/44.49
3. ANTIDOTE DE MARS: 2010 Selle Francais stallion by Diamant De Semilly x Jarnac
BLISS HEERS (USA), Bridgeside Farm LLC: 0/0/45.17
4. LADRIANO Z: 2008 Zangersheide gelding by Lawito x Baloubet Du Rouet
DANIEL BLUMAN (ISR), Over The Top Stables LLC: 0/4/45.59
5. KATANGA V/H DINGESHOF: 2010 BWP mare by Cardento 933 x Tornedo FCS
NICOLA PHILIPPAERTS (BEL), Nicola Philippaerts: 0/4/45.68
6. WINNING GOOD: 2009 NRPS gelding by Winningmood x Sir Corland
EMILY MOFFITT (GBR), Poden Farms: 2/79.82
7. H&M KIRLO VAN DEN BOSRAND: 2010 BWP gelding by Cardento 933 x Utrillo Vd Heffinck
SAMUEL HUTTON (GBR), Abdel Saïd: 4/72.49
8. BALOUTINUE: 2010 Hannoverian gelding by Balou Du Rouet x Landor S
LAURA KRAUT (USA), St. Bride's Farm: 4/72.79
9. ALAMO: 2008 KWPN gelding by Ukato x Equador
SERGIO ALVAREZ MOYA (ESP), Sergio Alvarez Moya: 4/73.09
10. SCUDERIA 1918 TOBAGO Z: 2008 Zangersheide stallion by Otangelo x Mr Blue
DANIEL DEUSSER (GER), Stephex and Scuderia 1918: 4/73.56
11. CASTRES VAN DE BEGIJNAKKER Z: 2011 Zangersheide gelding by Coriano x Palestro vd Begijnakker
PETRONELLA ANDERSSON (SWE), Stephex Stables: 4/74.16
12. ARPEGE DU RU: 2010 Selle Francais mare by Apache D'Adriers x Quat'sous
ABDEL SAIID (BEL), Abdel Saïd: 4/74.37
---
This Post Brought to You by:
Taylor, Harris Insurance Services
Taylor, Harris Insurance Services (THIS) was founded in 1987 to provide specialized insurance for all types of equine risk.We place our policies with the highest rated and most secure carriers, meticulously selected for reliability and prompt claims settlement. We are proud of our worldwide reputation for responsive and courteous service, and we welcome the opportunity to discuss your equine insurance needs and provide you with a quote.
Access to multiple underwriters
Leader in the U.S. and European markets
Customized policies provide you with a choice
Trusted advisors in the equestrian industry
Direct access to insurance professionals
Policies that cover every breed and discipline across all 50 United States