By Summer Grace for Jennifer Wood Media, Inc.
Wellington, FL – February 27, 2022 – Five-star competition at the seventh week of the Winter Equestrian Festival (WEF) culminated on Sunday, February 27, in the $75,000 CaptiveOne Advisors 1.50m Championship Classic CSI5* where Daniel Deusser (GER) secured his second victory of the week. Deusser was also the victor of the $75,000 Adequan ® WEF Challenge Cup Round VII CSI5* with Scuderia 1918 Tobago Z on Thursday of week 7. WEF 7, presented by Lugano Diamonds, hosted multiple international five-star and two-star events as well as a variety of national hunter, jumper, and equitation divisions. The series gathers the best riders from across the world for 13 straight weeks of top competition running through April 3, 2022.
A total of 53 pairings put forth an effort in the first-round track of the final five-star course of the week designed by Anthony D'Ambrosio (USA) and Andy Christiansen (ECU). The class was one of many throughout the week to have an impressive turnout of international athletes with 17 different nations represented in the starting field. Early in the class, five entries had already qualified to return for the short track including McLain Ward (USA), Erynn Ballard (CAN), Andrzej Oplatek (POL), Chloe Reid (USA), and Jos Verlooy (BEL). When the final horse on course crossed the timers, an additional 10 duos had managed to navigate their way clear. Two competitors suffered at the fate of a single time fault while one dropped rail kept another 11 out of contention.
Ward kicked off the 15-horse comeback field and took the early lead with The Kasper Group LLC's Kasper Van Het Hellehof. The top position shifted rapidly after that with multiple riders giving it their all in hopes of taking the win. As the class wound down, Deusser crossed under the bridge with his second jump-off mount, Kiana Van Het Herdershof. Having already gotten a feel for the track with Killer Queen VDM, Deusser precisely pinpointed what areas he needed to correct for the win and emerged victorious with a clean time of 33.36 seconds.
"She is just coming back from a long break and has been a bit over-excited the past two or three weeks," explained Deusser. "She is typically my 1.45m speed horse but this week I decided to build her up for the bigger Sunday class, and it worked out very well."
The Stephex Stables' 12-year-old BWP mare (Toulon x Lys De Darmen) only began showing again in February of 2022 at WEF after a hiatus dating back to July 2021. The duo placed third in the $37,000 Bainbridge 1.45m CSI5* during WEF 5 prior to today's win.
"She is naturally very fast so if I can handle her and show her the fences, she will almost always want to do it quicker than everyone else and that was definitely to my advantage," described Deusser. "With the first horse I had in the jump-off, I didn't want to risk everything but just tried to use Killer Queen's longer stride to my advantage. We ended up fifth and then a few came after that were faster, so I knew I had to give it everything we had. We did, and it worked out."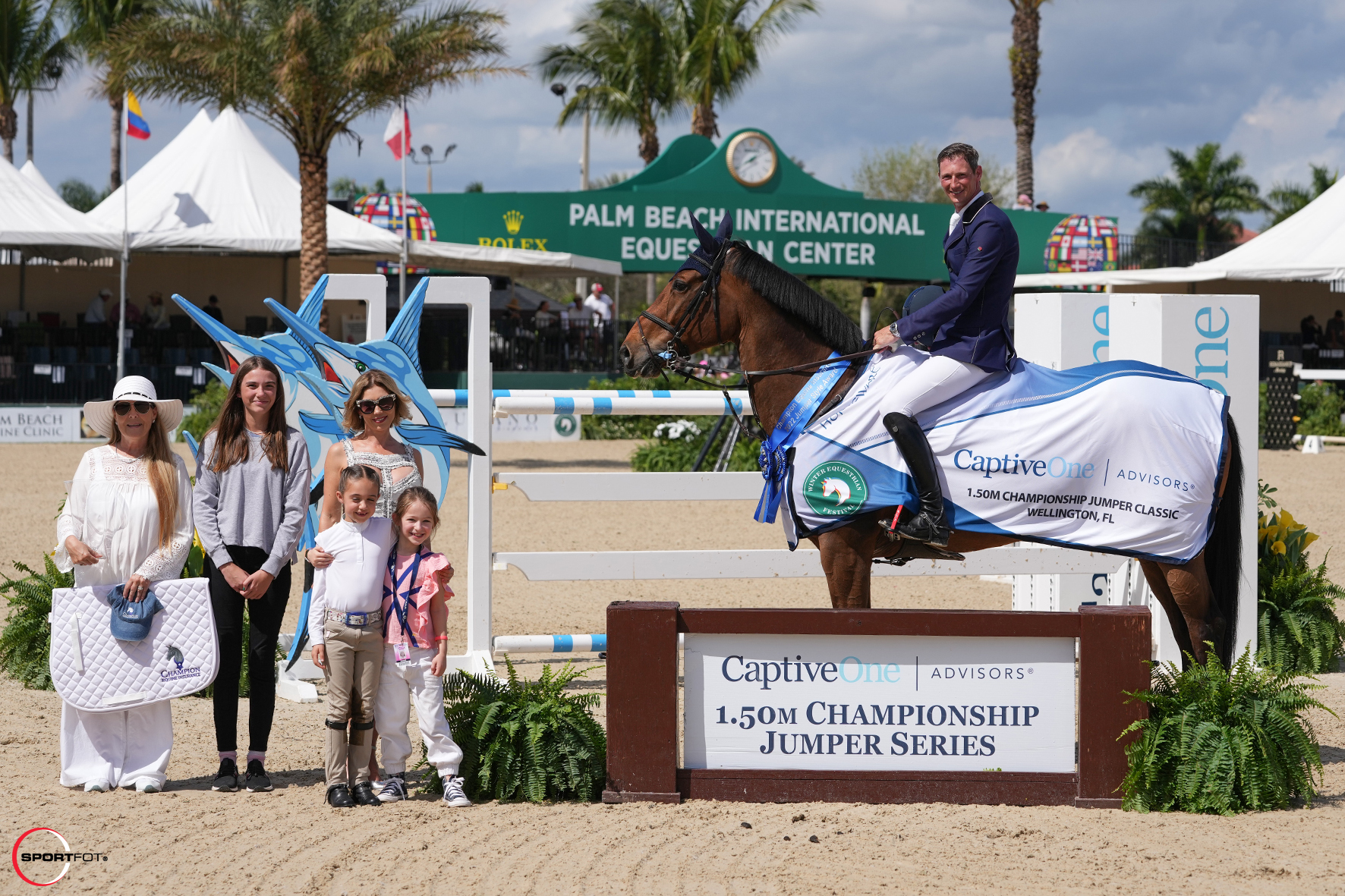 Kiana Van Het Herdershof was also the recipient of the Champion Equine Insurance Jumper Style Award for her performance.
Deusser's stablemate Petronella Andersson (SWE) produced a top ride for her weekend and slid into second place. She and the Stephex Stables' 10-year-old KWPN mare Halita O (Eldorado VD Zeshoek x Heartbreaker) clocked in just over a second behind Deusser with a time of 34.87 seconds.
Belgium's Jos Verlooy and FTS Killossery Konfusion (SIEC Livello x Cruising), a 12-year-old Irish Sport Horse gelding owned by Eurohorse BVBA, finished up with a time of 34.34 seconds over the track to finish in third place.
Final Results: $75,000 CaptiveOne Advisors 1.50m Championship Classic CSI5*
1. KIANA VAN HET HERDERSHOF: 2010 BWP mare by Toulon x Lys De Darmen
DANIEL DEUSSER (GER), Stephex Stables: 0/0/33.36
2. HALITA O: 2012 KWPN mare by Eldorado VD Zeshoek x Heartbreaker
PETRONELLA ANDERSSON (SWE), Stephex Stables: 0/0/34.87
3. FTS KILLOSSERY KONFUSION: 2010 ISH gelding by SIEC Livello x Cruising
JOS VERLOOY (BEL), Eurohorse BVBA: 0/0/34.34
4. OAKS REDWOOD: 2005 AWHA gelding by ASB Conquistador x Verdi
NAYEL NASSAR (EGY), Evergate Stables LLC: 0/0/35.28
5. KILLER QUEEN VDM: 2010 BWP mare by Eldorado VD Zeshoek x For Pleasure
DANIEL DEUSSER (GER), Stephex Stables: 0/0/35.43
6. URIS DE LA ROQUE: 2008 Selle Francais gelding by Capital x Quick Star
MARIO DESLAURIERS (CAN), Aram Ampagoumian LLC: 0/0/35.88
7. STAKKATAN: 2009 OS gelding by Stakkatol x Kannan
ANDRZEJ OPLATEK (POL), Gospodarstwo Rolne and Andrzej Oplatek: 0/0/36.87
8. SOUPER SHUTTLE: 2011 Hannoverian mare by Stakkato x La Zarras 2
CHLOE REID (USA), Live Oak Plantation, LLC: 0/0/38.30
9. KASPER VAN HET HELLEHOF: 2010 BWP stallion by Emerald x Nabab De Reve
MCLAIN WARD (USA), The Kasper Group LLC: 0/0/39.49
10. H. BIG ACTION: 2012 KWPN stallion by Action-Breaker x Big Star
EDUARDO PEREIERA DE MENEZES (BRA), Eduardo Pereiera De Menezes: 0/4/35.25
11. NANINI VAN D'ABELENDREEF: 2013 BWP mare by Kannan x Heartbreaker
ERYNN BALLARD (CAN), Ilan Ferder and Esperanza Imports LLC: 0/4/36.03
12. KAMILLA D: 2011 SCSL mare by Kashmir Van Schuttershof x Canturo*bois Margot
NATALIE DEAN (USA), Marigold Sporthorses LLC: 0/4/36.21
---
This Post Brought to You by:
Taylor, Harris Insurance Services
Taylor, Harris Insurance Services (THIS) was founded in 1987 to provide specialized insurance for all types of equine risk.We place our policies with the highest rated and most secure carriers, meticulously selected for reliability and prompt claims settlement. We are proud of our worldwide reputation for responsive and courteous service, and we welcome the opportunity to discuss your equine insurance needs and provide you with a quote.
Access to multiple underwriters
Leader in the U.S. and European markets
Customized policies provide you with a choice
Trusted advisors in the equestrian industry
Direct access to insurance professionals
Policies that cover every breed and discipline across all 50 United States