By Alice Collins for Jennifer Wood Media, Inc.
Wellington, FL – March 3, 2022 – There were no fewer than three grand prix classes on Thursday, March 3, the opening day of week eight of the 2022 Adequan® Global Dressage Festival (AGDF) in Wellington, FL.
At only their second big tour show together, Jan Ebeling (USA) and Ann Romney's Bellena captured the winner's sash in the Grand Prix CDI4* (for freestyle), presented by IDA Development, with the day's highest score at the level. Spain's Juan Matute Guimón rode into second place on Quantico with 69.848%, while Canadian rider Ariana Chia's personal best of 69.087% on Fiderflame secured third place of the 11 starters.
Despite Bellena being the equal-youngest horse in the class and making a costly mistake in the pirouette right, she achieved 71.739% and a unanimous victory. Ebeling could not hide his excitement about the young Belissimo M daughter.
"I'm stoked," grinned the 63-year-old. "She's a super talented horse. Probably the most talented I've ever had in my whole career. She's still green, so she does stuff that green horses do, but what a horse. I was really happy about my one tempis because we've been battling with those, and we've always had mistakes here and there. Today was really the first line of 15 without a mistake. We got her when she was nine and she already knew a lot, but she had big gaits and needed to find her balance first, and that's taken a bit of time."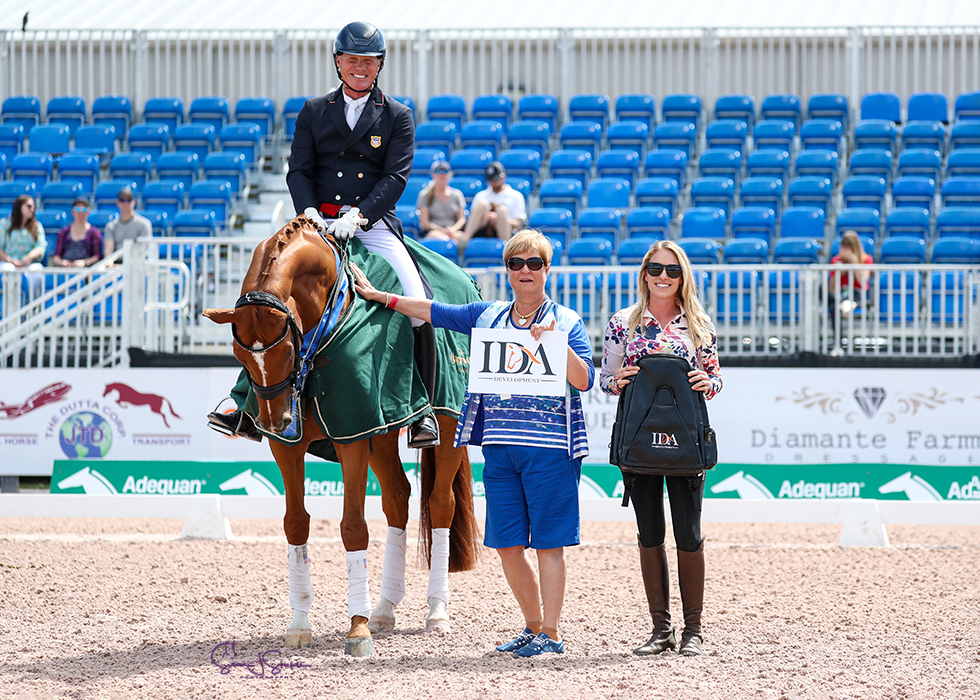 Judge Elisabeth (Sissy) Max-Theurer admonished Ebeling after his test.
"I was really proud of Ballena's piaffe/passage today, but I'm still a little intimidated to put it on the spot, so I started early and Sissy came and said, 'Now, why are you doing your piaffe so early?' So I guess next time I have to have it right on the centerline, not so early," added Ebeling, who believes the horse has team potential.
"It took a long time, but I think we're finally getting to a point where she's grown into her own. There's still a lot to do, and I'm taking it one step at a time, but being on another team would be amazing. But if I look at the competition, it doesn't exactly sleep — even in my own family," concluded Ebeling, referring to his son Benjamin, an up-and-coming dressage star.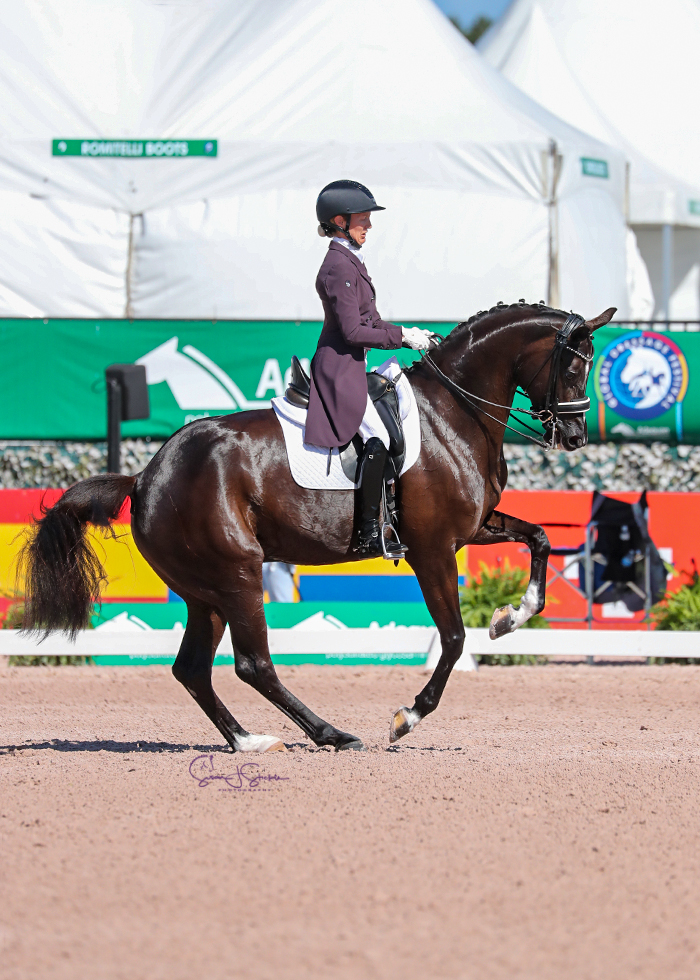 Riding Serenade MF, the youngest horse in the class of 14 starters, Alice Tarjan (USA) topped the Grand Prix CDI4* (for Special), presented by Mission Control. Benjamin Ebeling (USA) captured second with 69.87% on Indeed and Canadian Naïma Moreira Laliberte rounded out the podium with 69.587% for third on Statesman.
Serenade MF was making her CDI debut, and Tarjan has owned the nine-year-old Sir Donnerhall I daughter since she was a foal.
"I bought her — black with white socks — and I thought, 'Oh, that's pretty. If I don't like her, I can sell.' It turns out the horse moves really well and was super easy to train, so I kept it," said Tarjan, who won the USEF Developing Horse Grand Prix Dressage National Championship in 2021 with the mare. "But she's little and downhill. She's very pretty and super sweet and easy, just not the most impressive thing. However, when you put her together and clock around, that horse lights up.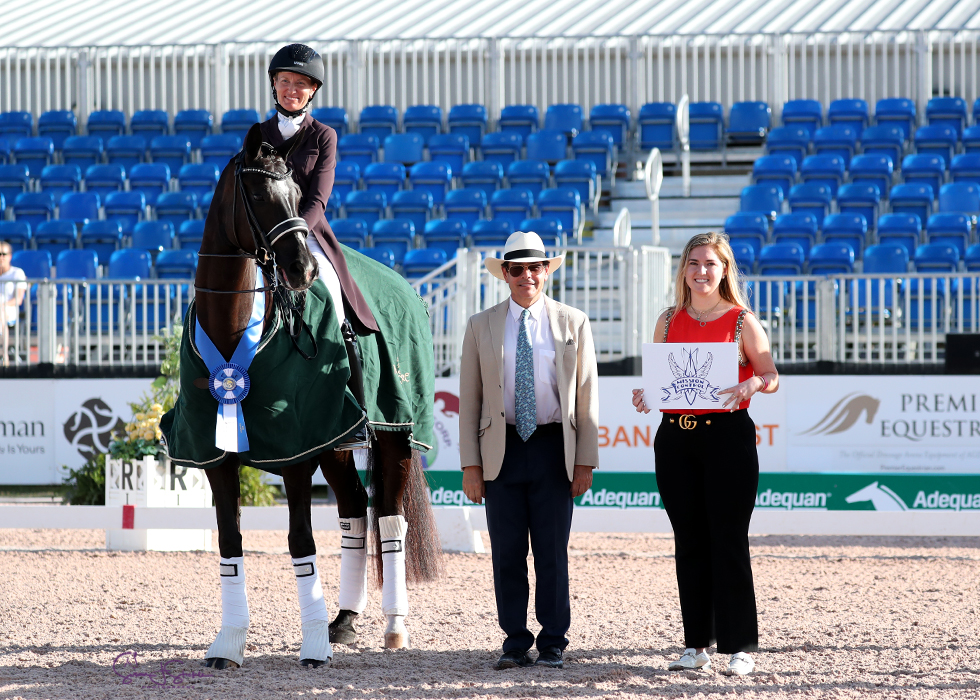 "I'm thrilled with the win, but everything's a work in progress. She's a good girl, and she did her job," she continued. "The horse is pretty reliable and easy, and she's not at all influenced by the environment. She's pretty easy to train all the tricks, but it's really been the self-carriage and the uphill balance that have been the challenge to maintain throughout the test. We lose it, for sure, but it's much more consistent than it was last year."
Tarjan, who is aiming for the Grand Prix Championships at Lamplight, gave credit to the mare's lowkey attitude: "It's nice to have a horse where there's not much drama and who stands for the awards ceremonies and stuff, because the other ones can be a little hot. You wish that maybe the horse was a little hotter sometimes, but she's learning."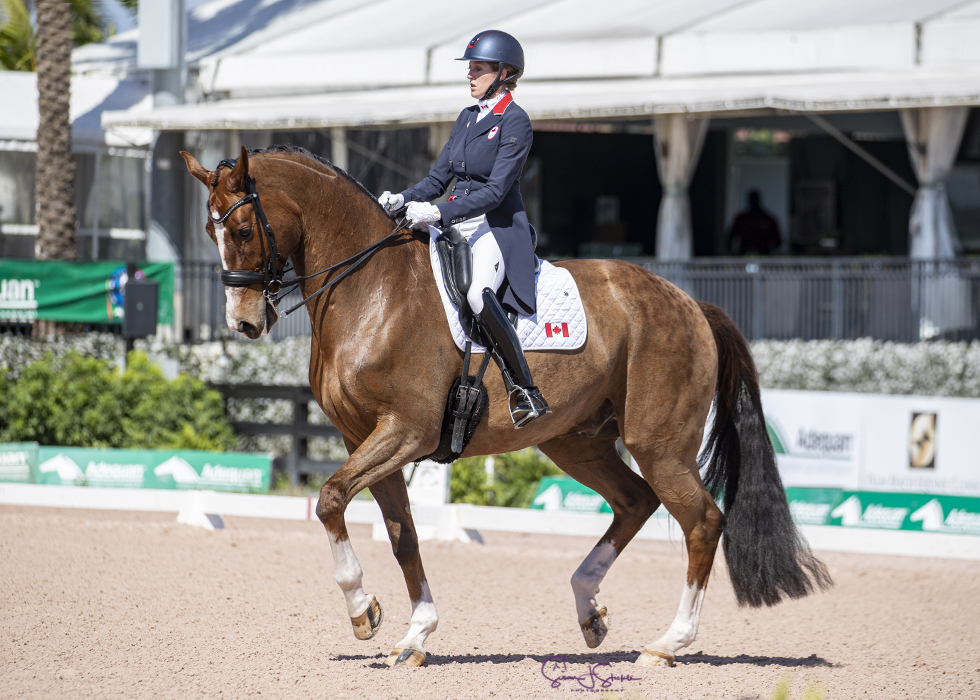 Canadian Tokyo Olympic rider Brittany Fraser-Beaulieu, who is three months pregnant, laid claim to the World Cup™ Short Grand Prix, presented by Sapphire Stables. Riding her long-time partner All In, Fraser-Beaulieu notched up 71.447%, handing her a unanimous victory.
"He felt great, so it was a little bit of a shame that we had a miscommunication in the ones on centerline," said the 33-year-old, who has partnered the horse for 12 years. "But he's 17 years old, I just had a huge show at the five-star, and he came back out here and was with me again. He's just a horse of a lifetime. He comes out every time and tries his best.
"I thought my pirouettes were really nice," she added, "and his piaffe has improved so much even from last year. Before, he used to get really nervous, and I felt like I had to really play it safe and not aid too much. But now he's like 'Oh, I got this.'"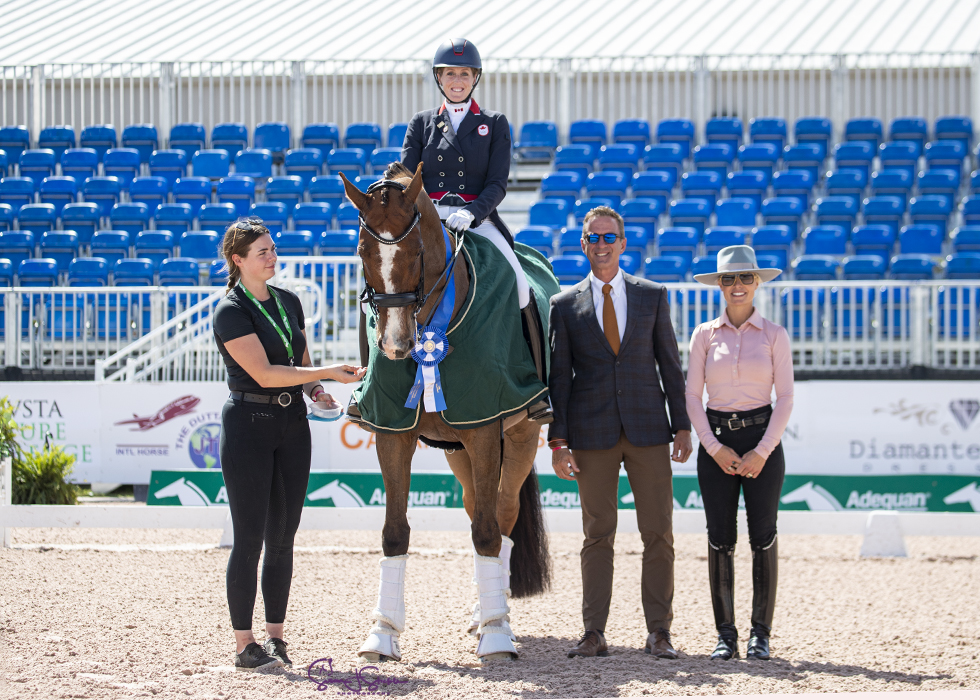 A light work regime outside season and a short pre-test warm-up help keep All In enjoying his work.
"I warm him up, at most, for 20 minutes," explained Fraser-Beaulieu of the son of Tango, "and I don't work him that hard at home, maybe four days a week. Every day he comes out and he loves doing his job, so as long as he keeps doing that, he'll tell me when he's ready to retire."
She is keeping her fingers crossed for an invitation to compete at the FEI Dressage World Cup™ Final in Germany in April, though she won't be aiming for the World Championships in August as she will be busy preparing for the arrival of her second child around the same time. Fraser-Beaulieu was invited to the 2021 final — which would have been her first — but it was cancelled due to the pandemic.
Alice Tarjan was on the podium once again, riding the 11-year-old Donatella M, by Fürstenball, into second with 69.053% on their first attempt at the short grand prix. Local rider Codi Harrison (USA) finished third with Katholt's Bossco (68.368%) and will be hoping for a strong performance in Friday's freestyle to secure the one remaining starting slot for North America at the World Cup Final.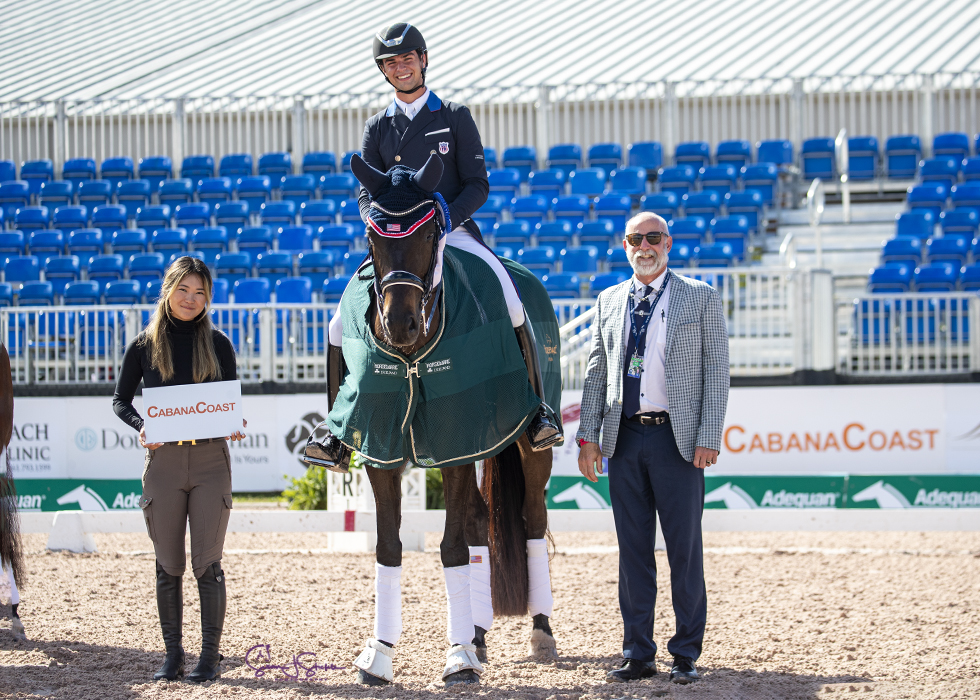 The top three in the Prix St. Georges CDI2*, presented by CabanaCoast, all scored over 71%. But it was the USA's Christian Simonson who rode Zeaball Diawind into the top spot, with a new personal best of 74.5%. Last to go, Christina Morgan's 10-year-old gelding — another by Fürstenball — garnered nearly 77% from judge at E, Christof Umbach, with all five placing him first.
Simonson, who is only 19, has an immaculate record with Zeaball Diawind: they have hardly ever scored below 70% at FEI level, and the pair won three gold medals at the North American Youth Championships in 2021. Fellow American Kristina Harrison-Antell finished second with 71.294% on I Felix, while Luuk Mourits (NED) made the third rung of the podium riding Harmony's Sarotti OLD to 71.265%, just 0.02 percentage points adrift.
Results: FEI Grand Prix CDI4* (for Freestyle), presented by IDA Development
E, Kari McClain (USA); H, Cesar Torrente (COL); C, Elisabeth Max-Theurer (AUT); M, Katrina Wüst (GER); B, Christof Umbach (LUX)
1. Jan Ebeling (USA) on Bellena, Ann Romney's 12yo Hanoverian mare by Belissimo M: 72.609, 72.826, 69.565, 71.522, 72.174, 71.739
2. Juan Matute Guimón (ESP) on Quantico, Juan Matute Azpitarte's 16yo Hanoverian gelding by Fighting Fit: 70.217, 69.891, 68.37, 71.196, 69.565, 69.848
3. Ariana Chia (CAN) on Fiderflame, her own 12yo Oldenburg gelding by Fidertanz: 69.565, 71.63, 67.826, 67.935, 68.478, 69.087
4. Christoph Koschel (GER) on Dünensee, Diamante Farms' 13yo Hanoverian gelding by Dancier: 69.239, 70.326, 65.217, 69.348, 68.696, 68.565
5. Lisa Marriott (GBR) on Valucio DH Z, her own 13yo Zangersheide gelding by Va-Vite: 66.196, 68.478, 67.5, 68.913, 68.587, 67.935
6. Pablo Gómez Molina (ESP) on Ulises De Ymas, Javier Bacariza, Cristina Danguillecourt & Yeguada de Ymas S.L.'s 12yo PRE gelding by Seni Indio: 68.37, 68.696, 65.978, 68.913, 67.391, 67.87
7. Jessica Jo Tate (USA) on Derby, Cackie Vroom's 16yo Oldenburg NA gelding by Donnerwerth: 65.109, 65.978, 63.478, 63.913, 62.717, 64.239
8. Evi Strasser (CAN) on Disney Tyme, her own 14yo Oldenburg gelding by Diamond Hit: 63.696, 64.022, 64.239, 63.37, 64.239, 63.913
9. Paula Matute Guimón (ESP) Delagronge, her own & Julie McAllister's 14yo Oldenburg stallion by De Niro: 59.891, 63.261, 61.196, 60.217, 60, 60.913
10. Joanne Vaughan (GEO) on Al Martino 10, her own 18yo Holstein gelding by Almoretto: 62.065, 59.565, 56.957, 58.913, 56.304, 58.761
Results: FEI Grand Prix CDI4* (for Special), presented by Mission Control
E, Katrina Wüst (GER); H, Kari McClain (USA); C, Cesar Torrente (COL); M, Michael Osinski (USA); B, Elisabeth Max-Theurer (AUT)
1. Alice Tarjan (USA) on Serenade MF, her own 9yo AHS mare by Sir Donnerhall I: 69.457, 72.609, 72.609, 72.065, 69.565, 71.261
2. Benjamin Ebeling (USA) on Indeed, Vantage Equestrian Group II's 14yo Danish Warmblood mare by Hofrat: 72.283, 69.674, 69.783, 70.217, 67.391, 69.87
3. Naïma Moreira Laliberté (CAN) on Statesman, KML Inc's 15yo Hanoverian gelding by Sandro Hit: 67.283, 70.87, 69.565, 69.674, 70.543, 69.587
4. Sarah Tubman (USA) on First Apple, Summit Farm's 12yo KWPN stallion by Vivaldi: 69.565, 69.13, 70.761, 69.674, 68.478, 69.522
5. Michael Klimke (GER) on Harmony's Sanrino RHP, Harmony Amateur Sports Foundation's 13yo Oldenburg stallion by San Remo OLD: 69.13, 69.565, 68.37, 70.87, 68.37, 69.261
6. Katie Duerrhammer (USA) on Paxton, Kylee Lourie's 11yo Westfalian gelding by Dante Weltino OLD: 65.435, 69.239, 71.087, 70.652, 66.739, 68.63
7. Laurence Vanommeslaghe (BEL) on Havalon, her own 15yo Hanoverian gelding by Blue Hors Hotline: 69.348, 70, 71.087, 65.761, 66.304, 68.5
8. Kiichi Harada (JPN) on Sir Galanto, Chiemi Katayama's 17yo Hanoverian gelding by Stedinger: 68.261, 65.652, 67.283, 67.609, 67.935, 67.348
9. Aaron Janicki (USA) on Heron, his own 10yo KWPN gelding by Glock's Johnson TN: 67.609, 68.804, 67.935, 67.065, 65.217, 67.326
10eq. Mikala Münter (USA) on Skyfall, her own 14yo Oldenburg gelding by Zardin Firfod: 65.761, 67.717, 67.609, 65.543, 64.674, 66.261
10eq. Bridget Hay (USA) on Faolan, her own 13yo ISR-OLD NA stallion by Freestyle: 65.652, 68.261, 65.652, 66.522, 65.217, 66.261
12. Katherine Bateson Chandler (USA) on Haute Couture, her own & Jennifer Huber's 10yo KWPN mare by Connoisseur: 65.217, 64.565, 64.022, 67.5, 62.935, 64.848
Results: FEI World Cup™ Dressage Short Grand Prix, presented by Sapphire Stables
Place, rider, nationality, horse, horse information: judge E%, judge H%, judge C%, judge M%, judge B%, final score
E, Elisabeth Max-Theurer (AUT); H, Katrina Wüst (GER); C, Christof Umbach (LUX); M, Evi Eisenhardt (GER); B, Michael Osinski (USA)
1. Brittany Fraser-Beaulieu (CAN) on All In, her own & Marc-Andre Beaulieu's 17yo KWPN gelding by Tango: 71.842, 72.105, 71.842, 70.526, 70.921, 71.447
2. Alice Tarjan (USA) on Donatella M, her own 11yo Oldenburg mare by Fürstenball OLD: 69.868, 70.132, 69.211, 66.711, 69.342, 69.053
3. Codi Harrison (USA) on Katholt's Bossco, her own 15yo Danish Warmblood gelding by Don Schufro: 67.763, 68.816, 70.132, 66.184, 68.947, 68.368
4. Anna Buffini (USA) on FRH Davinia La Douce, her own 15yo Hanoverian mare by Don Frederico: 66.053, 67.237, 69.605, 67.368, 68.421, 67.737
5. Jan Ebeling (USA) on Status Royal OLD, Ann Romney's 12yo Oldenburg gelding by Statesman OLD: 68.026, 66.974, 67.895, 66.316, 67.368, 67.316