By Amanda Picciotto Feitosa and Summer Grace for Jennifer Wood Media, Inc.
Wellington, FL – March 2, 2022 – The Winter Equestrian Festival (WEF) week 8, presented by Premier Equestrian, got underway Wednesday, March 2, at the Palm Beach International Equestrian Center (PBEIC) in Wellington, FL, with the daytime $5,000 Premier Equestrian Welcome CSIO4*.
Fitting for Nations Cup week, riders from 20 nations contested the speed track set by Nick Granat (USA) and Steve Stephens (USA), with foreign athletes making up 75% of the 80 combinations in the starting order. Roberto Teran Tafur (COL) and Susan van Lammers's Gabrovo stepped right on the gas, claiming the first win of the week.
Gabrovo is a newer ride for Teran Tafur, having just picked up the reins on the 10-year-old Hanoverian gelding by Grey Top x Graf Sponeck in the spring of 2021. Since then, he's been a consistent partner in the 1.45m and 1.50m classes, including a win in the $8,000 Douglas Elliman 1.45m class during WEF Premiere Week.
For this occasion, Teran Tafur had a strong plan going into the speed class.
"He's a really careful horse," noted Teran Tafur. "I just went in there a little forward, because that prepares him better for the bigger classes. The idea was to be in the top three, and a win is always fantastic."
Fellow Colombian athlete, John Perez, came closest to catching the lightning-quick time of Teran Tafur, which was 62.14 seconds. He and Julio David Vainer's Voodoo 10 crossed the timers in 62.71 seconds for second place. Third place went to Max Wachman (IRL) and Ikaros, owned by Coolmore Show Jumping, who finished just fractions of a second behind Perez in 62.89 seconds.
Teran Tafur will look to duplicate his success with Gabrovo in Friday's $37,000 Douglas Elliman 1.45m Classic CSIO4* and continue to develop the horse towards more two-star and three-star competition for the remainder of the circuit.
"Right now, he's only becoming the horse that he's going to be. I'm very excited," enthused Teran Tafur. "He is getting better and better, and he is going to have an excellent career in the international ring. He's just competitive and a good boy."
Reflecting on the significance of the week, Teran Tafur expressed, "A win at WEF any week is always great, and then to hear your anthem in any class is always amazing."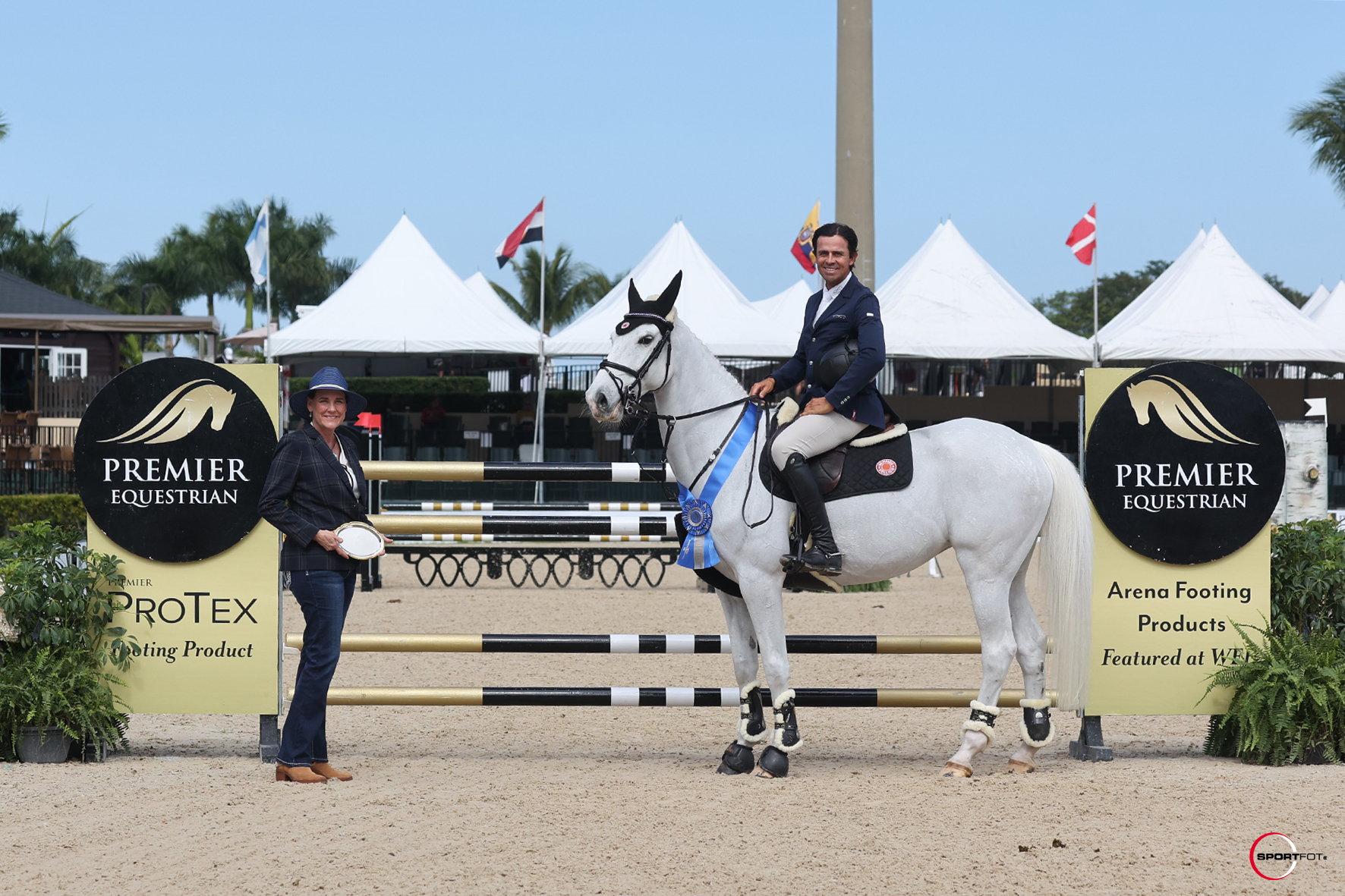 A starting field of 46 horse-and-rider combinations made their way to the International Arena for the second $5,000 Premier Equestrian Welcome CSI04* class of Wednesday, which ran under the lights. Granat and Stephens designed an intricate course that included several combinations and an optional water obstacle with an efficient time allowed of 75 seconds. Contenders from 12 nations rode their way across the single-round speed track but Venezuela's Antonio Martinez, Jr. produced the winning effort aboard Forman De Virton.
At the event's halfway mark, Lebanon's Jad Dana held the fastest time with Caro W after the pair stopped the clock in 66.38 seconds. Dana's time was good enough to hold off the majority of the challengers until Heather Caristo-Williams (USA) took over. Williams looked fit for the win, but Martinez shaved an impressive five seconds off of her time of 65.70 to skyrocket to the top with a time of 60.24 seconds.
"I've had him for approximately three years now, and he and I share a very special bond," explained Martinez of Tack Up Stable Corp's 11-year-old SBS gelding (Aragorn Van Schuttershof). "We have been bringing him back up the levels slowly as he recovered from an injury, but he is feeling even better than before now."
The gelding was one of two mounts that the Wellington, FL, resident had to put in the ring for the class. His other mount, Fonzie D'Herlaimont, saw the course first but had the easier night as Martinez plans to compete him in the Nations Cup on Saturday night.
"I was able to study the course on my first horse which definitely is always helpful," added Martinez. "I thought it was a good course because it gave you time to pick up the pace but did not give you enough opportunity to get carried away. Our plan for this week was to try our best from the start, and I know Forman [De Virton] so well that I knew he would give it his all."
The runner-up honor went to Jessica Mendoza (GBR) who recorded a close time of 60.99 seconds piloting her own 10-year-old Zangersheide gelding I-Cap CL Z (I'm Special De Muze x Air Jordan). Williams' ride on Stephanie Bulger's 10-year-old Holsteiner gelding Marciano MVF (Castelan x Aragorn) put forth the third and final round worthy of the victory gallop.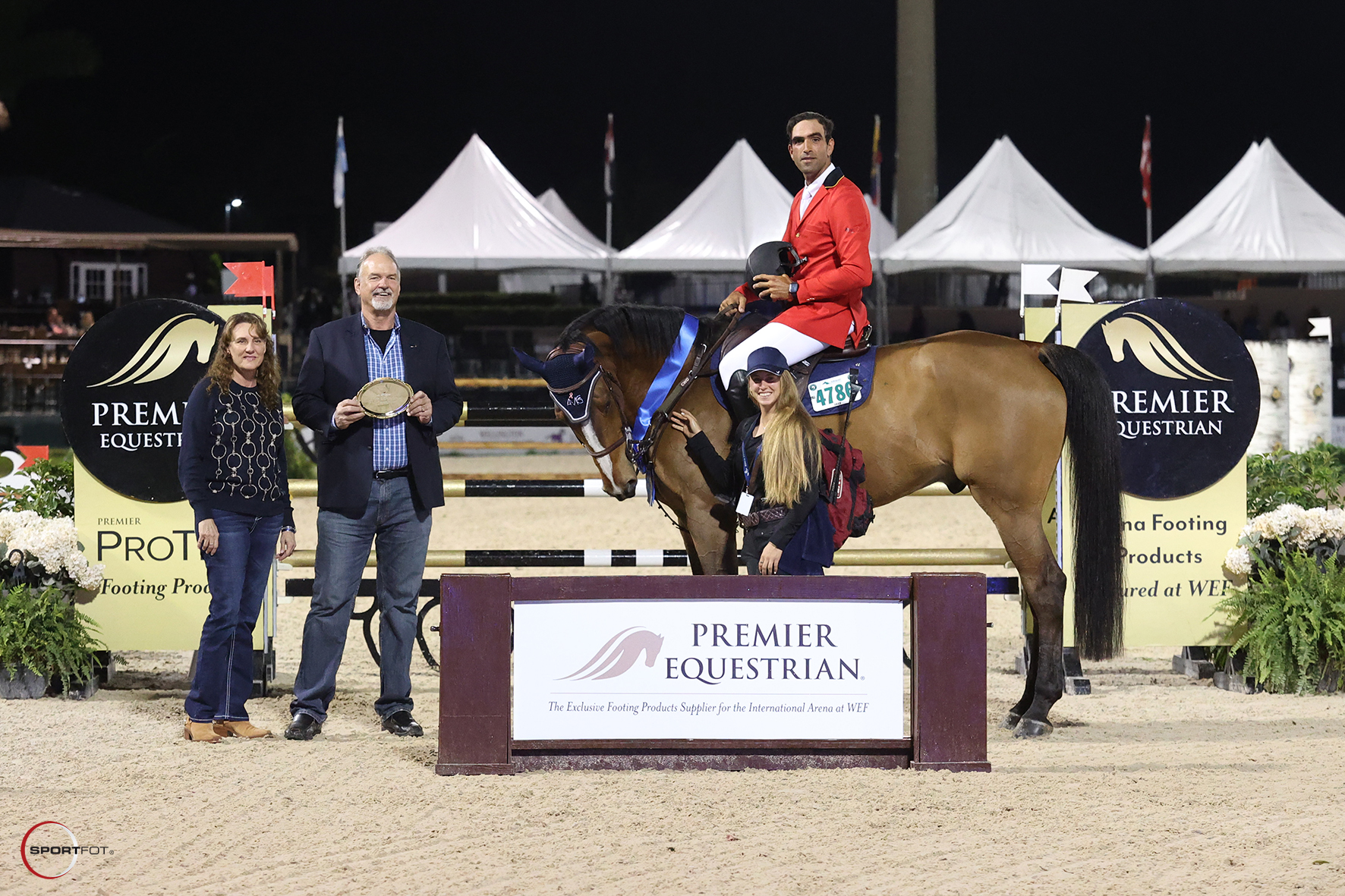 Final Results: $5,000 Premier Equestrian Welcome CSIO4*
1. GABROVO: 2012 Hanoverian gelding by Grey Top x Graf Sponeck
ROBERTO TERAN TAFUR (COL), Susan van Lammers: 0/62.14
2. VOODOO 10: 2010 Hanoverian gelding by Valentino 240
JOHN PEREZ (COL), Julio David Vainer: 0/62.71
3. IKAROS: 2012 Swedish Warmblood gelding by Chelltago Z x Feliciano 823
MAX WACHMAN (IRL), Coolmore Show Jumping: 0/62.89
4. GIGI-CARMEN: 2011 KWPN mare by Bacardi VDL x Oklund
JOHN PEREZ (COL), Antonio Chedraui: 0/63.00
5. INCREDIBLE BLEU: 2013 KWPN gelding by Zirocco Blue VDL x Diarado
TIFFANY FOSTER (CAN), 5 Roosters: 0/63.50
6. BUGA Z: 2010 Zangersheide gelding by Chester Z x Quality Touch Z
SAMUEL PAROT (CHI), Samuel Parot: 0/65.10
7. TOULOUSE Z: 2011 Zangersheide mare by Toulon x Quintus v/d Dwerse Hage
JUAN ORTIZ (VEN), Blue Trim LLC: 0/65.22
8. ALPHA DE TERNOIRE: 2010 Selle Français gelding by Kashmir van Schutterschof x Olisco
MARIE HECART (FRA), Normandie Collection: 0/68.22
9. CALGARY TAME: 2012 Selle Français stallion by Old Chap Tame x Kashmir van't Schuttershof
LAURA KRAUT (USA), Eugenie Angot: 0/68.63
10. ISLA DE MUZE: 2013 Westphalian mare by Iceman de Muze x Cento
TANIMARA MARIA MACARI CARRILLO (MEX), Tanimara Maria Macari Carrillo: 0/69.77
11. ALAN 111 Z: 2011 Zangersheide gelding by Arko III x Kannan
DAVID CAMERON (AUS), Graham & Linda Huddy: 0/70.37
12. NANKING VD DONKHOEVE: 2013 Belgian Warmblood stallion by Houston x Cassini I
FILIP DE WANDEL (BEL), Five Way Farm LLC: 0/71.51
Final Results: $5,000 Premier Equestrian Welcome CSIO4*
1. FORMAN DE VIRTON: 2011 SBS gelding by Aragorn Van Schuttershof
ANTONIO MARTINEZ JR. (VEN), Tack Up Stable Corp: 0/60.24
2. I-CAP CL Z: 2012 Zangersheide gelding by I'm Special De Muze x Air Jordan
JESSICA MENDOZA (GBR) Jessica Mendoza: 0/60.99
3. MARCIANO MVF: 2011 Zangersheide gelding by Stakkato x Leberoi H
HEATHER CARISTO-WILLAMS (USA), Stephanie Bulger: 0/65.70
4. CARO W: 2012 Holsteiner gelding by Castelan II x Aragorn
JAD DANA (LBN), Peter Howard and Laure Sudreau: 0/66.38
5. VERDINI D'HOUTVELD Z: 2011 Zangersheide gelding by VerdI TN x Caretino 2
LAUREN BALCOMB (AUS), Lauren Balcomb: 0/69.49
6. EMIR: 2009 KWPN gelding by Eurocommerce Dubai x Cardento 933
FABIAN SEJANES (ARG), Fabian Sejanes: 0/70.06
7. EUROSTAR 1: 2012 Warmblood stallion by Diarado x Chacco-Blue
JAMES ARKINS (AUS), Arkins Pastoral Pty Ltd: 0/71.16
8. CARDORA: 2010 Holsteiner mare by Caretino 2 x Clearway
TOMAS YOFRE (ARG), Stellium Sport Horses LLC: 71.42
9. LADY LOUISE JMEN: 2010 mare
LUCIANA LOSSIO (BRA), Luciana Lossio: 0/71.56
10. BALENTO C.S.: 2011 Oldenburg stallion by Balou Du Rouet x Cento
EMILIE CONTER (BEL), Stephex Stables: 0/71.57
11. FEMINKA: 2010 KWPN mare by Verdi TN x Numero Uno
TANIMARA MARIA MACARI CARRILLO (MEX), Tanimara Maria Macari Carrillo: 0/72.00
12. CHANCE STE HERMELLE: 2008 SBS mare by Calvaro F.C. x Hemmingway
NATALIE DEAN (USA), Marigold Sporthorses LLC: 0/72.06