By Summer Grace by Jennifer Wood Media, Inc.
Wellington, FL – March 3, 2022 – The eighth week of the Winter Equestrian Festival (WEF), sponsored by Premier Equestrian, wasted no time delving straight into international competition on Thursday, March 3. Thursday morning kicked off with a win for Belgium's Jos Verlooy in the $37,000 Adequan WEF Challenge Cup Round VIII CSIO4* with Luciano Van Het Geinsteinde.
A large field of 71 horse-and-rider combinations representing 24 nations during Nations Cup week made their bid to win the single round speed class. Nick Granat (USA) and Steve Stephens (USA) created a challenging task for the entries, and only 13 managed to produce fault-free efforts. Carlos Hank Guerriero of Mexico led the charge for the majority of the class with H5 Sunshine but slipped from the lead when Verlooy shaved off two whole seconds from his time and finished in 71.28 seconds with Luciano Van Het Geinsteinde.
"I've had this horse for the past year and a half, and it has been great to see him getting more experience at this level; it feels like everything is finally coming together," said Verlooy of Eurohorse BVBA's 11-year-old BWP gelding (Quinn Van De Heffinck x Air Jordan). "He really tries and wants to get better, and I love that about him.
"Today's course was ideal for my horse; it was big enough that it could have been a jump-off class," continued Verlooy. "I didn't have to go too fast but my horse has incredible scope so I was able to turn very short. The track today would've been difficult for a horse truly best suited to speed classes, because it seemed today that scope outweighed speed as a determining factor."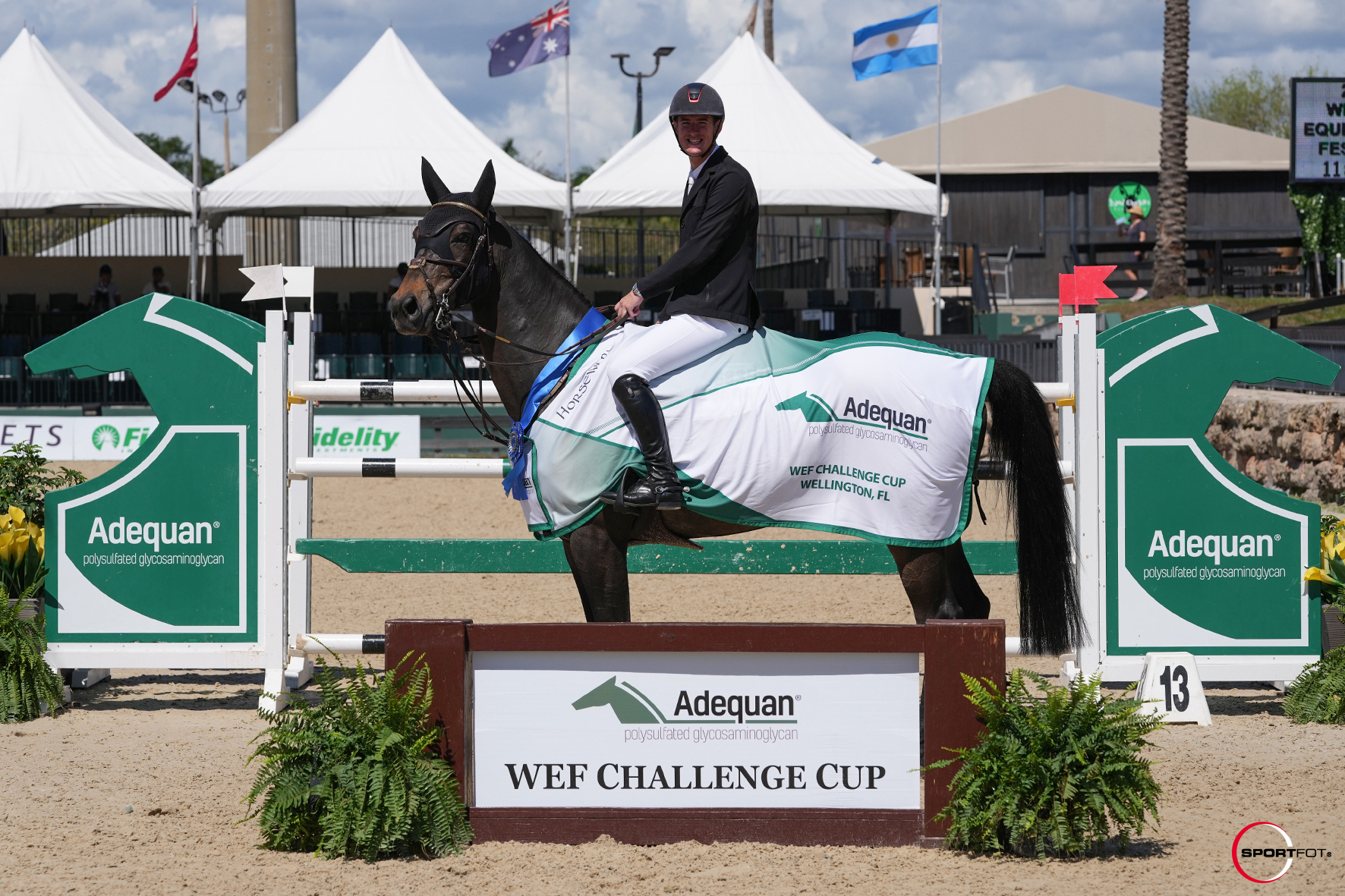 Guerriero's efforts with the H5 Sport Horses LLC's 14-year-old BWP gelding (Diamant De Semilly x Hardi) couldn't quite hold the lead but were solid enough to earn the pair the second-place finish with the time of 73.03 seconds. Jessica Mendoza (GBR) and her own I-Cap CL Z rounded out the top three placings with their time of 74.91 seconds. She and the 10-year-old Zangersheide gelding (I'm Special De Muze x Air Jordan) have already had a top week having placed second in the $5,000 Premier Equestrian Welcome CSIO4* on Wednesday evening.
Verlooy is one of many Europeans to have traveled to the South Florida circuit for the winter and is excited to represent his nation during this specific week.
"I am not sure Belgium has ever had a team compete here in Wellington before so needless to say I am very much looking forward to the Nations Cup," he stated. "A start like this is a great boost and has given me a lot of confidence going into the weekend."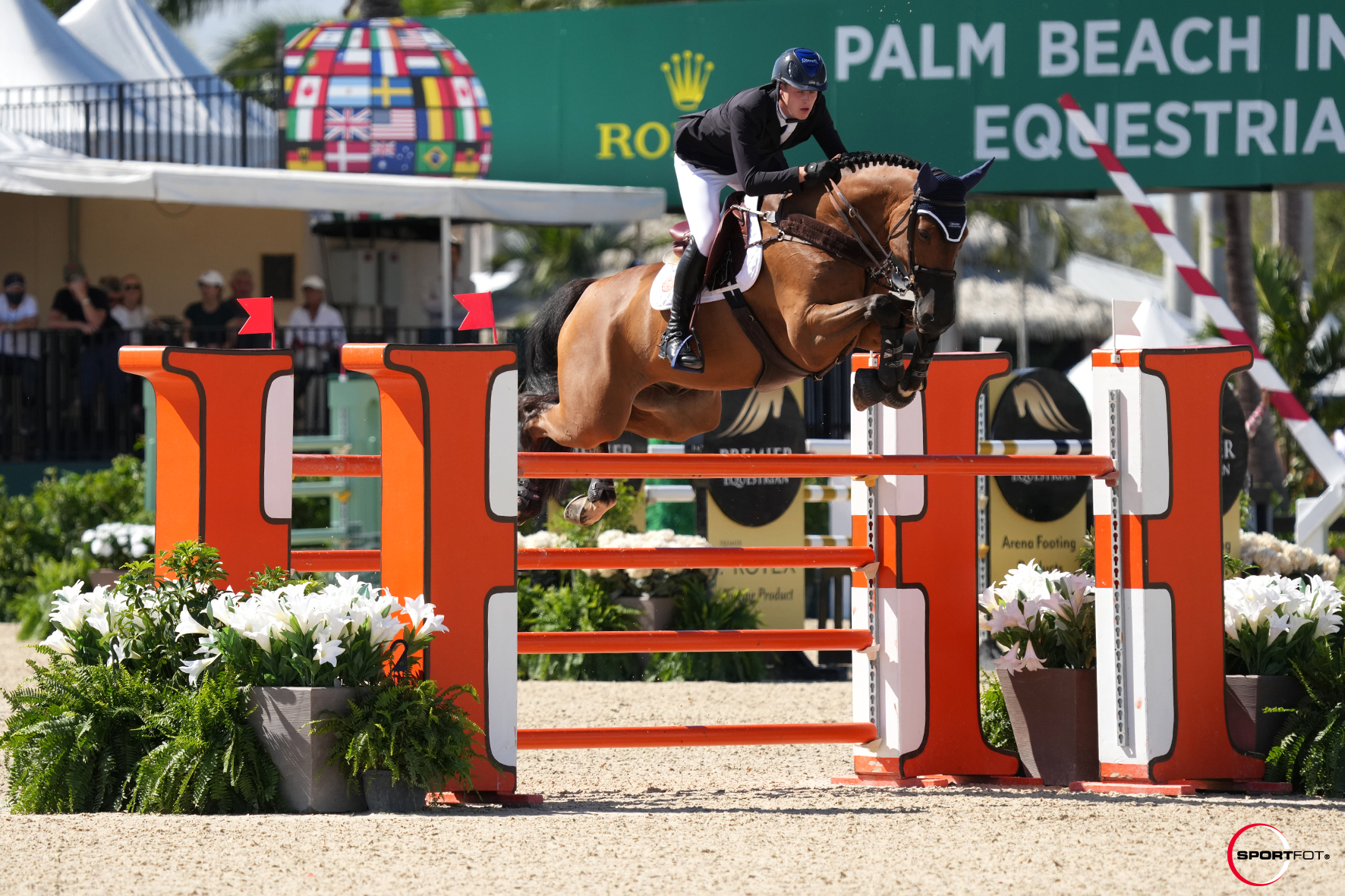 The afternoon brought forth wins for the up-and-coming generation of show jumpers with the $10,000 Hermès Under 25 Welcome and the $1,000 Hermès Under 25 1.40m class. It was victory for the Irish in the $10,000 Hermès Under 25 Welcome as Max Wachman bested a 66-horse field with Coolmore Show Jumping's 13-year-old Oldenburg gelding Quintini (Quintender 2 x Cassini II). Out of the 13 pairs in the final class of the day, Summer Hill (USA) and her own solid partner La Belle SCF put forth the best effort in the $1,000 Hermès Under 25 1.40m class. She and the 11-year-old BWP mare (Diktator Van De Boslandhoeve x Baldini) crossed the timers in 63.04 seconds to secure the top honors.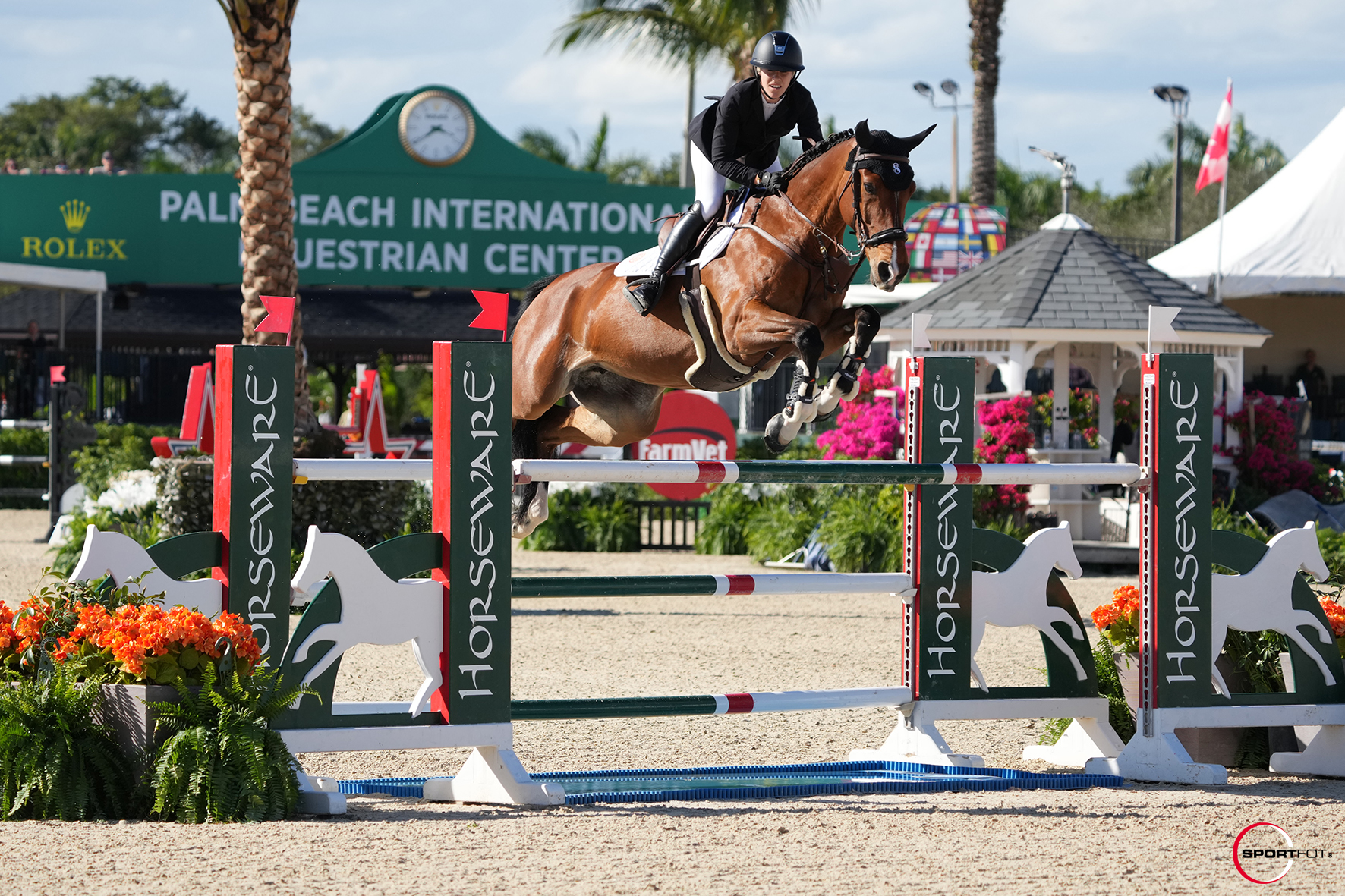 Final Results: $37,000 Adequan WEF Challenge Cup Round VIII CSIO4*
1. LUCIANO VAN HET GEINSTEINDE: 2011 BWP gelding by Quinn Van De Heffinck x Air Jordan
JOS VERLOOY (BEL), Eurohorse BVBA: 0/71.28
2. H5 SUNSHINE: 2008 BWP gelding by Diamant De Semilly x Hardi
CARLOS HANK GEURREIRO (MEX), H5 Sport Horses LLC: 0/73.03
3. I-CAP CL Z: 2012 Zangersheide gelding I'm Special De Muze x Air Jordan
JESSICA MENDOZA (GBR), Jessica Mendoza: 0/74.91
4. NABAL DE TRIVERA: 2010 CDE gelding by Nabab De Reve
ALBERTO MICHAN (ISR), Alberto Michan: 0/75.76
5. COACHELLA 4: 2012 OS mare by Christian 25 x Last Liberty 2
KARL COOK (USA), Helen Signe Ostby: 0/76.32
6. DEZ' OOKTOFF: 2008 KWPN stallion by Colandro x Lys Rouge
ROBERTO TERAN TAFUR (COL), Roberto Teran Tafur: 0/76.38
7. FAIR PLAY: 2010 KWPN gelding by Gaillard De La Pomme x Cartier Van De Heffinck
JONATHAN CORRIGAN (IRL), Andrea Hippeau Vogel: 0/76.40
8. CONNER: 2009 Westphalian gelding by Cornado NRW x For Pleasure
STEPHEN MOORE (IRL), Vlock Show Stables LLC: 0/76.64
9. FREAKY: 2010 KWPN gelding by Darco x Litho X
JACQUELINE STEFFENS (CAN), Jacqueline Steffens: 0/77
10. EXTRA: 2009 KWPN stallion by Berlin x Heartbreaker
JORGE MATTE CAPDEVILA (CHI), Jorge Matte Capdevila: 0/77.98
11. VERVEINE: 2009 Selle Francais mare by Olala De Buissy x Tenor De La Cour*folien
NATALY LEIBOVITZ (ISR), Nataly Leibovitz: 0/79.70
12. J'ADORE FLAMENCO: 2012 AA gelding by Je T'aime Flamenco x Corofino 2
MARIA BRUGAL (DOM), BG Stables LLC: 0/80.23