Edited Press Release
Daytime competition in the International Arena highlighted the $37,000 Douglas Elliman Real Estate 1.45m CSIO4*. Course designers Granat and Stephens set a delicate, single-round track that would see 46 horse-and-rider combinations elect to contest the course. John Perez (COL) and Gigi-Carmen wasted no time kicking the class into gear as the first in the line-up to go and laid down a fast, clean trip from the start. An impressive 22 combinations managed to successfully navigate the test without penalty but 15 would suffer a single dropped obstacle.
Ultimately Perez's efforts left him with eighth place as a class of elite competitors followed and continued to raise the bar. Of the 19 nations represented in the field, it was Great Britain's anthem that was played as young talent Grace Debney (GBR) and her long-time partner Zarina De Vidau rose as the victors of the event. The 18-year-old athlete and Temple Equestrian LLC's 12-year-old CDE mare (Diamant De Semilly) stopped the clock in a blazing 56.10 seconds.
"I definitely wanted to go for it today," affirmed Debney. "I had one rail down in the qualifier yesterday but I had the time, so I was especially hungry for it today. We went a bit early in the class, so I went for the win to the best of my ability because I knew there were still a lot of top riders to follow that were chasing for it."
The pair have already led one victory gallop this season after racing to the lead in the $50,000 Helgstrand Jewellery 1.45m Grand Prix CSI2* during the fourth week of the series.
"She was just supposed to be my step-up horse into the high amateurs, but she has done so much more than we ever thought she would," added Debney. "I think a big part of that has to do with the relationship we have with one another; she has all of the heart and always wants to get the job done for me."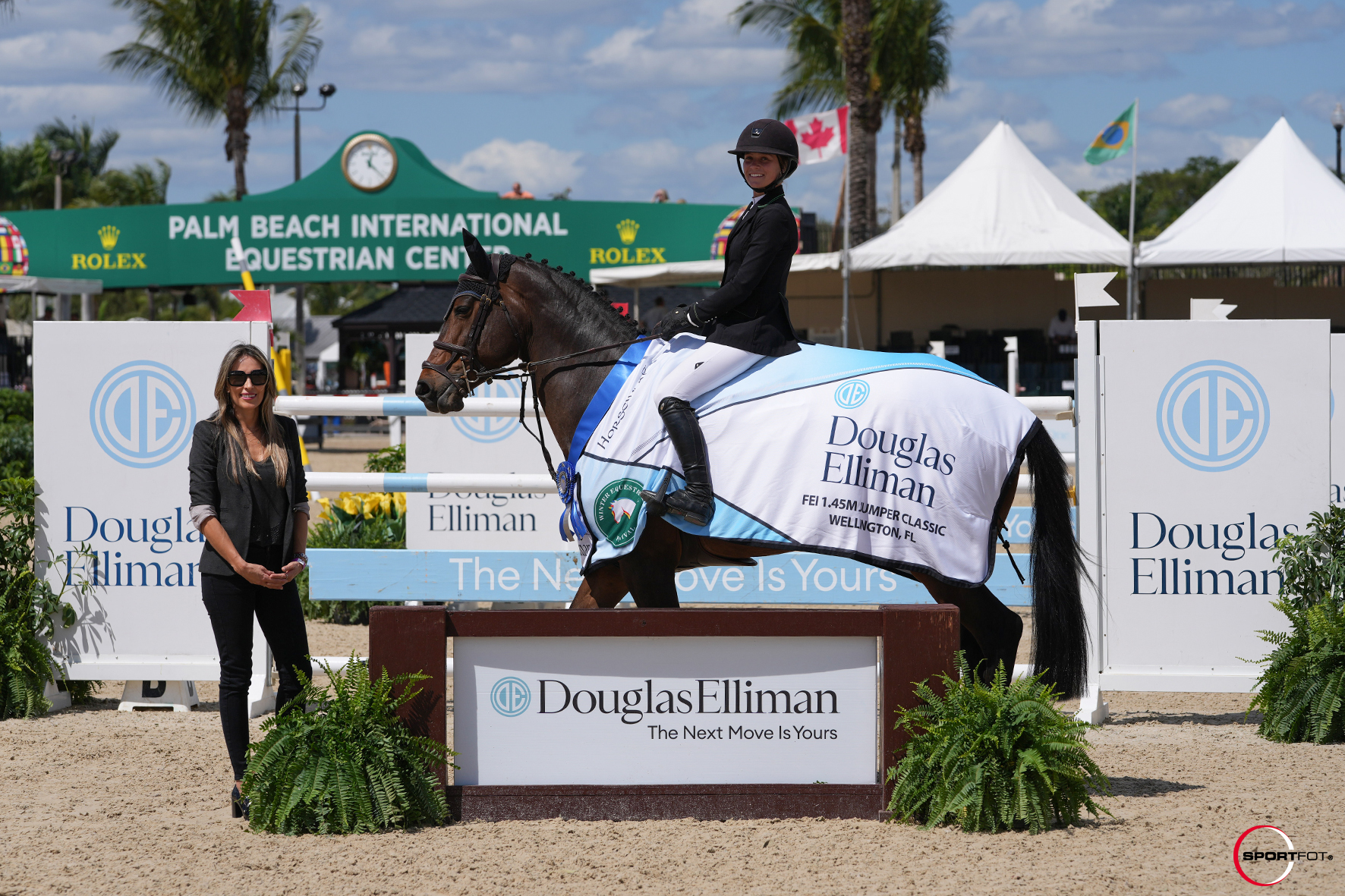 This season of WEF is the first year that Debney has been eligible to compete in upper-level international events, and she is soaking up the experience.
"There is no doubt that it is intimidating to go against the caliber of athletes in these classes," she explained. "Basically everyone in this class was very experienced, so to have a top finish in that crowd feels really amazing."
Nearly catching Debney, Tanimara Maria Macari Carrillo (MEX) cruised to the second-place position aboard her own 10-year-old KWPN mare Feminka (Verdi TN x Numero Uno) with a time of 56.76 seconds. With another good finish, Lebanon's Jad Dana and Springhill Farm 1850, LLC's After Eight came through as the final combination under 57 seconds. Dana and the 12-year-old Swedish Warmblood mare (Diarado x Cardento) rounded out the top three with their time of 56.89 seconds.
Final Results: $37,000 Douglas Elliman Real Estate 1.45m CSIO4*
1. ZARINA DE VIDAU: 2011 CDE mare by Diamant De Semilly
GRACE DEBNEY (GBR), Temple Equestrian LLC: 0/56.10
2. FEMINKA: 2012 KWPN mare by Verdi TN x Numero Uno
TANIMARA MARIA MACARI CARRILLO (MEX), Tanimara Maria Macari Carrillo: 0/56.76
3. AFTER EIGHT: 2010 Swedish Warmblood mare by Diarado x Cardento
JAD DANA (LBN), Springhill Farm 1850, LLC: 0/56.89
4. CALGARY TAME: 2012 Selle Francais stallion by Old Chap Time x Kashmir Van't Schuttershof
LAURA KRAUT (USA), Eugenie Angot: 0/57.86
5. GIJS: 2011 KWPN stallion by Kashmir Van Schuttershof x Numero Uno
NICOLA PHILIPPAERTS (BEL), Nicola Philippaerts: 0/57.93
6. WONDER IF: 2012 mare by Cevin Z x Bolivar
AMANDA DERBYSHIRE (USA), :0/57.97
7. CHRISTIANO: 2010 BRAND gelding by Canoso x Compliment
AMY MILLAR (CAN), Future Adventures: 0/59.02
8. GIGI-CARMEN: 2011 KWPN mare by Bacardi VDL x Oklund
JOHN PEREZ BOHM (COL), John Perez: 0/59.08
9. EGALINI: 2009 AES gelding by Cheers Cassini x Jalisco B
EVAN COLUCCIO (USA), Hampton Green Farms LLC: 0/59.22
10. NALINI VAN HET WILDERHOF: 2013 BWP mare by Ogano Sitte x Nabab De Reve
JONATHAN CORRIGAN (IRL), Twin Oak Ventures LLC and Maarten Huygens: 0/59.29
11. FIREWALL: 2010 KWPN gelding by Lexicon x Padinus
ALBERTO MICHAN (ISR), Eduardo Leon: 0/59.45
12. H5 MESSENTUS PS: 2013 Hanoverian stallion by Messenger x Dobel's Cento
ENRIQUE GONZALEZ (MEX), H5 Sport Horses LLC: 0/61.20