Edited Press Release
Ocala, FL – Nearly 90 horse-and-rider combinations took to the WEC Stadium during Week IX's Hunter Derby Friday of the 2022 Winter Spectacular Show Series to contest the $20,000 WEC Ocala 3'6"-3'9" Hunter Derby, $15,000 WEC Ocala 3' Open Hunter Derby and $15,000 WEC Ocala 3' Jr/Am Hunter Derby. Doug Russell created the rolling tracks that encouraged an open stride.
Timothy Maddrix and Sarah Campbell's Shutterbug (Catango Z x Seuerka) bested a field of 30 competitors to earn the win in the $20,000 WEC Ocala 3'6"-3'9" Hunter Derby. Maddrix and the stylish 14-year-old Czech Warmblood gelding laid down a lovely first round, jumping all four high options in perfect form for a score of 89.5.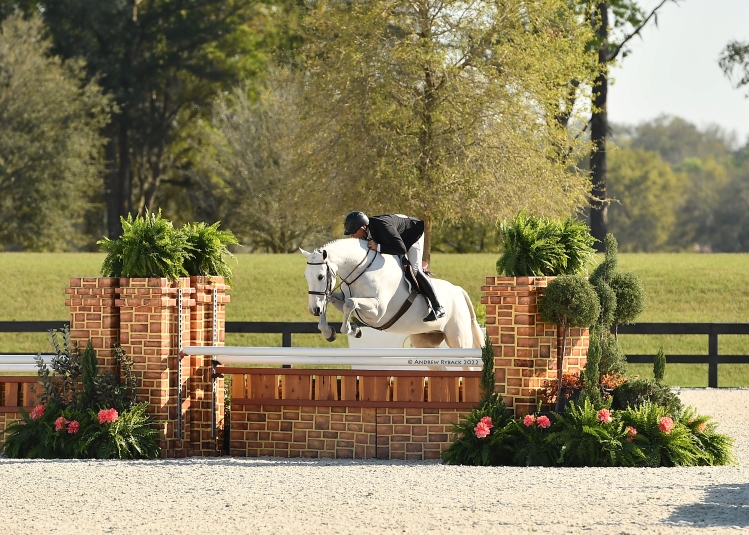 "The first course was long. It was a bit of a fitness test, which was great. A lot of single jumps, a little good mix up with the skinny down at the end of the ring and the rolling bending lines. A lot of the course was off the eye, which I really enjoyed. It suited me and Shutterbug very well," said Maddrix.
"We came back fourth [in the handy]," he continued. "I knew we were close and there was only two points separating me from the leader, but you never know if you're going to make it up or not. I was able to be super handy from the high option oxer back to the skinny. Shutterbug was right there ready for me to tell him where to go. I think that's what made us stand out in the handy round."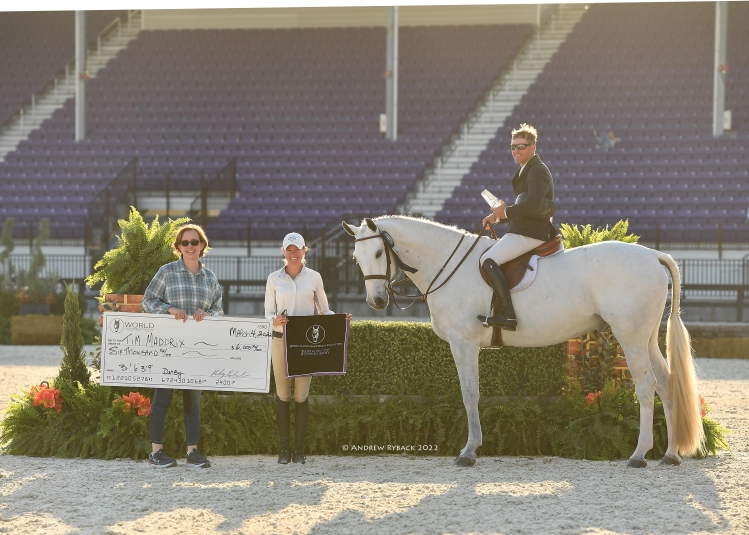 Maddrix and Shutterbug delivered an impeccable handy round to earn a high score of 91 for a two-round total of 180.5 for the win.
"I love this horse. I lost him for three years and go him back just to be a derby horse. This is his first win back with me. He was the first horse that I picked out when I first started my business. We had him for four years and he was owned by one of my favorite people. She ended up moving to Texas and brought him with her. After three years she sold him to Sarah Campbell, who called me asking if I would do the derbies on him again and I was thrilled. I am so happy to be able to ride this incredible horse again," expressed Maddrix.
$20,000 WEC Ocala 3'6"-3'9" Hunter Derby Results:
1.Shutterbug, Timothy Maddrix, Sarah Campbell: 89.5 | 91 | 180.5
2. Small Kingdom, Augusta Iwasaki, Iwasaki & Reilly: 90 | 87 | 177
3. Attendu De Lannois Z, Augusta Iwasaki, Ashland Farms: 86 | 90 | 176
4. MTM Lancelot, Tracy Fenney, MTM Farm: 87 | 88 | 175
5. Cartel, Jeff Ayers, Jess Ayers: 90.5 | 84 | 174.5
6. Jaromir, Kathleen M Caya, Susan Winchester: 88.5 | 83 | 171.5
7. Elliot, Hillary Johnson, Copper Fox LLC: 88 | 82 | 170
8. Ipanema, Josh Dolan, Belle Rolfe: 91 | 51 | 142
9. High Renaissance, Jeff Gogul, Della Equestrian: 87.5 | 50 | 137.5
10. Castle Rock, Jennifer Ritucci, Kimberly McCaslin: 89 | 44 | 133