Edited Press Release
In a unique set of circumstances, the California Split in the Equitation 15-17 division today had co-champions sharing the same number of final points.
Of 46 entries, Samantha Takacs, of Oldwick, NJ, and Blythe Goguen, of Lexington, KY, topped the division among the two sections. However, both riders gained a total of 16 points over fences and won their respective under saddle classes, leading to a 26-point tie for a truly equal split of the championship honors.
Samantha Takacs was grateful for her ride aboard Chagall, an eight-year-old Holsteiner gelding owned by Sissy Wickes.
"I want to thank Heritage Farm," said Takacs. "I only just started riding him [Chagall] two days ago, and from that first ride I thought he was so much fun. He has a great canter, wonderful jump, and he's super sweet."
Takacs is an equitation rider who regularly competes in the USEF Hunt Seat Medal, ASPCA Maclay, and USEF Talent Search.
"We rode in this division so I could get a feel for him and just start getting consistent," said Takacs. "Our main goal is to be consistent going forward and to aim for top placings at finals."
Blythe Goguen and Common Sense, a 16-year-old Swedish Warmblood gelding owned by Amber Ayyad, are another pair that have met down here in Wellington.
"I've been riding him since the first week down here," said Goguen, "so we're still a bit new to each other. He's really special. He's got a ton of experience and a lot of buttons so I've kind of been trying to figure them out, but he's awesome."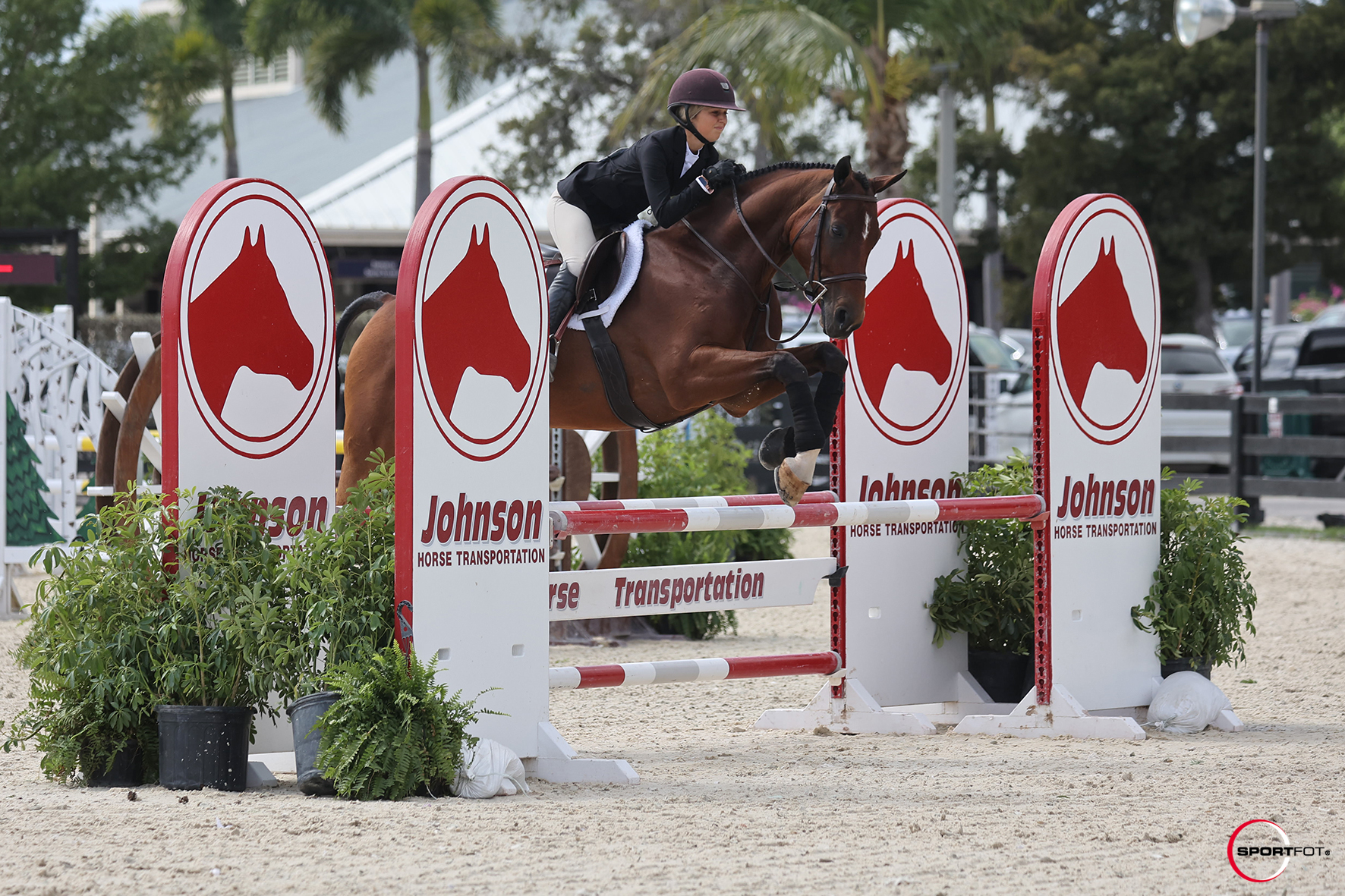 Goguen's top placings today were the next step toward her goals for the rest of the season and the rest of the year.
"I did the Washington [equitation class] yesterday and had a couple of mistakes, so we did this to try to get a bit of a better feel for him," she said. "He felt so much more relaxed, and I rode him so much better today. I look forward to doing the WEF Equitation Championship class week 12 on him."
The reserve champions in the Equitation 15-17 California Split were Madyson Diaz, of Eastchester, NY, aboard her own Checkland, and Luke Jensen, of Benton, TX, who rode Holman Import LLC's Ironman.
This Post Brought to You by:
Taylor, Harris Insurance Services
Taylor, Harris Insurance Services (THIS) was founded in 1987 to provide specialized insurance for all types of equine risk.We place our policies with the highest rated and most secure carriers, meticulously selected for reliability and prompt claims settlement. We are proud of our worldwide reputation for responsive and courteous service, and we welcome the opportunity to discuss your equine insurance needs and provide you with a quote.
Access to multiple underwriters
Leader in the U.S. and European markets
Customized policies provide you with a choice
Trusted advisors in the equestrian industry
Direct access to insurance professionals
Policies that cover every breed and discipline across all 50 United States