Edited Press Release
Wellington, FL – Eleven nations brought forth teams to compete in the $150,000 Nations Cup CSIO4*, presented by Premier Equestrian, the highlight event of the eighth week of the 2022 Winter Equestrian Festival (WEF) in Wellington, FL. The flag for Ireland was raised at the end of the night as the team, consisting of Andrew Bourns, Cian O'Connor, Eoin McMahon, and Max Wachman, led by Chef d'Equipe Michael Blake, won the fourth Nations Cup for Ireland in the 21-year history of the class at WEF.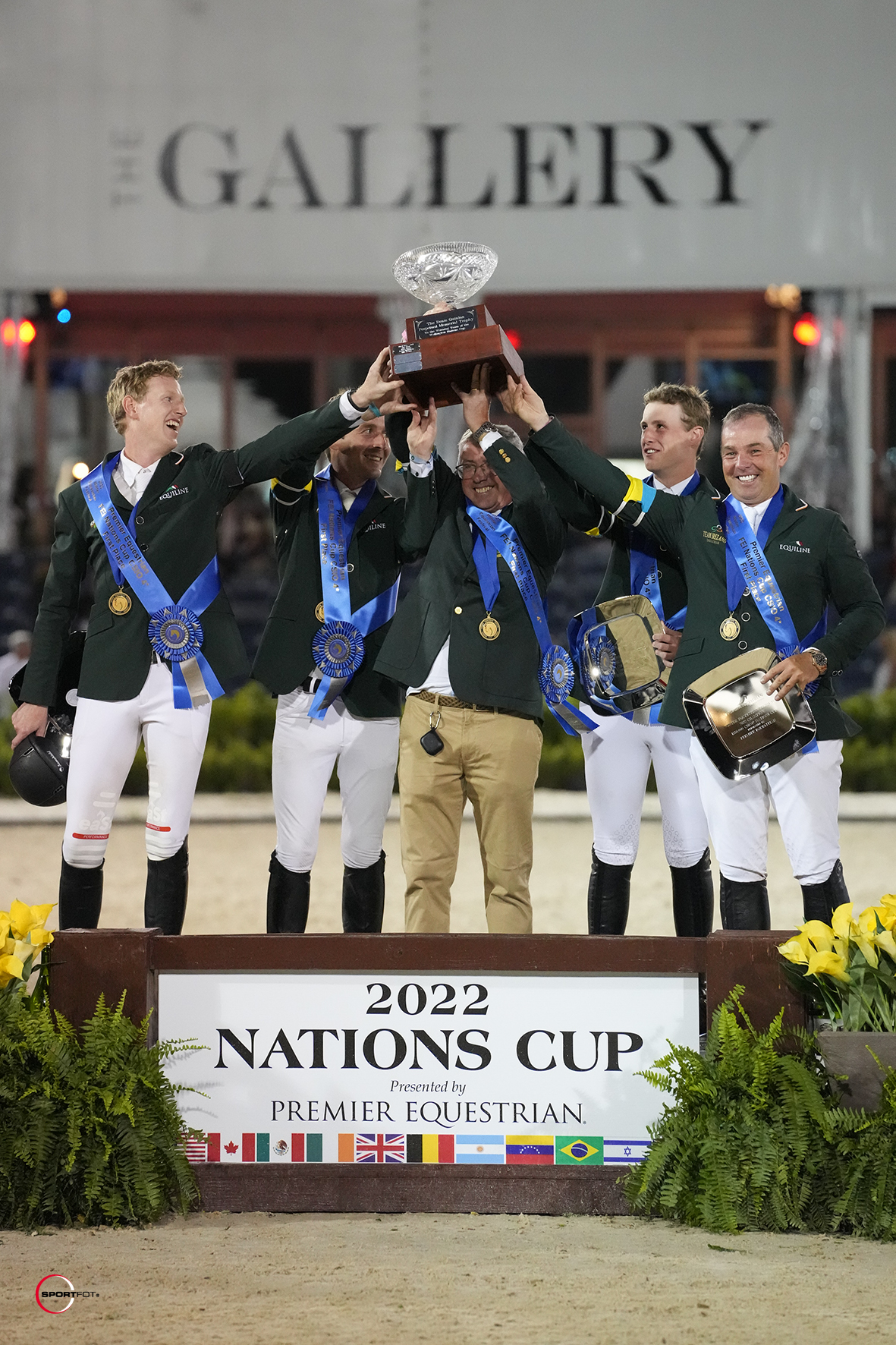 Teams from Argentina, Australia, Belgium, Brazil, Canada, Great Britain, Ireland, Israel, Mexico, the United States, and Venezuela competed in Round One, and the top eight returned for Round Two under the lights in the International Arena.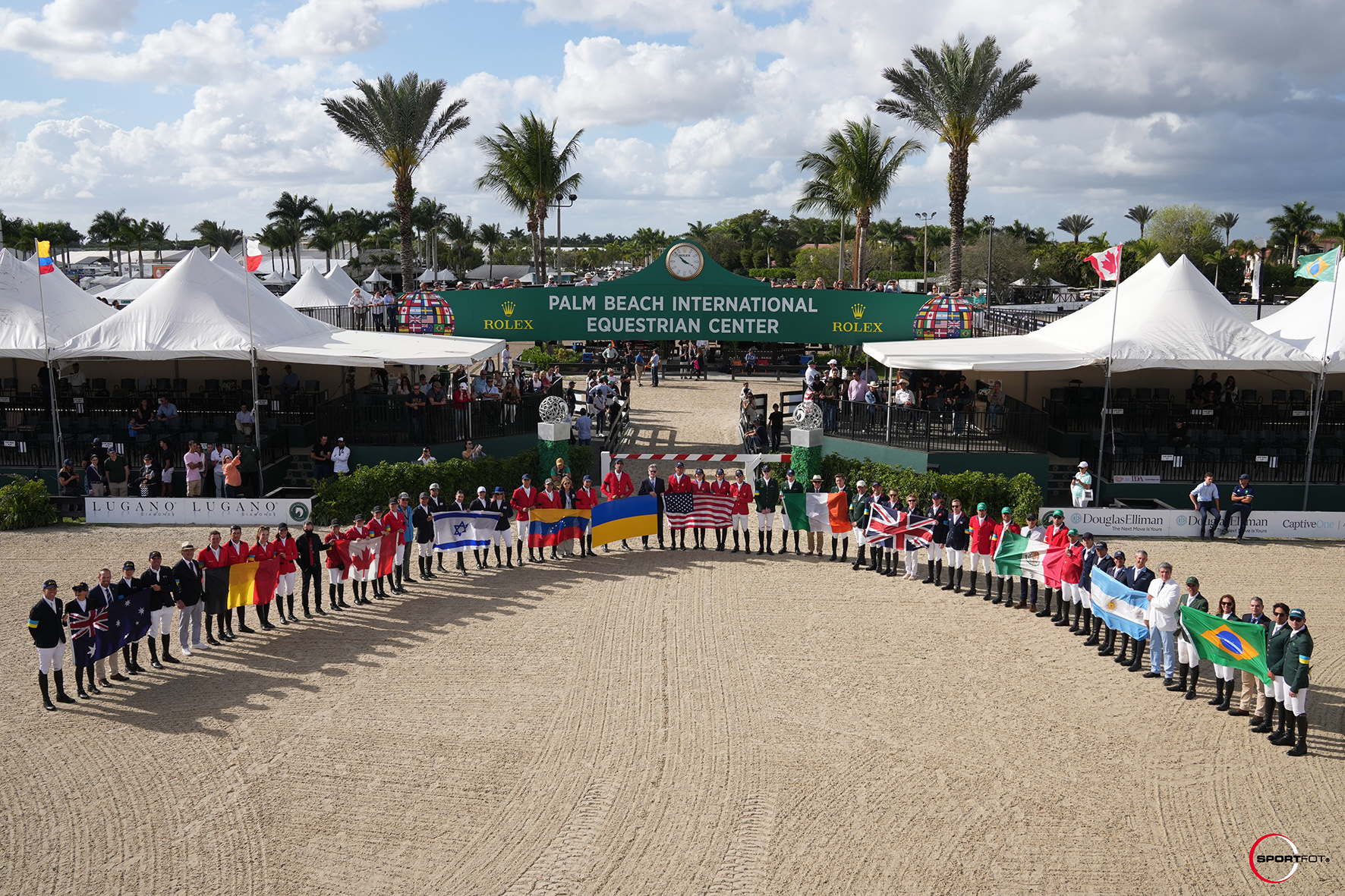 Heading into Round Two, Ireland was tied with Canada at zero faults after three clear rounds from McMahon and Beerbaum Stables's Chakra 9, Wachman and Berlux Z, owned by Coolmore Show Jumping, and Bourns on Sea Topblue, owned by QBS Equestrian LLC. With three clear rounds, O'Connor did not have to compete with Cerruti Van Ter Hulst Z, owned by Ronnoco Jump Ltd.
Just one rail behind and tied for second were Great Britain, Australia, and Mexico. Belgium and the USA sat on eight faults, while Argentina had 10 faults. There were 16 clear trips in the first round over the course designed by Nick Granat (USA) and Steve Stephens (USA).
Fortunes changed dramatically in the second round as more rails fell, but with solid performances from the Irish team, they came away with the win.
Pathfinder McMahon and Chakra 9 had just one time fault in Round Two. It was an excellent performance for McMahon, who represented Ireland in last year's European Championships, and his horse, who tallied three clear rounds out of four in two Nations Cup performances in 2021.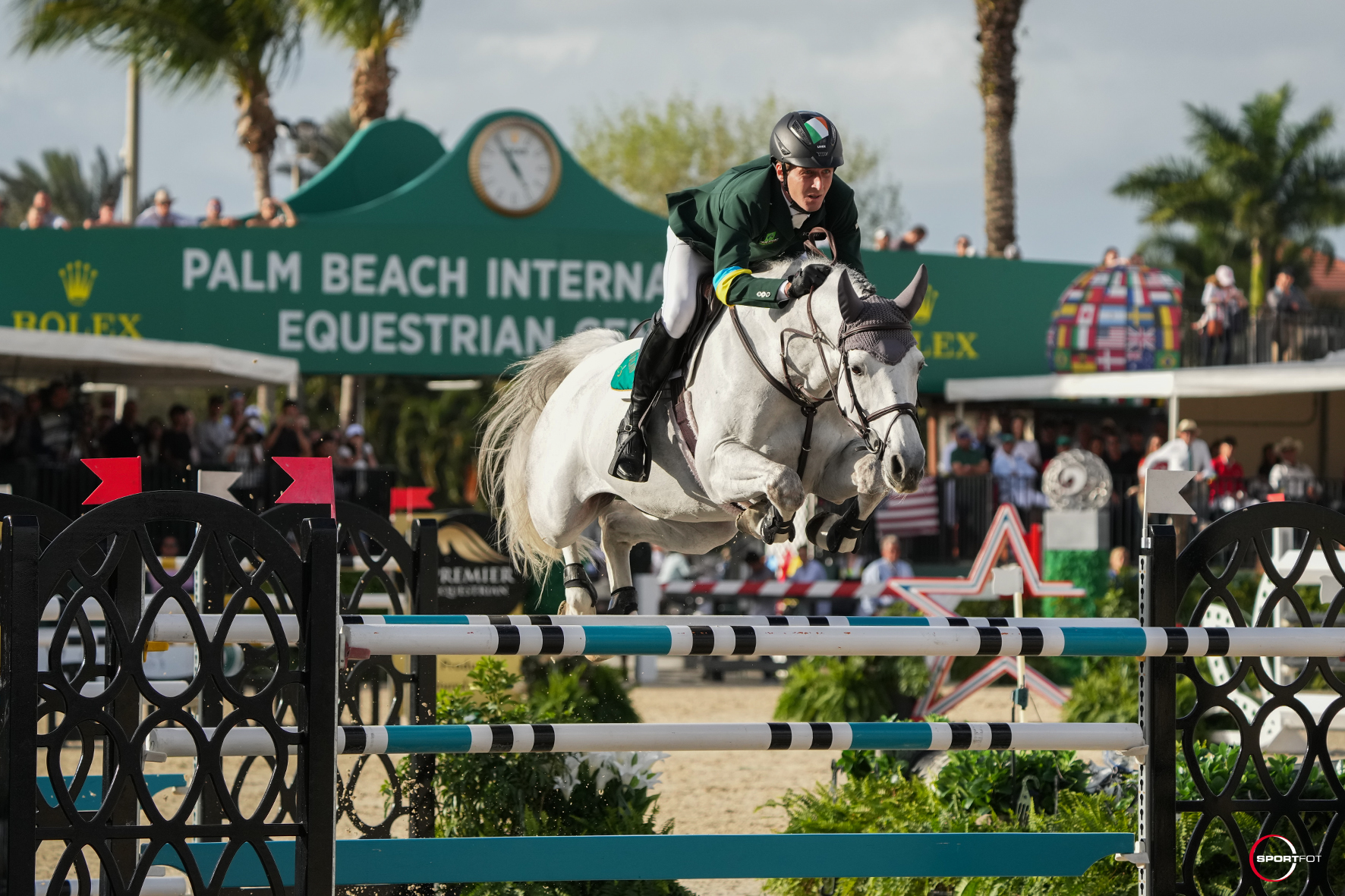 "Coming here, it was my plan to jump Chakra in the Nations Cup, so we planned our weeks up to tonight. She's been a very good horse for me," he said of the 12-year-old Holsteiner mare by Casall x Quidam de Revel. "Even though she's 12, she's not that experienced. She improved a lot from last year to this year. She's been very consistent since we got here.
"She jumped fantastic in the first round, and she jumped great in the second round as well," he continued. "I was a bit too slow; that was a rider error. I was very happy that it didn't cost us tonight. It's always a real privilege to be able to jump for Ireland. I'm very grateful for Michael selecting me."
Eighteen-year-old Wachman felt similarly grateful to be a part of Team Ireland, and he gave a stunning double clear performance, one of only five in the class. "I'm delighted, and it's a great feeling to win," he noted.
Wachman has been riding Berlux Z, an 11-year-old Zangersheide gelding by Berlin x Major de la Cour, only since October. Berlux Z was on the team for France under the saddle of Simon Delestre at the 2020 Tokyo Olympic Games.
"My horse is a very good horse," noted Wachman. "He's been able to bring me to bigger levels, because he's quite experienced and he's not green. I'm very grateful to be riding him. It's special to be on a winning team with [my trainer] Cian. All the lads are great."
Riding in the third spot for the Irish team, Bourns and Seatop Blue were coming off a strong WEF circuit, having won the CSI4* grand prix during week three. They recorded just an unlucky four faults in Round Two.
"I was very happy with him tonight," said Bourns of the 11-year-old Irish Sport Horse gelding by Chacco-Blue. "This is his first Nations Cup. I was a little worried he might come out in the second round and think it was a jump-off. But, after the second or third fence, I realized that I was right on the money with him.
"I'm very grateful, bringing a horse that hasn't jumped in a Nations Cup before, to be on a team like this and to be given a chance to develop a horse in an atmosphere like this," continued Bourns. "It really makes a big difference to professionals like me. To watch the likes of Max and Eoin go in and do so well is a very proud night. I think it was a good plan and well executed in the end."
O'Connor was the anchor rider for Ireland, and he and Cerruti Van Ter Hulst Z, a 12-year-old Zangersheide mare by San Patrignano Cassini x Corrado entered the ring in Round Two for their first shot at the course. With refusals at fence four, they were eliminated.
"Cerruti has been going quite well," remarked O'Connor. "She jumped double clear in the 1.50m and double clear in the WEF and clear in three-star grands prix. I just haven't showed her the last couple of weeks. I wanted to let her freshen up. That's always the thing with the schedule here. You don't want to overjump.
"She just seemed a little more on her toes tonight," he explained. "She took a serious dislike to the wall as soon as I turned the first time. I felt it, but she dug her heels in. But listen, that's horses. We'll regroup and school the wall probably and build her back up. She'll be back to fight another day."
With 38 Irish riders to choose from competing at the Winter Equestrian Festival, Blake sat in an enviable position with a wealth of choices for his team. He chose horses and riders with solid recent results but also team members where horses or riders had less experience.
"I like giving opportunities to people that I think deserve them," he said. "I have to say, we did our job very, very well tonight, and I'm delighted with the boys. Max is 18 years of age, and it was a phenomenal effort from him. Even though Eoin is not a whole lot older, he's also a veteran. Andrew has been in the States for quite a while, and we needed his shot. He rode very well. I thought he was a little unlucky to have the last fence down. It would've been nice to finish with no pole on the ground, but you know, we still did our job, and we're very happy. And Cian has always been an amazing, amazing rider for Team Ireland. He has been on so many Nations Cups teams and has pulled us out of a hole so often. I'm very proud of all of my team."
O'Connor, who was on the winning team at the WEF Nations Cup in 2016 and 2017, is excited about the future for his country. "When you see guys like Eoin and Max and Andrew and how well they're able to get stuck in and do the job, it's really bodes well for the future of Irish show jumping," he said. "Michael gives a fantastic chance to all the young people, and he fields from a mixture of experience for the team. It's very healthy and lets people develop. We're very fortunate to have that in Ireland."
Ireland finished on five total faults for the win. Canada and the United States both had a total of 12 faults after two rounds. The teams' cumulative times were the tiebreaker, with Canada taking home second place and the U.S. finishing third. Great Britain was fourth on 16 faults, Mexico finished fifth with 20 faults, and Australia placed sixth on 29 faults. Argentina took seventh place with 30 faults, and Belgium was eighth with 32 faults.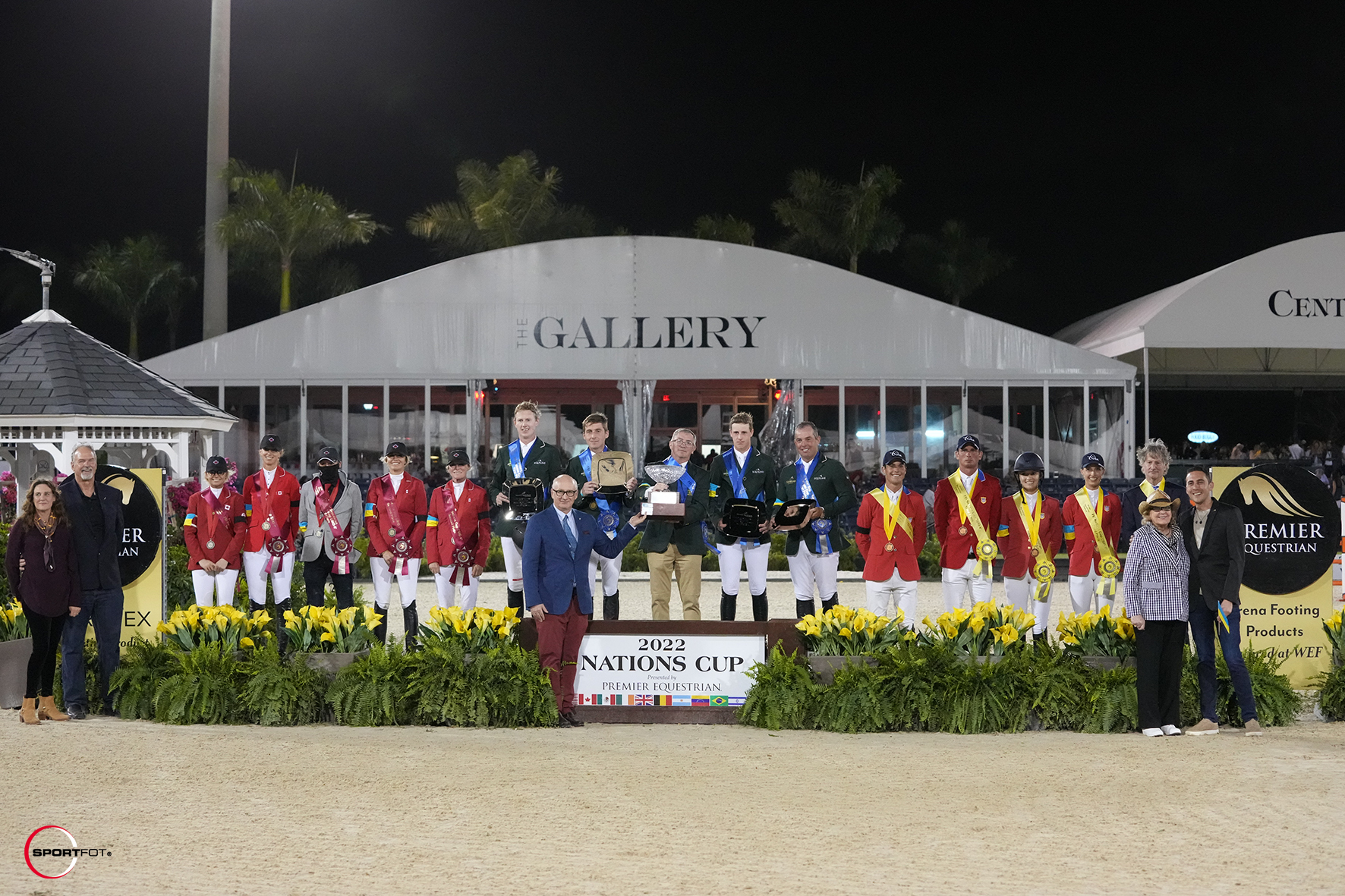 Along with Wachman, other double clear performances came from Lillie Keenan (USA) and Argan de Beliard, owned by Equivarandas, LDA., Eugenio Garza (MEX) on El Milagro's Contago, Lauren Balcomb (AUS) riding her own Verdini d'Houtveld Z, and Tiffany Foster (CAN) on Figor, owned by Artisan Farms, LLC.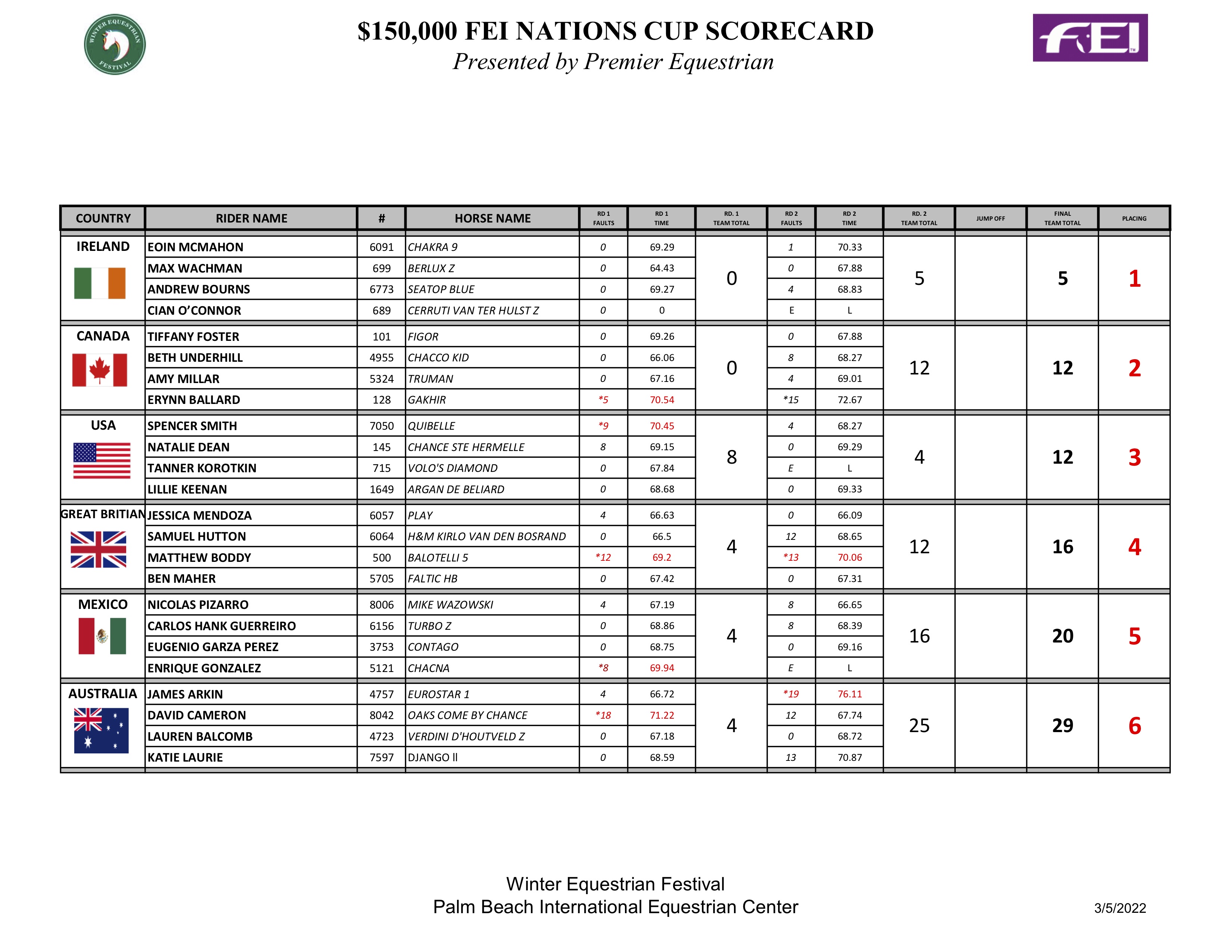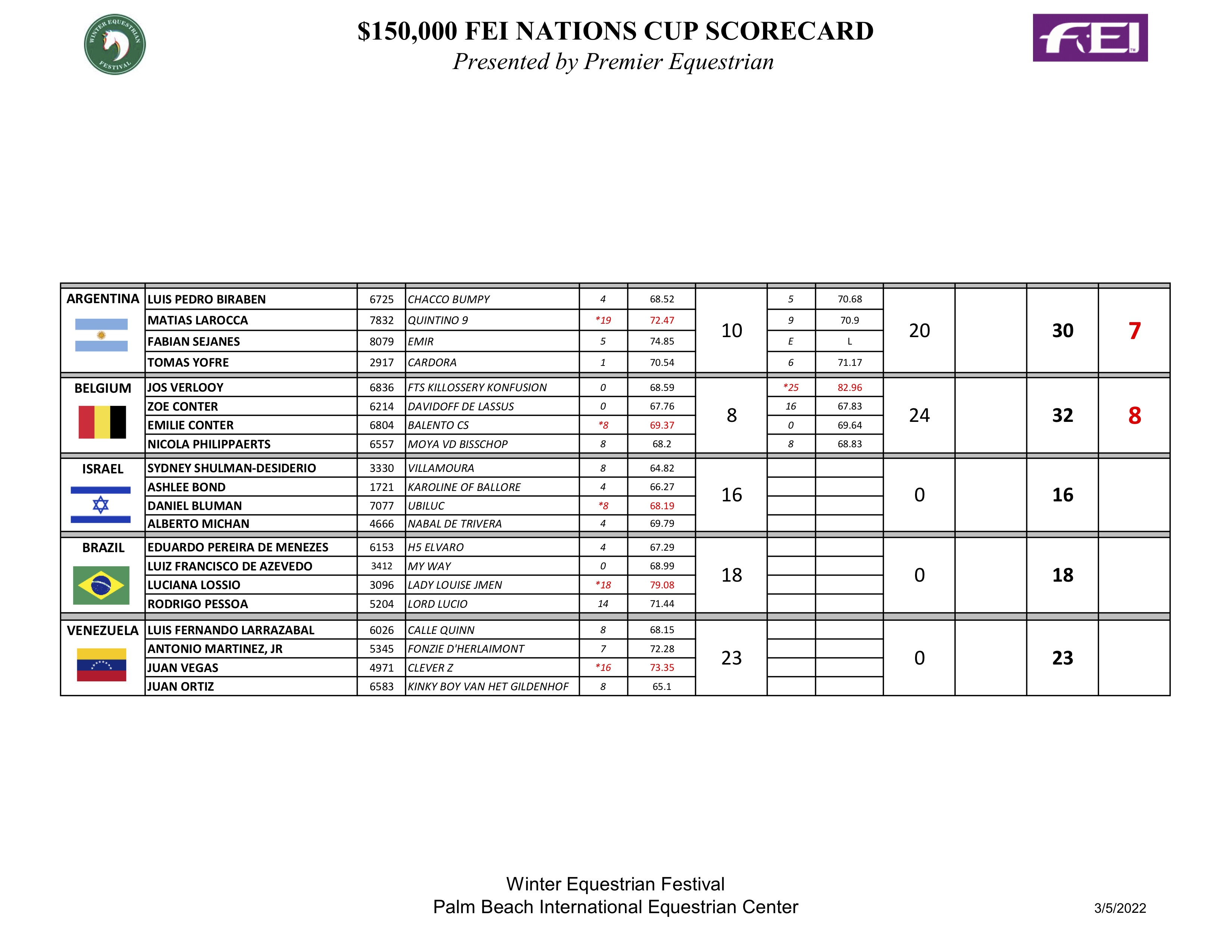 This Post Brought to You by: 
Taylor, Harris Insurance Services
Taylor, Harris Insurance Services (THIS) was founded in 1987 to provide specialized insurance for all types of equine risk.We place our policies with the highest rated and most secure carriers, meticulously selected for reliability and prompt claims settlement. We are proud of our worldwide reputation for responsive and courteous service, and we welcome the opportunity to discuss your equine insurance needs and provide you with a quote.
Access to multiple underwriters
Leader in the U.S. and European markets
Customized policies provide you with a choice
Trusted advisors in the equestrian industry
Direct access to insurance professionals
Policies that cover every breed and discipline across all 50 United States