Edited Press Release
Forty-three horse-and-rider pairs tackled a course of 16 obstacles on Saturday in the $50,000 CaptiveOne Advisors 1.50m National Grand Prix which took place in the International Arena. The course was set with an allowed time of 76 seconds over a challenging track which included a triple combination.
First in the ring was Francis Derwin (IRL) who would go clear aboard Vlock Show Stables LLC's Ricore Courcelle. The pair would ultimately come in third after being only one of 13 to post no faults in the first round. In the jump-off, they recorded a time of 34.292 seconds as one of five double clears.
Riding second to last in the jump-off, Karl Cook (USA) and Ircos IV, a 14-year-old Belgian Warmblood gelding owned by Helen Signe Ostby. Cook and Ircos IV finished their jump-off round in a time of 33.234 seconds, edging out second-place rider Shane Sweetnam (IRL) with Indra Van De Oude Heihoef, owned by The Blue Buckle Group, who clocked in at 33.339 seconds.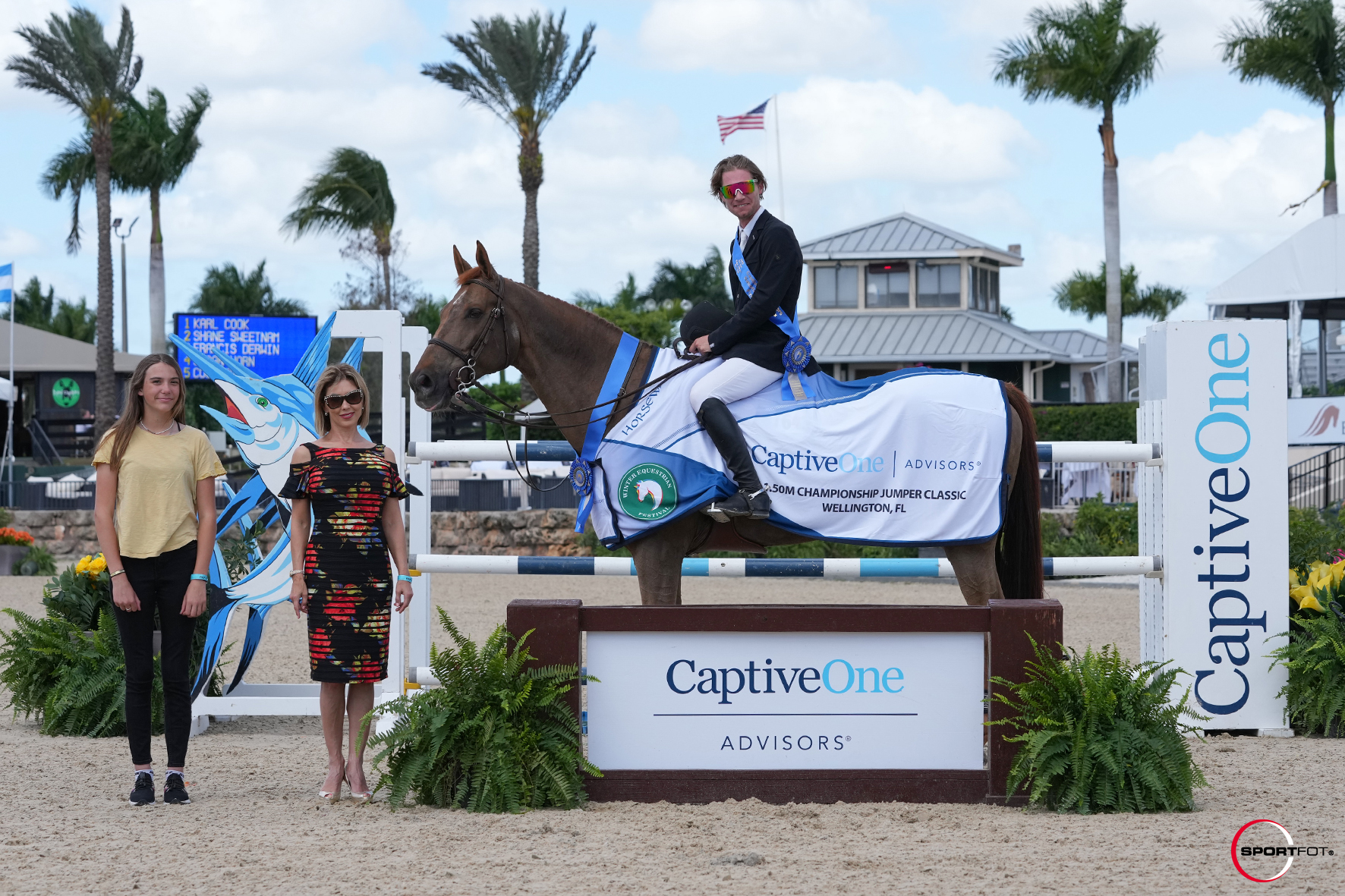 "He's one of those [horses] where if he's feeling like he wants to jump clean, he'll jump clean," said Cook of his partner of two years. "Even on a course that you might think, 'Oh this is definitely not his thing,' if he wants to jump clear, he'll jump clear."
Cook noted that his unique style comes from his unique personality.
"He's just a funny guy. He's got such a weird character," described Cook. "In general, courses that require more rideability are harder, because you can see we don't really have much of that. But he still can do it."
He went on to note, "When I first got him, I tried more traditional flat work, trying to get him between my legs and my seat and my hands. I could do it, but then we actually jumped worse in the ring. Over time, you say 'Do I want rideability, or do I want to be clear?' We just figured it out."
The secret to the jumper by Nabab de Reve x Echo De Thurin, seems simple.
"The key that we found with him," said Cook, "is just keeping him as happy as we can, and then [the win] is more likely, even if it's completely weird looking and the head is all over the place. He's kind of that horse that is always there and fills in the blanks. When we're trying to rest some of the bigger jumpers, he fills in. It's very valuable to have that because he's easy to keep, and he's always there."
This Post Brought to You by: 
Taylor, Harris Insurance Services
Taylor, Harris Insurance Services (THIS) was founded in 1987 to provide specialized insurance for all types of equine risk.We place our policies with the highest rated and most secure carriers, meticulously selected for reliability and prompt claims settlement. We are proud of our worldwide reputation for responsive and courteous service, and we welcome the opportunity to discuss your equine insurance needs and provide you with a quote.
Access to multiple underwriters
Leader in the U.S. and European markets
Customized policies provide you with a choice
Trusted advisors in the equestrian industry
Direct access to insurance professionals
Policies that cover every breed and discipline across all 50 United States