Edited Press Release
Wellington, FL – March 9, 2022 – The third out of four internationally-rated five-star weeks at the 2022 Winter Equestrian Festival (WEF) brought back some of the world's best riders to the International Arena on Wednesday, March 9. Wednesday's competition culminated in the $37,000 Douglas Elliman Real Estate 1.45m CSI5* where Ireland's Darragh Kenny rose to the top aboard Chic Chic.
Top course designer Alan Wade (IRL) set up a power-and-speed track worthy of its 62 opponents as the premier event of the day. The task proved difficult for many, and only 18 managed to navigate fault-free. Of the 18 nations represented in the event, representatives from seven countries earned a clear round while 14 riders suffered from a disobedience or downed obstacle. The Irish dominated the day with Kenny blazing the trail and fellow citizen Mark McAuley taking up second with O'Hara ELS. Kenny went early in the class but proved he still has a knack for speed, holding himself nearly a second shy of any further competitors with a top time of 32.69 seconds. McAuley gave it his best shot but stopped the clock in 33.36 seconds which promoted him to second place with LT Competition's 10-year-old CH mare by Ogano Sitte x Liandero.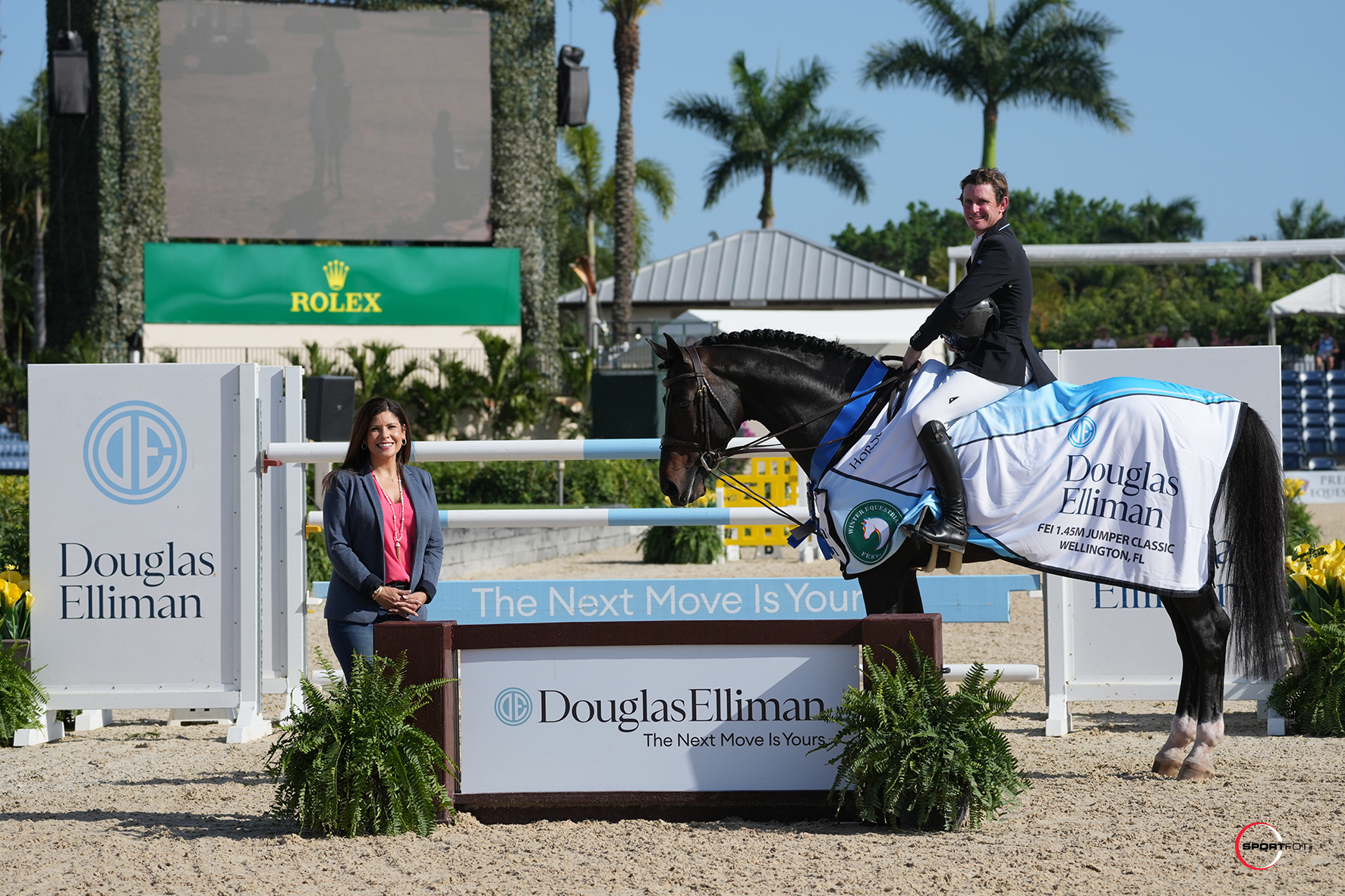 "I've had this horse for several years now, and I know he is naturally quite fast," explained Kenny. "He had a bit of a break over the fall, and he is just building back up to this level. He felt like he was in good form today so I wanted to try and have a good go."
Kenny has been partnered with the Vlock Show Stables LLC's 11-year-old Westphalian stallion (Comme Il Faut 5 x Contendro I) for more than two years, and they have previously been successful at the grand prix level.
"He is a very good horse, and he was competitive today," added Kenny. "Some of the lines in today's course were a bit short which suited him well because he doesn't have the biggest stride. If I don't have to worry about getting down a line it allows me to keep my forward pace better."
Chic Chic will return to the International Arena on the final day of WEF 9 to compete in the $75,000 CaptiveOne Advisors 1.50m CSI5*.
"It has been competitive here as it is every year," finished Kenny. "It is always difficult to win here but if you do, you know you are doing something right."
Brazil had a top showing today as Eduardo Pereira De Menezes and Rodrigo Pessoa secured the third and fourth positions. Menezes jumped into third with H5 Sport Horses LLC's 10-year-old KWPN stallion H. Big Action (Action-Breaker x Big Star) after narrowly missing McAuley with a finishing time of 33.79 seconds. Pessoa followed closely aboard the Artemis Equestrian Farm LLC's Venice Beach in a time of 33.93 seconds to just miss the victory gallop.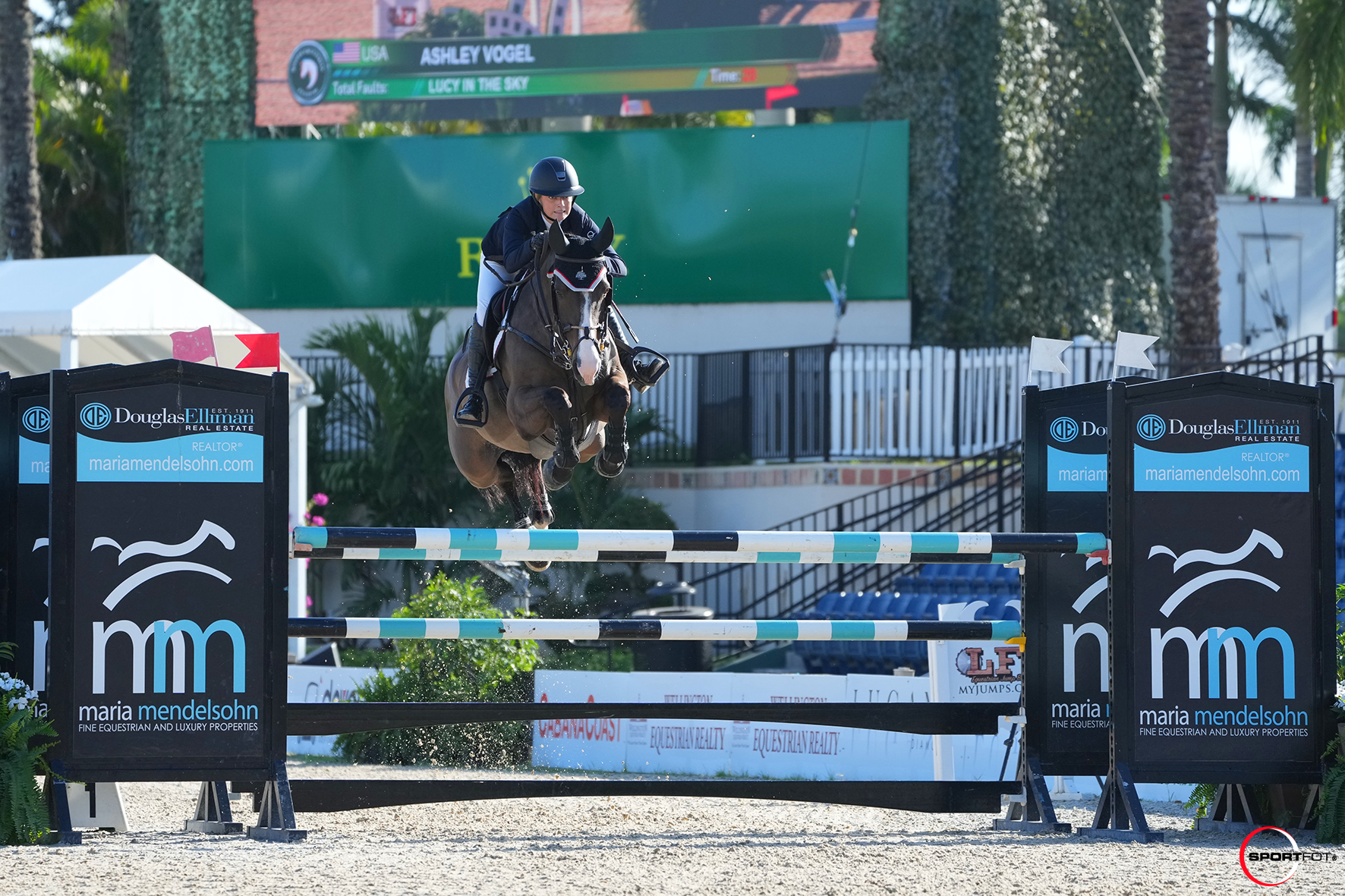 The $6,000 Corro 1.40m CSI2* kicked off the international competition for the week. A total of 64 horse-and-rider pairings stepped forth to challenge Wade's first track of the week with roughly one-third of the entries managing to successfully navigate the entire course fault-free. As the final horse passed through the timers, Ashley Vogel's (USA) time of 31.35 seconds aboard Lucy In The Sky stayed good enough for the win.
"I thought today's course was good for her because it allowed for a lot of places to make up time," explained Vogel of her 13-year-old Swedish Warmblood mare (Tornesch x Quantum). "She is naturally quite quick across the ground, and her bread and butter are really these speed classes like the one we had here today."
"I have a special place in my heart for mares, and she is no exception," the 21-year-old explained of her and the mare's partnership. "I know her like the back of my hand, and she tries her heart out in the ring."
Vogel plans to keep the mare doing what she does best- winning speed classes- for the rest of the season and potentially throughout the summer.
Fellow U.S. rider Rebecca Conway landed mere milliseconds behind Vogel to secure the second place position with Jersey Girl. She and the Blue Hill Farm LLC's 12-year-old Swedish Warmblood mare (Careful x Turban Rose) ticked in a time of 31.61 seconds to follow Vogel in the victory lap. Hector Florentino Roca (DOM) rounded out the top three as the final competitor to finish under 32 seconds. He piloted Wyndmont's 11-year-old Irish Sport Horse gelding MeadowVale Cruise (Creevagh Ferro x Cruising) through a clean round with a time of 31.99 seconds.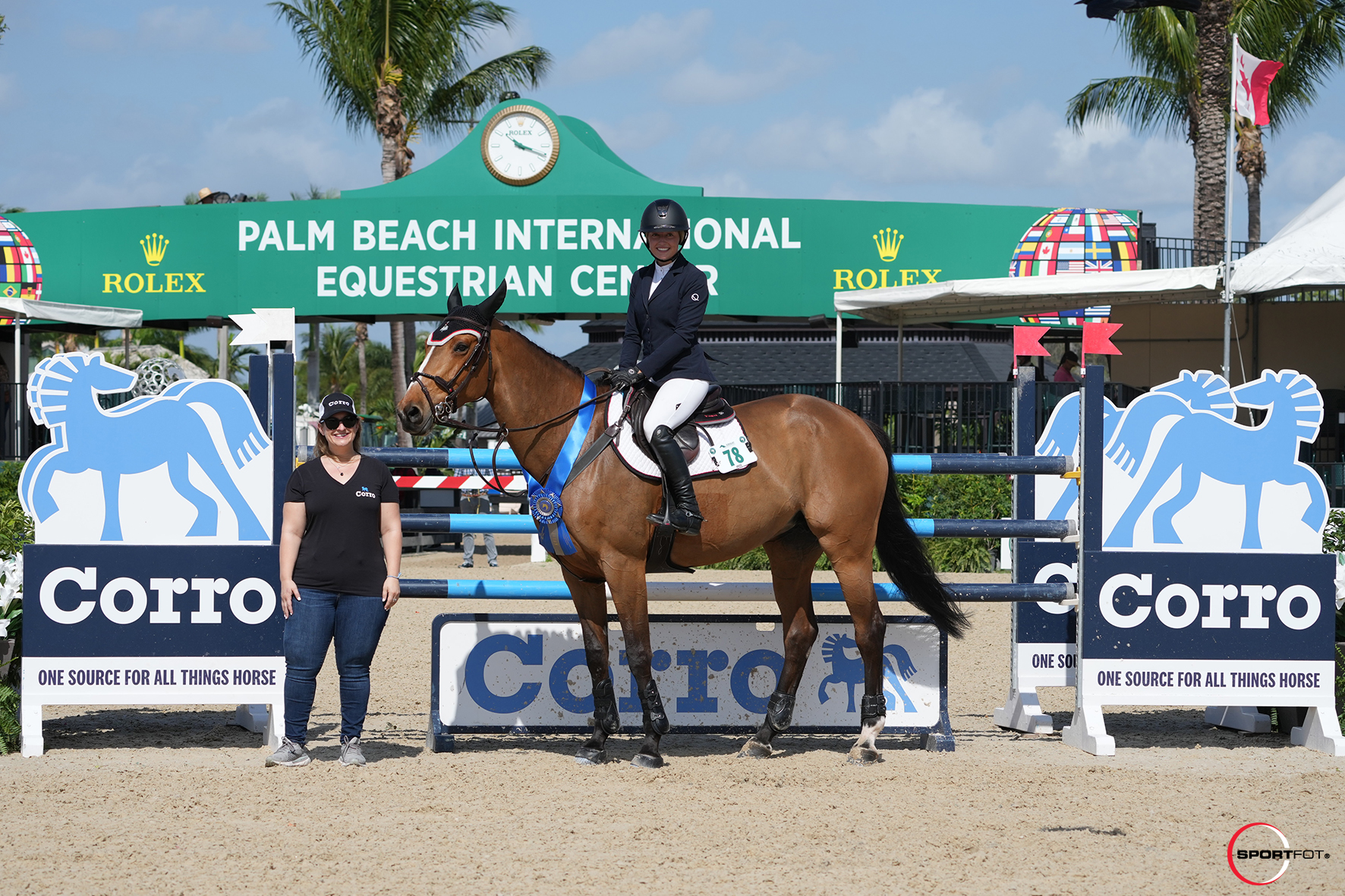 Jos Verlooy's (BEL) week was off to a winning start as the athlete took both the first- and second-place honors in the $1,000 Bainbridge Companies 1.40m CSI5*. Out of the 40 combinations, Verlooy left no room for a possible takeover as he rode to the top spot with Eurohorse BVBA's FTS Killossery Konfusion in 30.63 seconds, and then proceeded to secure the runner-up spot as well aboard Nyjerc Z in 30.77 seconds.
Final Results: $37,000 Douglas Elliman Real Estate 1.45m CSI5*
1. CHIC CHIC: 2011 Westphalian stallion by Comme Il Faut 5 x Contendro I
DARRAGH KENNY (IRL), Vlock Show Stables LLC: 0/0/32.69
2. O'HARA ELS: 2012 CH mare by Ogano Sitte x Liandero
MARK MCAULEY (IRL), LT Competition: 0/0/33.36
3. BIG ACTION: 2012 KWPN stallion by Action-Breaker x Big Star
EDUARDO PEREIRA DE MENEZES (BRA), H5 Sport Horses LLC: 0/0/33.79
4.VENICE BEACH: 2009 Hannoverian mare by Voltaire x Escudo I
RODRIGO PESSOA (BRA), Artemis Equestrian Farm LLC: 0/0/33.93
5.CASALOR: 2012 Holsteiner mare by Casall x Acodetto
ABDEL SAÏD (BEL), Abdel Saïd: 0/0/33.98
6.LAZY: 2011 BWP mare by Hickstead x Cruising
ZOE CONTER (BEL), Stephex Stables and Aurora Farms, LLC: 0/0/34.63
7.BACARA D'ARCHONFOSSE: 2007 SBS mare by Asca Z x Kannan
EMILY MOFFITT (GBR), Poden Farms: 0/0/34.69
8.SKYHORSE: 2007 BWP gelding by Calvaro F.C. x Quidam de Revel
LILLIE KEENAN (USA), Chansonette Farm LLC: 0/0/34.69
9.FARO: 2010 KWPN gelding by Calvaro F.C. x Contendro II
MCLAIN WARD (USA), Temple Equestrian LLC: 0/0/34.76
10.CELTIC HERO BZ: 2012 Zangersheide stallion by Calikot Hero x Nissan Caretano Z
HEATHER CARISTO-WILLIAMS (USA), Mr. and Mrs. Ralph Caristo: 0/0/35.06
11.DIJON TERDOORN Z: 2011 Zangersheide gelding by Diamant De Semilly x Lord Z
KATHERINE DINAN (USA), Grant Road Partners LLC: 0/0/35.54
12.ALPHA DE TERNOIRE: 2010 Selle Francais gelding by Kashmir Van Schuttershof x Olisco
MARIE HECART (FRA), Normandie Connection: 0/0/36.43
Final Results: $6,000 Corro 1.40m CSI2*
1. LUCY IN THE SKY: 2009 Swedish Warmblood mare by Tornesch x Quantum
ASHLEY VOGEL (USA), Ashley Vogel: 0/0/31.35
2. JERSEY GIRL: 2010 Swedish Warmblood mare by Careful x Turban Rose
REBECCA CONWAY (USA), Blue Hill Farm LLC: 0/0/31.61
3. MEADOWVALE CRUISE: 2011 Irish Sport Horse gelding by Creevagh Ferro x Cruising
HECTOR FLORENTINO ROCA (DOM), Wyndmont: 0/0/31.99
4. IDEAAL ES: 2013 KWPN gelding by Ukato x Conway
FILIPPO PIGNATTI (ITA), Take The High Road LLC: 0/0/32.33
5. VENITIENNE TARDONNE: 2009 Selle Francais mare by Lando x Flipper D'elle
BLYTHE KAROLYI (USA), Karolyi Showjumping Inc: 0/0/33.05
6. SHANGRI-LA: 2011 KWPN mare by Cardento 933 x Goodwill
ALISE OKEN (USA), Hi Hopes Farm, LLC: 0/0/33.22
7. ICEMAN B SFN: 2013 KWPN gelding by Mylord Carthago*Hn x Corland
MARIA COSTA (USA), Maria Costa: 0/0/34.01
8. DIDI 42: 2013 Westphalian gelding by Diarado x Ehrenwort 2
ANNA DRYDEN (USA), Double Meadows Farm, LLC: 0/0/34.23
9. VOODOO 10: 2010 Hannoverian gelding by Valentino 240
JOHN PEREZ BOHM (COL), Julio David Vainer: 0/0/34.95
10. BYZANCE MAIL: 2011 Selle Francais mare by Iowa 960 x Carthago
LACEY GILBERTSON (USA), Seabrook LLC: 0/0/35.10
11. HERCULES: 2012 KWPN gelding by Clinton
KEVIN GALLAGHER (IRL), North Star: 0/0/35.44
12. GELVERA: 2011 KWPN mare by Quality Time TN x Numero Uno
ALISE OKEN (USA), Hi Hopes Farm, LLC: 0/0/35.86
This Post Brought to You by:
Taylor, Harris Insurance Services
Taylor, Harris Insurance Services (THIS) was founded in 1987 to provide specialized insurance for all types of equine risk.We place our policies with the highest rated and most secure carriers, meticulously selected for reliability and prompt claims settlement. We are proud of our worldwide reputation for responsive and courteous service, and we welcome the opportunity to discuss your equine insurance needs and provide you with a quote.
Access to multiple underwriters
Leader in the U.S. and European markets
Customized policies provide you with a choice
Trusted advisors in the equestrian industry
Direct access to insurance professionals
Policies that cover every breed and discipline across all 50 United States