Edited Press Release
The grass Derby Field was the location for the $5,000 USHJA Pony Derby, which had 59 entries of varying sizes at WEF 9.
Of the pony-rider pairs there were 15 smalls, 22 mediums, and 22 larges that took to the course, and the top 12 scores overall returned for a handy round.
The handy round began with the small ponies, and returning third in her group was Ava Barnes with Ponies & Palms Show Stables LLC's Rico Suave', a 22-year old Welsh Pony gelding. The pair posted what would ultimately be the second-round high score of an 88 to give them a combined total of 171 for the top spot.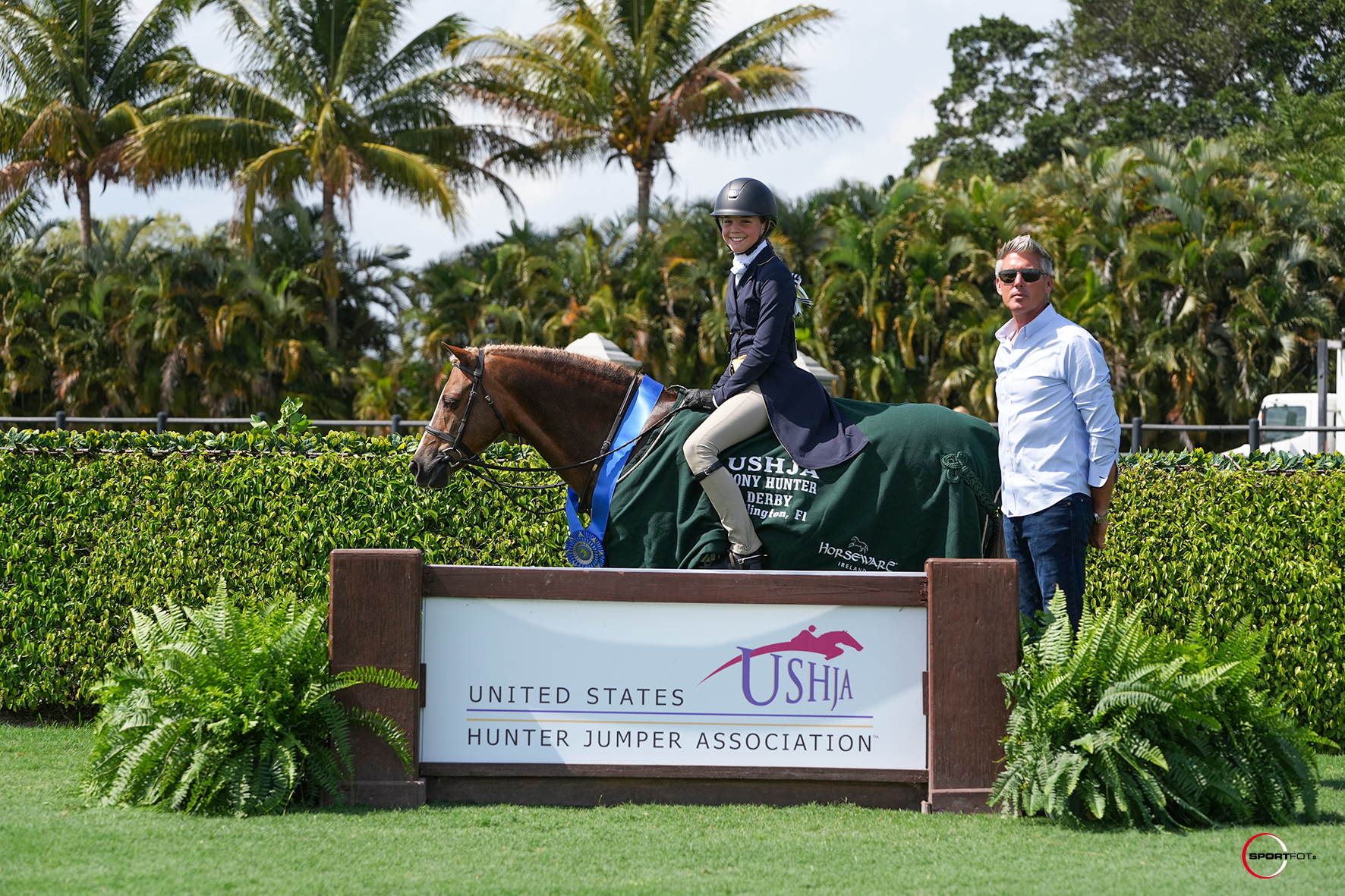 "Going in for the second round I knew there were inside turns and the trot jump where we could be handy," said Barnes. "I really was just hoping to go out and at least place well and have a nice course all the way around."
Barnes and the chestnut gelding have ridden on the grass before and were excited to return.
"This is my second time doing this class on this pony," said Barnes. "We were in the top ten last time, and I really like it out here just because the grass is more fun, for the horses and the riders. This is something we look forward to!"
Consistency was key for the pair, who were one of only two teams to post scores of 80 or higher in both rounds, and Barnes noted gratitude for the pony and her trainers.
"He has the best personality," she said of the successful pony. "He's just so sweet. And I'm so thankful for my trainers Chris Payne and David Belford for all they do."
Joining Ava Barnes for the top three finishes were Capri Truesdale, of Greenwich, CT, and Lily Epstein, of Coral Gables, FL, in second and third respectively.
Truesdale rode Daventry's Davinci owned by Bonnie Way Equestrian with a first round score of 87 and a handy round score of 83 finishing on 170 points, only one point behind Barnes.
Epstein piloted Duncans Mill Mac Dougal owned by GC Ponies with a first round (derby high) score of 89, a handy round of 79, and a 168 total.
Final Results: $5,000 USHJA Pony Hunter Derby
Pony, Rider, Owner R1 |Handy |Total
1. Rico Suave', Ava Barnes, Ponies & Palms Show Stables LLC 83 | 88 | 171
2. Daventry's Davinci, Capri Truesdale, Jill Shulman 87 | 83 | 170
3. Duncans Mill Mac Dougal, Lily Epstein, Hanae Leeman 89 | 79 | 168
4. Private Message, Ella Endzweig, Kyla Makhloghi 88 | 78 | 166
5. Secret Crush, Ella Endzweig, Kyla Makhloghi 84.5| 74 | 158.5
6. Rolex, Emma Brody, Eleanor Kunsman 82.5 |75 | 157.5
7. Fortnite, Carsyn Korotkin, Alan Korotkin 80 | 76 | 156
8. Dreamworks, Marielle Walrath, Pamela Polk 82 | 63 | 145
9. Astro Boy, Sienna Rossano, Madeline Meyers 86 | 51 | 137
10. Farnley Rock Around, Faith Schuttemeyer, Melissa Burns 84 | 50 | 134
11. Almost Midnight, Amelia Burnside, Kristina Muse 81 | 52 | 133
12. Good Reason, Brooke Duffy, Sloane Coles   85 | 45 | 130