Edited Press Release
Wellington, FL – March 11, 2022 – A full day of elite international competition was slated for the International Arena on Friday, March 11, at the Winter Equestrian Festival (WEF). During WEF 9, presented by Douglas Elliman Real Estate, the $37,000 Bainbridge Companies 1.45m CSI5* saw an impressive 68 horse-and-rider combinations contending against the clock but they couldn't best one of the fastest combinations in the world, Olympic team gold medalist McLain Ward (USA) and Catoki.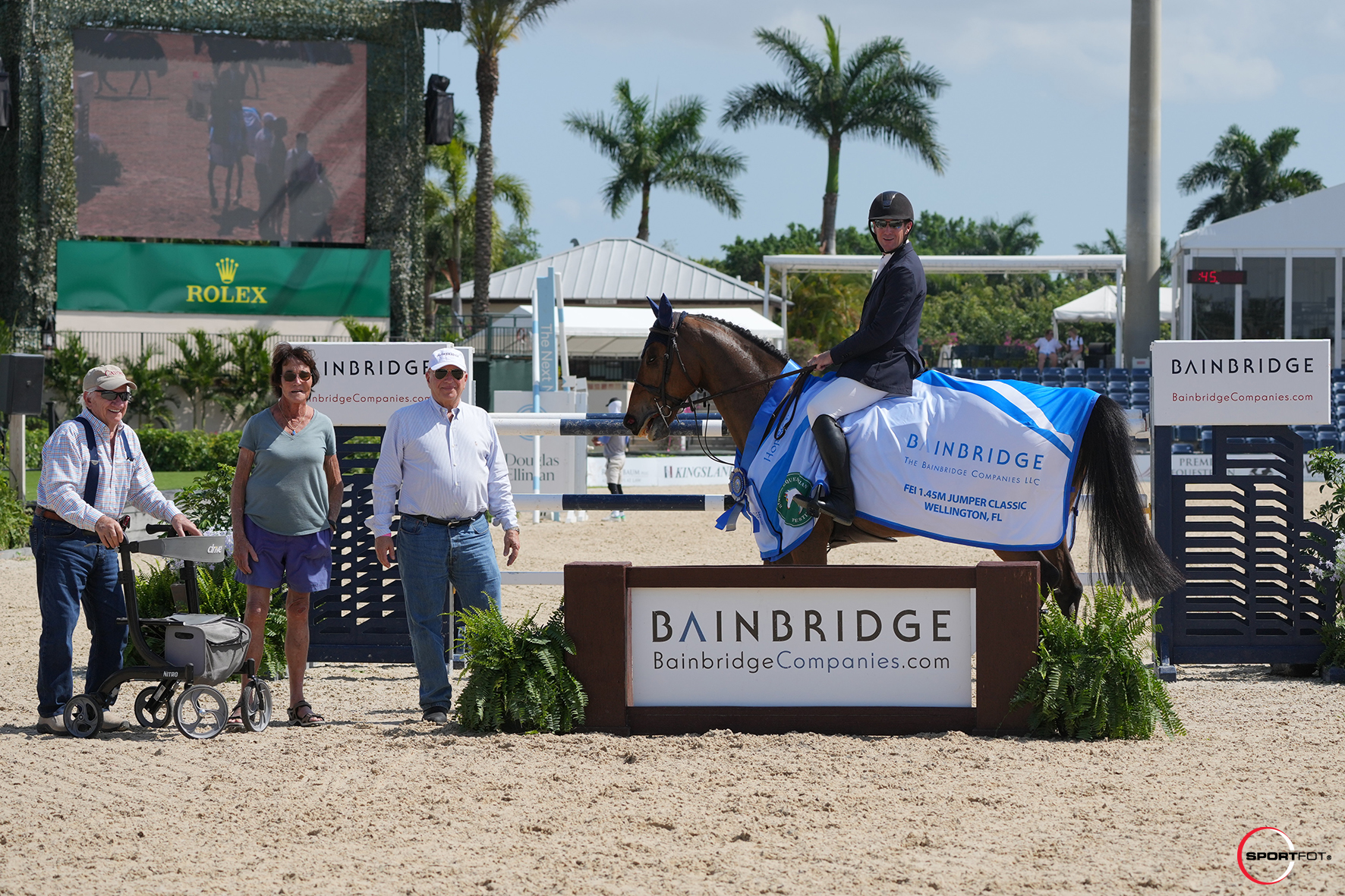 Sixteen nations were represented in the starting field of the single-round speed class designed by Alan Wade (IRL). Wade set a time of 72 seconds allowed, and most entries navigated the time easily. Wednesday's five-star class winner, Darragh Kenny (IRL), looked set to add another victory to his name for the week, until Bertram Allen (IRL) and his own 10-year-old BE/SEIS mare Emmylou (Billy Mexico x Lupin Z) took to the course. Kenny's previous leading time of 59.19 seconds with Oakland Ventures LLC's 11-year-old KWPN mare Gouvernante VDL (Bacardi VDL x Stakkato) lasted until Allen shaved almost two whole seconds off the clock to jump ahead with a time of 57.69 seconds.
The victory looked in the bag for Allen, but nothing was certain with Ward and his speedy mount Catoki as the third from final entry to compete. Upon crossing the timers, the duo once again proved unsurpassable, taking the lead in 57.15 seconds. The duo duplicated their victory in the same class of the same week from the 2021 WEF.
"He has been unbelievable this season, and I think he's won something almost every time we've brought him out," stated Ward. "Here in Wellington, we are really seeing the maximum of five-star show jumping because of the level of competition. We have had this funneling of the best riders in the world because America is open and people can compete, and it has raised the standards considerably. I thought Alan [Wade] did a great job with today's course, and I just tried to go fast but take a moment where I needed to and trust his footspeed."
With several five-star speed class wins and success in the $75,000 Rosenbaum PLLC Grand Prix already added to their title in the 2022 season, the pair has proved to be a force to reckon with.
"I had known Catoki when he was with a rider from New Jersey, and we thought he could be really competitive," explained Ward of the 13-year-old Westphalian gelding (Catoki x Caretello B) he co-owns with Marilla Van Beuren and Bob Russell. "We have had to learn about him a bit because he is certainly a different type of horse, but once we did, he has basically been a winning machine. He turns out every day, but we never ride him except for when he is about to go in the show ring, and that seems to be what works best for him. He is a pure adrenaline junkie."
Allen's performance stuck in the second-place position, and fellow countryman Kenny rounded out the class's final lap of honor.
Final Results: $37,000 Bainbridge Companies 1.45m CSI5*
1. CATOKI: 2009 Westphalian gelding by Catoki x Caretello B
MCLAIN WARD (USA), Marilla Van Beuren, Bob Russell, and McLain Ward: 0/57.15
2. EMMYLOU: 2012 BE/SIES mare by Billy Mexico x Lupin Z
BERTRAM ALLEN (IRL), Bertram Allen: 0/57.69
3. GOUVERNANTE VDL: 2011 KWPN mare by Bacardi VDL x Stakkato
DARRAGH KENNY (IRL), Oakland Ventures LLC: 0/59.19
4. GIJS: 2011 KWPN stallion by Kashmir Van Schuttershof x Numero Uno
NICOLA PHILIPPAERTS (BEL), Nicola Philippaerts: 0/59.24
5. CARAMBA 92: 2011 Westphalian gelding by Comme Il Faut 5 x Baloubet Du Rouet
RICHARD VOGEL (GER), Horse Management GMBH: 0/59.36
6. IVORY TCS: 2013 KWPN mare by Falaise De Muze x Ukato
DANIEL COYLE (IRL), Ariel Grange: 0/59.47
7. HELLCAT: 2011 BWP mare by Cassander Van Het Bremhof x Conan Z
PAUL O'SHEA (IRL), Eye Candy Jumpers: 0/60.50
8. FTS KILLOSSERY KONFUSION: 2010 Irish Sport Horse gelding by SIEC Livello x Cruising
JOS VERLOOY (BEL), Eurohorse BVBA: 0/60.67
9. CELTIC HERO BZ: 2012 Zangersheide stallion by Calikot Hero x Nissan Caretano Z
HEATHER CARISTO-WILLIAMS (USA), Mr. and Mrs. Ralph Caristo: 0/60.89
10. CECILE 30: 2013 OS mare by Conthargos x Carthago Z
ERYNN BALLARD (CAN), Ilan Ferder: 0/61.14
11. DONATELLO 141: 2011 Westphalian gelding by Diarado x Lamoureux I
ASHLEE BOND (ISR), Ashlee Bond Showjumping: 0/61.57
12. KALINKA VAN'T ZORGVLIET: 2010 BWP mare by Thunder VD Zuuthoeve x Flipper d'Elle
KARL COOK (USA), Helen Signe Ostby: 0/62.14
This Post Brought to You by:
Taylor, Harris Insurance Services
Taylor, Harris Insurance Services (THIS) was founded in 1987 to provide specialized insurance for all types of equine risk.We place our policies with the highest rated and most secure carriers, meticulously selected for reliability and prompt claims settlement. We are proud of our worldwide reputation for responsive and courteous service, and we welcome the opportunity to discuss your equine insurance needs and provide you with a quote.
Access to multiple underwriters
Leader in the U.S. and European markets
Customized policies provide you with a choice
Trusted advisors in the equestrian industry
Direct access to insurance professionals
Policies that cover every breed and discipline across all 50 United States