Edited Press Release
Ocala, FL – Week X's Derby Friday hosted nearly 100 entries eager to contest the $20,000 WEC Ocala 3'6"-3'9" Hunter Derby, $15,000 WEC Ocala 3' Open Hunter Derby and $15,000 WEC Ocala 3' Jr/Am Hunter Derby. Patrick Rhodes created the winding tracks that featured natural obstacles including a gorgeous stone wall and hedge fence.
The $20,000 WEC Ocala 3'6"-3'9" Hunter Derby saw competitive field of 19 entries compete for the ultimate prize over Patrick Rhodes natural tracks, but it was Samantha Schaefer and Madeline Schaefer's In The Know  (Arkansas x Cavelle) that earned their third 3'6"-3'9" Hunter Derby win of the 2022 Winter Spectacular Show Series.
Schaefer and the 12-year-old Warmblood gelding were the last pair to try their hand at the first round course, yielding an effortless first round to earn a high score of 92.
"Spyder [In The Know] was quite fresh this morning. I took him out earlier in the afternoon to stretch his legs and he was still pretty fresh, so I kept saying to myself, he'll be fine. He ended up holding it together very well. The first course rode very nicely for him," said Schaefer.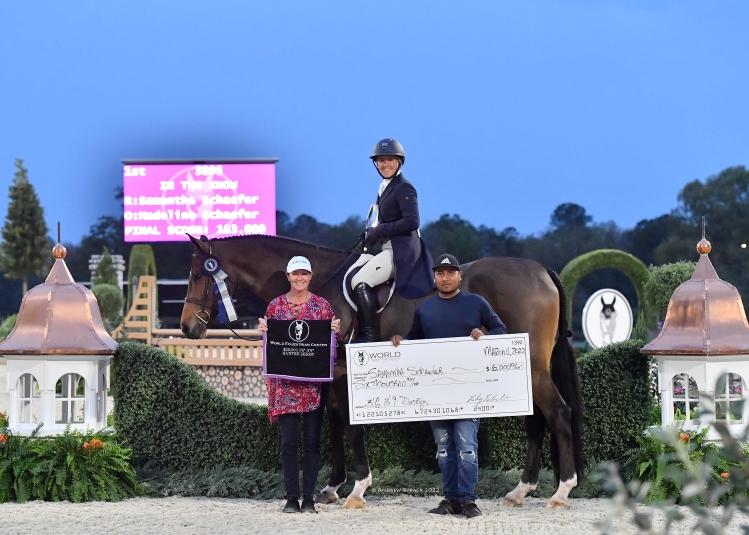 Schaefer and In The Know returned to Hunter 1 under the lights for the handy. They navigated a foot perfect handy round to earn a score of 91 for a two round total of 183.
"I saw some riders before me do some tricky inside turns, but I thought it was better for him in this ring to just try and be smooth," she said. "I didn't want to twist him around and take a risk, especially with the eerie storm weather heading our way. So, I focused on consistency and showing off his amazing jump."
$20,000 WEC Ocala 3'6"-3'9" Hunter Derby Results:
1.In The Know, Samantha Schaefer, Madeline Schaefer: 91 | 91 | 183
2. Small Kingdom, Augusta Iwasaki, Chris M Iwasaki: 86 | 89 | 175
3. Easy Money, Daniel Geitner, Daniel Geitner: 90 | 84.5 | 174.5
4. Cartel, Jeff Ayers, Jeff Ayers: 87 | 87 | 174
5. St Tropez, Daniel Geitner, Daniel Geitner: 84 | 86 | 170
6. Long Game, Ilana Halpern, Craig Starr: 85 | 84 | 169
7. Comissario, Morgan Ward, Morgan Ward: 88 | 77 | 165
8. TBS Rolls The Dice, Kim Mulligan, Kim Mulligan: 82 | 82 | 164
9. Jaromir, Kathleen M Caya, Kathleen M Caya: 78 | 80 | 158
10. Eurythmix, Kathleen M Caya, Kathleen M Caya: 79 | 78 | 157