Edited Press Release
Ocala, FL – World Equestrian Center – Ocala's 2022 Winter Spectacular Show Series brought another exhilarating night of top equestrian sport as athletes representing eight countries contested the $75,000 UF Health Grand Prix under the lights in the WEC Grand Arena. Nine entries in the highly competitive field found success over the first round track designed by Bernardo Costa Cabral's (POR). While five of those managed a clean jump-off round, none could best Aaron Vale (USA) and Lori Osterstock's I Adermie R 4 (Den Ham Blue R x W.Adermie 1).
Vale and the nine-year-old Dutch Warmblood mare entered the class toward the middle of the order, producing a smooth first round in 77.793 seconds.
"I started showing her sometime in September. We showed here at WEC in December where we did 1.30m, 1.35m and a 1.40m. She has been moving up quite nicely. She's won a few grands prix at HITS, including three FEI 2* competitions. She just jumped her first night class here a few weeks ago and had just one down. She's been amazing," said Vale.
Vale and I Adermie R 4 flew through the timers to stop the jump-off clock at 38.655 seconds.
"I started on a fast gallop to the first fence. I did one stride more than the other riders from one to two, but I was way inside everyone else's track to the next vertical," Vale said. "My boot actually hit the standard, that's how tight of an angle I was on. Then I was super quick to the oxer and the jump across the middle of the ring. After the double combination, I was just able to fly to the last one without hitting the brakes."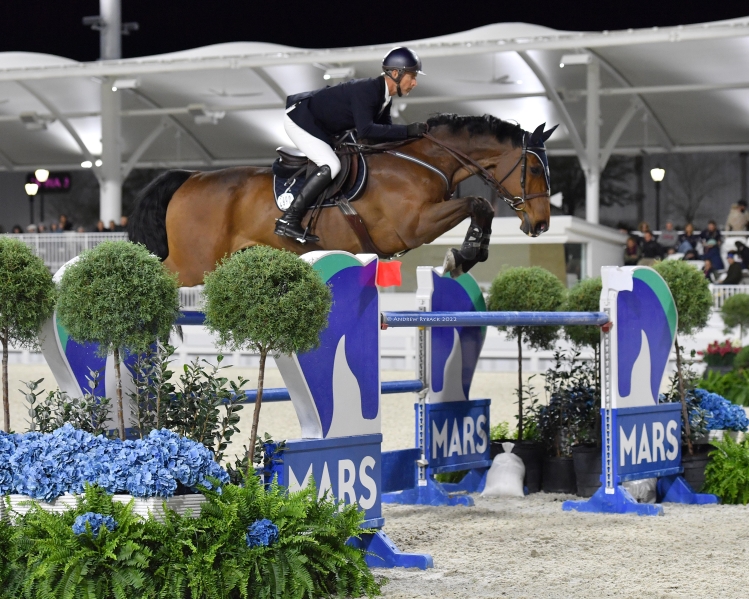 Richard Spooner (USA) and Show Jumping Syndications International's Chatinus (Chacco-Blue x Argentina) slotted into second place in the $75,000 UF Health Grand Prix. Spooner and the 15-year-old Hanoverian delivered a seamless first round in 81.309 seconds, just within the time allowed of 82 seconds. Spooner and Chatinus were the second pair to try their hand at the short course, going clear in 39.624 seconds.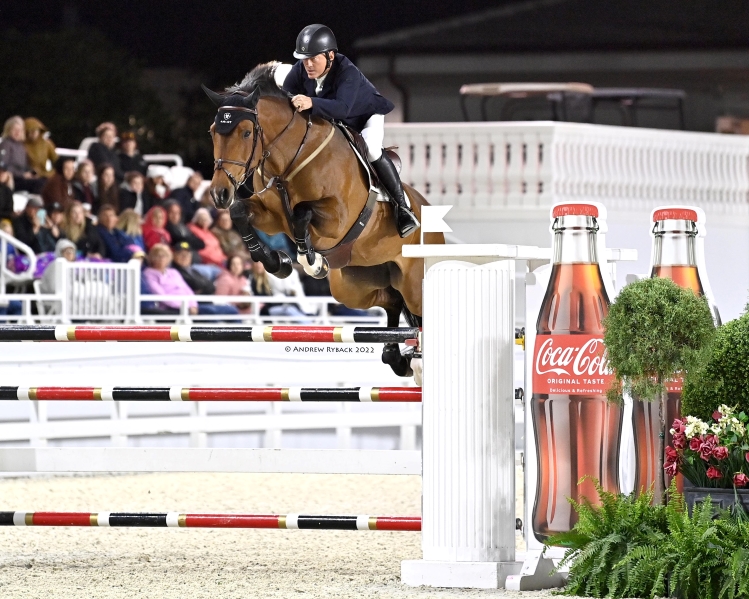 Third place honors went to Will Simpson (USA) and Coxe Horses LLC's Whoop De Doo (Mr. Whoopy x Double Trouble X). Simpson and the careful 11-year-old Warmblood mare were the first pair to produce a clean first round in 78.988 seconds. The pair returned for the jump-off, soaring through the entirety of the course in 40.318 seconds, to ultimately round out the top three.
An additional $5,000 was awarded to the fastest four-faulter of the $75,000 UF Health Grand Prix. Brazil's Santiago Lambre and Dingeman received the award with an incredibly fast time of 77.498 seconds with one down.
Lincoln Russell and Limoncello SCF received the $5,000 'Luck of the Draw' award.
$75,000 UF Health Grand Prix Results:
1.I Adermie R 4, Aaron Vale (USA), Lori Osterstock: 0 | 0 | 38.655
2. Chatinus, Richard Spooner (USA), Show Jumping Syndications International: 0 | 0 | 39.624
3. Whoop De Doo, Will Simpson (USA), Coxe Horses LLC: 0 | 0 | 40.318
4. Cristo Beech, Aaron Vale (USA), Thinks Like A Horse: 0 | 0 | 42.978
5. Boudika Ideal Home, Kady Abrahamson (USA), Abrahamson Equestrian LLC: 0 | 0 | 45.763
6. Mendini Dr, Conor O'Regan (IRL), Dynomite Ranch, LLC: 0 | 4 | 41. 013
7. Quirado RC, Richard Spooner (USA), Show Jumping Syndications International: 0 | 4 | 42.826
8. Fancy Girl, Willie Tynan (IRL) , Michelle Guardino-Dettelbach: 0 | 8 | 40.997
9. Casper, Sharn Wordley (NZL), Sharn Wordley: 0 | 8 | 43.267
10. FF Blade Runner, Jill Gaffney (USA), Freestyling Farms LLC: 1 | 82.288
Photos courtesy of Andrew Ryback Photography.
Videos available at ClipMyHorse.TV