Edited Press Release
Gusty winds and partly cloudy skies greeted a field of 40 entrants for the $25,000 USHJA International Hunter Derby 2* presented by Sam Edelman.
Eighth in the order of go, Hannan and Mindful, a Hanoverian gelding owned by Kensel, LLC, took a commanding lead with scores from panel one and two of 90 and 92 with three high options taken for a total of 188 in round one.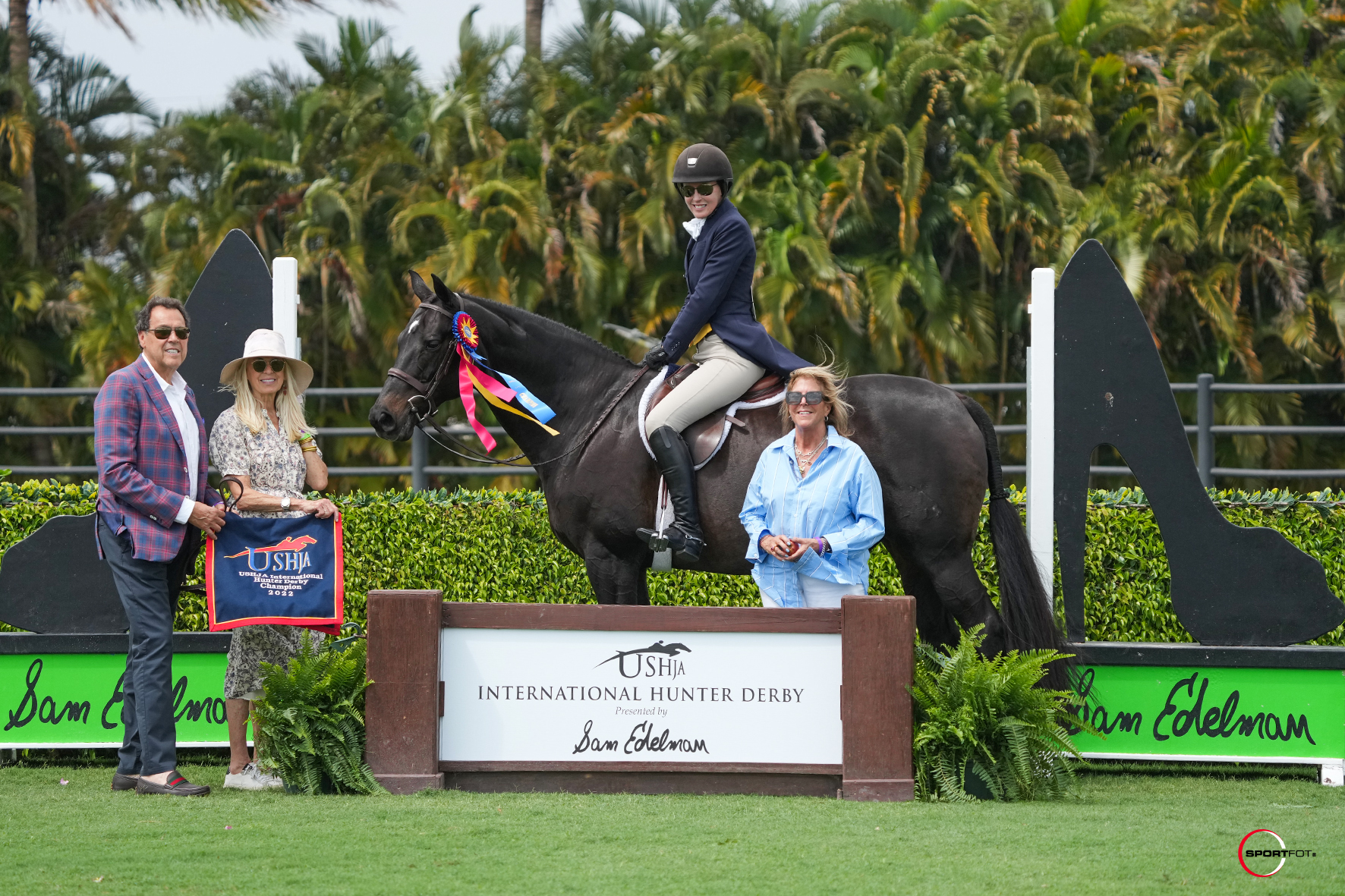 "For round one I just wanted to be smooth and really stick to my plan," said Hannan. "I know my horse really well. We're kind of on the same wavelength, so the goal was just to be smooth and put in a nice, solid round."
After round one, the top 12 horse and rider pairs returned for a handy round. The handy round would again be scored by two panels of judges with bonus "handy" points being added on to a base score along with any high options taken to give them a second-round total.
Hannan and Mindful held the top spot of those to return after being one of only two pairs to receive a base score of 90 or above in the first round. The other pair was Hannah Isop and Red Ryder, who had the second-highest returning total with 187.5 points after round one.
"There's always pressure coming back on top," said Hannan. "I knew there were no options for me. I had to take all the inside turns and jump the high options, so again my plan was just to stick to my goal, relax as much as I could, and use as slim a track as I could."
Hannan and Mindful executed their plan and earned scores of 90 and 93 with five and nine bonus points awarded respectively, with all four high options taken. Their second-round total was again the highest posted, earning an impressive 205 points and bringing their grand total to 393 points to secure the win.
"I always feel honored to ride him," said Hannan. "He does everything well. He's really a winner, but at this point in his career, he's 18 years old, and we really aim for just these classes. We will do the $50,000 [derby] week 11, and then we'll aim to do Devon and Upperville. Those are the next steps."
Close on the heels of Hannan and Mindful after round one were Isop and Red Ryder, owned by Tracy Freels. The pair finished in second on a total of 388.5 after second-round scores of 91(+8 handy) and 87(+7 handy) with all four high options taken.
Final Results: $25,000 USHJA International Hunter Derby 2*
Horse, Rider, Owner
R1 | Handy | Total
Mindful, Jennifer Hannan, Kensel LLC
188 | 205 | 393
Red Ryder, Hannah Isop, Tracy Freels
187.5 | 201 | 388.5
Meaningful, Kelley Farmer, Emma Vandenhouten
185 | 193.5 | 378.5
Private I, Michael Britt-Leon, Kelly Sims
184 | 192 | 376
Poker Face, Jennifer Bliss, Harris Hill Farm LLC
180 | 187 | 367
Unbelievable, Jacob Pope, Forget Me Not Farm
171.5 | 195 | 366.5
El Primero, Victoria Colvin, Meralex Farm Inc
171 | 192 | 363
Milagro, John French, Kent Farrington LLC
181.25 | 180 | 361.25
Chappy, Greg Crolick, Carole Chase
177.75 | 181 | 358.75
Calisto, Greg Crolick, Jon Cotton
174.5 | 183 | 357.5
Odyssey, Eleese Shillingford, Eleese Shillingford
171.5 | 168 | 339.5
Gabriel, Victoria Colvin, J T Farm
181 | 109 | 290