By Alice Collins for Jennifer Wood Media, Inc.
Wellington, FL – March 17, 2022 – The FEI Nations Cup for Under 25 riders, presented by Diamante Farms was the feature competition on Thursday, March 17, during week 10 of the 2022 Adequan® Global Dressage Festival (AGDF) in Wellington, FL. AGDF, which hosts seven weeks of CDI competition, runs through March 27. The under-25 division was a tussle between arch rivals Canada and the U.S., with team Canada coming out on top, scoring 133.323 points to take gold. The U.S. claimed silver with 129.5 points.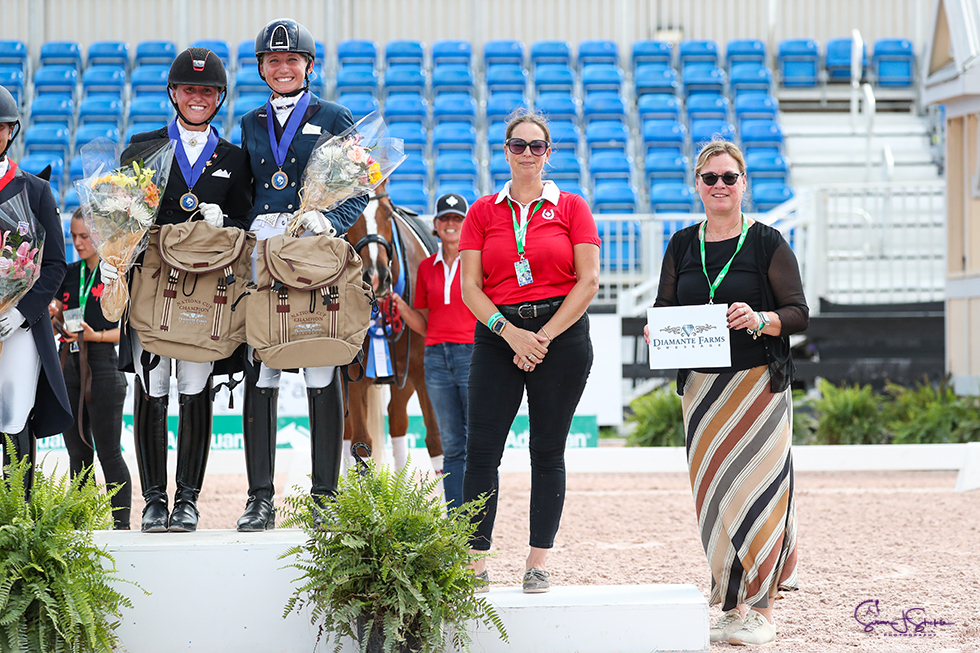 Camille Carier Bergeron rode Sound Of Silence 4 in only the pair's second under-25 CDI to the top spot for the winning nation, placing second overall in the CDIOU25 Intermediate II, presented by Diamante Farms. Individually, Benjamin Ebeling (USA) topped the class with 70.529% on Ann Romney's Status Royal OLD. However, Ebeling was not on the under-25 U.S. team as he is riding Vantage Equestrian's Indeed on the senior team.
The 22-year-old Vanessa Creech-Terauds bolstered the Canadian result, clinching gold by finishing fourth with 65.764% on Fleur De Lis L, Louise Leatherdale's home-bred 13-year-old daughter of First Dance.
Creech-Terauds, who was also on last year's winning under-25 Canadian team with Carier Bergeron, said: "It's very exciting to have won the second year in a row with Camille. It's always been so much fun. I've been competing against and with Camille for a long time, and it's so nice that in the U25 we're able to be on the same team, because in juniors and young riders we always had to compete against each other. It's always a really great experience going in that ring and representing Canada and getting more experience for both of our futures, and I know we both have goals to represent Canada more often, so every time it really makes me proud."
Creech-Terauds, who is from Ontario, continued: "I've been riding Fleur since we were both juniors, and I was so proud of her today. She's an awesome team horse because she goes out there every time and tries her best. Just last weekend we participated in the Challenge of the Americas fund raiser. I rode her in the cowboy and cowgirl theme. And for her to go from that really big atmosphere — people were cheering and clapping, and music, and I had a lasso on my leg, and chaps on — to be able to then come to this week doing the Nations Cup, it really attests to her character."
Carier Bergeron, who is 21 and from Quebec, said: "We have an awesome chef d'equipe in Denielle Gallagher, who was also our chef d'equipe last year, so we are surrounded by great people. I'm very happy with today's test considering the weather was extremely hot. It's not easy for the horses, and I think they tried the best they could. Today we had two bobbles, and the mistakes in the one-tempis were quite expensive because of the coefficient, but overall I'm really proud of my horse. You always have to adapt to all kinds of atmosphere, environment, and temperature, so today we did a short warm up. We tried to preserve his energy, and I think it worked quite well."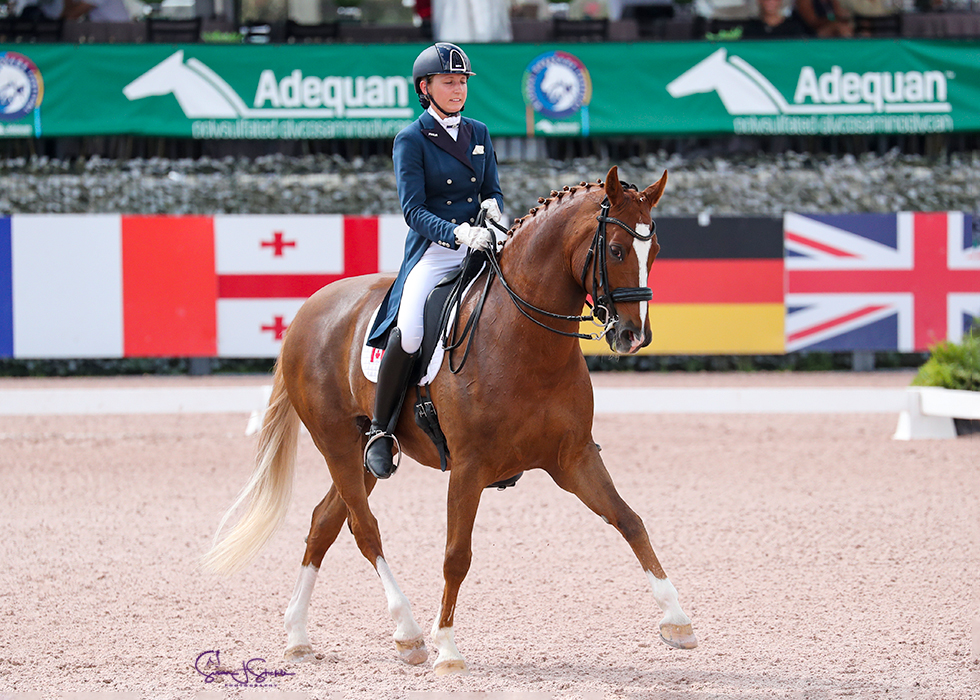 The highest scoring American rider was Quinn Iverson, who rode Bille Davidson's 13-year-old Beckham 19, by Benetton Dream, to 65.824% and third place individually to help hand silver to the U.S. team. It was the first time any of the American riders had represented their country.
"We're still quite a new partnership, and for him to just go out and still be as honest as he was in this weather, I was very happy with him," said Iverson, who was riding in her third-ever CDI and at only the fourth show on this horse. "It was a really big honor to be able to do it on such a big stage with the team."
Her teammate Nicole Scarpino, 23, who scored 63.676% on her own 15-year-old Lambada 224, said: "I've had my mare since the junior division, and we've come up the levels together, so we're still both a bit green at this level. But I was super happy with how much energy she brought to the test, even with the weather. We also had some miscommunication in our one-tempis, but I'm very happy how she handled the atmosphere and the weather, and I'm grateful to be here."
The U.S. fielded a third rider, Kaylee Christensen, from Michigan. The 23-year-old piloted Chateau 28, by Catoki, to 58.353% with a tricky ride.
"Unfortunately, my horse got his tongue over the bit today," she explained. "Sometimes there's nothing you can do, but I'm still really proud of him. He still tried his heart out in this really difficult weather for him. We're from Michigan, so we're not really used to this. But I'm still grateful to be here and part of this team."