By Amanda Picciotto Feitosa for Jennifer Wood Media, Inc.
Wellington, FL – March 19, 2022 – Week 10 of the 2022 Adequan® Global Dressage Festival (AGDF) in Wellington, FL, has been nonstop action, with Saturday's competition being no exception. As one of the last combinations to go in the FEI Grand Prix Special CDI3*, presented by Iron Spring Farm, Charlotte Jorst (USA) and her longtime partner, Kastel's Nintendo, did what they do best and strutted to the top spot with a score of 72.936%. 
In a highly competitive field of 15 starting combinations for the Special, Anna Marek (USA) rode Janet Simile's Fire Fly to a personal best 69.915% to rocket up the standings. Their score held up for quite a while until Alice Tarjan (USA) and her nine-year-old Hanoverian mare, Serenade MF (Sir Donnerhall I x Don Principe), laid down a stylish test for 70.872%.
Tarjan would have to settle for second and Marek for third as Jorst and "Nintendo" came triumphantly down their last centerline to applause from the crowd.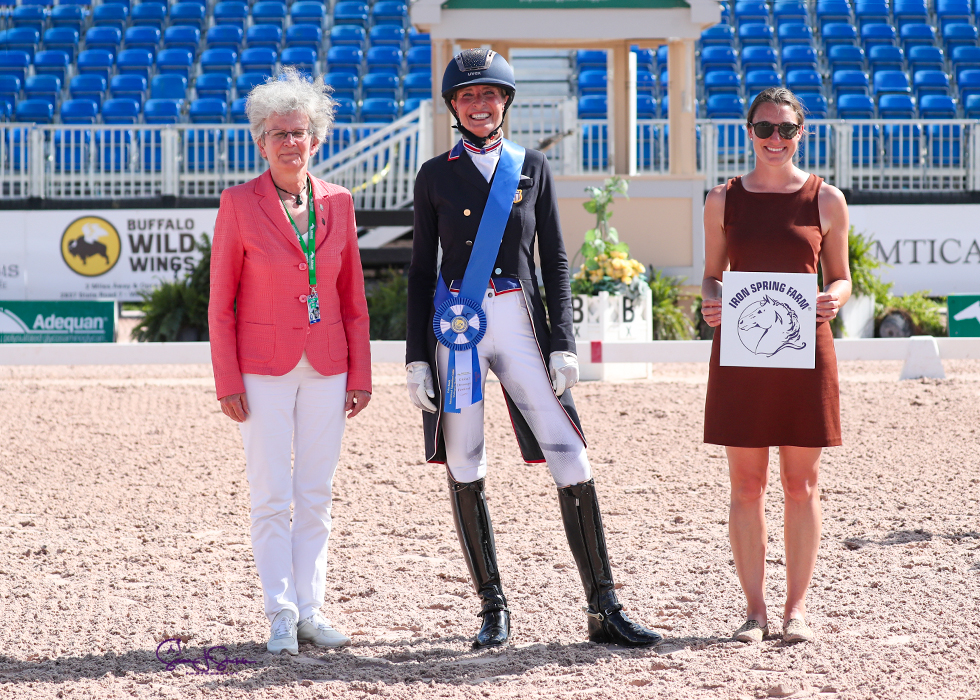 "I love my cheering section, and I love being out there," expressed Jorst. "Especially at my age and because I started older, it's a huge privilege to be able to do this at all, and then in addition to also to have someone actually admire what you do is unbelievable."
Jorst's 19-year-old KWPN stallion by Negro x Monaco seems to be turning back the clock, showing more and more exuberance. Even after a demanding Grand Prix Special test, Nintendo was still charged up for the awards ceremony.
"He was so on fire today! I gave him yesterday off and he just walked, so he was full of energy today. It was such a fun test, and it was just so incredible to ride him like that today," enthused Jorst.
"In the test, I kept going and going, and he was always completely in front of my leg. He hasn't been this energetic in I don't know how long!" she laughed.
This week's target for Jorst and Nintendo was the Special as a necessary component towards qualification for the ECCO FEI World Championships 2022 in Herning, Denmark. Jorst noted that she hasn't ridden this test with Nintendo in quite some time but enjoyed coming back to it today.
"I really liked the two-tempis coming across and then to the one-tempis, because I haven't done those together like that in a long time," Jorst explained. "I also loved the half passes because those big half passes are so much fun. He was really going uphill, so it felt very successful."
The win marks Nintendo's last appearance at AGDF this season, and it certainly has been a great one for the pair as they won four of their six starts. Jorst added that her friendship and collaboration with Charlotte Bredahl has made the experience that much more joyful.
"This season has been very special. I think it started with Aachen last year where it kind of dawned on [Nintendo] what he's supposed to do, and now he just seems to do it every class. He never misses a beat," commented Jorst. "This has been my best season in terms of laughter and working together, and I think it shows in the horse."
In the FEI Intermediate I CDI1*, presented by Horseware Ireland, María Alejandra Aponte González (COL) rode her own Lord of the Dance to the winning percentage of 68.627%. The 12-year-old Hanoverian gelding by Londontime x Gelria lived up to his name, delivering a consistent test punctuated by their last pass down centerline to top the class of 18 competitors unanimously by the judging panel.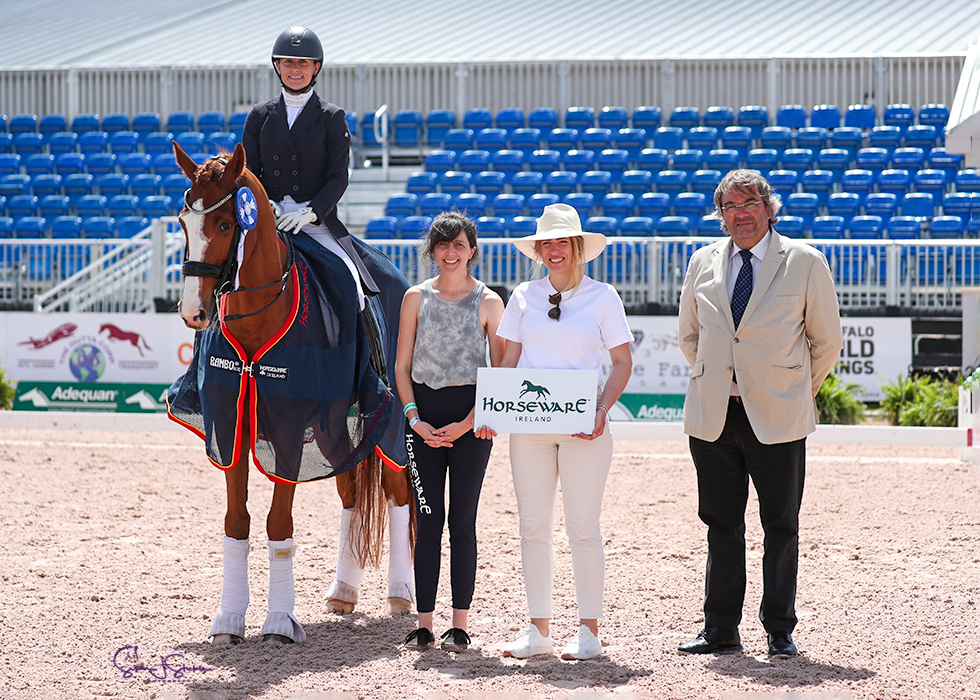 Second place went to Melanie Thomson of Canada and Anna May McCloskey's Gatsby, a 13-year-old Hanoverian gelding by Goldfever II x Lauries Crusador xx. They had impressive collected canter work and achieved an overall score of 66.226%. Rounding out the top three was fellow Canadian, Yanina Woywitka, with Hulk Hogan (Bretton Woods x Houston). Woywitka and Susanne Dutt-Roth's 10-year-old Hanoverian gelding achieved a personal best score of 65.490%.
Ecuador's Julio Cesar Mendoza Loor was the star of the FEI Intermediate A CDI3* class with his and Alison Head's Baylen Dream TWF. The test was highlighted by the piaffe and passage, picking up several eights for the 12-year-old Oldenburg gelding by Benetton Dream x Routinier.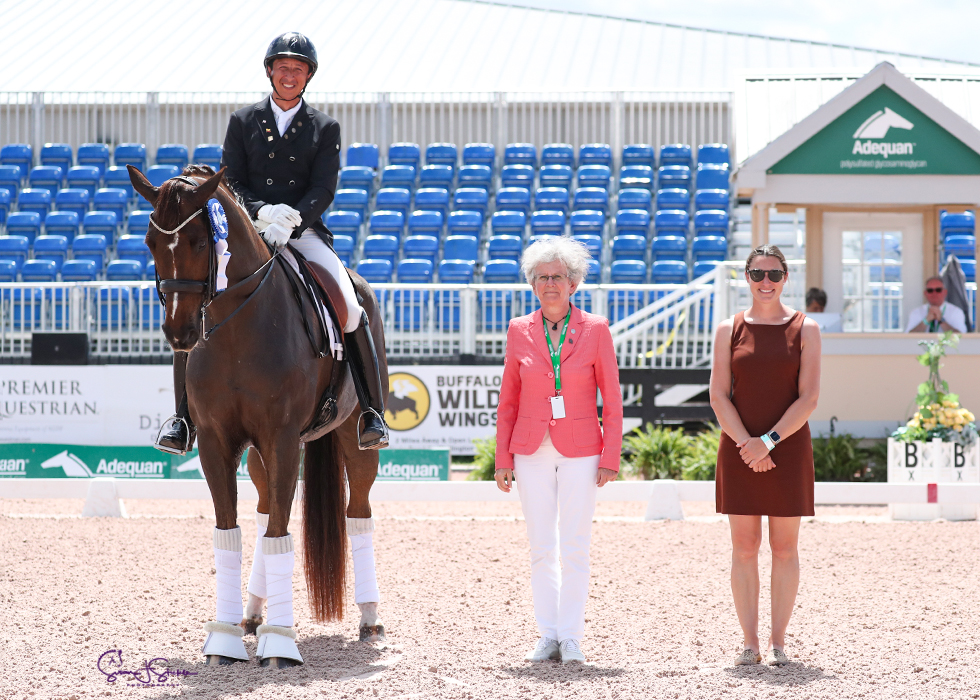 Tomorrow's competition concludes AGDF 10 with freestyles and developing classes featuring the Intermediate I CDI3* Freestyle, presented by Realtor® Matt Johnson, the Grand Prix Freestyle CDIO-U25, presented by Diamante Farms, the Intermediate I Freestyle CDIO3*, presented by Stillpoint Farm, and the Grand Prix Freestyle CDIO3*, also presented by Stillpoint Farm. The day wraps up with the Summit Farms Prix St. Georges Future Challenge Qualifier and the Lövsta Intermediare II Future Challenge Qualifier.
Results: FEI Grand Prix Special CDI3*, presented by Iron Spring Farm
Place, rider, nationality, horse, horse information: judge E%, judge H%, judge C%, judge M%, judge B%, final score
E, Ilja Vietor (SVK); H, Michael Osinski (USA); C, Anne Prain (FRA); M, Omar Zayrik (MEX); B, Knut Danzberg (GER)
1. Charlotte Jorst (USA) on Kastel's Nintendo, Kastel Denmark's 19yo KWPN stallion by Negro: 73.830, 73.085, 70.957, 74.149, 72.660, 72.936
2. Alice Tarjan (USA) on Serenade MF, her 9yo Hanoverian mare by Sir Donnerhall I: 70.638, 70.745, 71.383, 69.787, 71.809, 70.872
3. Anna Marek (USA) on Fire Fly, Janet Simile's 12yo KWPN gelding by Briar Junior: 69.362, 70.000, 70.319, 70.213, 69.681, 69.915
4. Carrie Schopf (ARM) on Saumur, her 14yo Oldenburg gelding by Sancisco OLD: 69.574, 69.681, 69.255, 69.255, 70.106, 69.574
5. Lehua Custer (USA) on F.J. Ramzes, Wendy Sasser's 12yo KWPN gelding by Juventus: 67.234, 68.404, 68.617, 68.936, 70.000, 68.638
6. Katie Duerrhammer (USA) on Paxton, Kylee Lourie's 11yo Westphalian gelding by Dante Weltino OLD: 67.766, 69.681, 68.404, 67.447, 67.766, 68.213
7. Hope Cooper (USA) on Flynn PCH, Jane Karol's 16yo Hanoverian stallion by Falsterbo: 67.234, 66.383, 64.681, 69.255, 69.255, 67.362
8. Ariana Chia (CAN) on Fiderflame, her 12yo Oldenburg gelding by Fidertanz: 68.191, 67.872, 66.915, 61.915, 66.064, 66.191
9. Kiichi Harada (JPN) on Sir Galanto, Chiemi Katayama's 17yo Hanoverian gelding by Stedinger: 65.213, 64.255, 63.830, 65.851, 65.106, 64.851
10. Mikala Münter (USA) on Skyfall, her 14yo Oldenburg gelding by Zardin Firfod: 66.277, 62.128, 64.787, 62.766, 65.638, 64.319
11. Jill Irving (CAN) on Arthur, hers and Windhaven Farm's 17yo KWPN gelding by Jazz: 64.787, 61.915, 64.468, 61.383, 60.745, 62.660
12. Eliane Cordia van Reesema (USA) on Codiak, Jewel Court Stud USA LLC's 13yo Rheinlander gelding by Cristallo 7: 61.383, 60.638, 61.596, 62.340, 63.830, 61.957
13. Barbara Bertschinger (SUI) on Sonnenberg's Solisco CH, her 15yo Swiss Warmblood gelding by Sancisco OLD: 65.745, 61.596, 63.298, 59.255, 57.766, 61.532