Edited Press Release
The $20,000 WEC Ocala 3'6"-3'9" Hunter Derby took place during golden sunset hour at World Equestrian Center – Ocala during Winter Spectacular XI. Twenty-five horse-and-rider combinations competed over Bollette's tracks, but it was Hope Glynn and Openingbell Sporthorse's Financier (Raddin x Royal Face) that prevailed for the win.
Glynn and the 12-year-old Irish Sport Horse gelding yielded an impeccable first round, jumping each high option with ease to earn the class's highest first round score of 95.
"Yesterday, was my first-time riding Financier," Glynn said. "The family that owns him are from Texas and they have become good friends of mine. They invited me to come to Ocala to ride, and I explained that I would really love to, because WEC Ocala is such a magical place. I was so excited because this is the best facility in the country, if not the world."
Glynn and Financier were the last pair to return for the handy.
"I knew Dorrie [Douglas] is the handiest person on the planet. So, I knew I wasn't going to be able to take the track that she did, because she does inside turns that no other human could accomplish," laughed Glynn. "I was hoping to use my horse's brilliant style and jump to stay on top, and he jumped his heart out for me."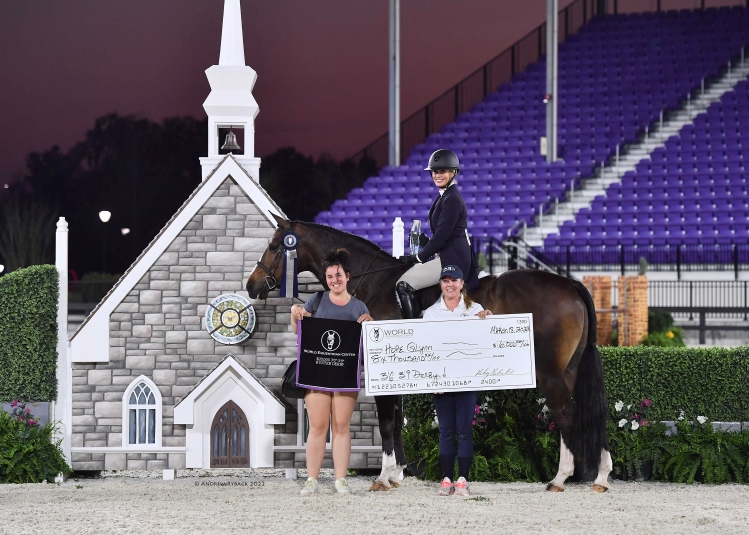 Glynn and Financier yielded a gorgeous handy round to earn a score of 92 from the judges, for a two-round total of 187.
"My very best friend Amanda Steege was supposed to be in this class today, but she had a fall earlier in the day and could not compete," Glynn said. "It wasn't the same class without her in it, but I know she would have been cheering me on. I pulled out a win for her."
$20,000 WEC Ocala 3'6"-3'9" Hunter Derby Results:
1.Financier, Hope Glynn, Openingbell Sporthorses: 95 | 92 | 187
2. MTM Lolah LOL, Dorothy Douglas, Abigail Davenport: 90 | 93 | 183
3. Cypress Daniel Geitner, Bruce Green: 94 | 88 | 182
4. Ipanema, Josh Dolan, Belle Rolfe: 88.5 | 87 | 175
5. Jordantinus, David Jennings, Allison Ventura: 84.5 | 89 | 173.5
6. Tybee, Holly Shepherd, Debbie Holland: 85 | 85 | 170
7. Breathless. Hillary Johnson, Sara Barnes: 87 | 76 | 163
8. Carlios, Abi Russo, Maurah Burkholder: 83 | 79 | 162
9. Cartel, Jeff Ayers, Jeff Ayers: 83 | 76 | 159
10. Rightfull, Tiffany Hammack, Foxwood Farm: 74.5 | 81 | 155.5