By Alice Collins for Jennifer Wood Media
Wellington, FL – March 20, 2022 – Week 10 of the 2022 Adequan® Global Dressage Festival (AGDF) in Wellington, Florida, wrapped up on Sunday, March 20. The day featured the individual conclusion of the CDIO classes as well as the final qualifiers for both the Lövsta Future Challenge Young Horse Grand Prix Series and the Summit Farm Future Challenge Young Horse Prix St. Georges Series. The Ebeling family had a red letter day, with both father Jan and son Benjamin winning classes on horses bought from Jan Brink in Sweden.
Benjamin Ebeling (USA) rounded off a busy week of competition, scoring a new personal best and topping the leaderboard with a commanding 78.41% in the Grand Prix Freestyle CDIO3*, presented by Stillpoint Farm. British Olympic judge Stephen Clarke awarded Ebeling and Indeed, Vantage Equestrian Group II LLC's 14-year-old mare by Hofrat, over 80%. Katie Duerrhammer (USA) clinched second, riding Quartett to 75.09%, with Germany's Michael Klimke third on Harmony's Sanrino RHP (73.78%).
Ebeling, 23, said: "It's been really awesome to watch Indeed develop, first, of course, under my dad, who did a fantastic job. These past couple of months have been serious development for her, and she continues to get better and impress me. I think she just loves being at the show; it's her favorite thing, and she's turning into a really consistent horse."
Ebeling rode to a freestyle put together by Karen Robinson, initially for his other horse Illuster Van De Kampert.
"I knew that coming into this week, I had some difficult competition in this individual final, and I wanted to crank up the difficulty with Indeed," continued the California-based rider. "This is the first time that she had ridden through it. It's been a long season, but it means a lot to end if off with a win. And I have to thank my coaches; my dad and Christoph Koschel. I'm really hoping to take Indeed to Europe, hopefully do a couple of competitions out there, and continue developing her. She continues to get better every week, and it's really fun to see."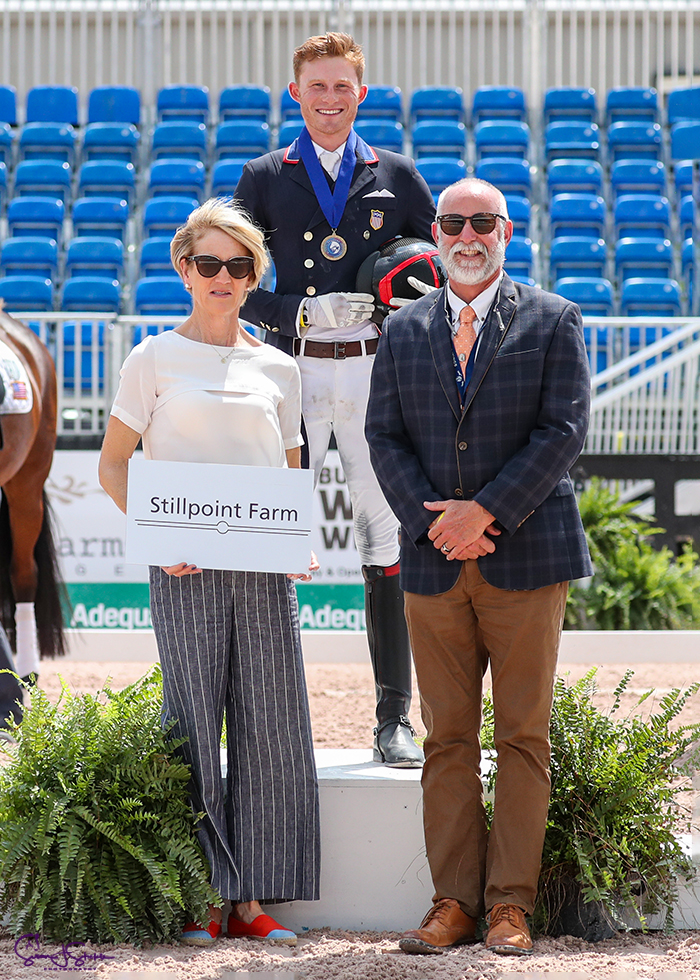 Second-placed Katie Duerrhammer was full of praise for Quartett, Kylee Lourie's 14-year-old gelding by Quaterback: "He's a very consistent, reliable horse, and you can always count on him," she said. "It's the end of a very long, hot week, and he just went out there and tried as hard as he could and completed everything. The music was made for him by Terri Gallo, and it really fits him. I wanted something that was fun and upbeat. He's just a really pleasant horse and makes you feel like you're having a good time."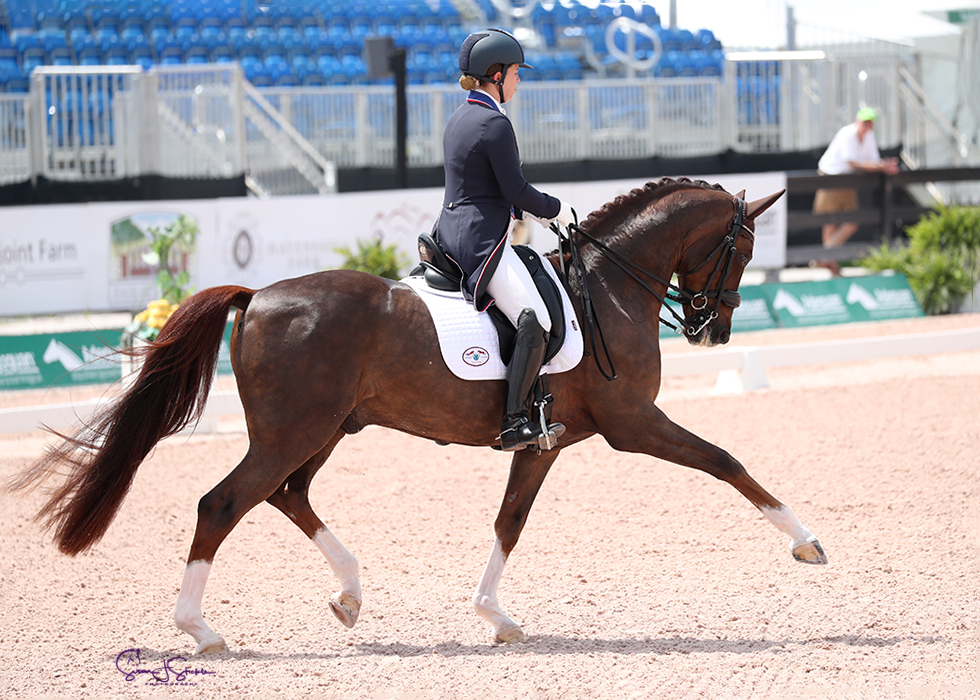 Michael Klimke, who was part of the gold medal-winning German Nations Cup team, was riding Harmony's Sanrino RHP, a 13-year-old stallion by San Remo in his first ever freestyle at the level. This was only their third big tour CDI together.
"This was Sanrino's first time doing three classes [at one show] and today the horse gave everything, but I felt he was tired. And the last line — this joker line — you know, when I started to ride freestyles there was no joker line, so I make the wrong decision to make the pirouette the second time, and then I was behind the music. And I think I confused him a little bit, because I was confused.
"Overall it was a great season, and we were very happy to win the Nations Cup a second time. Thank you to the organizers — especially in these difficult times when lots of shows in Europe are cancelled, that for three months here you can compete in seven CDIs with different four-star and five-star judges."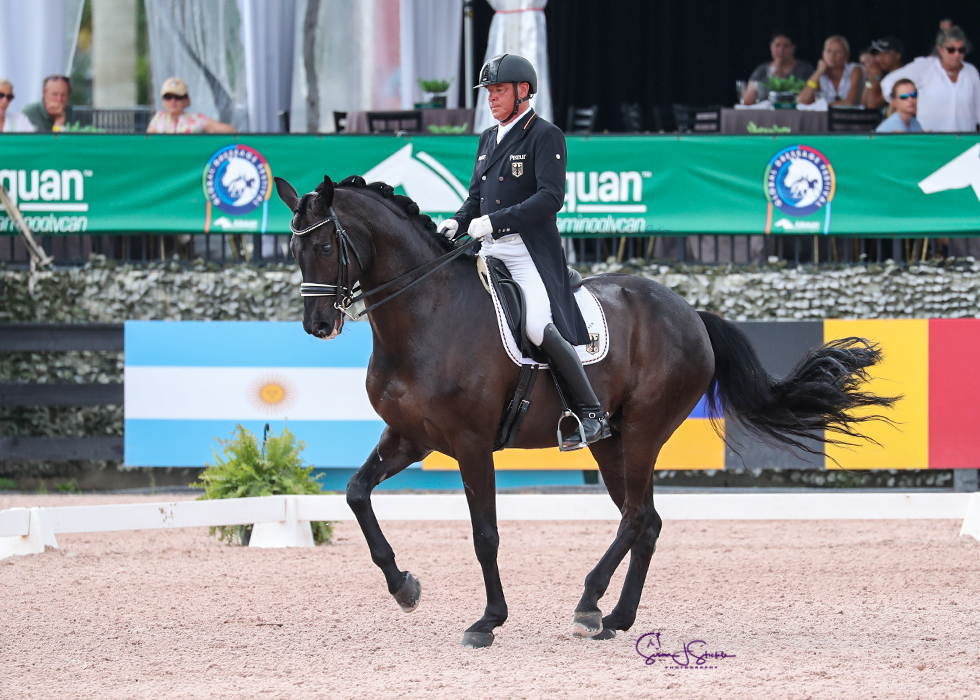 In the small tour ranks, another personal best performance from an American rider clinched the win, with Bianca Berktold sitting atop the pack in the Intermediate I Freestyle CDIO3*, presented by Stillpoint Farm. She rode Imperial, her own nine-year-old Charmeur mare, to 76.43%, an improvement of almost four percentage points over their previous best.
"She's really an amazing mare, and she walks in the ring like she owns it," said Berktold of the mare she has owned since it was two. "It's amazing to have a horse that really likes to show, shows up to the occasion, and enjoys it. It has been an exciting journey. My amazing coach Ashley Holzer and I made some significant changes to the floor plan yesterday, and we thought, 'Okay, let's try this and see what happens,' and it's paid off. Imperial was so on point with the music today, so it was really fun.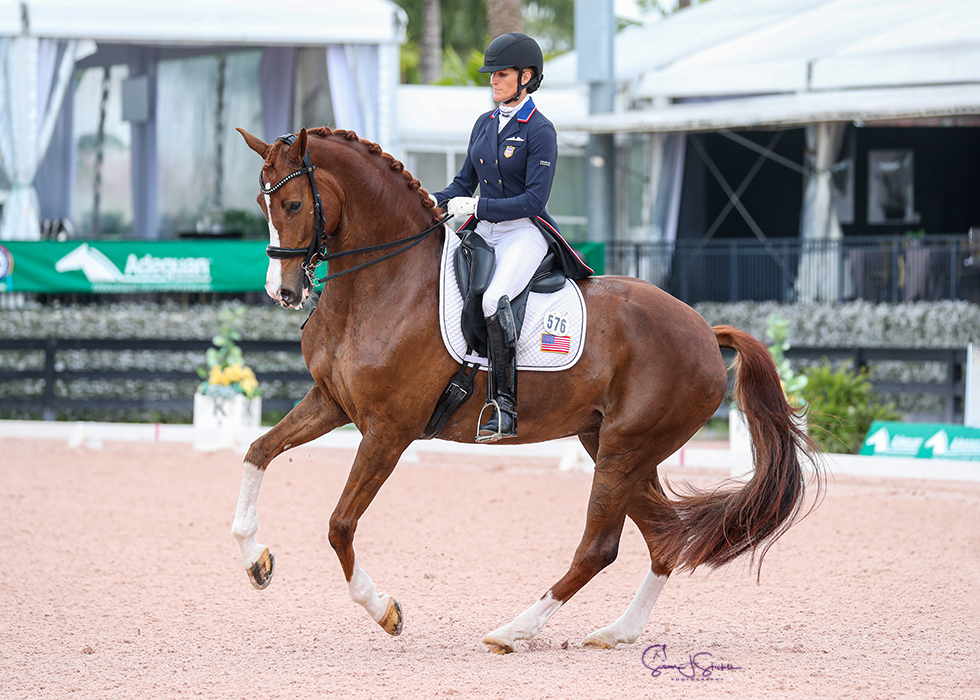 "I had Marvin's Music do the music, and then we did the choreography — and then Ashley changed it all," she added with a grin.
Another nine-year-old chestnut mare slotted into second, with Canada's Beatrice Boucher laying down 71.345% on Monica Von Glahn's Summerwood's Limei — to yet another score by Karen Robinson.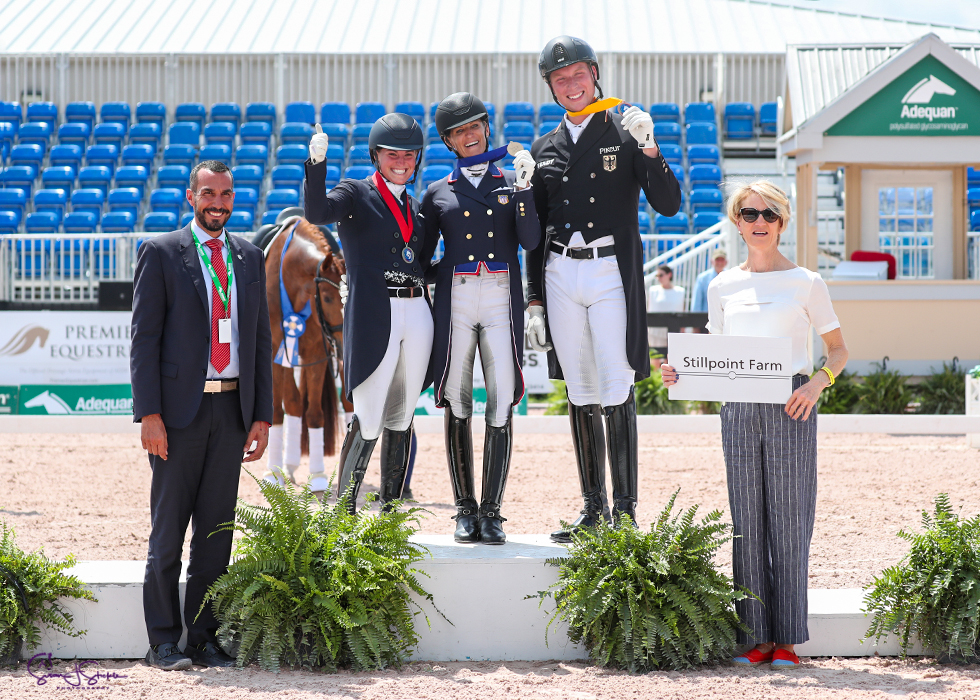 "The incredible thing about this is that there's so much room for improvement but she still does everything," said Boucher. "The judges really like the music; it's classical and gives them a bit of a refreshing feeling. I've never ridden this freestyle before today. The pattern is not that hard, so Limei was just cruising along and doing everything quite nicely."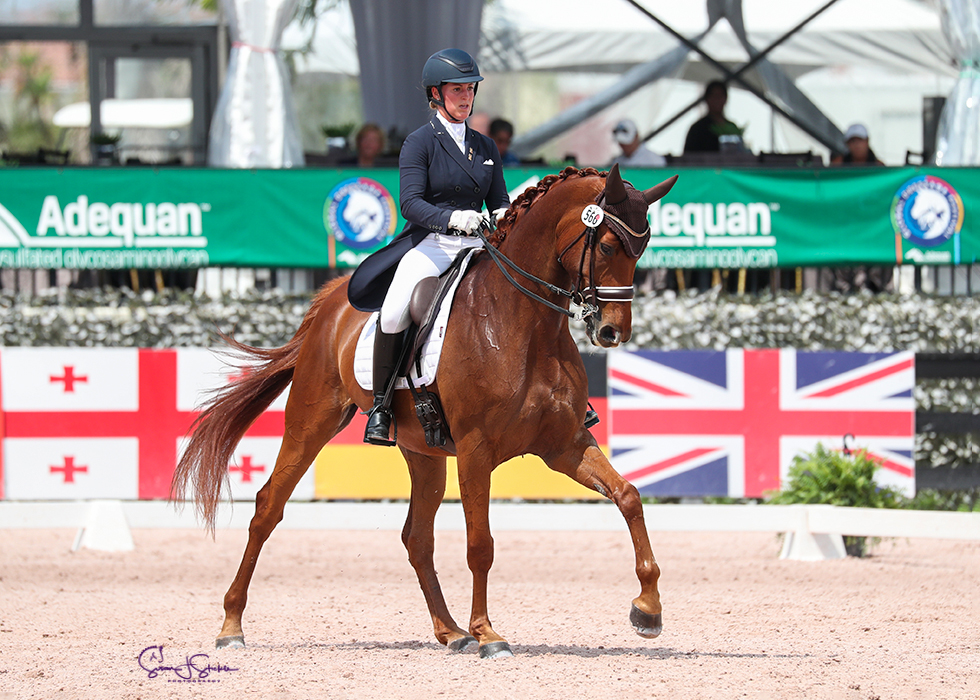 Third-placed Lars Ligus (GER) rode Katherine Kuss's 15-year-old Sir Donnerhall gelding Soccer City to 62.75% to slot into third.
"That was the first freestyle for me and the horse," he said. "It felt great, but I forgot to ride the medium canter, which was very expensive. And then I had a mistake in the right pirouette, but I think overall it was a fantastic week. It was so much fun, and I'm so happy that I got this opportunity to ride with the German team."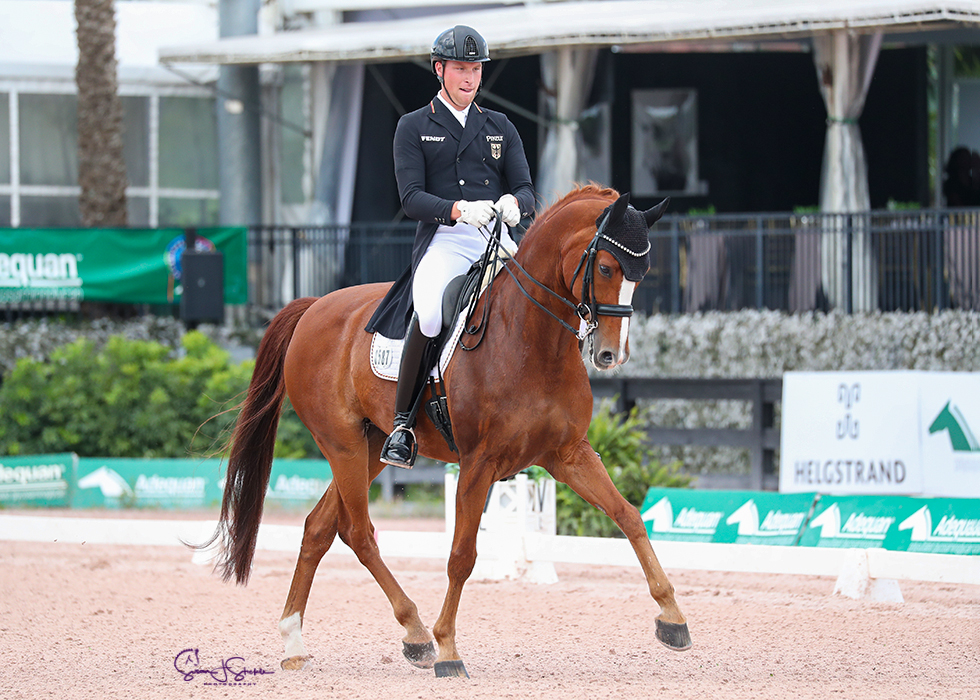 Canadian under-25 rider Camille Carier Bergeron recorded her second win of the week on Sound Of Silence 4 when she topped the CDIOU25 Grand Prix Freestyle, presented by Diamante Farms. The top four in the class all scored over 70%, but Carier Bergeron and the 14-year-old gelding by San Amour led the pack with 72.23%, narrowly edging out Benjamin Ebeling and Status Royal OLD (72.05%). Quinn Iverson (USA) finished third, riding Beckham 19 to 70.46%.
Carier Bergeron was riding Sound Of Silence at only his second under-25 CDI, and they managed to claim victory despite their inexperience at the level and veering off their intended floorplan. It was another score put together by Karen Robinson from Applause Dressage.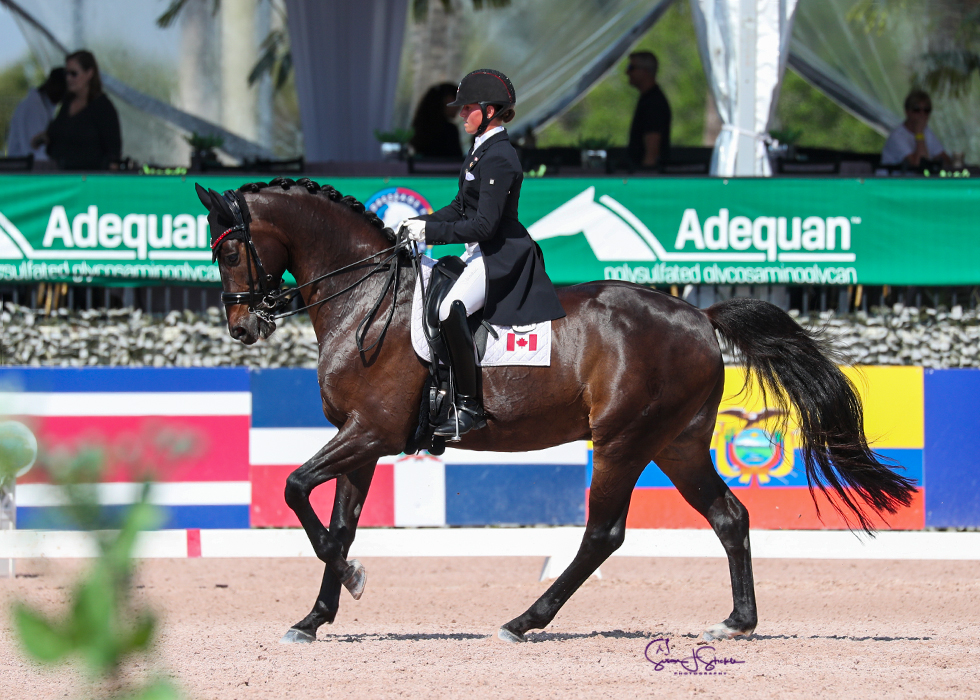 "The music is actually from my other horse, Acoeur, in the last two Nations Cups," said Carier Bergeron, who garnered a high score of 74% from the Dutch judge Mariette Sanders Van Gansewinkel. "Because Sound Of Silence is so new at this level, I didn't really plan a freestyle yet for him. It's the second time I'm riding 'SOS' with this music as I used it two weeks ago in the Palm Beach Derby. But I switched the pattern around to fit him better, and I went off course today. I was going like I used to with Acoeur, and I realized I was going off course, and then I did a half-pirouette and went into my one-tempos right away."
Sound Of Silence is proving a worthy successor to Acoeur: "I was first in the FEI world ranking with Acoeur and then to have SOS coming up to the level and showing as much talent, it's really exciting for the future. He has a lot of potential and so much more room for improvement. I'm really looking forward to next year and getting him to develop even more and become even more confident and expressive.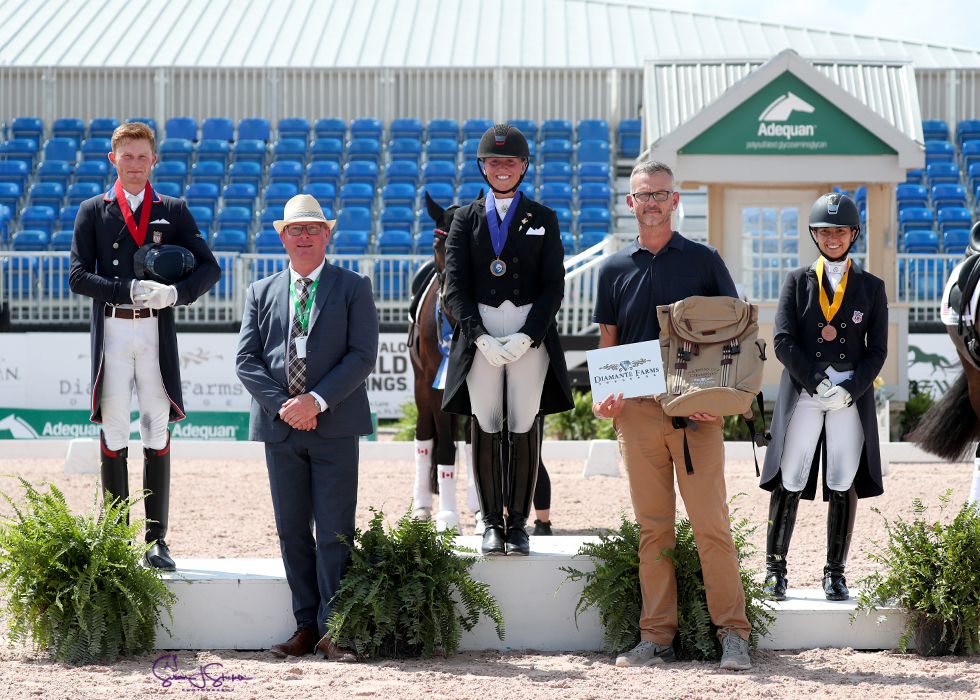 "I came into this show not really knowing what to expect, so I didn't want to put too much pressure on him," added Carier Bergeron, who has ridden Sound Of Silence at young riders level at AGDF for the past three seasons and trains with Canadian Olympian Brittany Fraser-Beaulieu. "We had an awesome team here. That's the feeling that I really like in all the Nations Cups I've participated in, is all the Canadians being a big family, supporting and cheering for each other."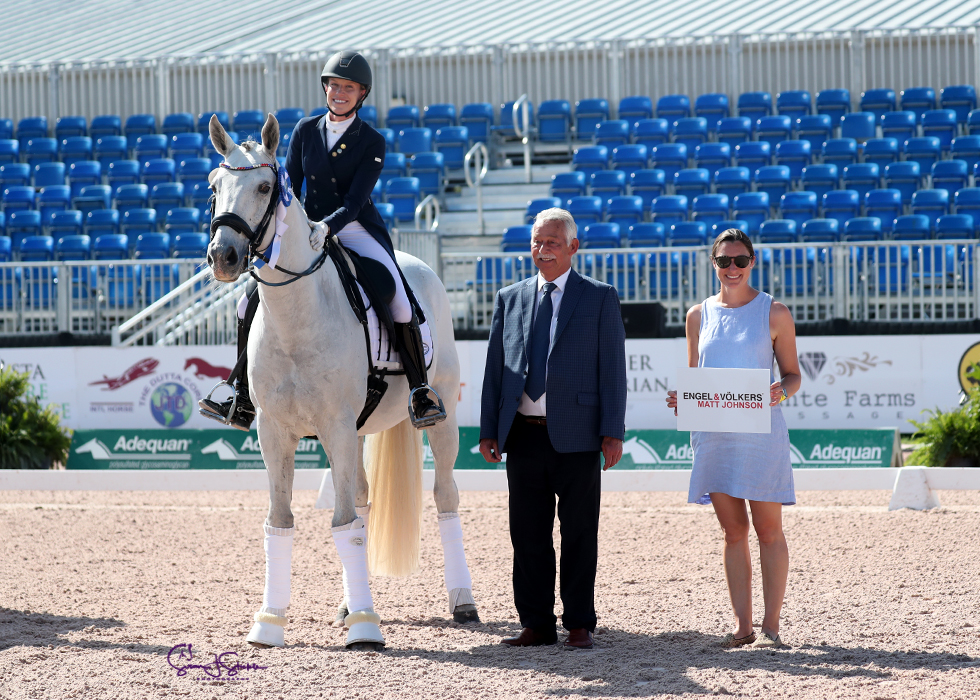 In the Intermediate I Freestyle CDI3*, sponsored by REALTOR® – Matt Johnson, Lauren Knopp topped the all-American field, riding the 12-year-old stallion Amadeus de Massa to 69.017% — the exact same score as second-placed Rebecca Waite and Beirholms Eclaire. Amadeus De Massa — a former ride of Belgium's Claudia Fassaert — is a Portuguese sport horse by Fürst Romancier and out of a Lusitano dam.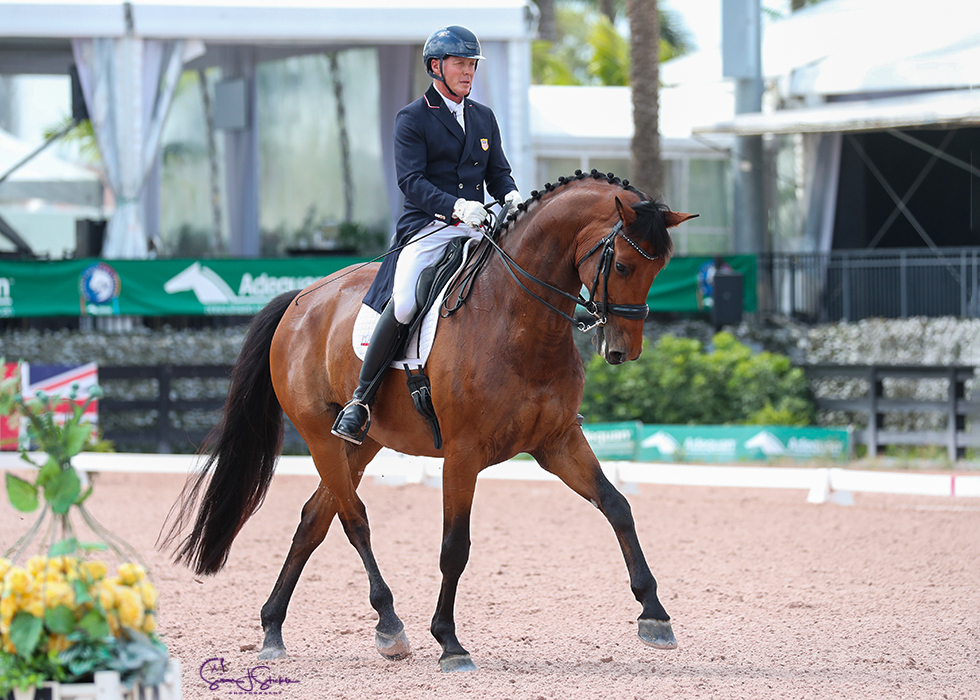 In the Future Challenge classes, Jan Ebeling took full advantage of the final qualifying opportunity in the Summit Farm Prix St. Georges series, topping the class with 71.911% on Zitat. Both Ebeling and second-placed Jaime Dancer (who scored 71.519% on Supremont) earned tickets to the grand final in AGDF 11.
These classes aim to identify and nurture talented, up-and-coming young FEI horses, giving them exposure to benefit their development with the biggest of world stages in mind. Ebeling's ride, Sarah Pierce's nine-year-old gelding by the Blue Hors Zack son Zaladin ML, looks to have all the talent for the higher levels.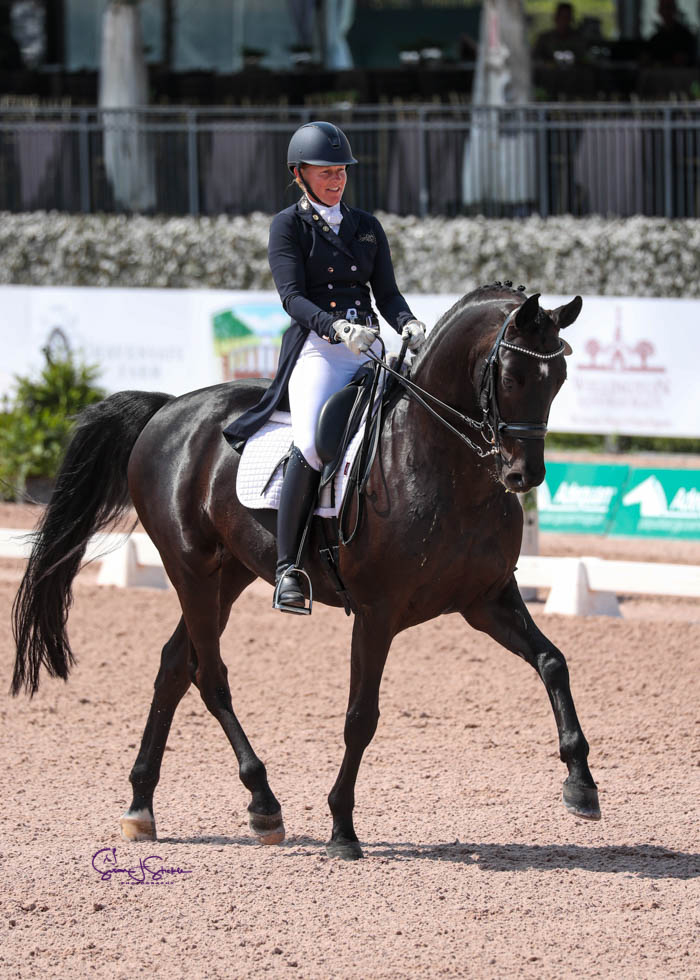 "Zitat is a wonderful young horse. He's schooling just about everything," said Ebeling. "We started one-tempis with him. But he's still very baby sometimes. He's a big guy, big mover, and he was on today, so it felt great. For such a big horse, he's super easy to ride. He's got a super temperament and, in the long run, that's what's going to make him a wonderful horse. We started training piaffe and passage, and he's really good about that already. I think he's a really interesting horse for the future.
"I love this series. It's such a wonderful idea. It's really something that I hope will catch on in this country, because these types of classes are so big in Europe. It's an awesome class. We need to promote the young horses just like we need to promote our up-and-coming riders," added Ebeling.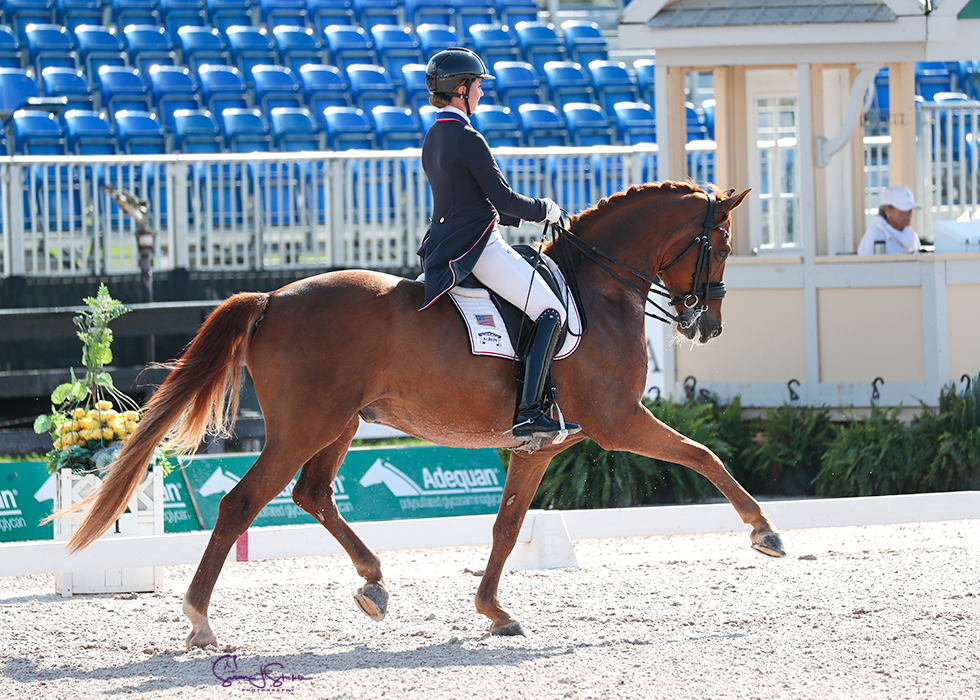 In the Lövsta Future Challenge qualifier, Jennifer Williams (USA) claimed a ticket to the final with Joppe K by the slimmest of margins. Williams scored 70.097%, with second-placed Devon Kane (USA) logging 69.999% on Gyllebo's Vamos — a difference of just 0.098 percentage points. It was a last-minute decision to enter The Joppe Partners's gelding by Harmony's Rousseau in this class.
"He is coming eight, so we just kind of wanted to have fun and just test the waters in front of the judges," explained Williams, who found Joppe K in Holland as a four-year-old. "Our main goal for the year was the small tour, but everything has been going so well, we thought why not, let's just see, and it worked out today."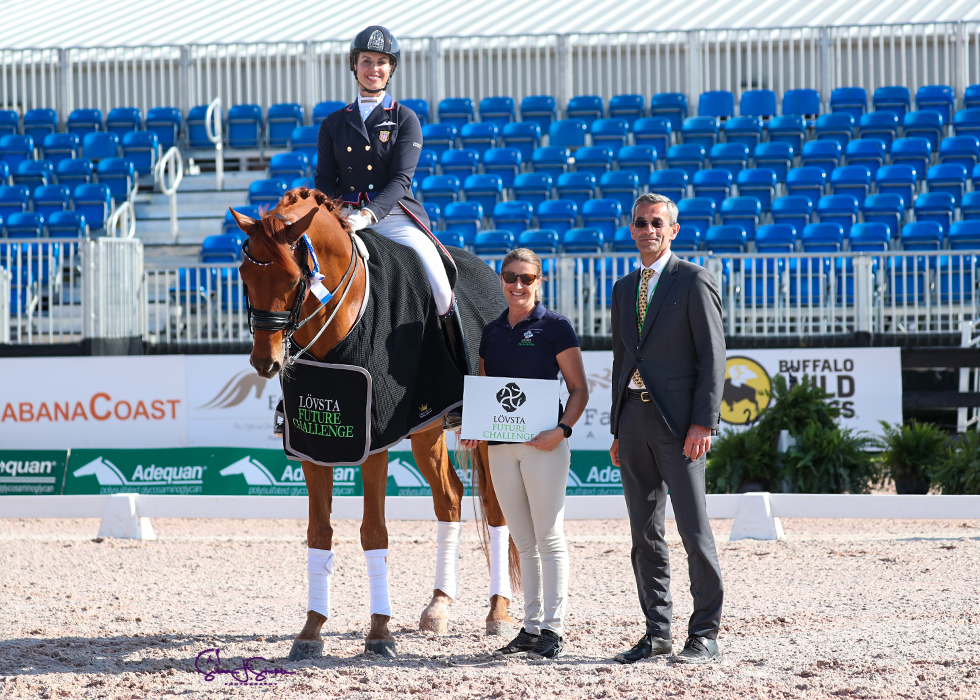 Williams had to contend with a rain delay and puddles in the arena.
"He's incredibly kind, always happy, and willing to do whatever I ask of him. I knew he wasn't going to lose his mind over anything, so the puddles made it really fun and animated. Plus, we're from Washington, so we are used to a lot of mud and puddles. Oded Shimoni has been my trainer while in Florida, and we had a plan of some key elements we wanted to make good aside from the movements and the contact, and those Joppe executed really well. When those things work, then the movements are just kind of gravy.
"The one-tempis are quite new for him, so I was very proud of him that he came in and executed all 11 quite uphill and forward. The piaffe/passage, he's very talented with that, and all of that just needs time and strength. I love that the judges in this class know that these are up-and-coming horses. I think that they still hold them accountable for the quality, but at the same time, they know that for some of them this is the first time in these rings. I think it gives the horses so much confidence."