By Summer Grace and Amanda Picciotto Feitosa for Jennifer Wood Media, Inc.
In Thursday's largest class at WEF 11, 89 international pairs crossed under the bridge into the International Arena for the $37,000 Beerbaum Stables Grand Prix Qualifier CSI2*.  Petersen Jr. set a sufficient course to challenge the impressive number of entries. With a tight time-allowed, 12 riders had their hopes dashed by added time to the clock, and another 13 incurred just a single jumping penalty.
Only 11 duos managed to successfully produce a fault-free first round leaving them to contest the day's final jump-off track. As the clear round trailblazer, Laura Chapot (USA) and her long-time partner Chandon Blue were the first to test their skills a second time but would end up settling for seventh place with a downed rail. The top honors eventually landed with Matthew Sampson (GBR) as he landed over the final obstacle thirteen-hundredths of a second faster than the runner up. Sampson and his 10-year-old Irish Sport Horse gelding Curraghgraigue Obos Flight (Obos Quality 004 x Errigal Flight) have been knocking on the door of victory throughout the season and their efficient time of 38.62 seconds over an arguably challenging track sealed their fate.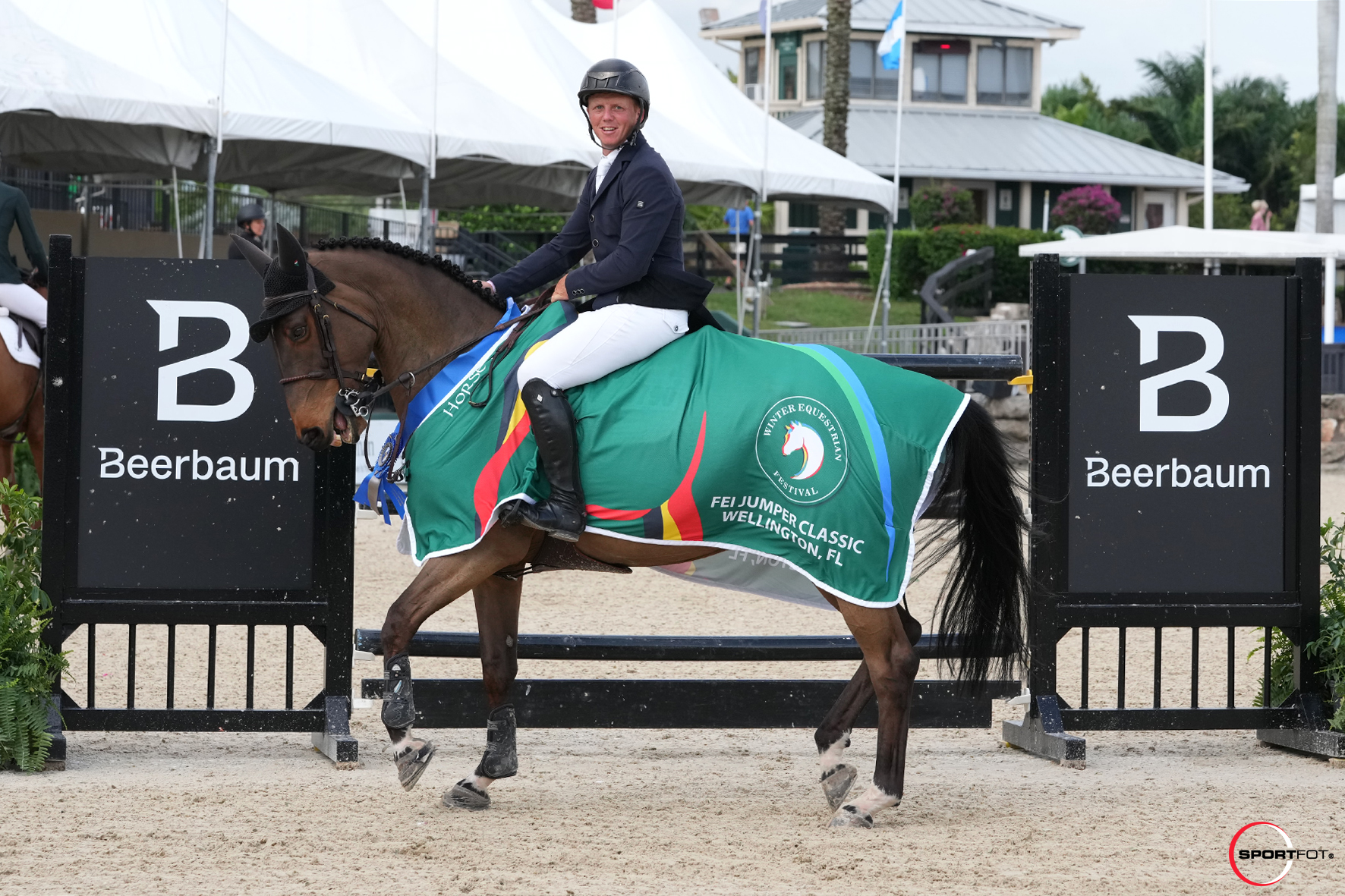 "Today's course was very difficult – you could tell that when you walked it – but with the amount of entries that there were, the course designer had a lot of decisions to make," explained Sampson. "To me, it definitely rode more like a two-star grand prix than a qualifier but my horse jumps amazing, and he has deserved this win for a while. He has had some incredible rounds this season with maybe just an unlucky rail keeping us from the top."
Sampson has been paired with the "game-y" gelding for close to three years and has been competing him successfully up to the five-star level.
"He is the type of horse that wants to win as much as I do," he stated. "He has had great rounds the rest of the season in some of the bigger five-star events, but today's two-star was equally as difficult. Where I think the course suited us best was his smaller stride allowed us to be quick down several of the lines that other riders may have had to steady for."
Caelinn Leahy (USA) and Coldplay 31 dashed around the arena in an effort to overthrow Sampson but the ride settled for second place. Leahy piloted Steve Schaefer's 13-year-old Westphalian gelding (Cassini II x Phantom) in a time of 38.75 seconds. Wesley Newlands (CAN) and Weslands Farms' 10-year-old BWP stallion Maestro Van Het Binnenveld (Hunter's Scendix x Conan Z) rounded out the finishing lap of honor on a clear-round that clocked them in at 40.30 seconds.
Final Results: $37,000 Beerbaum Stables Grand Prix Qualifier CSI2*
1. CURRAGHGRAIGUE OBOS FLIGHT: 2012 Irish Sport Horse gelding by Obos Quality 004 x Errigal Flight
MATTHEW SAMPSON (GBR), Matthew Sampson: 0/0/38.62
2. COLDPLAY 31: 2009 Westphalian gelding by Cassini II x Phantom
CAELINN LEAHY (USA), Steve Schaefer: 0/0/38.75
3. MAESTRO VAN HET BINNENVELD: 2012 BWP stallion by Hunter's Scendix x Conan Z
WESLEY NEWLANDS (CAN), Weslands Farms: 0/0/40.30
4. CARAGHS QUALITY LADY: 2013 Irish Sport Horse mare by Obos Quality 004 x Limmerick
ANNA BETH ATHEY (USA), Anna Beth Athey: 0/0/40.40
5. FLYING DUTCHMAN: 2010 KWPN stallion by Quasimodo Van De Molendreef x Burggraaf
VICTORIA HEURTEMATTE (PAN), Victoria Heurtematte: 0/0/40.50
6. GARANT: 2011 KWPN gelding by C'est La Vie x Verdi TN
CALLIE SCHOTT (USA), Southern Arches, LLC: 0/0/41.30
7. CHANDON BLUE: 2005 OS gelding by Chacco-Blue x Landcapitol
LAURA CHAPOT (USA), Laura and Mary Chapot: 0/4/38.97
8. ATHLETIX HERO Z: 2012 Zangersheide stallion by Aganix Du Seigneur
SIMON MCCARTHY (IRL), Dermot Lennon: 0/4/39.12
9. FAIR FIELD: 2010 KWPN gelding by VDL Zirocco Blue x Chin Chin
KATHERINE STRAUSS (USA), Katherine Strauss LLC: 0/8/41.41
10. EVITA: 2009 KWPN mare by Otangelo x Cash
LEXI RAY (CAN), Lexi Ray: 0/8/44.55
11. INAJOTTIE VDM: 2013 KWPN mare by Carrera VDL x Indoctro
JAMES BILLINGTON (GBR), Samantha Mackenzie: 0/12/49.51
12. CARISTINA: 2010 mare
LUIS FERNANDO LARRAZABAL (VEN), Anna Ishiyama: 1/76.44