By Summer Grace and Amanda Picciotto Feitosa for Jennifer Wood Media, Inc.
Wellington, FL – March 24, 2022 – The penultimate week of the Winter Equestrian Festival (WEF) wasted no time delving into its highlight classes on Thursday, March 24, 2022, in the International Arena. The morning kicked off with the $37,000 Douglas Elliman Real Estate 1.45m CSI4* where Nayel Nassar (EGY) reigned supreme with El Conde, owned by Evergate Stables LLC.
Fifty-one horse-and-rider combinations led the way across the speed track, which was designed by Olaf Petersen Jr (GER). There were 19 clear rounds, but it was Nassar and El Conde who jumped to the top roughly halfway through the class and clocked in under 58 seconds to produce a real challenge for the field.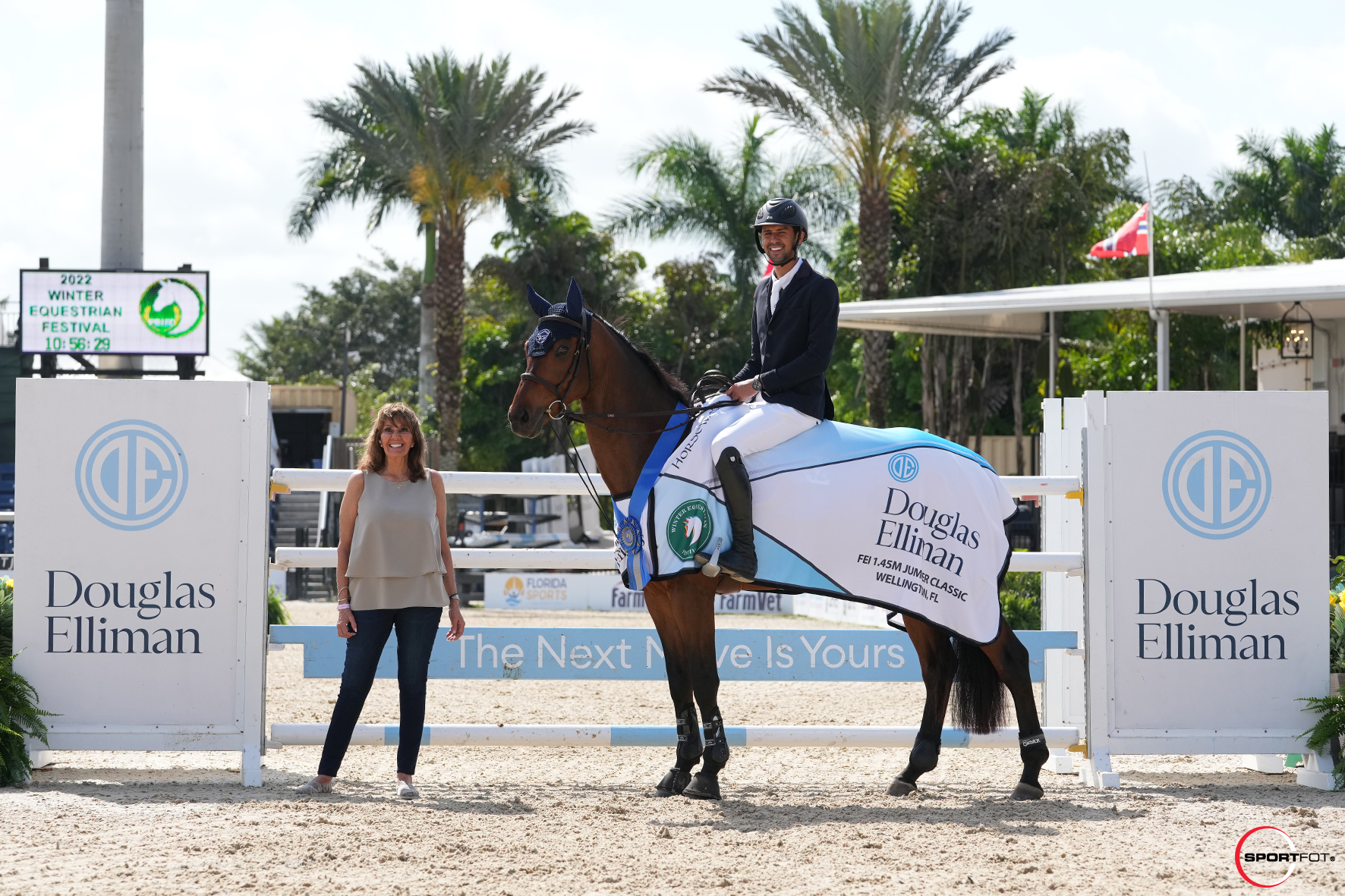 "I have to say, this is a bit of an unexpected win," admitted Nassar. "We were using this as prep for the rest of the week, but he has such a good engine. As long as you turn him on and leave him there, he generally doesn't waste much time. Our goal today was just to set a pace and keep it, but he's such a cool guy he really locks on to the jumps and as soon as you think of a direction, he's going there."
Nassar noticed the 11-year-old SBS gelding (Lord Piana Filou De Muze x Final Shot) in November 2021 but was able to secure the ride at the beginning of February 2022.
"It took us a while to put something together, but I am very glad we were able to acquire him because he is such a cool addition to the team," said Nassar. "He is really a fighter in the ring. He has a lot of character, and he tends to build in the warm-up ring. I was a bit rushed getting on today so I did not have as much time to warm up, and he actually seemed to prefer that because he never got a chance to get his adrenaline boiling. As soon as he goes into the ring though, he knows it's time to perform and he just turns it on."
Abdel Saïd (BEL) came the closest to the win to secure second place aboard Bandoit Savoie. Saïd navigated a clear round with a time of 58.03 seconds on his own 11-year-old Selle Francais gelding (Qlassic Bois Margot x Alcamera). Laura Kraut procured the third-place position for the USA with Eugenie Angot's 10-year-old Selle Francais gelding Calgary Tame (Old Chap Tame x Kashmir Van't Schuttershof) by stopping the clock with a final time of 58.55 seconds.
Final Results: $37,000 Douglas Elliman Real Estate 1.45m CSI4*
1. EL CONDE: 2011 SBS gelding by Lord Piana Filou De Muze x Final Shot
NAYEL NASSAR (EGY), Evergate Stables, LLC: 0/57.84
2. BANDIT SAVOIE: 2011 Selle Francais gelding by Qlassic Bois Margot x Alcamera
ABDEL SAID (BEL), Abdel Saïd: 0/58.03
3. CALGARY TAME: 2012 Selle Francais gelding by Old Chap Tame x Kashmir Van't Schuttershof
LAURA KRAUT (USA), Eugenie Angot: 0/58.55
4. DUBLIN: 2007 ZfDP gelding by Cobra 18 x Calido I
JESSICA MENDOZA (GBR), Windsor Farms: 0/58.88
5. CLASSIC PENNY: 2012 Norwegian Warmblood mare
SYDNEY SHULMAN DESIDERIO (ISR), Jill Shulman and Ilan Ferder: 0/59.65
6. CONTHINDER: 2011 OS gelding by Conthargos x Nintender
ANDRZEJ OPLATEK (POL), Gospodarstwo Rolne and Andrzej Oplatek: 0/59.89
7. JASMIEN VD BISSCHOP: 2009 BWP mare by Larino x Chin Chin
DANIEL DEUSSER (GER), Stephex Stables: 0/61.23
8. LAVALLINO TER KLOMP: 2011 BWP stallion by Clearway x Coriano
SHANE SWEETNAM (IRL), Sweet Oak Farm: 0/61.28
9. JACKOFHEARTS: 2012 DWB gelding by Heartbeat x Baloubet du Rouet
MARGIE GOLDSTEIN ENGLE (USA), Gladewinds Partners, LLC: 0/61.69
10. EL BALOU OLD: 2012 OS stallion by Eldorado VD Zeshoek x Balou Du Rouet
DAVID O'BRIEN (IRL), Chansonnette Farm LLC: 0/63.76
11. J'ADORE FLAMENCO: 2012 AA gelding by Je T'Aime Flamenco x Corofino 2
MARIA GABRIELA BRUGAL GASSO (DOM), BG Stables LLC: 0/65.88
12. GREYA: 2014 OS mare by Colestus x Contender
KENT FARRINGTON (USA), Kent Farrington LLC: 0/67.02