By Alice Collins for Jennifer Wood Media, Inc.
Wellington, FL – March 25, 2022 – In the final "Friday Night Stars" of the 2022 Adequan® Global Dressage Festival (AGDF) season in Wellington, FL, Adrienne Lyle (USA) and Salvino pulled out a sensational performance under lights to post an 85.58% win in the Grand Prix Freestyle CDI4*, presented by Douglas Elliman Real Estate.
It was a new career high for the pair, who were on the silver medal-winning U.S. team at the Tokyo Olympics, and the highest score ever recorded in the history of the AGDF. The previous highest of 84.975% was set by Laura Graves (USA) and Verdades in March 2018.
The ride came just a day after Lyle and Salvino, Betsy Juliano LLC's 15-year-old stallion by Sandro Hit, posted the highest Grand Prix score by any American combination since last year's Olympic Games. In second place came another stallion and another personal best: Sarah Tubman (USA) rode First Apple, Summit Farm's 12-year-old by Vivaldi to 78.205%. Brittany Fraser-Beaulieu and All In — who represented Canada in Tokyo — filled third with 77.01%.
Lyle, who scored two tens for piaffe and another for music, said: "It was hands down the best feeling I've ever had in the ring in my life. Salvino just feels unbelievable. This is such a fun place to show. The crowd's amazing and enthusiastic. The competition was super tonight; it was a magical evening."
To strains of Bruce Springsteen — who personally approved the use of his music — Lyle and Salvino executed a fault-free test brimming with power and harmony. Lyle rode a curving line of 17 clean one-time changes.
It was the first time they had ever run through the updated version of their freestyle music, which was put together by Terri Gallo, having tweaked it since they last performed it in Aachen in July 2019.
"Salvino had a rest after Tokyo, and he's back and he truly feels better than ever. To end on this high note here for our Wellington season is really wonderful. We're hoping to head to Europe and do a selection show there with our sights set on trying to qualify for the team for the World Championships [in Denmark in August], which would be our big goal. He's proven that he doesn't need to go a whole lot. He's always there when we want him to be, so we'll respect that of him," concluded the 37-year-old.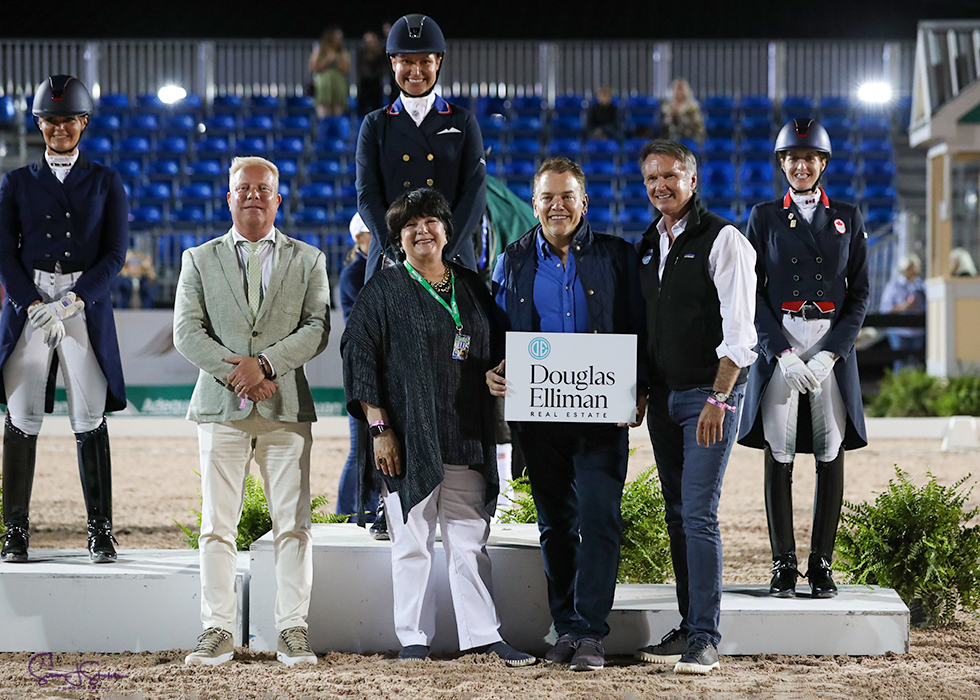 Tubman heard the crowd clapping along on her final center line and was reduced to happy tears about her performance with First Apple.
"That's an amazing feeling," said the 33-year-old Tubman, who rode First Apple to individual gold and team silver medals with the U.S. Dressage team at the 2019 Pan American Games. "I haven't shown at that many other places, but this is pretty addicting, and it's really fun. We all work really hard, so it's so cool to have the crowd help you, and to be [on the podium] with two Olympians.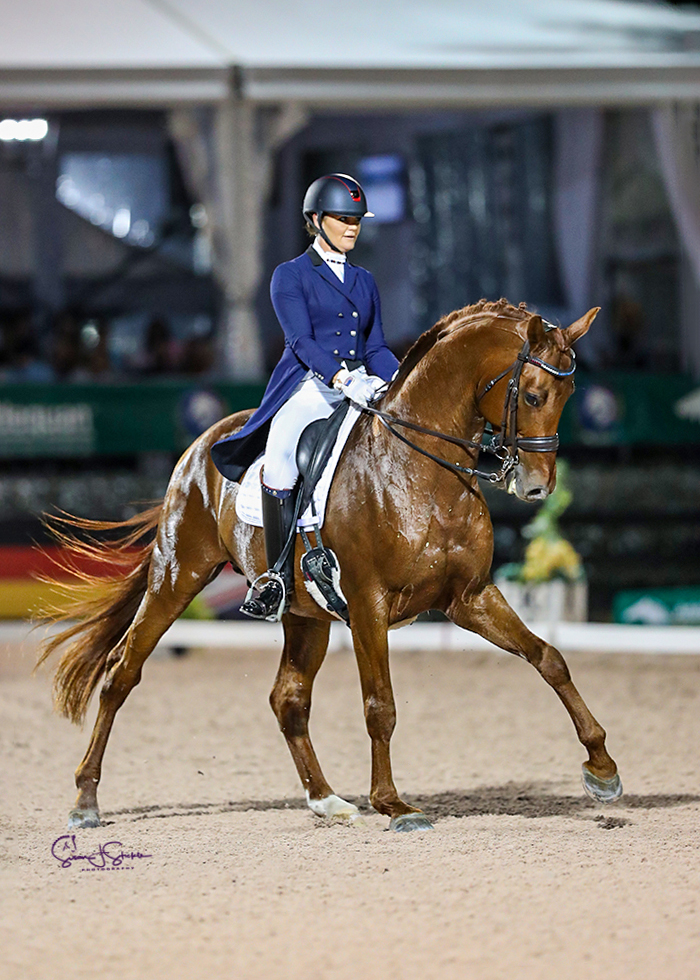 "This is my second-ever grand prix freestyle, on any horse, so I think I'm going to do some more," continued Tubman. "He really loves the freestyle, and I enjoy it because he feels like he's having fun in there. My husband Lee and I have been working really hard for the last couple of years with this horse to develop him into the grand prix horse we know he's going to be, and I'm really happy that this year we've taken positive, correct steps forward, with the help of Debbie McDonald as well. This is my first shot at something this big, and it's a process."
Scott Durkin of class sponsor Douglas Elliman Real Estate said: "To be here amongst these champions is quite amazing. And to have Adrienne get her career high here is just outstanding. It doesn't matter who you are, it's amazing to see these creatures are married to their riders. And Douglas Elliman is really committed to supporting this, so we're super excited, and congratulations to everyone."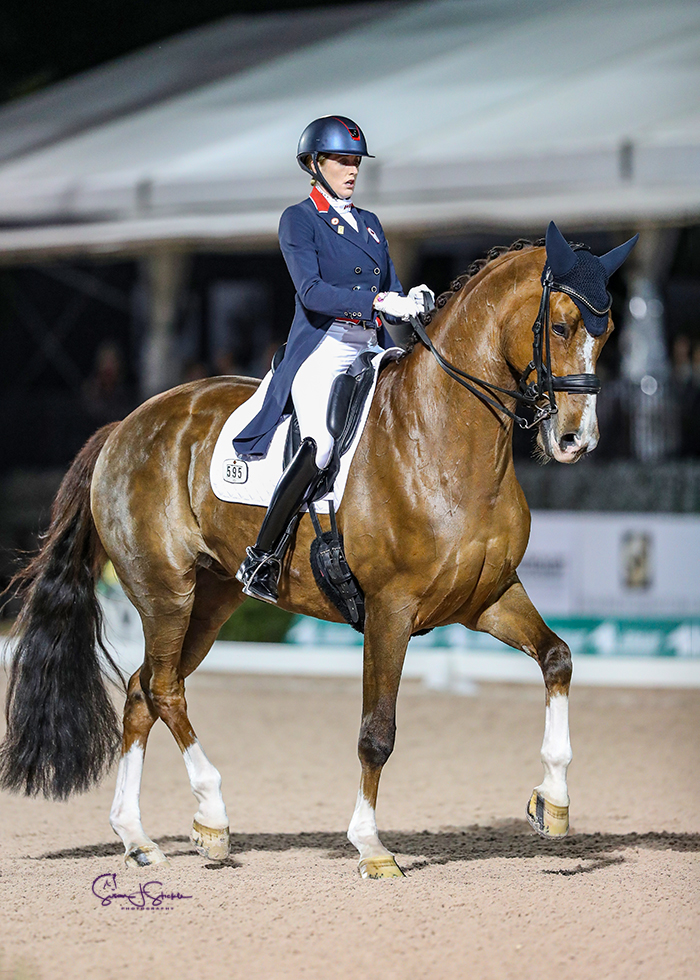 Fraser-Beaulieu, who is pregnant and due in August, was delighted with her own 17-year-old All In.
"He loves his job, and it seems like the older he gets, the more he loves it," she said. "He keeps getting hotter, actually, not lazier. But every time he goes into the ring, he tries his best for me, and tonight I really enjoyed my freestyle. I thought in general his piaffe was so much better than it has been in the last few years.
"For once I didn't have to chase scores, because I will not be going to the World Championships. So, for the first time in a very long time, I enjoyed my horse and did what I wanted to do, so I did way more freestyles," added Fraser-Beaulieu, who doesn't have any immediate plans to retire All In after giving birth.
Judge at C Maarten Van der Heijden was delighted by the quality of the top-placed combinations.
"It was a real powerhouse, because we have the top three with three beautiful freestyles with a high degree of difficulty, but I think the top five were all really of very high quality," he said. "Sarah's horse was even much more energetic than yesterday, and I loved the passage. Salvino was already really good yesterday, but outstanding today. He has no weak points. The choreography, the degree of difficulty, the music; it was all really high marks, so we loved this evening."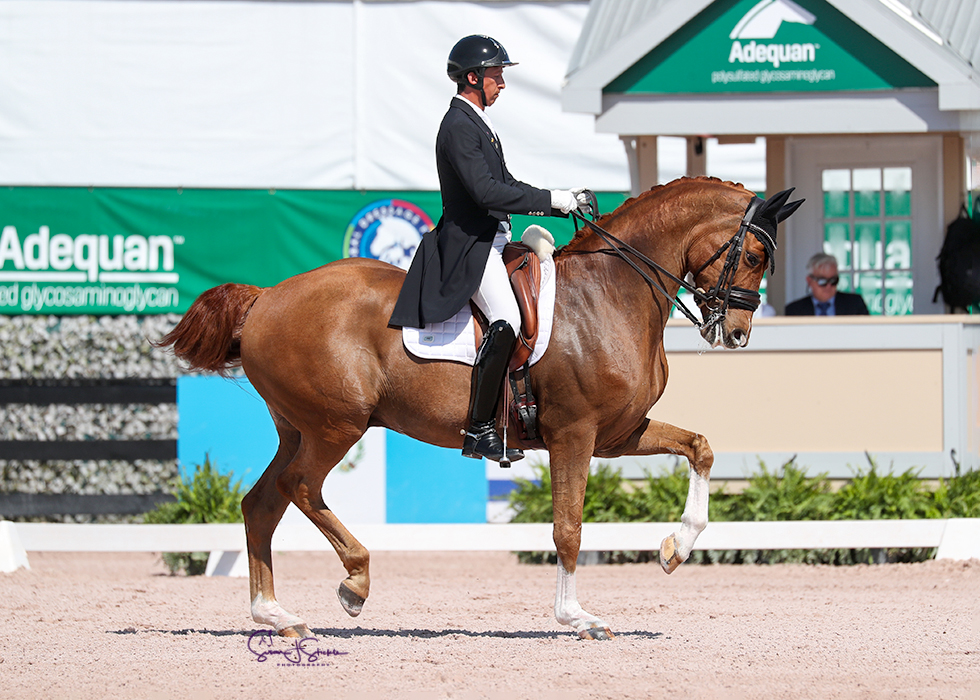 A 10 for passage from judge Kurt Christensen helped build Ecuador's Julio Cesar Mendoza Loor's 75.465% into a winning score and a personal best in the Grand Prix Freestyle CDI3*, presented by Summit Farm. This was Mendoza and Jewel's Goldstrike's second win and second career-high score in as many days. The 11-year-old by Bretton Woods was the youngest horse in the class and competing at only his second CDI — the first being in AGDF 10.
Christoph Koschel (GER) repeated his placing from the Grand Prix, picking up second with the 12-year-old Lusitano stallion Favorito 11 (74.595%). Hope Cooper (USA) finished third with Hot Chocolate W, riding the 17-year-old gelding by Hochadel to 71.400%.
Mendoza, who co-owns Jewel's Goldstrike with his wife Jessica, said: "After I won the Grand Prix yesterday, I said to my wife, 'Can you pinch me, because I want to know if that was a dream! That was a beautiful ride yesterday, and today a couple mistakes in the one-tempis and the two-tempis and my third pirouette, but he is an amazing horse. For how young he is, his third time doing the grand prix, his second time doing a freestyle — he is one of a kind. He wants to work, to be there for me."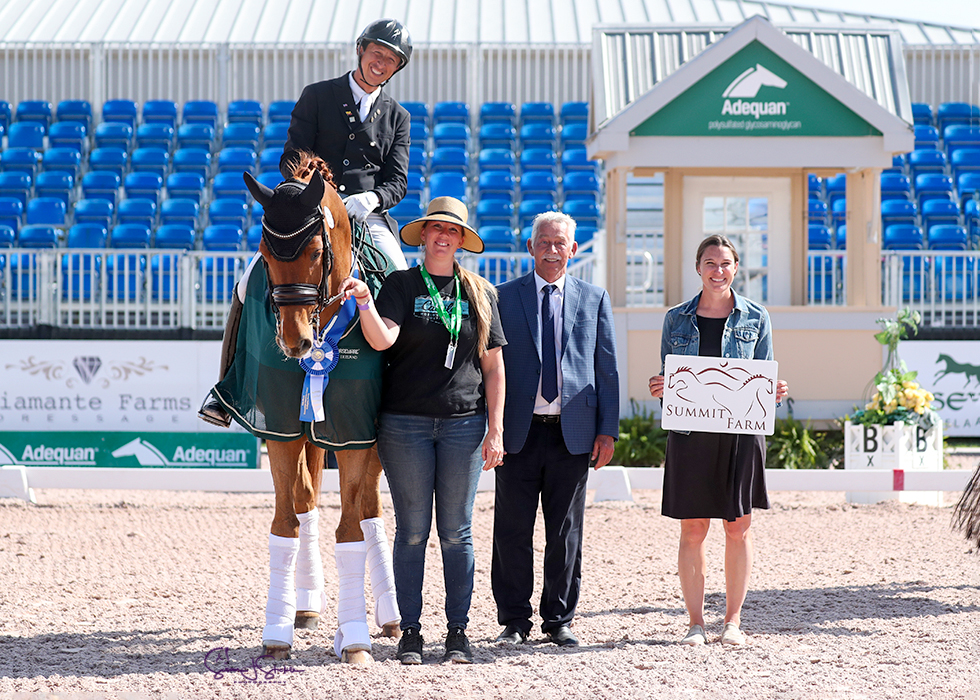 The pair performed to an upbeat soundtrack put together by Leslie Goldman Berro, who does all of Mendoza's music.
"My passage and piaffe were my highlights today," added the North Carolina-based rider, who trains with Britain's David Hunt. "One judge gave me a 10, and I was like 'Wow!' I've never got a 10 before, especially for a CDI. We see Isabel [Werth] and Charlotte [Dujardin] get them all the time, but I thought I'd never in my life be there. Now I have this special horse with me, so I need to save him to see where the road to Paris takes us."
Key to the horse's relaxation at shows, when he can't be turned out, has been in-hand walking at all hours.
"I wake up at 6 a.m. and walk him every hour for 20 to 30 minutes so he's stretching his legs and eating grass," explained Mendoza, whose next stop is the CDI in Tryon in April. "When he's not in the field 24/7 — because he loves to be outside — I'm walking him a lot, six in the morning to nine, 10 o'clock at night. I try to do everything in my power to make him happy."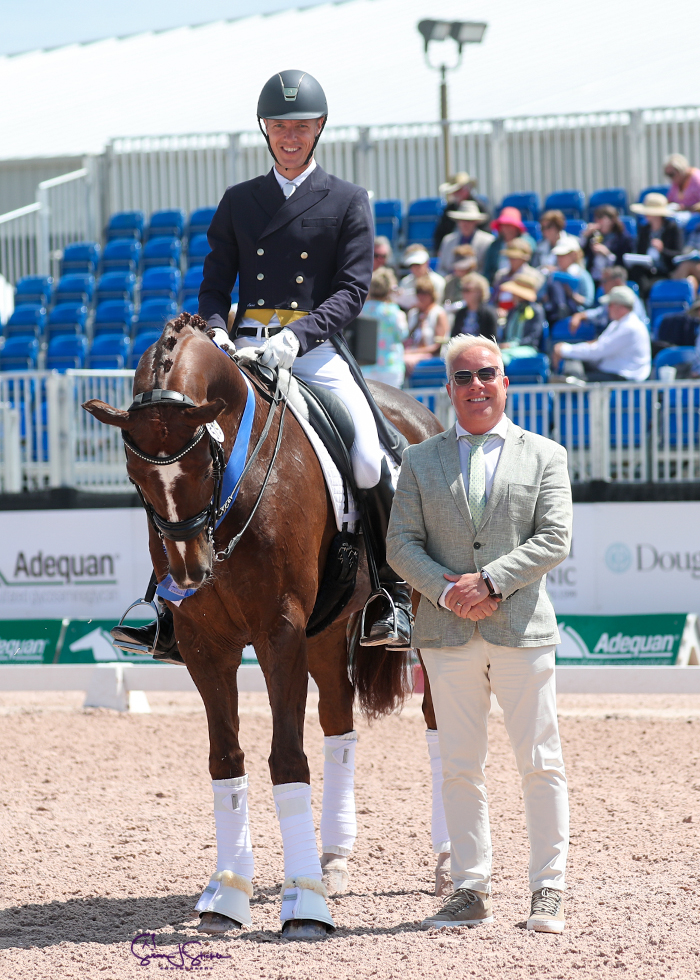 The only non-American rider in the field, the Netherlands' Luuk Mourits, emerged victorious in the Prix St. Georges CDI3*. He rode Harmony's Sarotti OLD to 71.147%, with a high mark of more than 74% from judge Kurt Christensen. Mourits is no stranger to the atmospheric arena at AGDF, having ridden 25 tests in it over the past three winter seasons. This was his first international win aboard Harmony's Sarotti OLD, Harmony Amateur Sports Foundation's 12-year-old gelding by Sarkozy x De Niro.
Katrina Sadis rode her own 10-year-old Bellissimo M mare Belloona into second with 67.706%, with Susan Jaccoma finishing third with a 65% ride on her own Dinozzo Nexen, an eight-year-old by Blue Hors Don Olymbrio.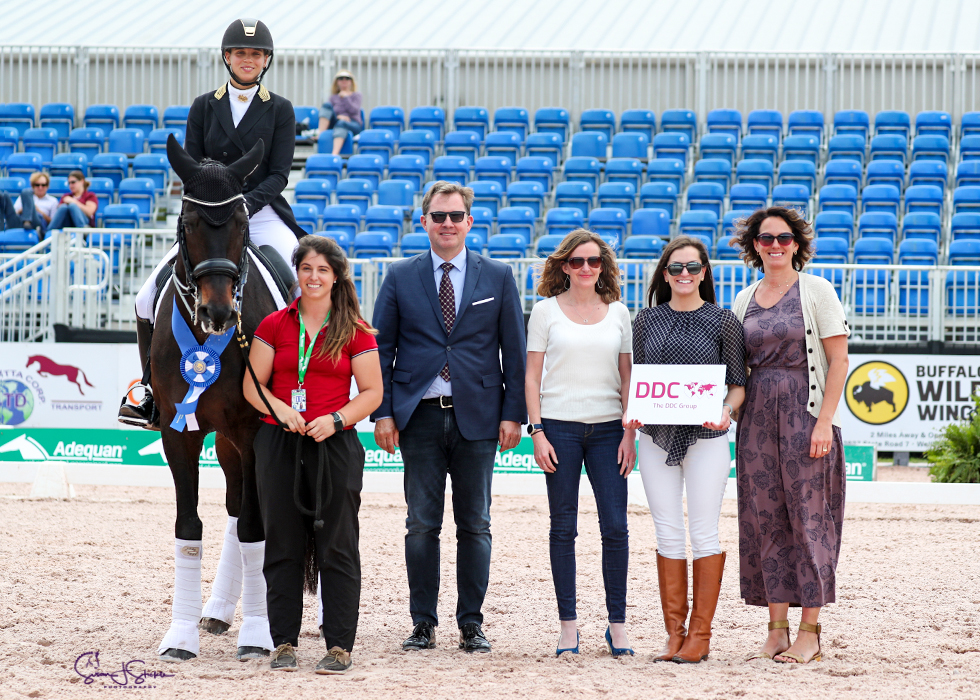 The top two combinations in the CDI1* FEI Prix St. Georges, presented by DDC Group, both posted personal bests. Naïma Moreira Laliberté (CAN) smashed her previous best of 66% with Inspire, logging 70.588% from final draw — the only plus-70% in the class of 10 starters. This is just the second CDI for Moreira Laliberté and the KML S.à r.l.-owned nine-year-old by Vitalis, and their first win.
Sweden's Christina Devine's new career high of 69.235% with Slæbækgård's Santino, her own 13-year-old gelding by Sir Donnerhall I, secured second. Another gelding by Vitalis claimed third place, with Spain's Pablo Gómez Molina riding Cristina Danguillecourt and Yeguada de Ymas S.L.'s Baltasar De Ymas to 68.529%.
Results: FEI Grand Prix Freestyle CDI4*, presented by Douglas Elliman Real Estate
Place, rider, nationality, horse, horse information: judge E%, judge H%, judge C%, judge M%, judge B%, final score
E, Sandra Hotz (USA); H, Peter Storr (GBR); C, Maarten Van Der Heijden (NED); M, Stephen Clarke (GBR); B, Thomas Keßler (GER)
1. Adrienne Lyle (USA) on Salvino, Betsy Juliano LLC's 15yo Hanoverian stallion by Sandro Hit: 86.225, 85.875, 84.1, 87.45, 84.25, 85.58
2. Sarah Tubman (USA) on First Apple, Summit Farm's 12yo KWPN stallion by Vivaldi: 77.025, 79.6, 80.475, 76.6, 77.325, 78.205
3. Brittany Fraser-Beaulieu (CAN) on All In, her own & Marc-Andre Beaulieu's 17yo KWPN gelding by Tango: 76.3, 76.9, 76.375, 80.45, 75.025, 77.01
4. Pablo Gómez Molina (ESP) on Ulises De Ymas, Yeguada de Ymas S.L., Javier Bacariza & Cristina Danguillecourt's 12yo PRE gelding by Seni Indio: 76.125, 78.2, 74.15, 76.825, 75.65, 76.19
5. Tinne Vilhelmson Silfvén (SWE) on Devanto, Lövsta Stuteri AB's 13yo gelding by De Chirico: 74.275, 74.225, 75.125, 74.175, 74.35, 74.43
6. Paula Matute Guimón (ESP) on Delagronge, her own & Julie McAllister's 14yo Oldenburg stallion by De Niro: 71.475, 75.25, 73.925, 74.375, 74.825, 73.97
7. Olivia LaGoy-Weltz (USA) on Rassing's Lonoir, her own & Mary McPhail's 18yo Danish Warmblood gelding by De Noir: 74.475, 73.925, 72.675, 74.05, 73.05, 73.635
8. Alice Tarjan (USA) on Serenade MF, her own 9yo AHS mare by Sir Donnerhall I: 73.225, 72.775, 72.625, 72.625, 70.625, 72.375
9. Jennifer Williams (USA) on Millione, Millione Partners's Danish Warmblood gelding by Milan: 71.3, 71.15, 70.575, 72.1, 74.25, 71.875
10. Carly Taylor-Smith (USA) on Rosalut NHF, Nikki Taylor-Smith's 12yo Oldenburg gelding by Rosenthal: 71.775, 73.45, 70.825, 72.575, 69.4, 71.605
11. Evi Strasser (CAN) on Disney Tyme, her own 14yo Oldenburg gelding by Diamond Hit: 70.3, 70.05, 71.425, 72.475, 68.275, 70.505
12. Amina Bursese (USA) on Fiti AL, her own 18yo PRE stallion by Jondo: 69.425, 64.45, 68.175, 69.95, 66.375, 67.675