Edited Press Release
The $10,000 USHJA National Hunter Derby out on the grass saw junior, amateur, and open sections with 41, 33, and 43 entries respectively Friday at WEF 11.
Each section would follow the "Hunt & Go" format with riders attempting a course of 13 obstacles with the first seven fences as their classic round, and the last six fences judged as their handy round with extra points being awarded for high options taken.
The junior and amateur sections ran together but were pinned separately, and riders from each section could end up riding back-to-back, as was the case with the amateur and junior winners, Macquarie Simon and Caroline Olsen.
Macquarie Simon and her own Call Me Cool were 43rd in the order of go and posted a pair of 87s (+2 high options each) for her "classic" and "handy" portions of the course giving them a total of 178 and first position in the amateur section.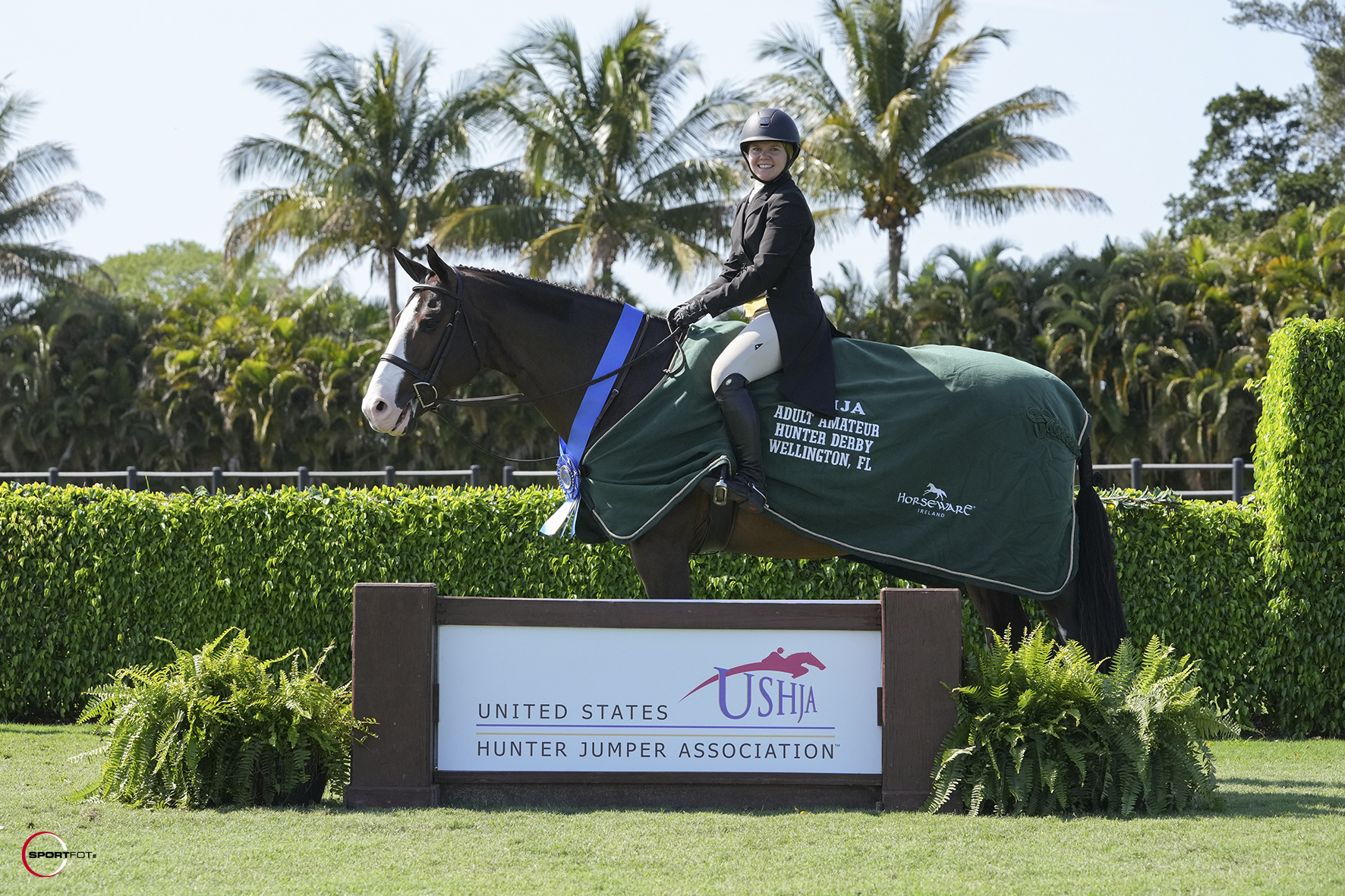 "This was my second time out here on the grass," said Simon. "I did the derby a couple weeks ago, which was amazing, so I had to give it another go. I was hoping to have a lot of fun and get around, and that's definitely what I was able to execute."
As for the difference in format from her last derby, Simon admitted to having a preference.
"I definitely prefer the Hunt & Go [format]," she said. "It's nice to get both out of the way all at once; you're not having to wait around and then get back in there."
Call Me Cool and Simon have been working together for a few years, and usually compete in the Amateur-Owner Hunter 3'6" division.
"This horse has the best personality," said Simon of the 11-year-old Swedish Warmblood gelding. "He sleeps in the cross-ties, can't be bothered to walk anywhere, and is just the most incredible, sweetest guy."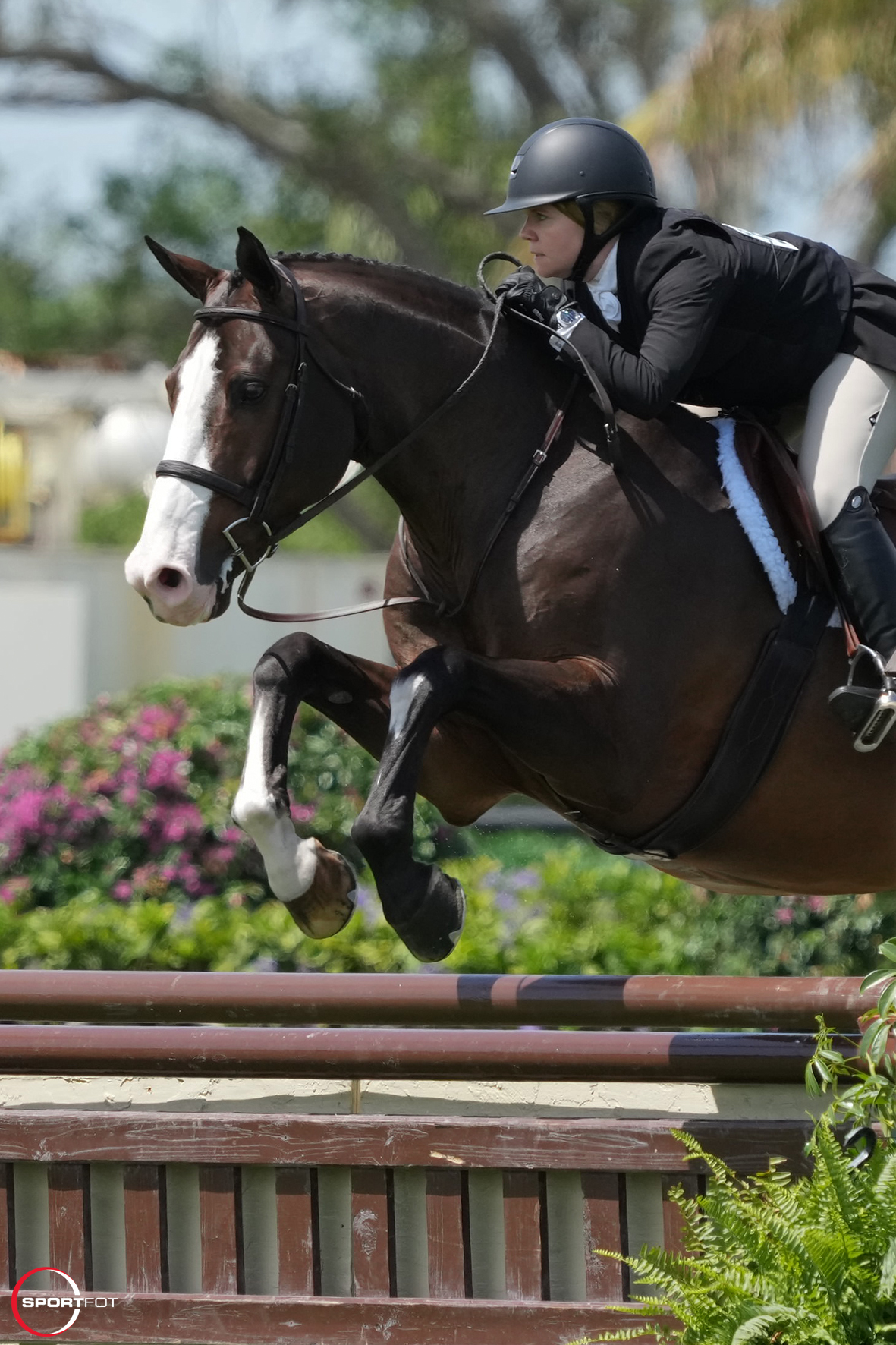 Simon added, "I want to say a huge thanks to Chance Arakelian and Ox Ridge for everything they do to get us here."
Caroline Olsen and Taiga Z, owned by Valentina Pombo, would follow Simon directly as 44th in the order. That pair would go without the high options and post scores of 84 and 89 for a total of 173, which put them in the top spot for the junior section.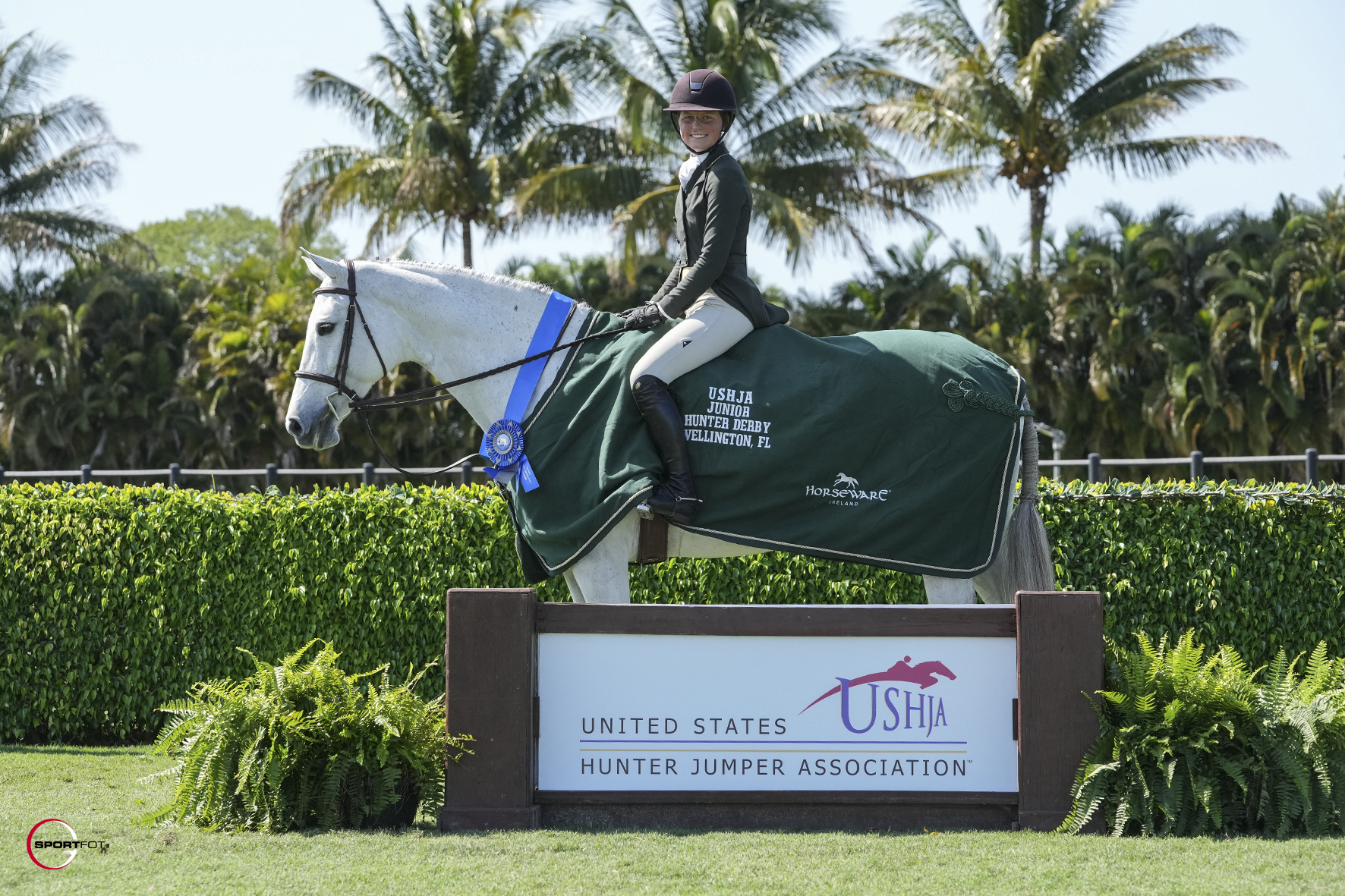 "This was my first time out on the grass and first derby of the season, and I loved it. It was really fun," said Olsen. "It's nice to have a big field to do derbies in."
The newness of being out on the grass coincided with Olsen only recently becoming acquainted with Taiga Z.
"This horse is a catch ride," said Olsen of the 10-year-old Zangersheide mare. "I've only been riding her for a couple weeks, so we just wanted to go in and have a good experience and be consistent in our round. I haven't done a ton of derbies though, so this was kind of new."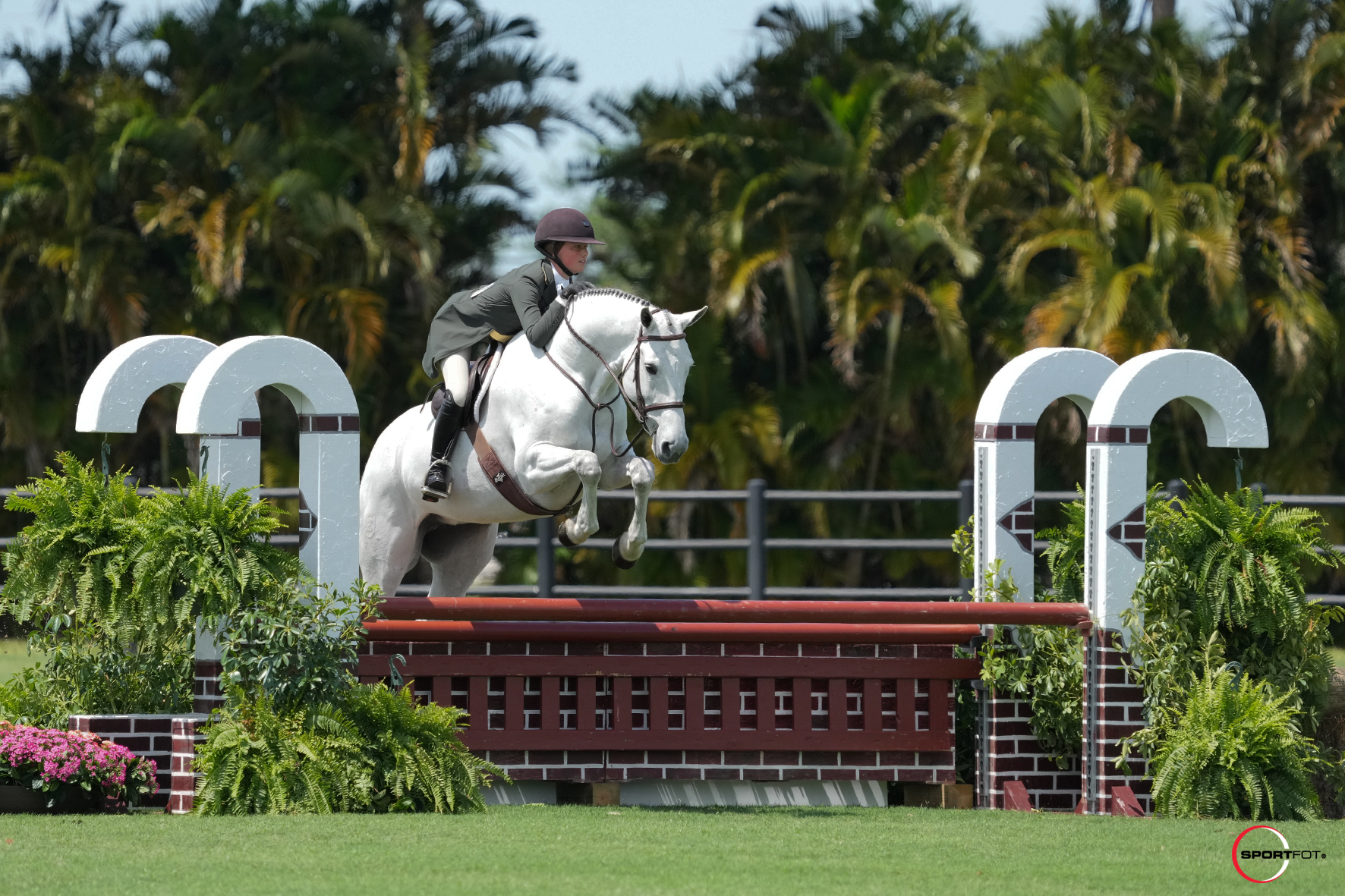 The Open section of the derby ran separately and was won by Victoria Colvin on Joelle Sedlacek's My Style.
Victoria Colvin and My Style chose all of the high options with base scores of 86 and 89 to give them a final total of 179 to earn the first-place sash.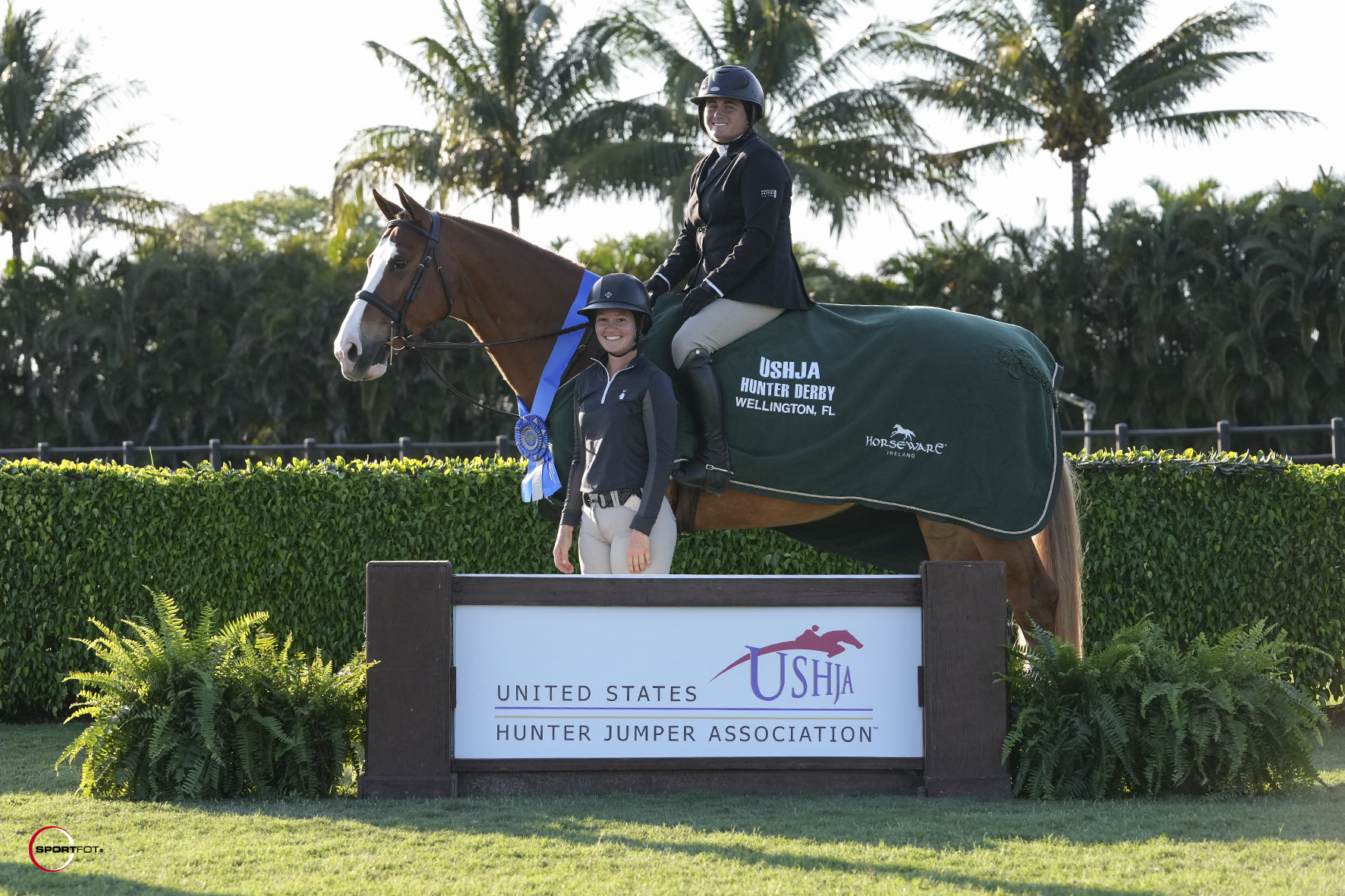 "It's fun doing a Hunt & Go out here," said Colvin. "The field is quite large, which is nice. It feels like a big, long course, but not too long."
Colvin is no stranger to the hunter derbies here in Wellington, but she has a special history with My Style.
"I purchased him off a video as a three-year-old," said Colvin of the nine-year-old KWPN gelding. "Joelle [Sedlacek] has had him for the past few years, and he's been doing the 1.20m jumpers with her. We thought it would be fun to come out on the field and do this."
My Style usually competes in the jumpers, but in the past had some show experience with Colvin in the hunters.
"He hasn't done the hunters in probably two years," explained Colvin. "This is his first class back in a while, so it's quite special for her [Sedlacek] that he went out there and did well. We weren't expecting a win. We were just hoping for him to go around, but he was quite good so we're all very thrilled with him."
Final Results $10,000 USHJA National Hunter Derby
Horse, Rider, Owner
Round 1 Total | Round 2 Total | Overall Total
*Junior*
1. Taiga Z, Caroline Olsen, Valentina Pombo
84 | 89 | 173
2. Tradewind, Maya Rahaim, Carole Chase
91 | 80 | 171
3. Credit, Elizabeth Grace Thomassin, Elizabeth Grace Thomassin
83.5 | 87 | 170.5
4. Steel Away, Lillard Preschlack, Paula Preschlack
83.5 | 86.5 | 170
5. Coppertone, Olivia Sweetnam, Sweet Oak Farm
87 | 82 | 169
6. Galway Blazer, Caroline Cole, Caroline Cole
81 | 85 | 166
7. After Hours, Georgia Jacob, Georgia Jacob
75 | 84 | 159
8. Game On, Charlotte Harris, Stephanie Harris
77.5 | 79 | 156.5
9. Don Benito BG Z, Cate Hernandez, Cate Hernandez
80 | 75 | 155
10. Ladies First, Caroline Olsen, Elysian Stables LLC
88.02 | 63 | 151.02
11. Black Diamond, Elizabeth Lowham-Ruzzo, Elizabeth Lowham-Ruzzo
75.51 | 75.5 | 151.01
12. Candor, Talia Kirson, Ashland Farms
67 | 84 | 151
*Amateur*
1. Call Me Cool, Macquarie Simon, Macquarie Simon
89 | 89 | 178
2. Chekandino, Nicole Oliynyk, Nicole Oliynyk
89.5 | 85.5 | 175
3. Belino 8, Danielle Menker, Sergent Stables LLC
85.5 | 86.5 | 172
4. All In, Jacquelynn Christenson, Brenda Christenson
80.5 | 90 | 170.5
5. Micah, Celia Sutherland, Sutherland
85 | 83 | 168
6. City Walk, Angela Calicchio, Cali Horse Sales LLC
79 | 88 | 167
7. The Spy, Kimberly Penfold, Glory Days Farm LLC
83 | 82 | 165
8. Castle, Alexa Davis, Ulster/GSA
82.25 | 82 | 164.25
9. Allure DVE, Lily Barnard, Dutch Valley Sporthorses
82 | 80 | 162
10. Velvet Brown, Jennifer Leroy, Jennifer Leroy
77.5 | 82.5 | 160
11. Easy B, Colby Hassfurther, Gillian Galvin
82.5 | 76.5 | 159
12. Cascade, Lisa Rabon, Randi Vladimer
84 | 74 | 158
*Open*
1. My Style, Victoria Colvin, Joelle Sedlacek
88 | 91 | 179
2. Drumroll, Kelly Mullen, Mary Jane King
90.01 | 87.5 | 177.51
3. Someday, Laena Romond, Rachel Suna Britchkow
84.5 | 93 | 177.5
4. Worthy, Maria Rasmussen, Sunset View Farm LLC
87.5 | 89 | 176.5
5. Didgereedoo VDL, Kelsey Epperson, Lashier Properties LLC
85.76 | 87.25 | 173.01
6. Bohemian Luxe, Caitlin Boyle, Caroline Grubb
85 | 88 | 173
7. Baron Z, Tiffany Morrissey, Heidi Chase
87 | 85 | 172
8. Rocklyn, Laura Bowery, Anne Byers
88.5 | 82.25 | 168.25
9. Red C, Adam Edgar, Tracey London
86 | 83 | 169
10. Uppercut, Jennifer Hannan, Patricia Fulchino
76.5 | 92 | 168.5
11. Clem Brecourt, Hannah Isop, Tracey Freels
80 | 88.25 | 168.25
12. Camelito De Muze Z, Ed Copland, Ariane Stiegler
77.5 | 89.5 | 167