Edited Press Release
Ocala, FL – World Equestrian Center – Ocala hosted the final Hunter Derby Friday of the 2022 Winter Spectacular Show Series in the WEC Stadium with $225,000 in prize money to be awarded between three highly competitive derbies: $75,000 WEC Ocala 3'6"-3'9" Hunter Derby, $75,000 WEC Ocala 3' Open Hunter Derby and $75,000 WEC Ocala 3' Jr/Am Hunter Derby. One hundred and twenty-six entries contested Kevin Holowack's (CAN) beautifully designed courses that featured stunning obstacles including a rounded hay bale combination and log fences. Competition for today's derbies were judged by Scott Fitton, Scott Alder, Tony Sgarlata and Kerry Kocher.
The final $75,000 WEC Ocala 3'6"-3'9" Hunter Derby showcased a competitive field of 29 entries under the lights in the WEC Stadium. Competition was fierce with scores soaring into the mid 90s, but it was junior rider, Augusta Iwasaki and Ashland Farm's Attendu De Lannois Z (Arko III x Caletina V/D Bremboshoeve) that prevailed.
Iwasaki and Attendu De Lannois Z were the sixth pair to try their hand at Holowack's rolling tracks, earning the class's highest first round score of 189.
"Attendu was imported from Europe about two years ago. I fell in love with him immediately," Iwasaki said. "He's extremely talented and always tries to win for me. He's my main equitation and derby horse. He's only nine-years-old, so he is still coming along, but he is truly a once in a lifetime horse."
Iwasaki and the handsome nine-year-old Zangersheide gelding were the last pair to return for the handy. "The atmosphere was incredible tonight, there was a lot to look at, but Attendu had his game face on. I really enjoyed the handy. The combinations were very testy, but this course offered a gallop to the last fence, which is personally my favorite," said Iwasaki.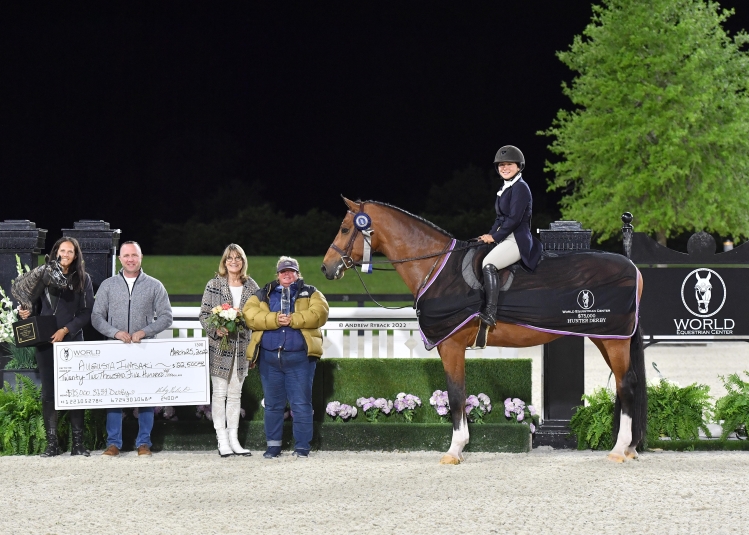 The pair floated over the final fence in perfect form to earn high score of 191, for a total score of 380 for the win.
"I have been competing here for about two months now, and it has been incredible. We have enjoyed our time here so much. I had the privilege of coming to WEC while the facility was being built, but this was my first time here while it was in full production, and it is breathtaking. We love showing here," expressed Iwasaki.
Before the start of the handy round in the $75,000 WEC Hunter Derby 3'6″-3'9″, the prestigious Style of Riding Award was presented to Brian Feigus for his classic style and his sportsmanship. The Style of Riding Award is generously presented by Bill Rube to be awarded to the rider who best displays the American Style of riding in the ring and sportsmanship outside of the competition arena. The recipient serves as a role model for preserving the integrity and tradition of equestrian sport. "This award is very special to me because the recipient of this award pays it forward both in and out of the show ring," says Rube. Feigus received an elegant duffel bag and wore a pink rose corsage on his lapel throughout the handy round to signify his achievement.
Forty-three impressive entries gathered at the WEC Stadium early Friday morning to vie for the top prize in the $75,000 WEC Ocala 3' Open Hunter Derby, but it was Jeff Gogul and Roaring Brook LLC's No Doubt (Nerrado x Abba II) that secured the highest overall score from the judges. Gogul and No Doubt jumped around the course in stunning style, taking all four high options in to earn a first-round score of 180.5 from the four judges. The pair rolled around the tidy turns and found each fence at a perfect distance to secure a second-round score of 184, for an overall score of 364.5.
The $75,000 WEC Ocala 3' Jr/Am Hunter Derby saw an impressive field of 54 horse-and-rider combinations, but it was Avery Glynn of Petaluma, California and Tyler Bunn's Damas De Tannerre (Scareface De Mars x Pin Up Basters) that scored the ultimate victory.
Glynn and the nine-year-old Selle Francais gelding put forth a flawless first round, opting to jump all four high options to earn a score of 175.25 from the four judges.
Glynn and Damas De Tannerre laid down an impeccable handy round to earn a high score of 188 for an overall score of 364.25 for the win.
$75,000 WEC Ocala 3'6"-3'9" Hunter Derby Results:
1.Attendu De Lannois Z, Augusta Iwasaki, Ashland Farms: 189 | 191 | 380
2. In The Know, Samantha Schaefer, Madeline Schaefer: 177.5 | 190 | 367.5
3. Cartel, Jeff Ayers, Jeff Ayers: 188 | 177 | 365
4. MTM Lolah LOL, Dorothy Douglas, Abigail Davenport: 182.5 | 182 | 364.5
5. Shutterbug, Timothy Maddrix, Sarah Campbell: 171 | 187 | 358
6. Ipanema, Josh Dolan, Belle Rolfe: 177 | 176.5 | 353.5
7. Jordantinus, David Jennings, Allison Ventura: 173 | 180 | 353
8. MTM Coco, Brian Feigus, Steven Saumell: 181.5 | 142 | 323.5
9. Poker Face, Jennifer Bliss, Harris Hill Farm, LLC: 179.5 | 142 | 321.5
10. High Renaissance, Jeff Gogul, Della Equestrian: 179 | 138 | 317
$75,000 WEC Ocala 3' Open Hunter Derby Results:
1.No Doubt, Jeff Gogul, Roaring Brook LLC: 180.5 | 184 | 364.5
2. MTM Exceptional, Dorothy Douglas, Abigail Davenport: 183 | 180.5 | 363.5
3. Quidam's Reveal, Brian Feigus, Next Venture Farm: 173.75 | 184 | 357.75
4. Royal Balou, Hope Glynn, Openingbell Sporthorses: 175.5 | 180 | 355.5
5. Ziggy Stardust, Hope Glynn, Openingbell Sporthorses: 179 | 174 | 353
6. Blue Monday, Hillary Johnson, Stephanie Batthershall: 173.25 | 179 | 352.25
7. Moonwalk, Hillary Johnson, Copper Fox LLC: 180.25 | 169 | 349.25
8. Inspiration, Clair Kellner, Mindy Carreja: 174 | 174 | 348
9. Eldoret, Josh Dolan, Karen Redding: 178 | 168 | 346
10. James, Amanda Steege, Alexis Lipson: 178 | 163 | 341
$75,000 WEC Ocala 3' Jr/Am Hunter Derby Results:
1.Damas De Tannerre, Avery Glynn, Tyler Bunn: 176.25 | 188 | 364.25
2. Jordan, Margot Peroni, Margot Peroni: 176.25 | 176 | 352.25
3. Golden Ticket, Addison McQuaker, Addison McQuaker: 181.5 | 161.5 | 343
4. Small Love, Stella Wasserman, Elizabeth Reilly: 174.75 | 167 | 341.75
5. Balou Label, Molly Braswell, Molly Braswell: 177.75 | 161 | 338.75
6. Fitz, Isabel Harbour, IMH Equine, LLC: 178 | 160 | 338
7. Small Social, Augusta Iwasaki, Ava Peck: 184 | 152.5 | 336.5
8. Now And Zen, Camryn Halley, Camryn Halley: 173 | 163 | 336
9. Bode Well, Ella Bostwick, Melissa BurnsL 175.5 | 153 | 328.5
10. Ocean Avenue, Madison Ramsey, Shannon Dickinson: 172 | 98 | 270
Photos courtesy of Andrew Ryback Photography.
Videos available at ClipMyHorse.TV.