Edited Press Release
Wellington, FL – March 26, 2022 – Competition for "Saturday Night Lights" during week 11 of the 2022 Winter Equestrian Festival (WEF) was packed with action during the circuit's penultimate week, as show jumpers took to the Wellington International Arena to compete for the top prize in the $140,000 CaptiveOne Advisors 1.50m Championship Jumper Classic Final. In a mad dash across the finish line, Paul O'Shea (IRL) and Chancelloress claimed the leading spot. 
The night culminated with both an overall series champion as well as the final class winner. Spectators in the night's crowd were treated to extra excitement as the new name of the venue, Wellington International, was revealed prior to the first horse on course. Course designer Olaf Petersen Jr. (GER) raised an impressive challenge to the field of 48 starters representing 17 nations, and only five of the original entries managed to earn a slot for the short track. The jump-off came down to a battle between the U.S. and Ireland as Spencer Smith (USA), Laura Kraut (USA), and Alex Matz (USA) took on countrymen Mark McAuley (IRL) and O'Shea.
With three to follow, McAuley was the first to produce a double-clear effort in a tidy time of 36.97 seconds aboard LT Competition's 10-year-old CH mare O'Hara ELS (Ogano Sitte x Liandero). However, the taste of victory didn't last quite as long as hoped when O'Shea immediately followed and shaved over a second off of McAuley's effort in 35.51 seconds.
"I knew Alex would be fast, and that Laura was after me too," explained O'Shea. "I didn't get to see Mark go but he is always fast, so I just tried to do the best round that I could."
O'Shea credited his mount with rising to the occasion for the class and has high hopes for the end of season with the Trelawny Farms' 13-year-old Hanoverian mare (Chacco-Blue x Balou Du Rouet).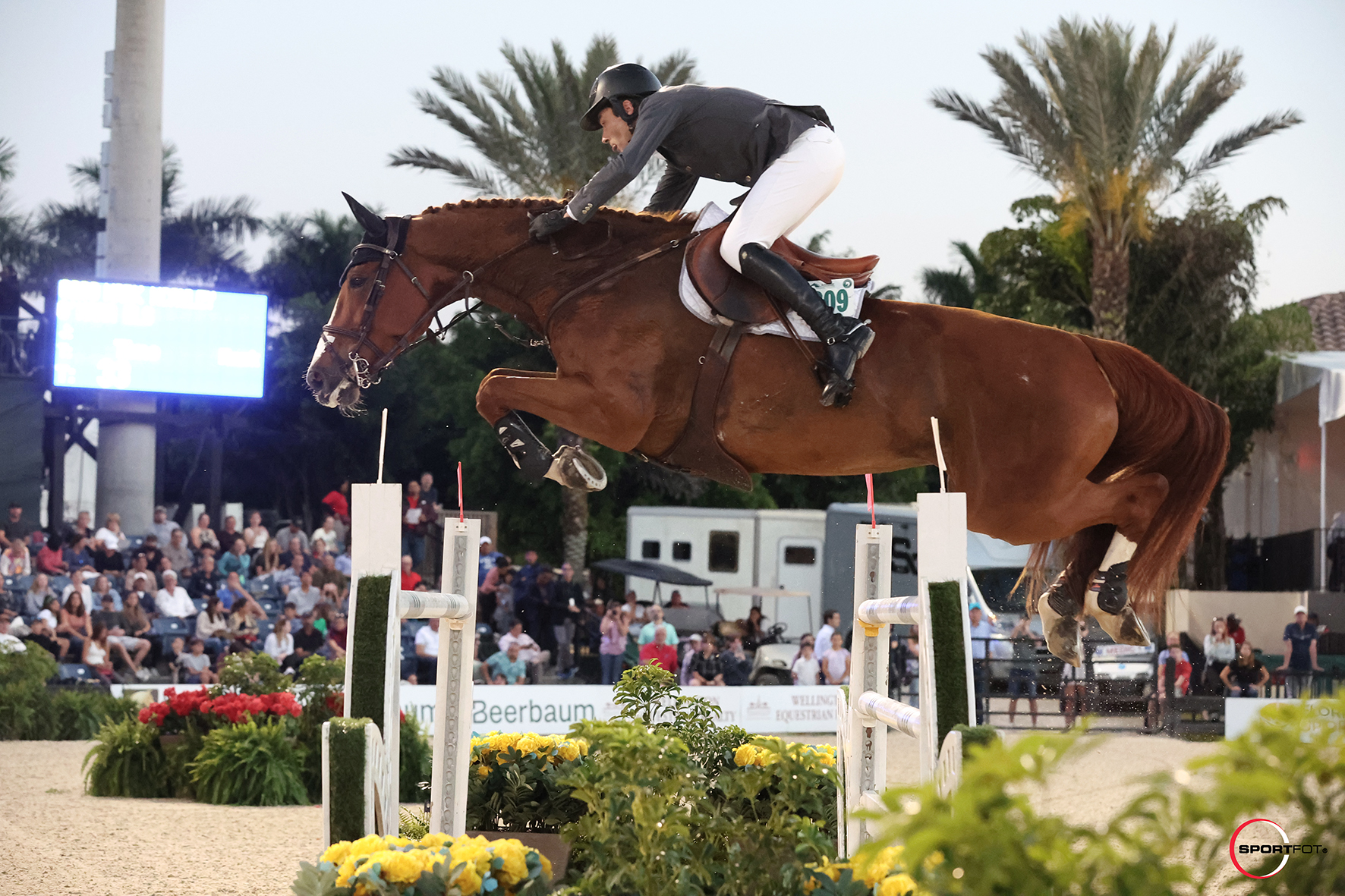 "Chancelloress felt in top form tonight, and everything was coming up easily," he added. "She is going to do the $500,000 Rolex Grand Prix next week, and I kept that in mind when I was riding tonight so I wouldn't overdo it."
Second place was secured by McAuley as he proved to be the only fault-free competitor alongside O'Shea.
"My horse is quite inexperienced at this level, and I think this is the most important class she has ever jumped," described McAuley. "I wasn't really planning on being competitive tonight. I just wanted to give her a bit of experience, so I was already incredibly proud of how she coped. She has come out of this circuit with a lot of experience, and tonight I felt like she was on the same page with me and fighting with me to stay clear."
Due to the mare's experience level and the difficulty of the track, McAuley's plan for the jump-off mainly consisted of riding each individual fence.
"There were a few elements of the jump-off that were quite difficult, so I just decided I would try to jump the jumps instead of worrying about being fast," concluded McAuley. "The blue double-combination was already difficult in the first round so I knew turning tighter back to it would be hard, and the last oxer was very delicate. I knew no matter what I did, the riders that were behind me would most likely be faster, so I am just happy to have left the jumps up."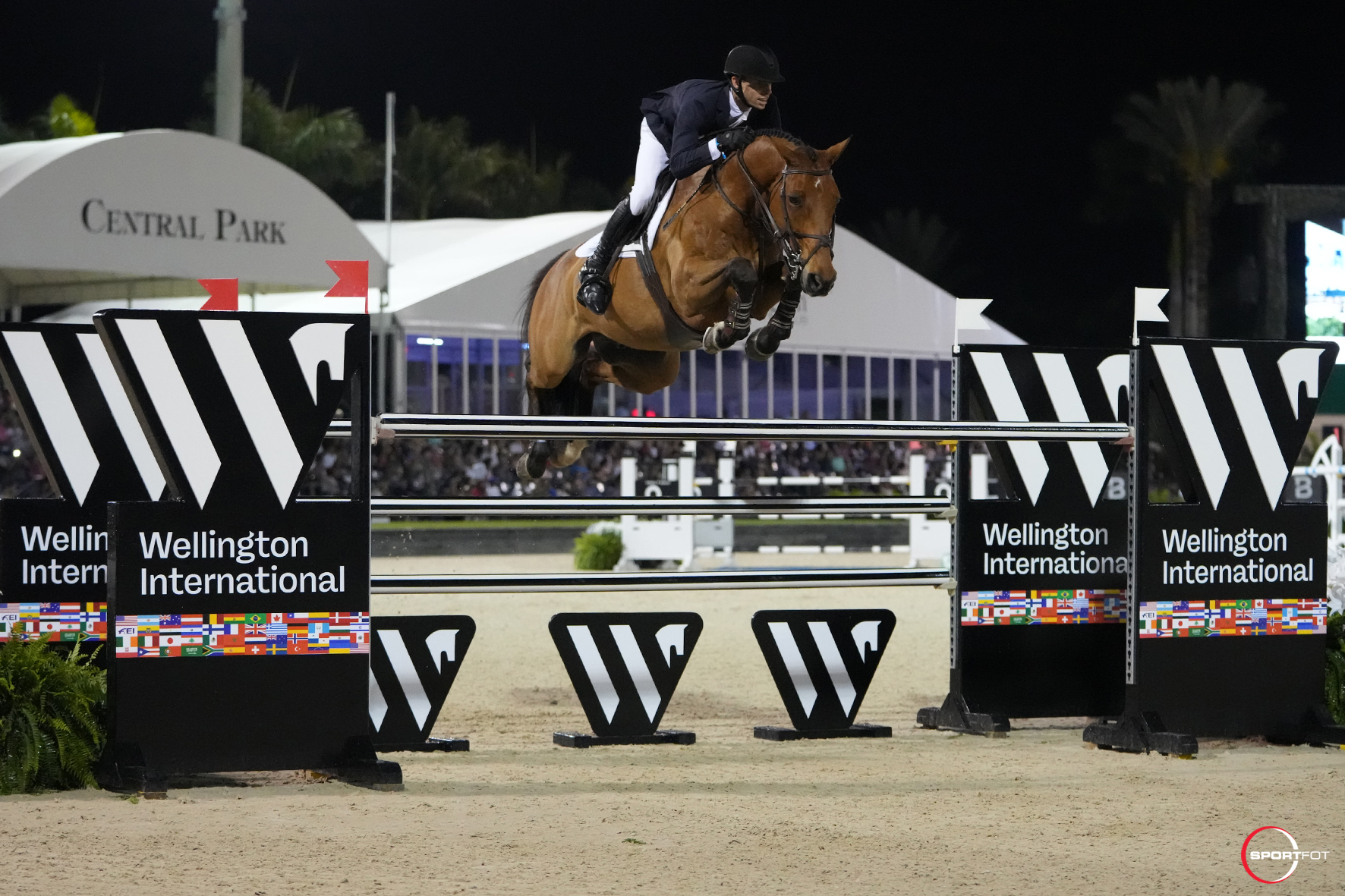 Alex Matz flew through the jump-off as the last competitor in the jump-off to acquire the final spot in the victory gallop. Matz and Cashew CR, owned by Dorothy Matz, looked as if they would overthrow O'Shea in the final moments but did not quite manage to clear the last oxer on course to accrue a four-fault score with their time of 34.77 seconds.
"He is an incredible horse, and he has been everything for me," said Matz of the 14-year-old Holsteiner gelding (Cassini II x Quinar). "He introduced me to doing the grand prix level, and he is an amazing fighter with a big heart. He doesn't have all of the scope in the world, but he makes up for it with determination."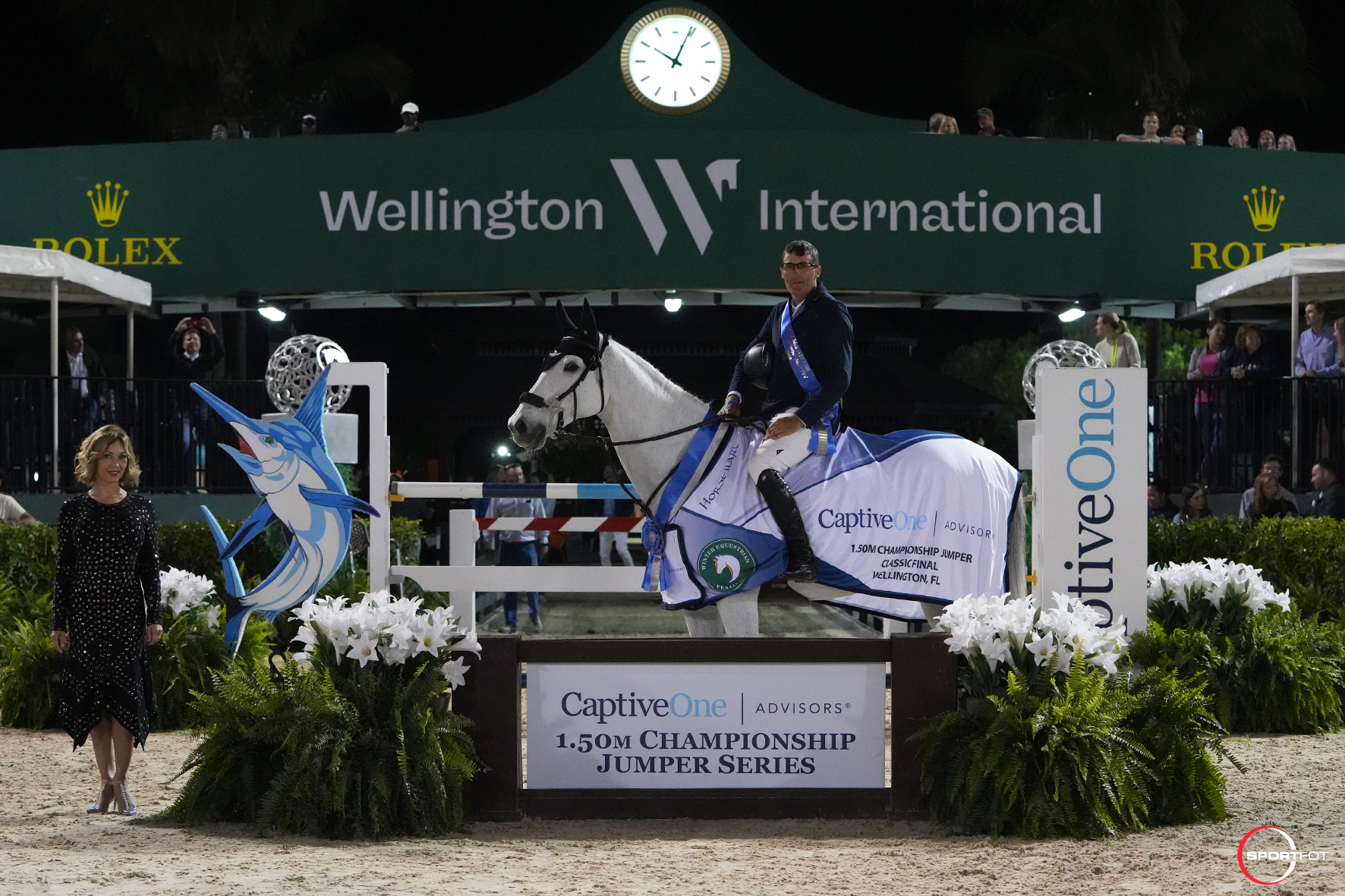 For the 25-year-old, to be on the podium with the likes of McAuley and O'Shea is a special moment.
"I look up to both of these riders tremendously, and it is an honor to be competing against them," stated Matz. "I have a lot to learn from them, but it is helpful when I get to see them in action."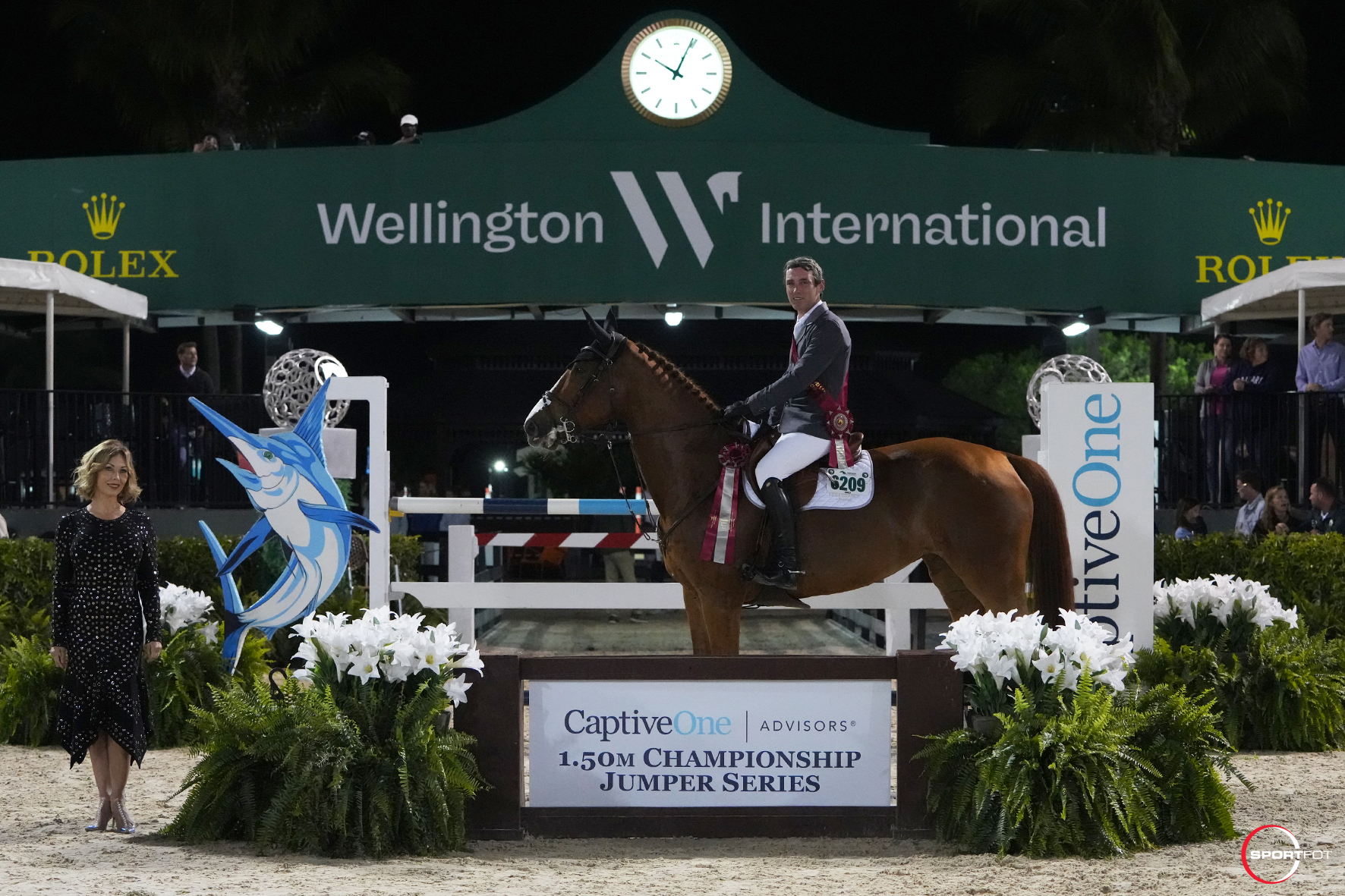 The Irish also took the overall victory of the CaptiveOne Advisors 1.50m Championship Jumper Classic Series as Shane Sweetnam was named the leading rider through the entirety of the circuit. Despite never having worn the winning cooler, Sweetnam's consistency and six top-five placings throughout the season with four different mounts was enough to earn the honors.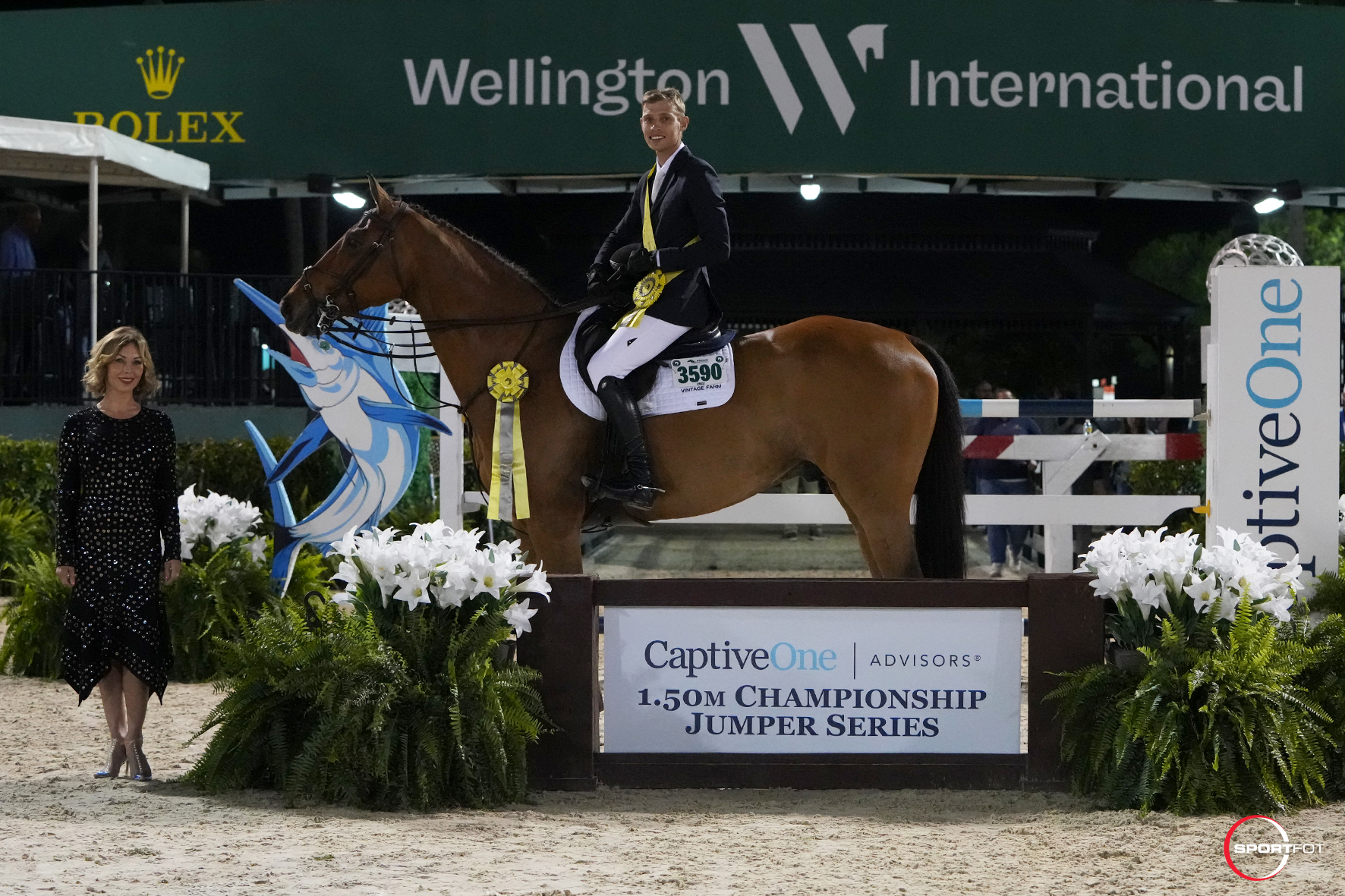 "This series produces an incredibly tough class every week, and the level of competition in these classes is set at a very high standard," commented Sweetnam. "You need to have a good string of horses. This year I had an up-and-coming group of horses as well as some older ones, and it worked out well. While I did not win any, I was consistent at being towards the top of the class each week and that consistency is what ended up winning it overall."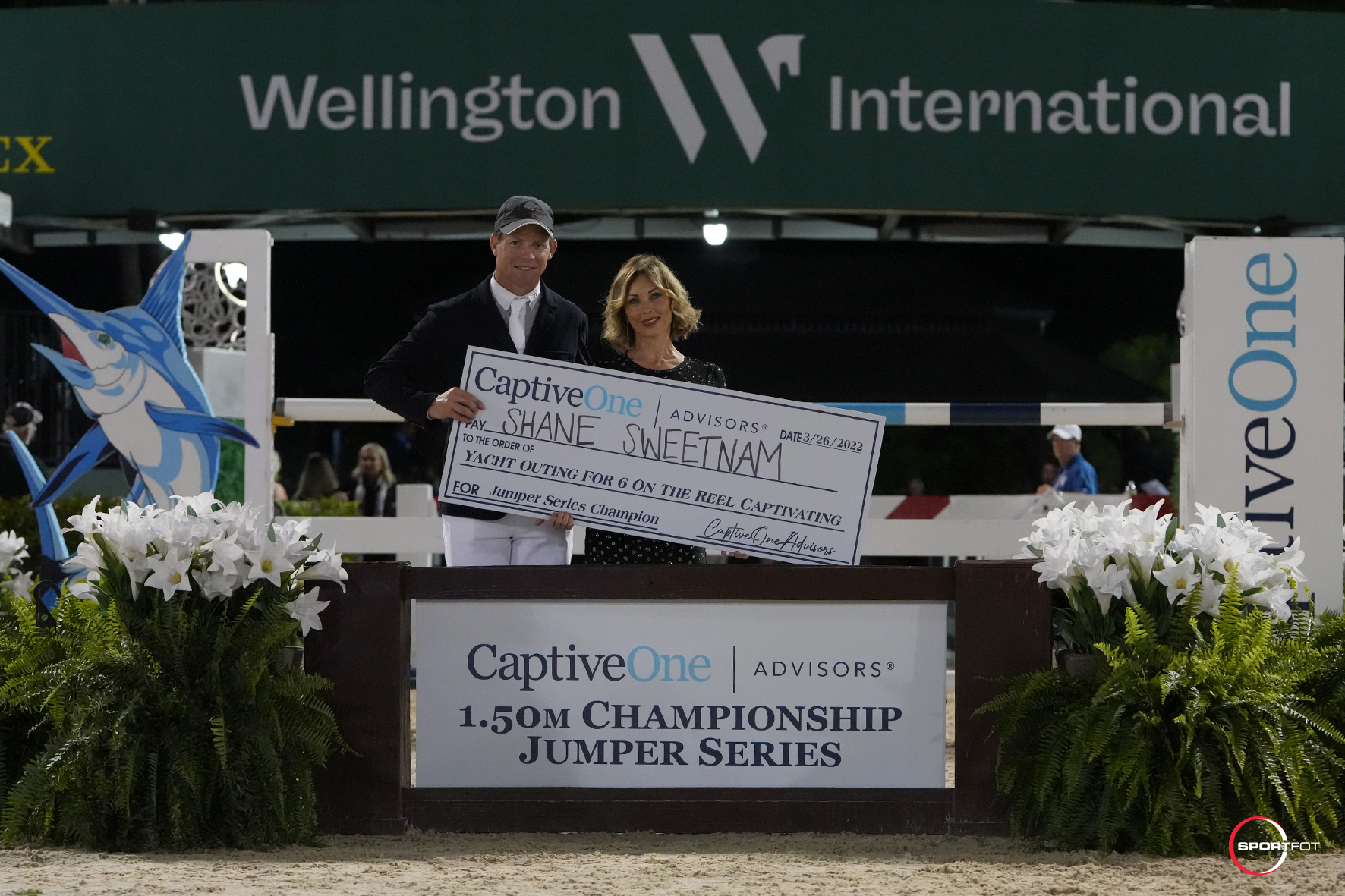 Final Results: $140,000 CaptiveOne Advisors 1.50 Series Final
1. CHANCELLORESS: 2009 Hannoverian mare by Chacco-Blue x Balou Du Rouet
PAUL O'SHEA (IRL), Trelawny Farm, LLC: 0/0/35.51
2. O'HARA ELS: 2012 CH mare by Ogano Sitte x Liandero
MARK MCAULEY (IRL), LT Competition: 0/0/36.97
3. CASHEW CR: 2008 Holsteiner gelding by Cassini II x Quinar
ALEX MATZ (USA), Dorothy Matz: 0/4/34.77
4. PICOBELLO FULL HOUSE TER LINDEN Z: 2010 Zangersheide gelding by Forever D'Arco Ter Linden x Cento
SPENCER SMITH (USA), Piccobello Horses: 0/4/35.18
5. CONFU: 2007 Holsteiner gelding by Contact Me x Cambridge 8
LAURA KRAUT (USA), St. Bride's Farm: 0/4/36.15
6. LOOPING LUNA: 2014 Hannoverian mare by Lord Fauntleroy x Calido I
RICHARD VOGEL (GER), Horse Management GMBH: 1/76.33
7. NIKKA VD BISSCHOP: 2013 BWP mare by Emerol NOP x Nabab de Reve
BETH UNDERHILL (CAN), Rein Family LLC: 2/77.99
8. EMMYLOU: 2012 BE/SIES mare by Billy Mexico x Lupin Z
BERTRAM ALLEN (IRL), Bertram Allen: 4/72.42
9. UN DIAMANT DES FORETS: 2008 Selle Francais stallion by Diamant De Semilly x Papillon Rouge
JIM IFKO (CAN), Eventyre Farms: 4/73.19
10. H5 CHACCO-SAN: 2011 Hannoverian gelding by Chacco-Blue x Sandro Boy
CARLOS HANK GEURREIRO (MEX), H5 Sport Horses LLC: 4/73.73
11. ENANDA: 2009 KWPN mare by Nabab De Reve x Holland
LUCY DESLAURIERS (USA), Luja LLC: 4/73.75
12. EL CONDE: 2011 SBS gelding by Lord Piana Filou De Muze x Final Shot
NAYEL NASSAR (EGY), Evergate Stables, LLC: 4/73.81