By Summer Grace for Jennifer Wood Media, Inc.
Wellington, FL – March 30, 2022 – The final week of the Winter Equestrian Festival jumped into a week of intense action on Wednesday, March 30, 2022. The series concludes its 13 weeks with international five-star and two-star level riders taking to the turf at Equestrian Village for one final turn on the grass. 2020 Tokyo Olympic Games team silver medalist McLain Ward (USA) won Wednesday's featured event, the $37,000 Douglas Elliman Real Estate 1.45m CSI5*, with top mount Noche De Ronda.
The highlight of the WEF 12 and the 2022 WEF circuit is the $500,000 Rolex Grand Prix CSI5* on Saturday, April 2, at 11 a.m. ET. While there is no "Saturday Night Lights" event for WEF 12, fans of equestrian sport are welcomed to cheer on horses and riders at the $35,000 Wellington National Golf Club Spring 1 Grand Prix on Saturday, April 9, at 7:30 p.m. ET.
Guilherme Jorge (BRA) designed a flowing track that used a vast majority of the field to test its 54 contenders. The two-phase course included a total of 15 obstacles with the first phase to be completed in 44 seconds and the second phase having a time allowed of 43 seconds. Jorge's elements included several double combinations as well as a water obstacle to test some of the world's best competitors. Eleven nations were represented in the original starting lineup with Mexico's Eugenio Garza Perez holding on to the lead at the halfway mark of the event.
Ward piloted the 13-year-old Oldenburg mare Noche De Ronda (Quintender 2 x Lovis Corinth), a horse he co-owns with Marilla Van Beuren and Bob Russell, to the top position after the pair stopped the clock fault-free and with a time of 30.81 seconds.
"She is just coming back from an injury she got last year, and she has been jumping well but just having an unlucky four faults here and there," described Ward of his mount. "We thought we would give her one more time out on this field this season, and she seems to be feeling quite well."
For Ward, the victory came at one particular place on course.
"I think where we took over was when we did the inside slice to the double combination," he explained. "If it had been a single it wouldn't have been that challenging, but with it being a combination it was definitely risky. She's also got a huge stride that I use to my advantage out here. It was a huge loss not having her in our string last year, but she looks like she has a good year ahead of her."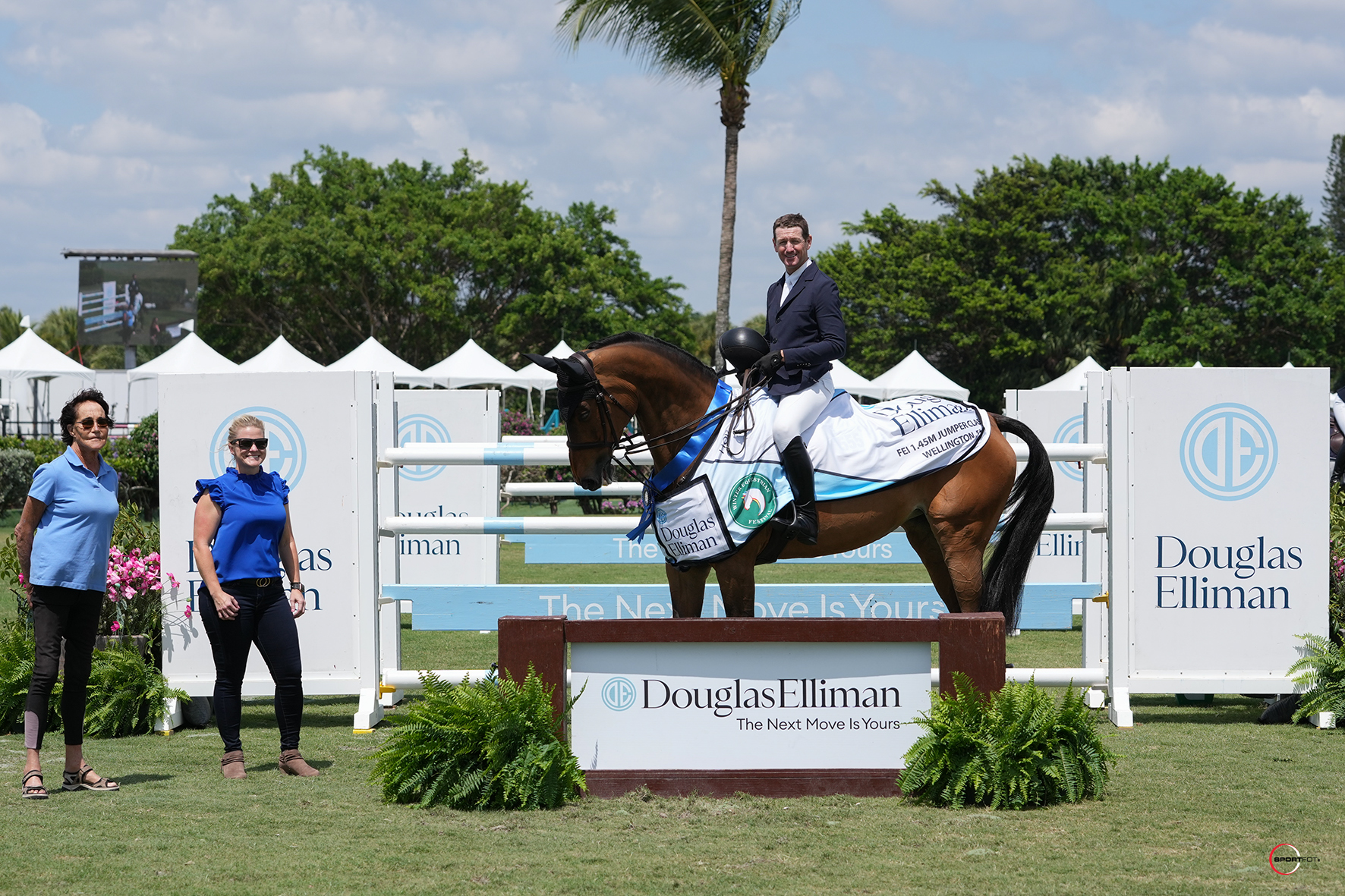 As the second to last combination to go, Sweden's Petronella Andersson shot into the second-place position aboard Nithard Van De Peerdenhoeve. Andersson and the Stephex Stables' nine-year-old BWP gelding (Zirocco Blue VDL x Corland) were the only other combination to produce a time under 31 seconds as they landed without fault in 30.99 seconds. California resident Karl Cook (USA) put forth a good round and rounded out the top three after riding to a time of 31.77 seconds with Helen Signe Ostby's 12-year-old BWP mare Kalinka Van't Zorgvliet (Thunder VD Zuuthoeve x Flipper d'Elle).
Final Results: $37,000 Douglas Elliman Real Estate 1.45m CSI5*
1. NOCHE DE RONDA: 2009 Oldenburg mare by Quintender 2 x Lovis Corinth
MCLAIN WARD (USA), Marilla Van Beuren, Bob Russell, and McLain Ward: 0/30.81
2. NITHARD VAN DE PEERDENHOEVE: 2013 BWP gelding by Zirocco Blue VDL x Corland
PETRONELLA ANDERSSON (SWE), Stephex Stables: 0/30.99
3. KALINKA VAN'T ZORGVLIET: 2010 BWP mare by Thunder VD Zuuthoeve x Flipper d'Elle
KARL COOK (USA), Helen Signe Ostby: 0/31.77
4. VICTER FINN DH Z: 2008 Zangersheide gelding by Va Vite x Stakkato
EUGENIO GARZA PEREZ (MEX), El Milagro: 0/31.95
5. ERROL: 2010 gelding by Luidam x Le Tot de Semilly
CONOR SWAIL (IRL), Sagamore Farms: 0/32.36
6. DONATELLO 141: 2011 Westphalian gelding by Diarado x Lamoureux I
ASHLEE BOND (ISR), Ashlee Bond Show Jumping: 0/32.42
7. GRS LADY AMARO: 2013 Irish Sport Horse mare by Amaretto Darco
MARK MCAULEY (IRL), SNC McAuley Equestrian: 0/32.49
8. HELLCAT: 2011 BWP mare by Cassander Van Het Bremhof x Conan Z
PAUL O'SHEA (IRL), Eye Candy Jumpers: 0/32.50
9. TIC TAC: 2003 SBS stallion by Clinton x Darco
BEN MAHER (GBR), Jane Forbes Clark: 0/32.84
10. CHRISTIANO: 2010 Brandenburg gelding by Canoso x Compliment
AMY MILLAR (CAN), Future Adventures: 0/32.86
11. FECYBELLE: 2010 KWPN mare by Carambole x Sjapoo
KARL COOK (USA), Helen Signe Ostby: 0/33.14
12. KIANA VAN HET HERDERSHOF: 2010 BWP mare by Toulon x Lys De Darmen
DANIEL DEUSSER (GER), Stephex Stables: 0/33.89