By Amanda Picciotto Feitosa and Summer Grace for Jennifer Wood Media, Inc.
At the end of the first round in the $140,000 Adequan® WEF Challenge Cup Round XII CSI5*, 14 of the original 54-horse starting field managed to find a successful way across Guilherme Jorge's (BRA) challenging track. With Jorge being one of the world's best designers, the qualifying track for the $500,000 Rolex Grand Prix CSI5* was sure to be a challenge worthy of the elite combinations contesting it. The course's obstacles included three double combinations, a liverpool element, and a tall wall that were all to be navigated in a succinct time of 75 seconds. Germany's Philipp Weishaupt produced the first fault-free effort early on in the class and was quickly followed by Tiffany Foster (CAN) to ensure a jump-off would occur. Twelve more top athletes joined them to up the ante and create an exciting returning line-up.
Four of the 14 entries decided to save their jumps for another day. Margie Goldstein-Engle (USA), Rowan Willis (AUS), Beat Mändli (SUI), and Kent Farrington (USA) withdrew, leaving only 10 combinations for the shortened course.
As the first to qualify for the jump-off, Weishaupt was also the first of the 10 to contest the final course but finished with a four-fault score. Following Weishaupt, Foster became the class's clear-round pathfinder as she found the way around the course to end on a time of 46.07 seconds with no faults riding long-time partner Figor. Foster's lead was short lived when Bertram Allen of Ireland effortlessly shaved four seconds off of her time to finish in 42.88 seconds.
Several more competitors would produce a fast and fault-free finish but once again none were able to have a better ride than Allen and Aiden McGrory's 10-year-old Irish Sport Horse gelding Pacino Amiro (Pacino x NC Amiro).
"I started him off out here on the grass during his first week [at WEF] because I knew the next three five-stars were on the sand," explained Allen. "I think the reason we were so successful in today's jump-off was because I didn't lose my pace anywhere. Every time I turned, something nice came up and I didn't have to do anything crazy or wild."
The duo has already had an incredibly successful circuit and hope to have another five-star victory following their win in the $406,000 Lugano Diamonds Grand Prix CSI5* during WEF 6.
"He has been great throughout all of the circuit," continued Allen. "He's had the last two weeks off, and I've just been trying to keep him feeling fresh. He really felt fresh today and found it very easy, so that was a nice feeling."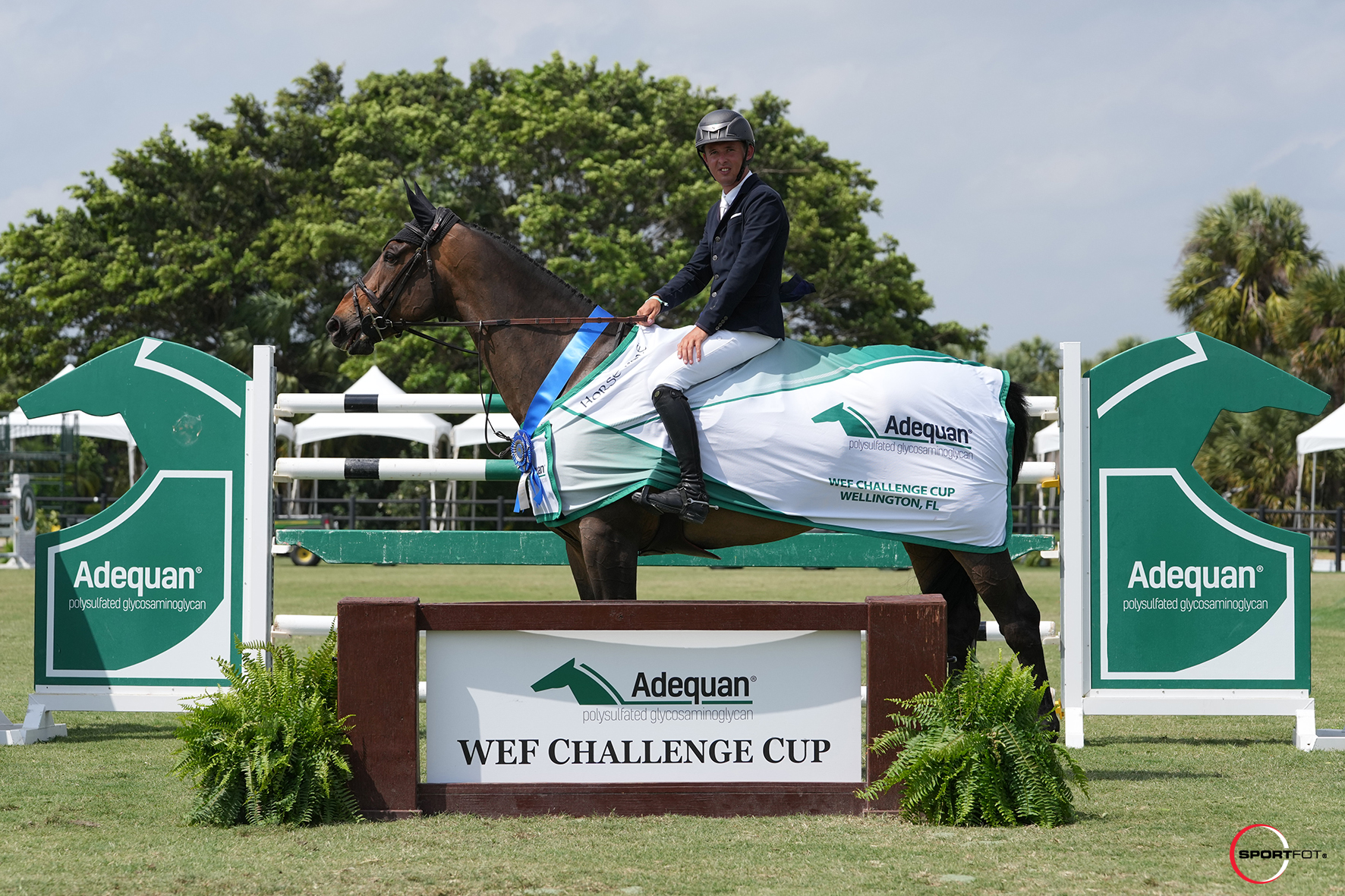 Italy's Lorenzo De Luca managed to find the second-fastest time across the field for the runner-up honors. He and the Poden Farms's 12-year-old KWPN gelding F One USA (Toulon x Tangelo Van De Zuuthoeve) jumped to a double-clear finish but still landed almost two seconds slower than Allen in a time of 44.24 seconds. Karl Cook (USA) rounded out the podium with Helen Signe Ostby's Kalinka Van't Zorgvliet. Cook piloted the 12-year-old BWP mare (Thunder VD Zuuthoeve x Flipper d'Elle) to another clean ride with a time of 44.66 seconds.
Final Results: $140,000 Adequan® WEF Challenge Cup Round XII CSI5*
1. PACINO AMIRO: 2012 Irish Sport Horse gelding by Pacino x NC Amiro
BERTRAM ALLEN (IRL), Aiden McGrory: 0/0/42.88
2. F ONE USA: 2010 KWPN gelding by Toulon x Tangelo Van De Zuuthoeve
LORENZO DE LUCA (ITA), Poden Farms: 0/0/44.24
3. KALINKA VAN'T ZORGVLIET: 2010 BWP mare by Thunder VD Zuuthoeve x Flipper d'Elle
KARL COOK (USA), Helen Signe Ostby: 0/0/44.66
4. FIGOR: 2010 KWPN mare by VDL Groep Zagreb x Indoctro
TIFFANY FOSTER (CAN), Artisan Farms, LLC: 0/0/46.07
5. IGOR VAN DE WITTEMOERE: 2008 BWP gelding by Cooper Van De Heffinck x Orlando
NAYEL NASSAR (EGY), Evergate Stables, LLC: 0/4/45.92
6. CAPTAIN COOPER: 2007 KWPN gelding by Namelus R x Corland
HILARY MCNERNEY (USA), Hilary McNerney: 0/4/47.20
7. LEVIS DE MUZE: 2011 BWP stallion by Elvis Ter Putte x Tinka's Boy
IOLI MYTILINEOU (GRE), Elia Construction SA: 0/4/47.34
8. COBY 8: 2010 Hannoverian gelding by Contagio x Escudo 19
PHILIPP WEISHAUPT (GER), Mariko Kato, Noyuri Ko, and Beerbaum Stables: 0/4/48.35
9. GINGER-BLUE: 2011 KWPN mare by Plot Blue x Royal Bravour BEN MAHER (GBR), Jane Forbes Clark: 0/8/45.58
10. KILLER QUEEN VDM: 2010 BWP mare by Eldorado VD Zeshoek x For Pleasure
DANIEL DEUSSER (GER), Stephex Stables: 0/8/49.91
11. ROYCE: 2004 OS stallion by Cafe Au Lait x Grandilot
MARGIE ENGLE (USA), Gladewinds Partners, LLC: 0/71.61
12. DSARIE: 2008 KWPN mare by Veron x Ahorn
BEAT MÄNDLI (SUI), Grant Road Partners GMBH: 0/74.18
---
This Post Brought to You by: 
Taylor, Harris Insurance Services
Taylor, Harris Insurance Services (THIS) was founded in 1987 to provide specialized insurance for all types of equine risk.We place our policies with the highest rated and most secure carriers, meticulously selected for reliability and prompt claims settlement. We are proud of our worldwide reputation for responsive and courteous service, and we welcome the opportunity to discuss your equine insurance needs and provide you with a quote.
Access to multiple underwriters
Leader in the U.S. and European markets
Customized policies provide you with a choice
Trusted advisors in the equestrian industry
Direct access to insurance professionals
Policies that cover every breed and discipline across all 50 United States