By Amanda Picciotto Feitosa and Summer Grace for Jennifer Wood Media, Inc.
Starting off on Thursday at WEF 12, international jumper riders for the CabanaCoast-sponsored CSI2* division got their first taste of the turf for the week in the $12,000 1.45m speed class. Late in the order, McKayla Langmeier (USA) and Bahira S charged up to the first oxer and never let up, galloping away with the win in 51.80 seconds.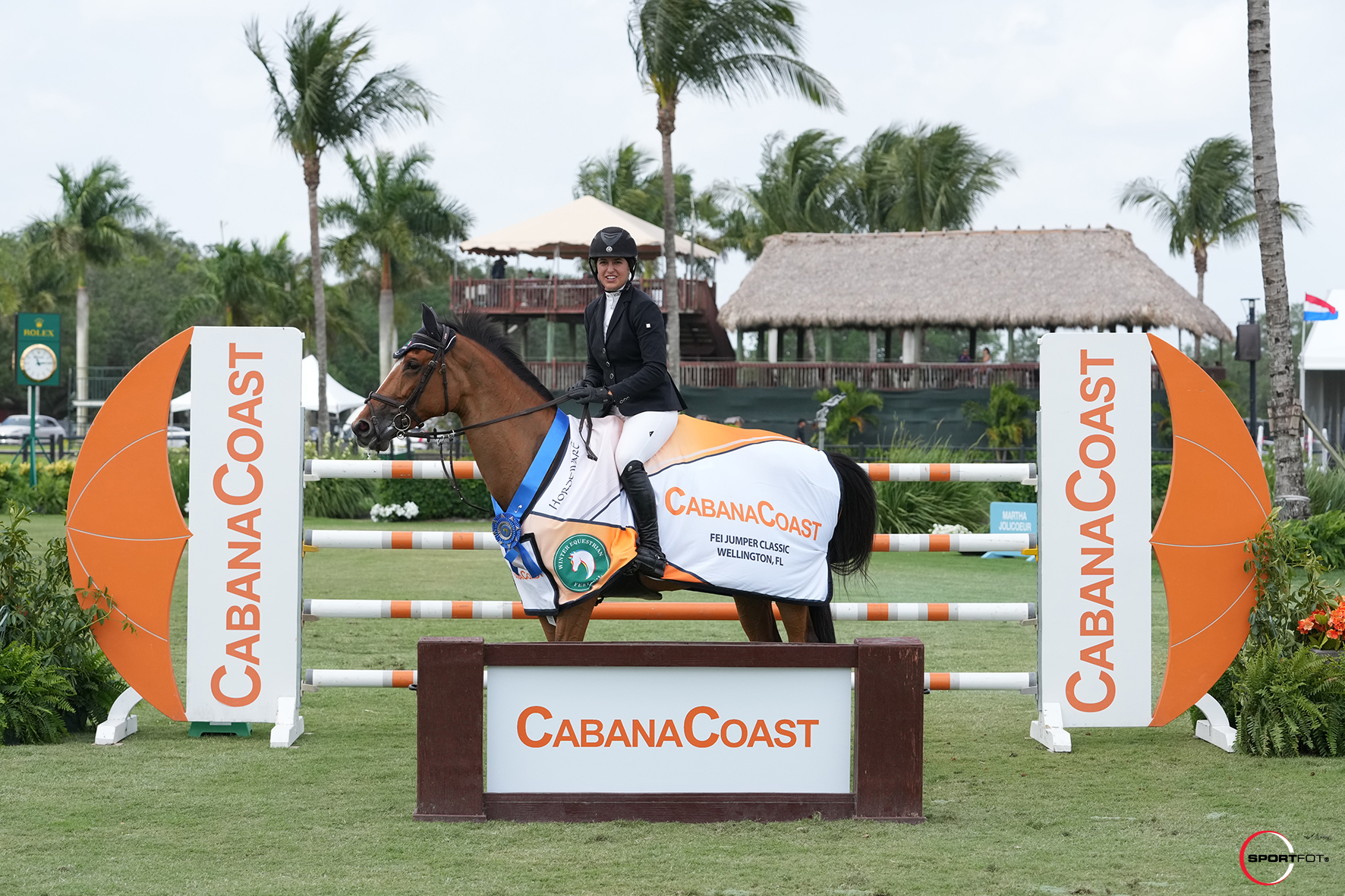 Course designer Guilherme Jorge (BRA) along with assistant course designer Mauricio Garcia (PUR) set a winding track across the expansive Derby Field for 66 starting combinations, representing 16 nations. The time allowed of 69 seconds proved to be a non-issue, with several quick turns interspersed with longer gallops providing plenty of opportunity for efficiency and speed.
Luis Fernando Larrazabal (VEN) was fifth in the order and crossed the timers in 55.31 seconds with Calle Quinn (Calmando 3 x Quintero), owned by Ana Holguin. Larrazabal's time looked like it would be the winning ride, until 52 trips later when Langmeier and Bahira S demonstrated an even faster gear to finish three and a half seconds ahead. Second to last on course, Luciana Christina Guimaraes Lossio (BRA) and her own Lady Louise Jmen gave it a good shot, stopping the clock in 54.73 seconds for second place. Larrazabal slotted into third.
"Today's goal with her was to go in there and try to win," noted Langmeier. "I just wanted to be mindful of the right turns in the course because they're a little bit harder for me with her. Anywhere there's a right turn and I'm going fast, I'm always a little bit pre-planning where I want to be on the landing with her."
Bahira S was previously owned by Chile's Samuel Parot, and Abigail McArdle, who now rides with Parot and previously rode for Henri and Katie Prudent of Plain Bay Farm, showed her in a few classes as well. That caught the eye of the Prudents, who thought it would be a good match for Langmeier. Rafferty Farm LLC purchased the 12-year-old Oldenburg by Balou du Rouet, and Langmeier has had the ride since, coming up on a year.
"She's really hot and careful, so doing speed classes with her is kind of her little niche," said Langmeier. "When I first started riding her, I was a little surprised by just how hot she is. She has a lot of blood, so she sometimes gets a little overpowering, but she's really fun to ride."
Though Langmeier rode Bahira S on the grass for the $25,000 CP National Grand Prix during WEF week 6, they otherwise haven't had a lot of experience with turf arenas.
"It's great to be able to come out here and kind of let her loose on the grass. Just changing up the scenery with her is always best to keep her sharp and always interested," explained Langmeier.
Bahira S might be in for another switch up this week, as Langmeier and her team are undecided if they will finish the week in the $50,000 CabanaCoast Grand Prix CSI2* or return to the International Arena on the WEF show grounds for the $50,000 CaptiveOne Advisors National Grand Prix. In either case, Langmeier feels that both challenges would be an exciting way to end their 2022 WEF season.
"It's really nice to step her up the last week and do some of the bigger classes to set her up for the summer. I just have to thank everyone at Plain Bay, Rafferty Farm, and Kelianda Farm for making it all possible," she said.
Final Results: $12,000 CabanaCoast 1.45m CSI2*
1. BAHIRA S: 2010 Oldenburg mare by Balou du Rouet
MCKAYLA LANGMEIER (USA), Rafferty Farm LLC: 0/51.80
2. LADY LOUISE JMEN: 2010 Brazilian Sport Horse mare
LUCIANA CHRISTINA GUIMARAES LOSSIO (BRA), Luciana Christina Guimaraes Lossio: 0/54.73
3. CALLE QUINN: 2011 Holsteiner gelding by Calmando 3 x Quintero
LUIS FERNANDO LARRAZABAL (VEN), Ana Holguin: 0/55.31
4. LA INDIA CONTAXANNA: 2011 mare
FERNANDO COMUNE (ARG), Fernando Comune: 0/58.35
5. ILEX: 2013 KWPN gelding by Baltic VDL x Chin Chin
FABIO LEIVAS DA COSTA (BRA), Bonne Chance Farm LLC: 0/59.51
6. BILLY DE BEAUFOUR: 2011 Selle Français gelding by Allegreto x Diamant de Semilly
HANNAH SELLECK (USA), Luja LLC: 0/59.59
7. MAESTRO VAN HET BINNENVELD: 2012 Belgian Warmbood stallion by Hunter's Scendix x Conan Z
WESLEY NEWLANDS (CAN), Weslands Farms: 0/59.68
8. HOLLERNO: 2012 KWPN gelding by Baltic VDL x Ahorn
PETER LUTZ (USA), Lutz/Manfredi Show Jumping & LMW Sporthorses: 0/60.55
9. SANTA ROSA COLDPLAY: 2010 Oldenburg gelding by Centadel x Quintessence Z
DANIEL PEDRAZA LITTLEWOOD (MEX), Daniel Pedraza Littlewood: 0/60.74
10. EXQUISE DU PACHIS: 2010 Selle Français mare by Vagabond de la Pomme x Ogano Sitte
ZAYNA RIZVI (USA), Optimus Agro NV: 0/61.07
11. MANHATTAN VAN'T LEEUWERIKENHOF: 2012 Belgian Warmbood gelding by Emerald Van 't Ruytershof x Kashmir Van Schuttershof
FILIP DE WANDEL (BEL), Five Way Farm LLC: 0/61.69
12. BENEFICIAL: 2012 Oldenburg mare by Banderas
ALICIA GADBAN-LEWIS (CAN), Alicia Gadban-Lewis: 0/61.74
---
This Post Brought to You by: 
Taylor, Harris Insurance Services
Taylor, Harris Insurance Services (THIS) was founded in 1987 to provide specialized insurance for all types of equine risk.We place our policies with the highest rated and most secure carriers, meticulously selected for reliability and prompt claims settlement. We are proud of our worldwide reputation for responsive and courteous service, and we welcome the opportunity to discuss your equine insurance needs and provide you with a quote.
Access to multiple underwriters
Leader in the U.S. and European markets
Customized policies provide you with a choice
Trusted advisors in the equestrian industry
Direct access to insurance professionals
Policies that cover every breed and discipline across all 50 United States