By Emily Randolph/Randolph PR
Katy, TX – Jacqueline Ruyle and Cyramo Z zoomed to victory in the $50,000 Hildebrand Fund Grand Prix on Saturday, April 2, at the Pin Oak Charity Horse Show in Katy, TX.
With a $10,000 Welcome Stake win already under her belt during Week I, Ruyle returned to the Porter Hedges Main Ring at the Great Southwest Equestrian Center to secure the first Pin Oak grand prix win of her career.
A field of 28 entries contested the first-round course built by Portugal's Bernardo Costa Cabral, with five horses qualifying to jump-off in the Saturday night featured class.
"I knew that 21 had gone clear in the previous grand prix, so I was expecting it to be much tougher [tonight]!" said Ruyle, referencing Thursday's $25,000 EPIC Sporthorses Grand Prix. "I walked the course, and it was definitely much tougher. The jumps were a little bigger, a little wider, and a lot of the lines were set on a half-stride, so I knew I had to focus and pay attention and get things done. Riding the course, it definitely felt that way. I had to fight for some of the decisions to make it happen. It didn't always flow easily, but at the end of the day, it was a really nice course. I enjoyed the challenge; I liked the technicality, and I think [Bernardo] did a really good job."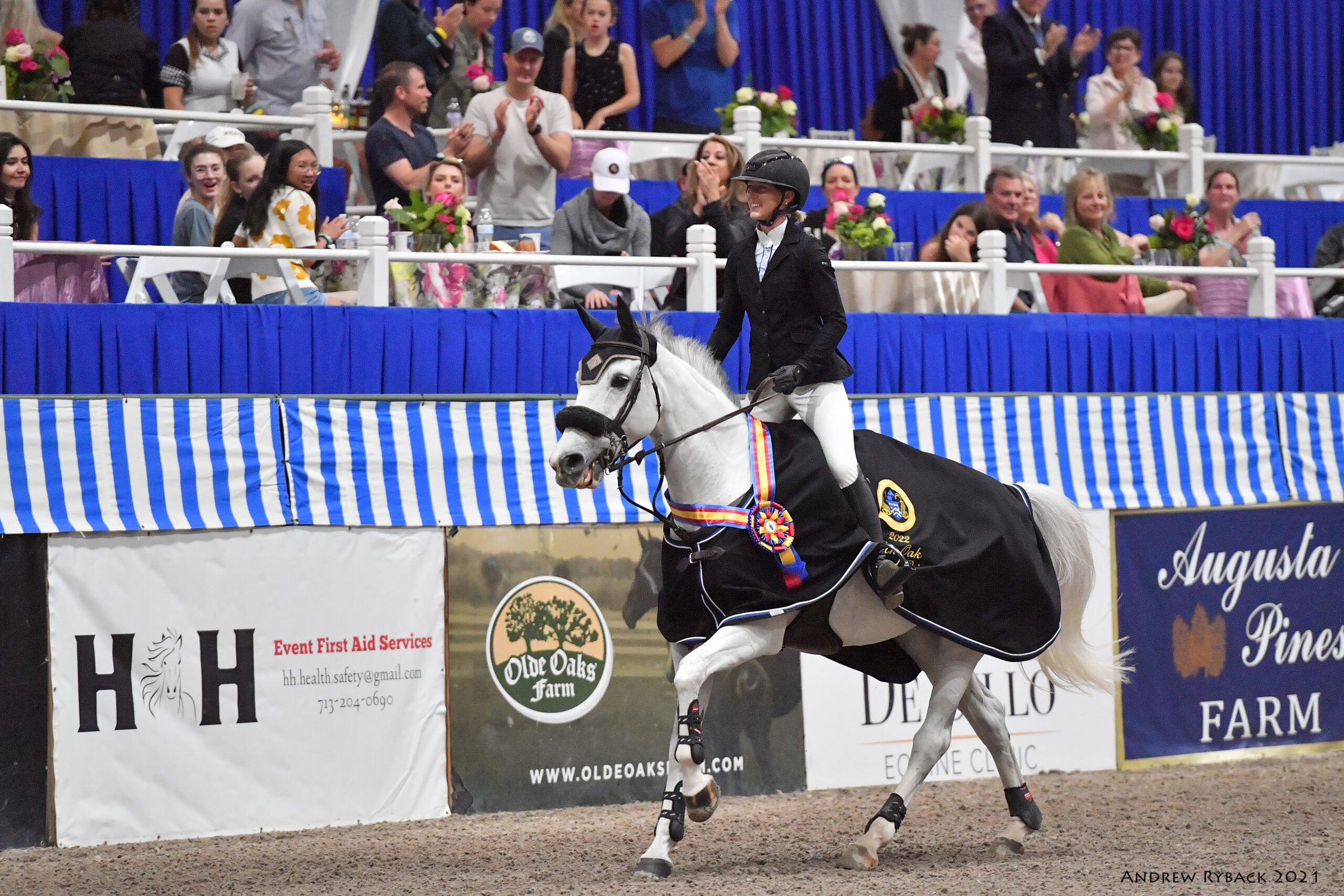 For the five riders that qualified for the jump-off, it came down to a lightning-fast race against the clock.
Martien van der Hoeven and Navaro van't Verahof, owned by Maarten Huygens, were the first pair to return, and they set the time to beat at 37.784 seconds, which looked like it would be difficult to catch. Two trips later, however, Ruyle and Cyramo Z kicked it into high gear, flying through the second half of the course to stop the clock in a winning 36.266 seconds.
"It feels amazing [to get the win]," said Ruyle, 28, who has been competing at Pin Oak for over a decade. "That's my gray mare's first grand prix win, so I'm so proud of her, and it's my first Pin Oak grand prix win, so it's been really cool. My parents were here tonight; it's tough for them to come all of the time because they're busy and a lot of the time the shows are out of town. So, the Katy shows are really the shows that they can be here and watch. It was so awesome to have them in the crowd to watch my first win on her, and I think that's the first grand prix win that they've seen, so it was awesome!"
Ruyle, who trains with Bedoya Training Stables, has been partnered with Cyramo Z, an 11-year-old Zangersheide mare for several years, and the pair has been consistently knocking on the door of a grand prix victory.
"She's fast as fast can be," said Ruyle. "She's so fun to ride. In the warm-up ring, she's tough, because I have to kick and kick and kick, and she's so slow and doesn't want to go. Then I come in the ring, and she's so fast that I can't slow down. She takes me for a ride, but you just hang on and relax and let her take you. You have the ride of your life!"
Second place went to Rachel Lindsey, who returned for the jump-off immediately following Ruyle and crossed the finish in 37.513 seconds. Van der Hoeven's time would hold up for third place, while fourth place went to Nicolas Gamboa and Champions League, owned by Maddee Morley. Rounding out the top five were Savannah Hemby and Juju VDM.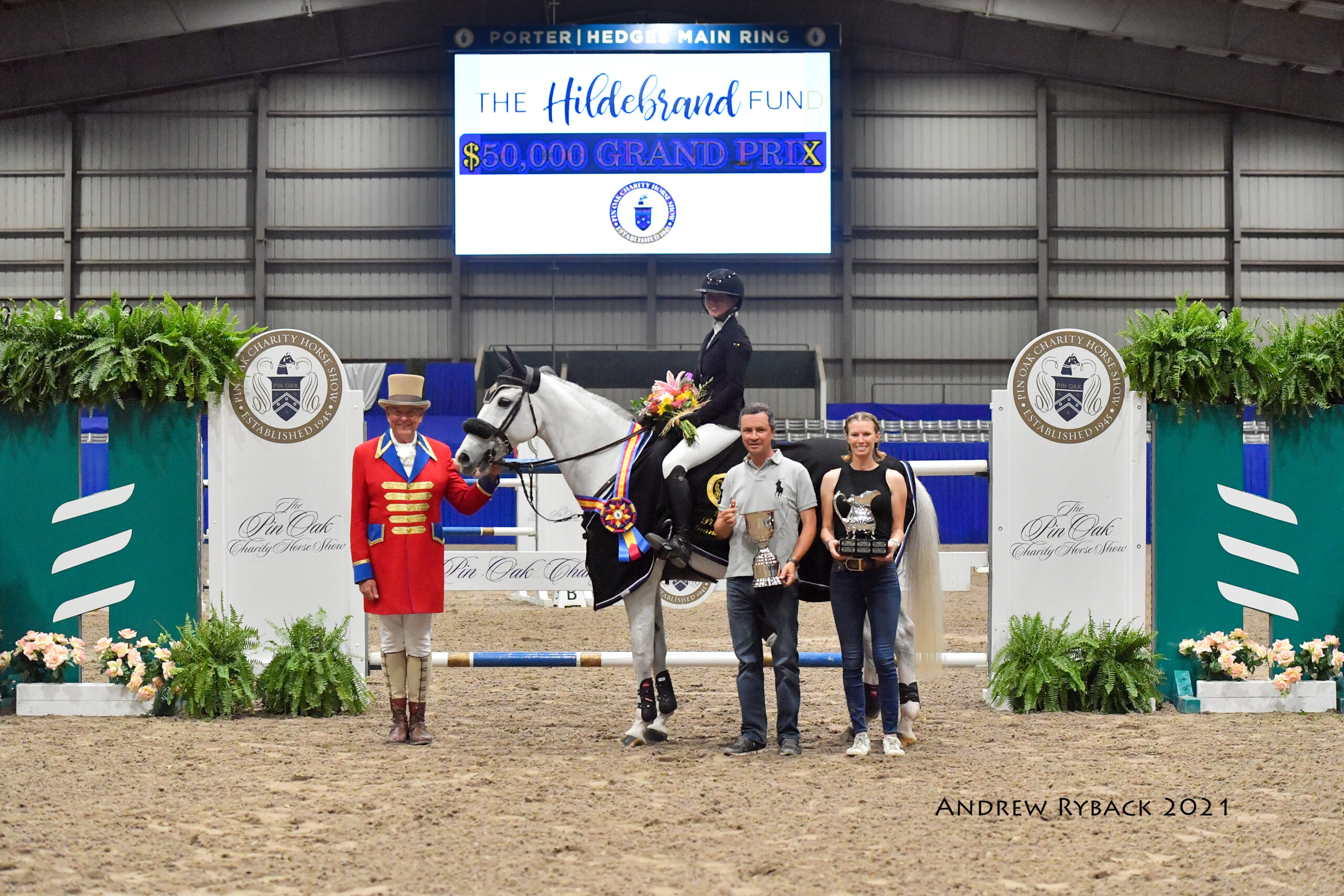 ---
This Post Brought to You by:
Taylor, Harris Insurance Services
Taylor, Harris Insurance Services (THIS) was founded in 1987 to provide specialized insurance for all types of equine risk.We place our policies with the highest rated and most secure carriers, meticulously selected for reliability and prompt claims settlement. We are proud of our worldwide reputation for responsive and courteous service, and we welcome the opportunity to discuss your equine insurance needs and provide you with a quote.
Access to multiple underwriters
Leader in the U.S. and European markets
Customized policies provide you with a choice
Trusted advisors in the equestrian industry
Direct access to insurance professionals
Policies that cover every breed and discipline across all 50 United States