By Jennifer Wood and Sabrina Schmidt for Jennifer Wood Media, Inc.
Julia Weiss, of Amagansett, NY, and her own Catena 5 reigned supreme on Saturday in the Amateur-Owner Hunters 3'3" 18-35, sponsored by Adequan at WEF 12.
The division took place in the E.R. Mische Grand Hunter Ring over two days and saw 18 horse-and-rider teams compete in four over fences classes and an under saddle.
Weiss and Catena 5, a 12-year-old Holsteiner mare, posted the top score over fences each day with a 90 in the handy on Friday and a 91 on Saturday. They also won the under saddle and received a second place over fences to end on a total of 36 points for the championship.
"[Today] felt awesome," said Weiss. "She had a little bit of a vacation, so we just started her up a couple weeks ago in this division. Every week it's been noticeably better, so it just kind of felt like everything came together."
The pair have been working together for a few years but have switched competition rings.
"I've had her a little over three years," said Weiss of the grey mare. "I tell everyone she started out as my medium amateur jumper, and then she was too slow, so we did her in the hunters and she was amazing. She took me through indoors last year."
The change in discipline is a serendipitous story. "I missed my jumper class one horse show," said Weiss. "I had to do the amateur hunters instead because I didn't make it because of work. She was really good and won out of 36 entries, so we made it a thing!"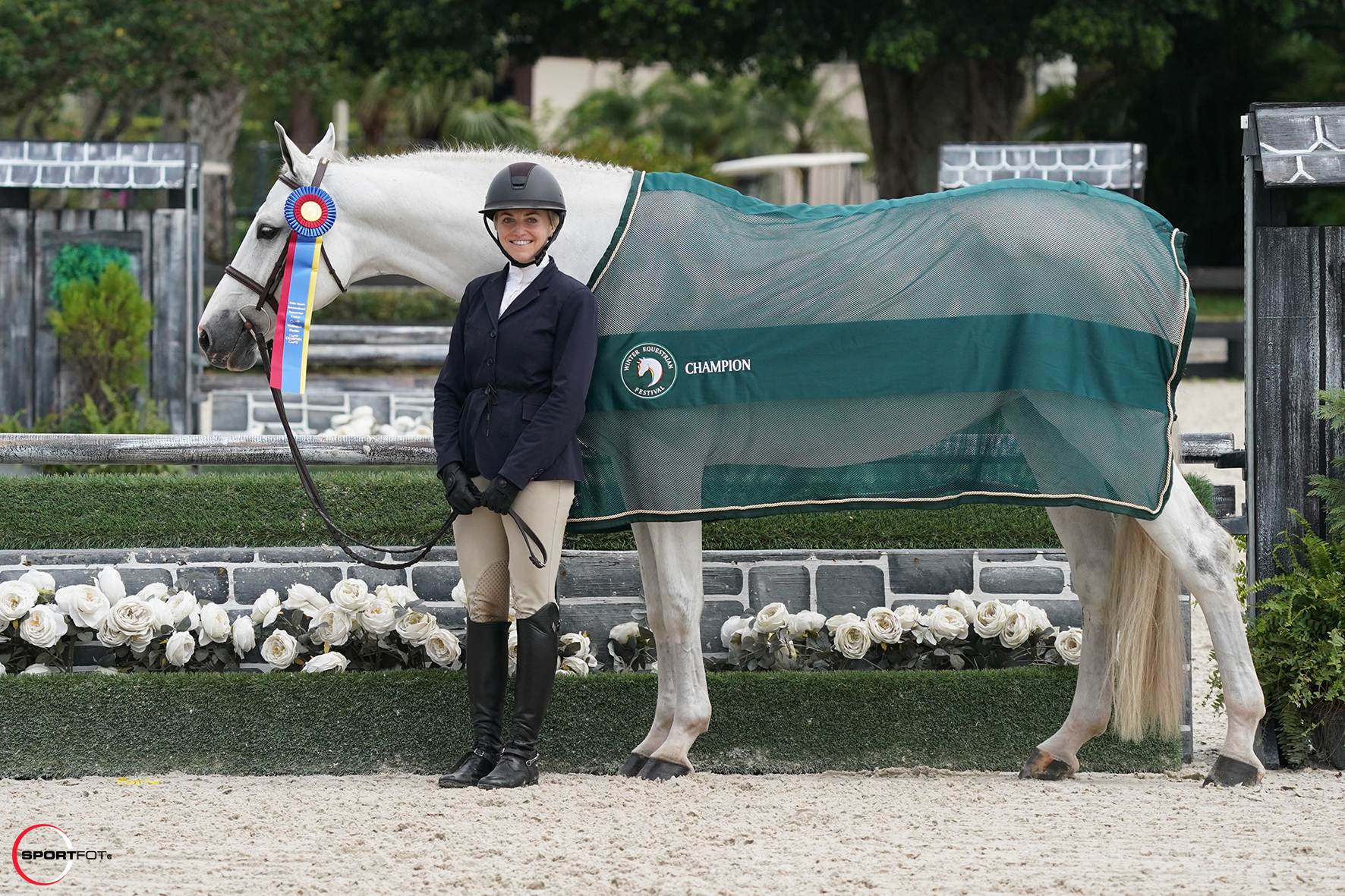 Weiss still enjoys showing in the jumpers but has found the right ring for her mare as evidenced by their recent success.
"She was champion at Washington [International Horse Show], and she got a couple high scores [in the] 80s and 90s at the National [Horse Show] so she doesn't need to prove anything," continued Weiss.
While Weiss was focusing on the jumpers during the beginning of the circuit, she felt the time was right for Catena 5 to return to the hunter ring. "I was actually supposed to do the 3'6" this weekend but we thought it was going to rain during it. I'm not mad about it!"
Weiss added, "It's a really nice way to end the circuit."
Reserve champion in the division went to Quest, owned and ridden by Stephanie Danhakl, of Pacific Palisades, CA. The pair won two of their over fences classes and were third in the under saddle to end on 24.5 points.
---
This Post Brought to You by: 
Taylor, Harris Insurance Services
Taylor, Harris Insurance Services (THIS) was founded in 1987 to provide specialized insurance for all types of equine risk.We place our policies with the highest rated and most secure carriers, meticulously selected for reliability and prompt claims settlement. We are proud of our worldwide reputation for responsive and courteous service, and we welcome the opportunity to discuss your equine insurance needs and provide you with a quote.
Access to multiple underwriters
Leader in the U.S. and European markets
Customized policies provide you with a choice
Trusted advisors in the equestrian industry
Direct access to insurance professionals
Policies that cover every breed and discipline across all 50 United States