By Emily Randolph/Randolph PR
Katy, TX – Savannah Hemby and Juju VDM bested an 18-horse jump-off to win the $25,000 EPIC Sporthorses Grand Prix on Thursday, March 31, at the Pin Oak Charity Horse Show in Katy, TX.
With 21 total entries qualifying to jump-off over the track set by course designer Bernardo Costa Cabral (POR) – and with only three entries electing not to return – the class came down to a heated race against the clock.
When Hemby returned to the Porter Hedges Main Ring at the Great Southwest Equestrian Center, the jump-off time to beat had been set at 33.595 seconds by Shawn Casady and RMF Chacco Top, owned by Ashland Farms. While 15 others had already tried, only two had come within a second of catching Casady's clear time; Hemby however, made short work of it.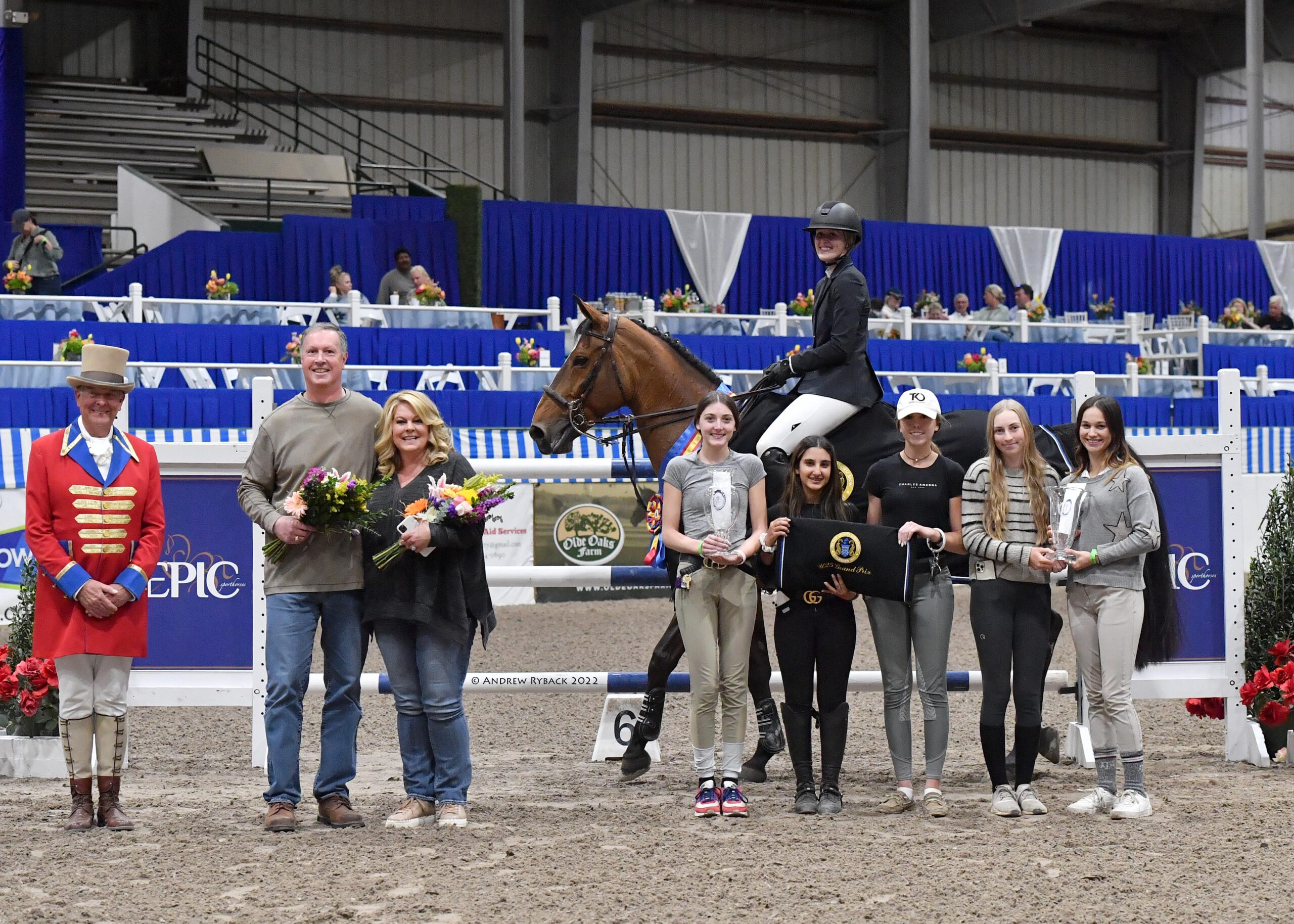 The 20-year-old from Flower Mound, TX, and her own Juju VDM flew across the finish in 31.750 seconds to take the win, relegating Casady and RMF Chacco Top to the second-place honor. Third place with a time of 33.743 seconds went to Nicolas Gamboa and NKH Mr. Darcy, owned by NKH LLC, and fourth place went to Martien van der Hoeven, who stopped the clock in 34.122 seconds riding Morris Horta for owner Luccirelli International LLC.
"I was quite nervous!" said Hemby, who trains with Matt Cyphert of Woodhill Farm. "This was the biggest jump-off that I'd ever been in, so I just knew I had to be quick and smooth as my trainer Matt says, and we did just that. On my way to jump four, I knew if I caught it well, I could leave the stride out and do four instead of five like it was in the first round. I caught it just right and trusted in my horse, and we got the four done.
"I've never won a grand prix before so this is my first one," continued Hemby, who has been competing at the Pin Oak Charity Horse Show for 10 years. "It feels amazing to have won here. I haven't been partnered with my horse very long, and she's placed at every grand prix here [at Pin Oak]."
Hemby acquired the 13-year-old warmblood mare, Juju VDM, in August of 2021, and together they stepped right into competing at the grand-prix level.
"She's great; she's always going to try her hardest, which gives me a great level of confidence going into the ring," said Hemby, a senior at Baylor University in Waco, TX. "She just loves her job. She's always going to give her heart out and jump great. I know I can count on her for that."
When Hemby is not competing aboard Juju VDM, she is also a member of Baylor's National Collegiate Equestrian Assocation (NCEA) equestrian team.
"It's been a little difficult balancing the equestrian team and my own riding, so I don't get to ride at home much, and I don't get to show as often," explained Hemby. "I have a great team behind me, Matt and Audrey [Norrell] of Woodhill. I can always count on them to have my horse ready, and I know I just have to show up and give my best.
"I just want to say thank you to the facility for putting on such a great show; it's always such a privilege to be here," concluded Hemby.
For full results of Thursday's $25,000 EPIC Sporthorses Grand Prix, click here.
---
This Post Brought to You by: 
Taylor, Harris Insurance Services
Taylor, Harris Insurance Services (THIS) was founded in 1987 to provide specialized insurance for all types of equine risk.We place our policies with the highest rated and most secure carriers, meticulously selected for reliability and prompt claims settlement. We are proud of our worldwide reputation for responsive and courteous service, and we welcome the opportunity to discuss your equine insurance needs and provide you with a quote.
Access to multiple underwriters
Leader in the U.S. and European markets
Customized policies provide you with a choice
Trusted advisors in the equestrian industry
Direct access to insurance professionals
Policies that cover every breed and discipline across all 50 United States