By Amanda Picciotto Feitosa for Jennifer Wood Media, Inc.
Wellington, FL – April 3, 2022 – While CDI competition for the Adequan® Global Dressage Festival (AGDF) concluded last week, March 27, AGDF celebrated its official final week with exciting national competition on Friday, April 1, to Sunday, April 3. On Friday, Ellesse Gundersen (PHI) and Quintessential strutted to the top of the FEI Prix St. Georges test, and Kevin Kohmann (USA) was victorious with Five Star in the FEI Intermediate II test.
Friday's win marks Quintessential's first blue ribbon. While the eight-year-old has earned some other big scores this season, his 69.264% in the FEI Prix St. Georges class was enough to come out ahead of the 13-horse field.
"We spent a few weeks at the beginning of the circuit just coming to school, and he started off pretty nervous and sharp. Over time, that tension became less and less, and he became more and more relaxed and comfortable," explained Gundersen. "It's one of the many, many great things about the AGDF circuit, that we are able to come back to the same show every week. It's a big atmosphere, but it's a really great opportunity for the horses to learn how to be a show horse and feel really confident in the show life and going to do that job."
She continued, "Once we did start showing, it showed in the scores and results how quickly he was progressing. We didn't expect it to happen this fast, but he's really coming out of his shell."
Quintessential is a homebred by Quaterback that was born from Gundersen's mare, Corlette, that she competed in Young Riders with while training in Frankfurt, Germany. The first two babies from Corlette were sold, and "Q" is the last baby from her, making him even more special to Gundersen. Fortunately, Unicorn Landing LLC recognized the gelding's quality and helped secure him for Gundersen to ride.
"We've been a big part of Q's life from the beginning," shared Gundersen. "It was really fun to help with the whole process and be part of that. It's really cool to have ridden him as a three year old and just really see him develop and grow and to have gotten to spend so much time with him on the ground."
After a good school for the intelligent chestnut in the Van Kampen Arena on Thursday, Friday's test demonstrated how far Q and Gundersen have come together.
"He was a little sharp going around the outside, and I thought he might be a little spooky again, but he settled right into the test and did his job. He was really relaxed and beautiful. My mistake was actually because he was a little too relaxed, and I'm not quite used to that, because even at home he can be a little sensitive," said Gundersen.
While Gundersen is enjoying the learning process, there's already a lot to be excited about.
"He's really a horse that has a lot of highlights, like his expressive changes, beautiful half passes, and correct extended trot. We showed a lot of that in the test in a more relaxed vibe, which is what we've been more concerned with. It was nice to see that all our work has been really paying off, and when I can show more expression, the scores will only get higher," she added.
With such a bright start, Gundersen and Q will look to use their experience at AGDF as a springboard for the future.
"He's definitely one of, if not the nicest, horse I've ever sat on in my life," she concluded. "I have no doubt he will be an Olympic and championship horse, so I'm just grateful for every moment in the saddle I have with him."
Kevin Kohmann has had the ride on Five Star for two years. Last year they had an extremely successful season and won numerous classes, but this year Kohmann has kept Five Star under wraps to finish training for the grand prix level.
"He is the smartest horse I have ever worked with. He's such a gentleman that he's able to go in the ring both for me and his owner, Olga Hartsock," remarked Kohmann of the 12-year-old KWPN stallion by Amazing Sea x Jazz.
For Five Star's first appearance this year, Kohmann was pleased with their score of 70.587% in the FEI Intermediate II.
"The best thing about him is any of the big movements. He has amazing gaits," noted Kohmann. "I got a nine in the walk and in the canter on the entrance too, so I think the judges could really see his ability. Of course, he didn't feel like he does at home, but good enough for the first time back out."
From their performance this week, Kohmann feels prepared for the next step in Five Star's career.
"Our next show will be in the grand prix. The goal is to repeat what we did the year before in small tour, in the big tour," said Kohmann.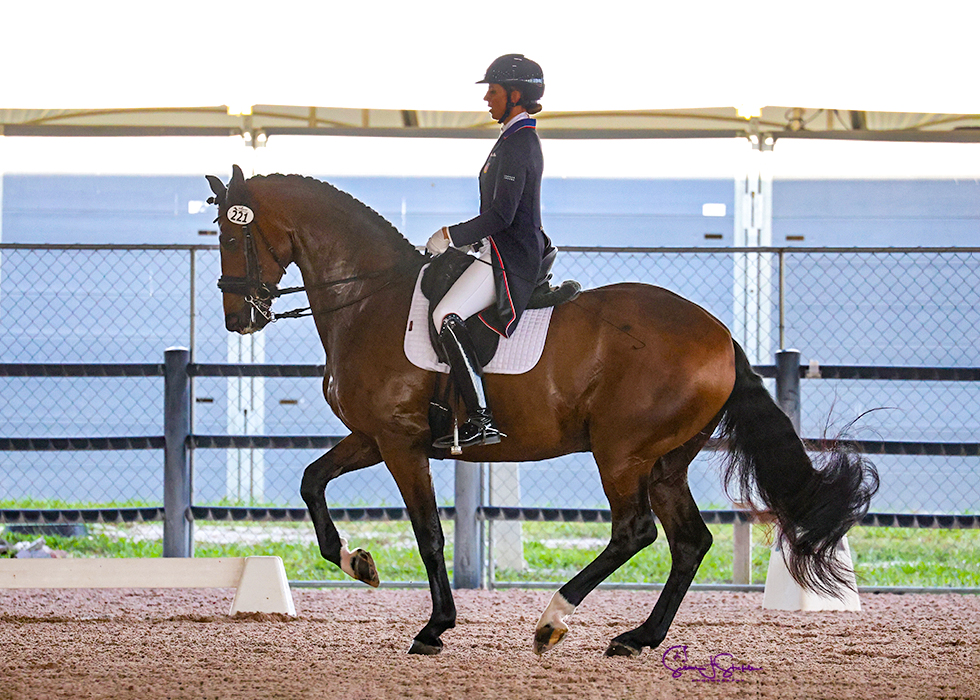 In Friday's FEI Grand Prix Class, Jennifer Williams (USA) piloted Quarterline (Quarterline x Sir Donnerhall I) to 71.032% to top the leaderboard of seven other competitors. Oded Shimoni's 12-year-old Oldenburg gelding's test got stronger as it went, scoring eights from both judges in the changes, as well as picking up eights in the pirouettes.
Second place went to Roxanne Christenson (USA), who rode her own San Sation, a 10-year-old Oldenburg gelding by San City x Baroncelli, to an overall percentage of 68.804%, scoring eights in the canter tour.
In Saturday's USEF Test of Choice class, Maia Gromadowski (POL) took the win for her USEF Training Level Test 3, earning 72.413% with her own Milena, a five-year-old Dutch Warmblood mare by Durango VDL. They had a consistent test, highlighted by their work on the circle.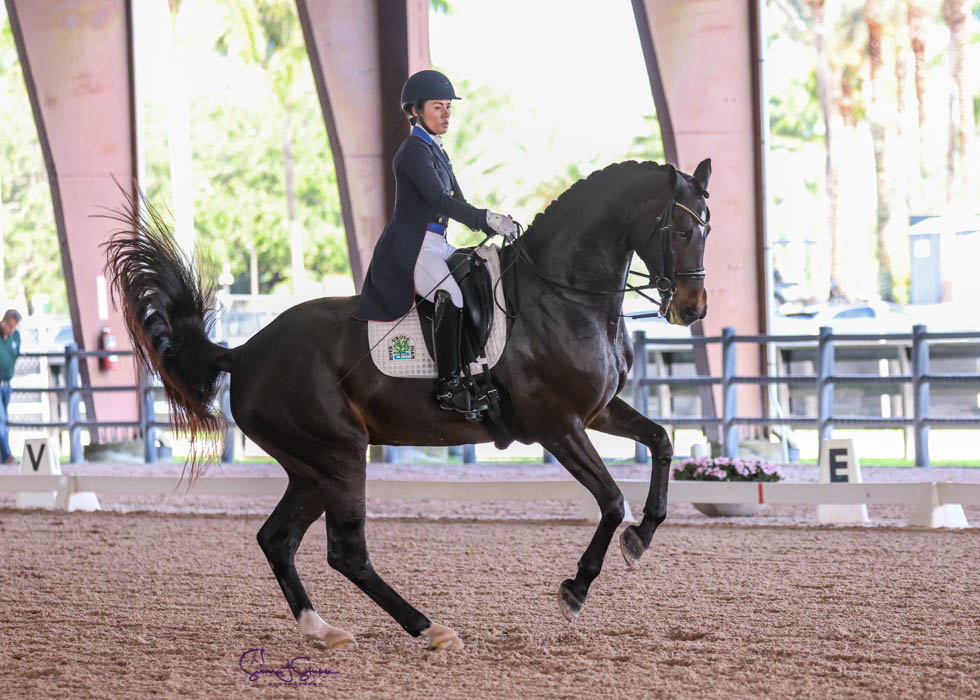 Sunday's FEI Intermediate II class saw Natalie Pai (USA) victorious with Melanie Pai's Utopie D'Ouilly (Quite Easy x Narcos II). Pai's test with the 14-year-old Selle Français mare was also one that improved throughout, notching several eights in the second half to finish just under 70% at 69.999%.
It was the second blue ribbon in as many days for Pai, who also was the winner of Saturday's FEI or Equivalent Test of Choice with Inspiration PF (nine-year-old KWPN gelding by Everdale x Calido I) for their USEF FEI Prix St. Georges test scoring 65.661%.
---
This Post Brought to You by: Purina
We Shape the Future of Health & Wellbeing for Pets & People. We're Committed To Pets, People And The Planet We All Share. Purina Cares. Innovation. Quality. Safety