Edited Press Release
Ring 11 on "Pony Island" started with the Small Green Pony Hunter division on the final day of WEF. Lilly Herzog of Cleveland, Ohio, piloted Bitcoin to wins under saddle and over fences with a score of 87, to just edge out J.J. Torano and Reagan Jarrett's Role Model for the championship title.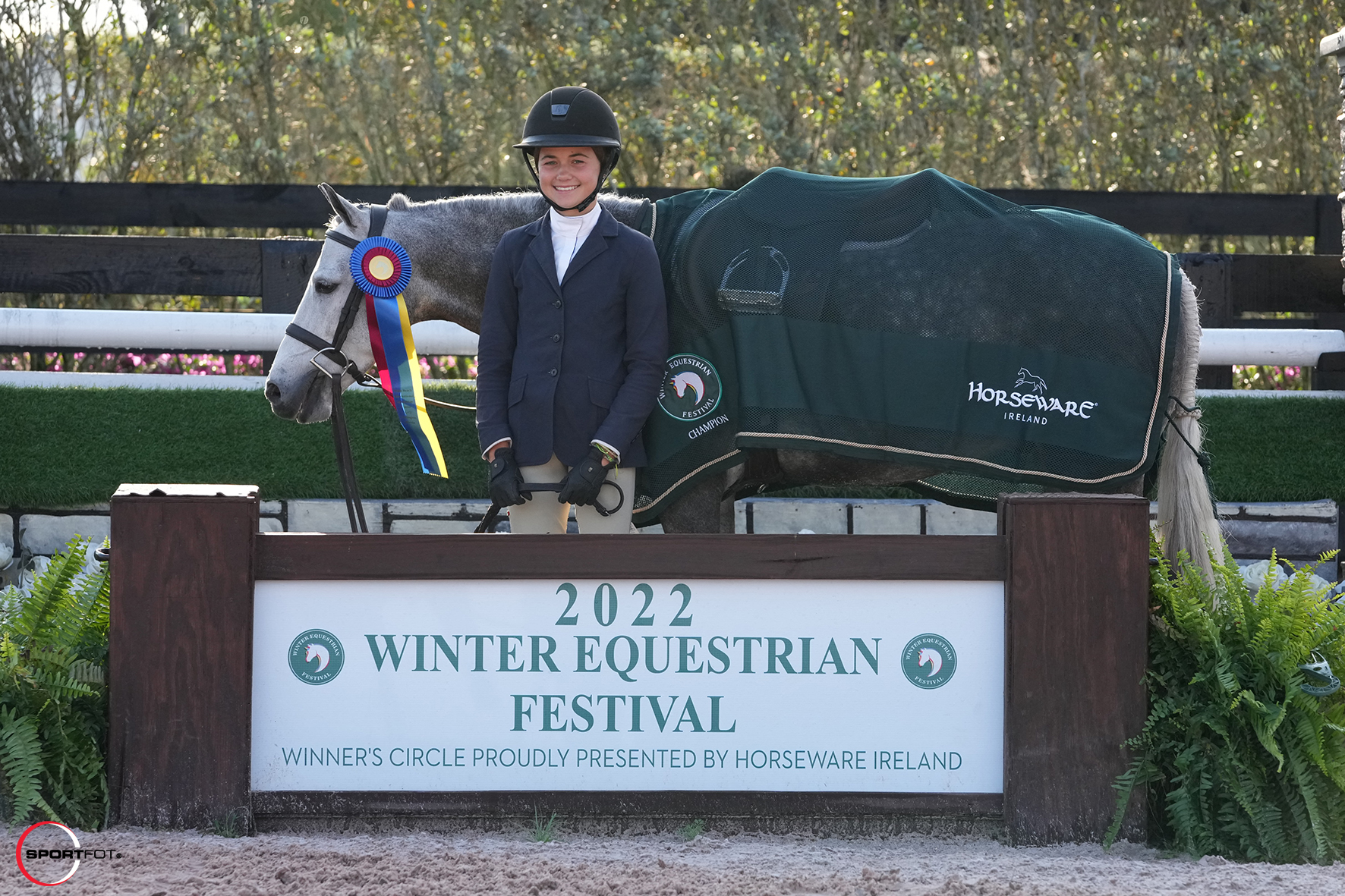 "He's so cool, and he's really fun to ride. He's just so smooth, and he has such a consistent rhythm," Herzog said of the seven-year-old Welsh Pony gelding.
At 12 years old, Herzog is in her final year of eligibility for the Small division. She hasn't shown in the Smalls for a couple years but came to Wellington this season hoping for one last opportunity. Herzog's trainer, Amanda Lyerly, knew Bitcoin's owner, Vivianne Kassin, and helped set up the catch ride for Herzog.
"We got to the barn to meet Bitcoin, and I knew we were looking for a grey pony, but we didn't really know what that entailed exactly, because there's different kinds of grey ponies," Herzog recalled. "Then 'Colby' walked in, and I was just like, 'Whoa, that's a really pretty pony!' and when they said, 'Oh, he's for you!' I was really excited."
The plan was for Herzog to give Colby experience in the ring, so Kassin's daughter, Katherine Babun, could start to take over the ride toward the end of the season. In this final week of WEF, Babun showed Colby for the first time in the Small Pony Hunter division.
"Katherine went in the ring yesterday, and just seeing all the work that she's done, and I've done, and even that Colby has done, pay off is really cool," reflected Herzog.
Even though Herzog has been showing Colby in the Green division, she explained that he's not your typical green pony. He's not spooky and doesn't miss any lead changes, so their biggest concern is that his unfamiliarity with the horse show rhythm leads to impromptu bathroom breaks.
"We found these Tummy Gummies that Equine Elixirs makes, and they help a lot," Herzog said with a laugh.
It's just one facet of the small up-and-coming star's enormous personality.
"He's very much a character. He's so good in the ring, but on the ground he's hysterical," described Herzog. "In the barn he's definitely the alpha, and he's kind of mean to the other horses around his stall, but in a funny way. On the ground he's pushy, but very sweet."
She continued, "He definitely likes peppermints. He works for the peppermints, so every time he comes out of the ring, he's searching for them."
Herzog is transitioning to riding mostly horses now, competing in the 3'3" Junior Hunters as well as the 3' and 3'3" junior equitation classes. Even so, her season with Bitcoin has been a highlight, finishing as Reserve Circuit Champion.
"I didn't really think coming into this circuit that I was going to have a small to finish off my last year in the division. Just to go out with my last year being so great in the smalls is awesome. It feels great to go out with a bang," expressed Herzog.
---
This Post Brought to You by: Purina
We Shape the Future of Health & Wellbeing for Pets & People. We're Committed To Pets, People And The Planet We All Share. Purina Cares. Innovation. Quality. Safety