Edited Press Release
Wellington, FL – April 3, 2022 – The final day of the 2022 Winter Equestrian Festival (WEF) concluded 13 weeks of competition on Sunday, April 3, with the last international jumper class of the circuit on the Derby Field at Equestrian Village as well as the closing classes across all divisions at Wellington International. Kelli Cruciotti Vanderveen (USA) emerged as the last international victor as she and Forever SFN won the $50,000 CabanaCoast Grand Prix CSI2*.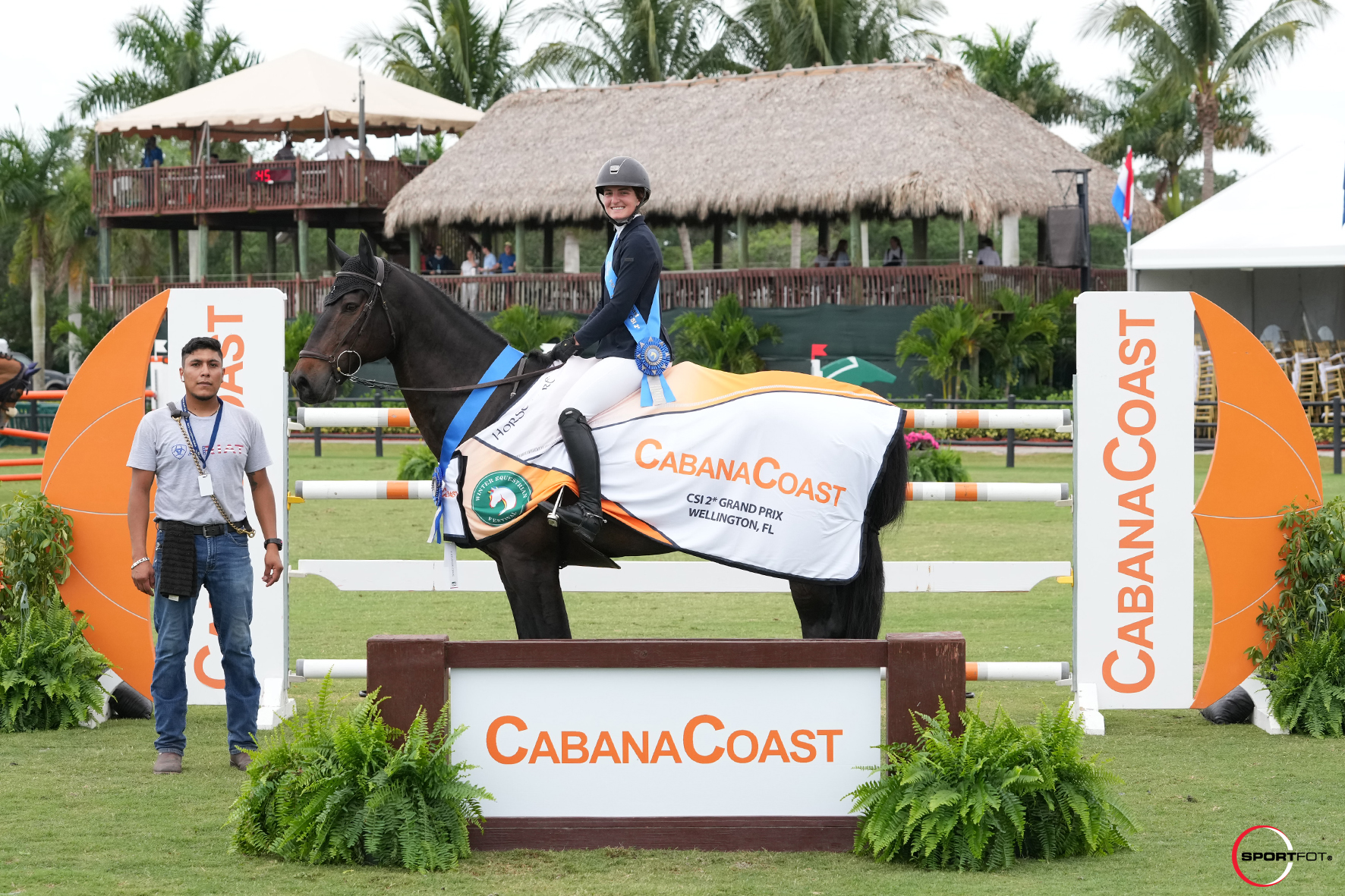 Guilherme Jorge (BRA) built one final challenging effort for the 45 two-star competitors in the class. He tested the entries with an early triple combination, but the efficient time allowed of 74 seconds was only the deciding factor for two duos. Thirteen more had their hopes dashed with the fault of a single downed obstacle. As the first round concluded, the returning line-up consisted of 11 representatives from four different nations prepared to battle it out over the jump-off track.
Crucioitti Vanderveen was the second to return for the short course and established the first clear round over the track with Springpaarden Fonds Nederland's 12-year-old KWPN gelding Forever SFN (Azteca VDL x Non Stop) in a time of 38.18 seconds. Five other horses would go clear over the track, but none would come close to the leader's blazing time.
"I don't know this horse very well as this is only our fifth class together," explained Cruciotti Vanderveen. "When I walked the course, I thought it was quite technical, and I knew the time allowed would be tight based on Friday's qualifier. I thought the first round actually rode quite well, and then I just stuck to the plan I had made for the jump-off. I think where we ended up having the better time was our approach down to the final fence. I'm not sure how many strides I ended up doing but it felt quite fast."
Cruciotti Vanderveen admitted the win was extra special for her after having to take a hiatus from international competition due to the retirement of her previous top mount.
"It is really special for me not only to be showing at WEF in FEI classes again but also to be able to win here at the end of the season," added Cruciotti Vanderveen. "It's hard to put into words how incredible this moment is, and I feel grateful to ride alongside such amazing combinations every day."
Fabio Leivas Da Costa (BRA) and Bonne Chance Farm LLC's Ilex put in another top effort to take second place in the class. Da Costa skillfully navigated the nine-year-old KWPN gelding (Baltic VDL x Chin Chin) through each obstacle but fell still two seconds shy of Cruciotti Vanderveen's top time to finish in 40.14 seconds. The USA landed in both the first and third positions as Katherine Dinan galloped into third place with Dijon Terdoorn Z. Dinan piloted the Grant Road Partners LLC's 11-year-old Zangersheide gelding (Diamant De Semilly x Lord Z) to a final time of 40.19 seconds just behind Da Costa.
Final Results: $50,000 CabanaCoast Grand Prix CSI2*
1. FOREVER SFN: 2010 KWPN gelding by Azteca VDL x Non Stop
KELLI CRUCIOTTI VANDERVEEN (USA), Springpaarden Fonds Nederland: 0/0/38.18
2. ILEX: 2013 KWPN gelding by Baltic VDL x Chin Chin
FABIO LEIVAS DA COSTA (BRA), Bonne Chance Farm LLC: 0/0/40.14
3. DIJON TERDOORN Z: 2011 Zangersheide gelding by Diamant De Semilly x Lord Z
KATHERINE DINAN (USA), Grant Road Partners LLC: 0/0/40.19
4. IMPOSSIBLE DREAM: 2013 KWPN gelding by Cardento 933 x Peter Pan
KELLY ARANI (USA), Marigot Bay Farm, LLC: 0/0/40.99
5. TAJ MAHAL: 2013 Zangersheide stallion by Emerald Van't Ruytershof x Quannan R
CIAN O'CONNOR (IRL), Coolmore Show Jumping: 0/0/41.37
6. LAZZARO DELLE SCHIAVE: 2009 Italian Sport Horse gelding by Acodetto 2 x Gluecksgriff
TOM WACHMAN (IRL), Coolmore Show Jumping: 0/4/38.39
7. LADY LOUISE JMEN: 2010 mare
LUCIANA CHRISTINA GUIMARAES LOSSIO (BRA), Luciana Guimaraes Lossio: 0/4/38.75
8. IDEAL: 2012 Swedish Warmblood gelding by Cardento 933 x Cortez
TANNER KOROTKIN (USA), Castlewood Farm Inc and Sandalwood Farm: 0/4/40.37
9. COQUELICOT VH HEUVELLAND Z: 2012 Zangersheide stallion by Catoki x Cassini II
SEAN JOBIN (CAN), Foxridge Farms Stables: 0/4/41.02
10. ELCO VAN HOF TER NAILLEN: 2010 SBS gelding by Elvis Ter Putte x Toulon
SARA TINDALE (CAN), Tindale Farms: 0/4/42.47
11. SUPER CHILLED: 2008 Irish Sport Horse gelding by Gelvin Clover
JONATHAN CORRIGAN (IRL), Debra Wycoff: 0/70.53
12. IKIGAI: 2013 KWPN stallion by Elvis Ter Putte x Iroko
ALEX MATZ (USA), 5 Star Partners: 1/74.01
---
This Post Brought to You by:
Taylor, Harris Insurance Services
Taylor, Harris Insurance Services (THIS) was founded in 1987 to provide specialized insurance for all types of equine risk.We place our policies with the highest rated and most secure carriers, meticulously selected for reliability and prompt claims settlement. We are proud of our worldwide reputation for responsive and courteous service, and we welcome the opportunity to discuss your equine insurance needs and provide you with a quote.
Access to multiple underwriters
Leader in the U.S. and European markets
Customized policies provide you with a choice
Trusted advisors in the equestrian industry
Direct access to insurance professionals
Policies that cover every breed and discipline across all 50 United States