By Sarah Madden for TIEC
April 1, 2022 – Wailea, Jenn Meth's 2014 Dutch Warmblood mare (El Primero x Verlina), competed in just her second $2,500 USHJA National Hunter Derby on Friday, taking top honors to secure the first such title of the 2022 TIEC competition season. Piloted by Megan Rosenthal (Charlotte, NC), the duo scored a 90 in the handy round to add to their classic score of 86 in order to earn 176 points and the win from a field of 21 trips. Ashley Hurteau (Charlotte, NC) and her own mount So Be It, the 2012 Latvian Warmblood gelding (Wilsson x Santana), scored 173 over two rounds for reserve, while third place went to Gigi Phillips (Charlotte, NC) aboard Thunderbird, her own 2014 Westphalian gelding (Cornet Session x Thousend Dollar), after their 171-point performance.
"She was so good today!" Rosenthal gushed after the class. "She's a pretty new import for us and she just started in the 3' Greens this year. She also just started doing the National Derbies, this is actually her second one," Rosenthal revealed. "She did one in Raleigh where she placed second, and now she's come out on top! Her mom, an amateur who rides with us, is really happy with her."
Rosenthal took calculated risks with her mount, knowing that the shadows could play a role in how Wailea interpreted the course set by Skip Bailey (Wellington, FL). "The first round was fairly straightforward. I think the trickiest part, especially riding a young horse, was having the class go in the early morning and having that sun glare on the fences going back toward the gate, but this little mare didn't seem to mind too much."
She continued, "It was a lot of fun to have the ring dressed up, and with options in the Handy round. I think it really let the horses and riders play to their strengths, and gave an opportunity to show where you could be a little handier and tidier. I definitely tried to balance risk versus reward," Rosenthal emphasized. "You never want to show [a young horse] what they can't do, but at the same time, she's always so game and so brave. It was a lot of fun!"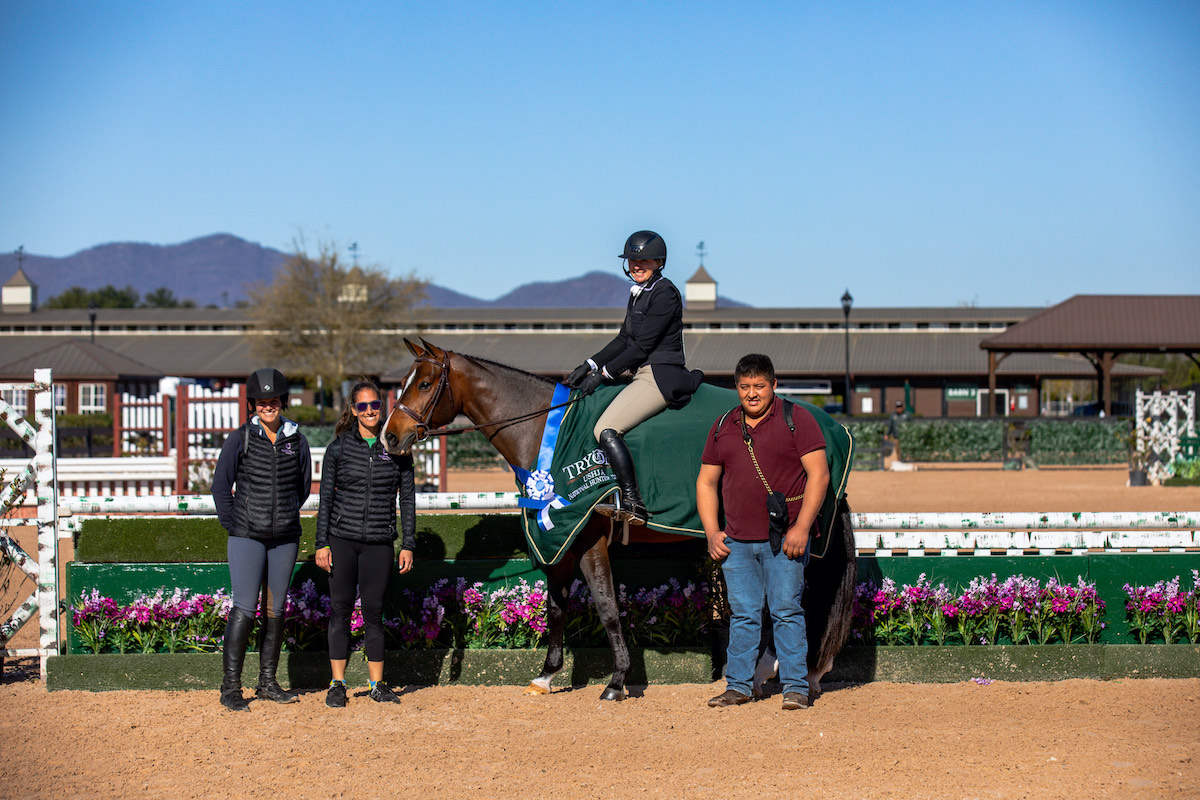 Megan Rosenthal, Wailea and team in their presentation ceremony.
©TIEC
Rosenthal and team enjoy the convenient commute to TIEC, she reported. "This week has been great! We've missed it here. We're only about an hour and a half drive from here so it's always nice. The people love it, and the horses go great. It's been a good week so far and we had so much fun this morning!" she concluded. "We had three horses from our barn compete in the derby, and all three made the handy round, so we all got to warm up and compete together. It was a really proud trainer moment. Everyone rode great, and it was a lot of fun!"
For full results from the $2,500 USHJA National Hunter Derby, click here.
---
This Post Brought to You by: Purina
We Shape the Future of Health & Wellbeing for Pets & People. We're Committed To Pets, People And The Planet We All Share. Purina Cares. Innovation. Quality. Safety