Edited Press Release
Wellington, FL – April 9, 2022 – The first week of the 2022 ESP Spring Series is underway, and a number of hunter and equitation entries have already made quick work of the classes available to them, riding to the top of the leaderboard to accrue blue ribbons. Besting a field of 25 combinations on Friday, Geoffrey Hesslink of Shelbourne, VT, and Little Brook LLC's Chivalry jumped to a dominating victory in the $10,000 USHJA National Hunter Derby, presented by Score At The Top, to kick off the ESP Spring Series on a high note.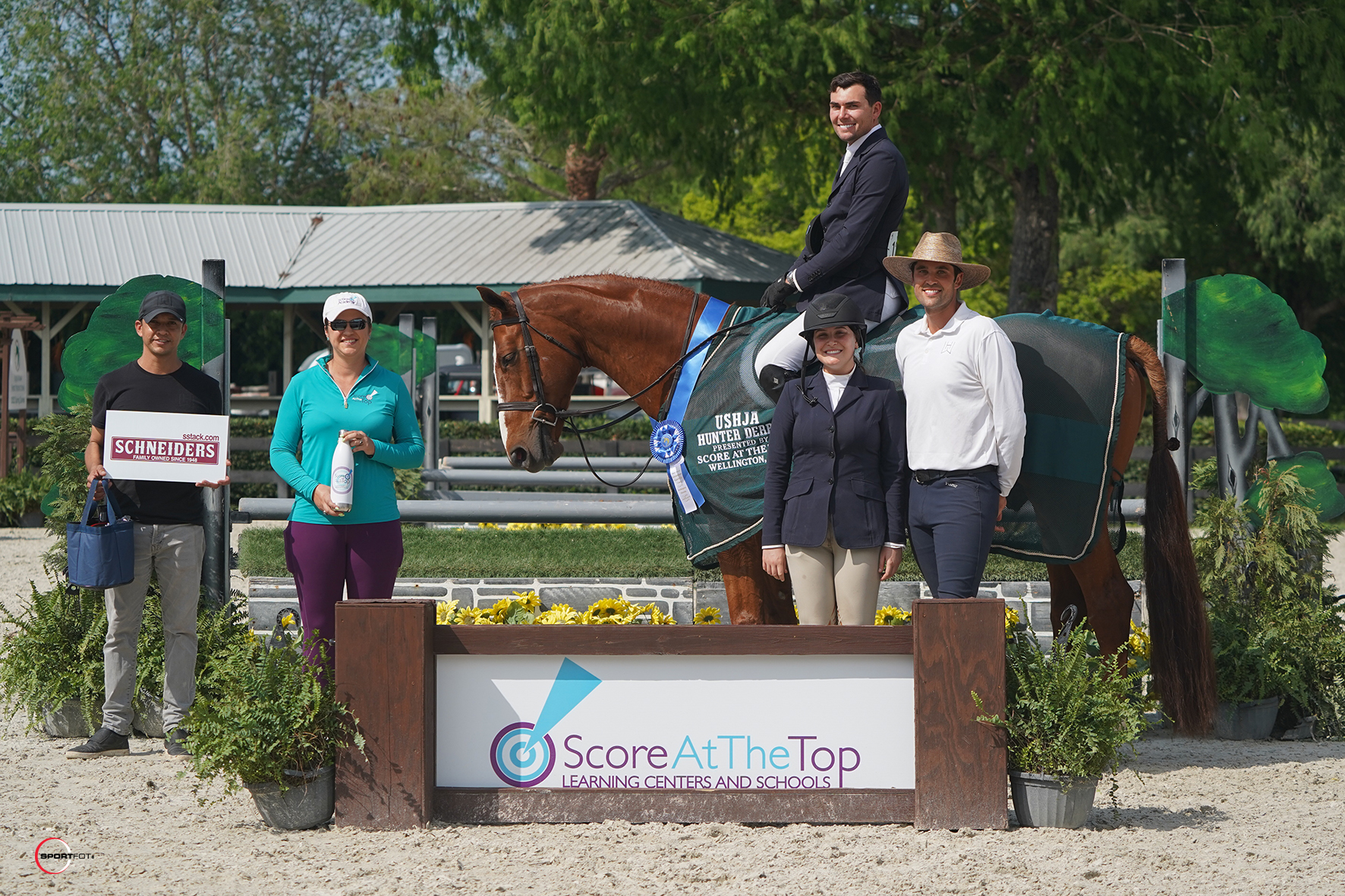 "I've really enjoyed riding him," Hesslink commented of his winning mount. "Lauren [Little] brought him with her when she moved to me in the fall, and he has been nothing but a dream. He's not like a lot of my other horses because I get to get on and gallop and not worry about the balance or anything, which is refreshing."
The top twelve pairs were invited back to contest a handy round following a classic-round cut-off score of 79, with Hesslink and Chivalry boasting a classic-round score of 93, giving them an eight-point lead going into the handy. The handy round course, which was set by Danny Moore, posed several questions to challenge horses and riders. Hesslink and Chivalry once again proved to be up for the test, placing a stellar round that earned them another high score of 94 to secure their top finish. Nikko Ritter of Geneva, FL, and Cora Pearl, owned by Shady Side Farm, captured the runner-up honors with a total score of 173.5. Just behind them, Victoria Colvin of Loxahatchee, FL, and My Style, owned by Joelle Sedlacek, rounded out the podium in third place overall with 173 points.
"The handy round today had enough questions in it, and there were some really sharp turns," Hesslink noted. "The girl that went first [Elise Stephens] laid it out and did it all pretty well. I think she forced everyone else in the class to do that track, which was quite technical and had some equitation elements to it. It was different than I think it has been in the past, so that was fun!"
This win follows a series of top finishes for Hesslink, who has been competing in Wellington all season and has been coming to the Winter Equestrian Festival (WEF) for years. "This circuit has been incredibly special and rewarding for me. I won the [Hunter Spectacular] during hunter week, which has been a goal of mine since I was a little kid. It was just a dream come true, and I feel like when those things happen, and you are surrounded by people that love and support you, it's just that much more special. Even though my favorite memory from this circuit is winning the night class, it's really just being surrounded by people that love and support me and being able to do this every day. Every day is so fun, and I am just so thankful to be able to be here and do what I love."
Although Hesslink will be making the drive north to compete in the Northeast Circuit during the summer, he shared that he's looking forward to another month competing in Wellington during the Spring Series. "I like that it is much more laidback and that the hunters get the chance to compete in the International Arena because, obviously, during WEF we only get that once during week six, when it really counts. It's a really good experience for all horses, and especially younger horses. So, I think it's great!"
As the groom of the winning mount, Jesus Armadillo earned the first Schneiders Groom Award of the ESP Spring Series to honor him for the excellent turnout shown by Chivalry. Armadillo was presented with a bag of valuable grooming supplies thanks to Schneiders Tack.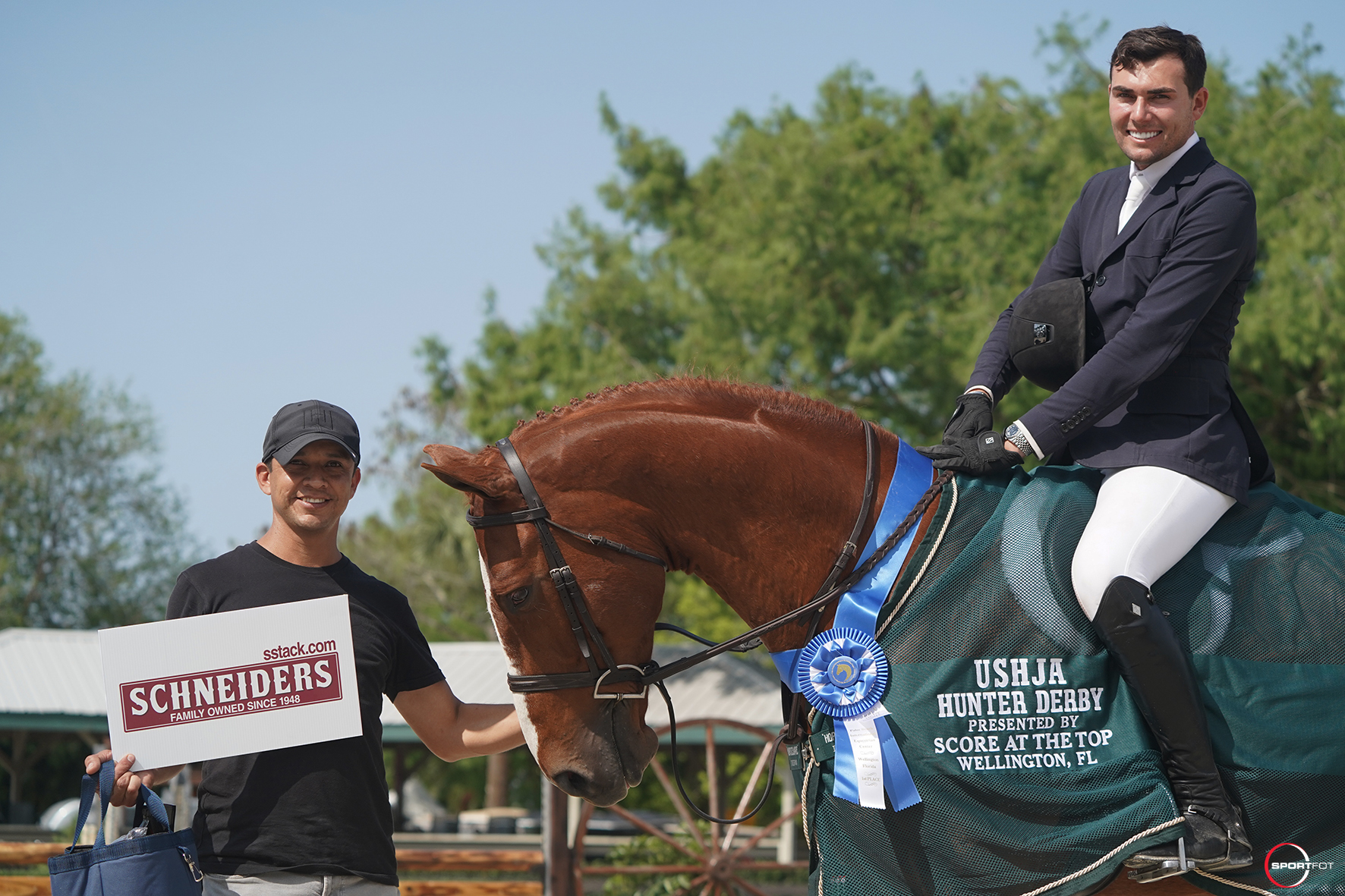 For the full results of the $10,000 USHJA National Hunter Derby, presented by Score At The Top, please click HERE.
The 2'6" – 2'9" Hunter Derby offered a chance for greener horses or riders to participate and gain experience in the two-round class. Ritter was two-for-two in derby competition on Friday, adding another top ribbon to his collection thanks to a win aboard Inspector Gadget. The classic round saw owner-rider Madeline O'Hara of New Canaan, CT, and Perseus YC garner the top score of 90, but Ritter and Inspector Gadget, owned by Shady Side Farm, were close behind with 89 points. Returning to the ring as one of the final pairs in the handy phase, the ultimate victors moved up a rank in the standings thanks to marks of 92, the highest of the class, to claim the title.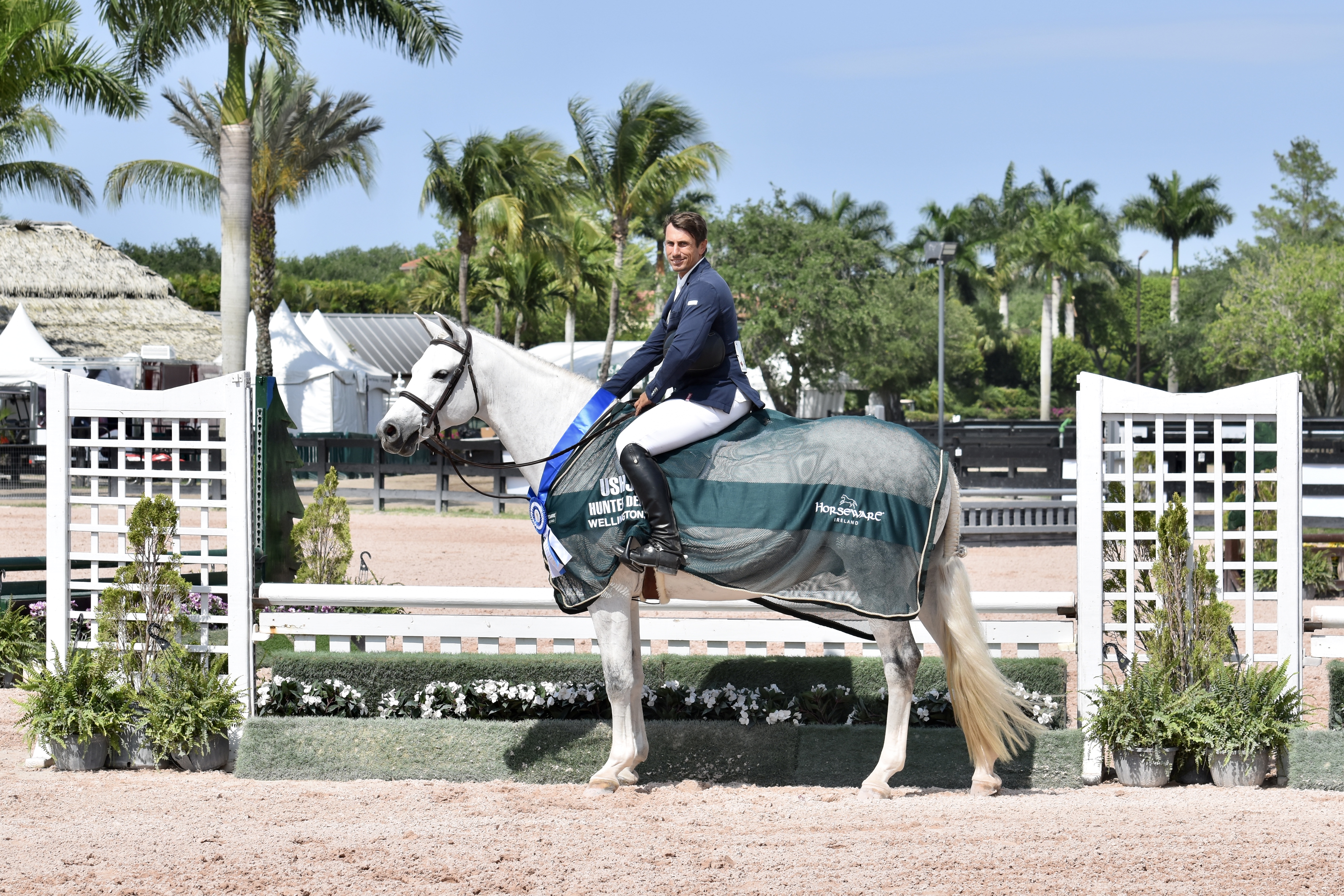 The USHJA 2'3"/2'6" Hunter division, presented by 100X Equine, awarded championship honors on Friday to Emerald City, ridden by Laura Beth Strong of Southampton, NY, and owned by Leanne Daley of Hoboken, NJ. The partnership earned three second-place finishes, along with a third-place and eighth-place ribbons, to accrue enough points for the rosette. Varsity, ridden by Jennifer Hannan of Wakefield, RI, and owned by Jane Fisher of Baton Rouge, LA, only competed in two divisional classes, but earned blue ribbons in both to qualify for the reserve championship.
In Friday's WIHS Equitation classes, presented by Score At The Top, 20 competitors first showed their skills in the Hunter Phase, followed by the Jumper Phase. Amira Kettaneh of Hollis, NH, piloted Leigh Kettaneh's Vantastico to a winning score in both rounds of riding, earning a score of 87 in the Hunter class and 86 in the Jumper portion. Thanks to an overall score of 173, the duo claimed first place in the overall standings.
---
This Post Brought to You by: Purina
We Shape the Future of Health & Wellbeing for Pets & People. We're Committed To Pets, People And The Planet We All Share. Purina Cares. Innovation. Quality. Safety