By Emily Randolph/Randolph PR
Katy, TX – Jef Lauwers and Hallpass earned the final $30,000 United States Hunter Jumper Association (USHJA) International Hunter Derby victory of the 2022 Pin Oak Charity Horse Show on Friday, April 8, at the Pin Oak Charity Horse Show in Katy, TX.
Finishing in second place in the class, sponsored by Royal Sport Horses, were Augusta Iwasaki and Attendu de Lannois Z, while third place went to Nada Wise and Gucci.
Following the conclusion of the first round in the Porter Hedges Main Ring at the Great Southwest Equestrian Center, Lauwers and Hallpass sat in second place on a combined score from the two judging panels of 176. Holding the lead were Wise and Gucci with a score of 177, while eventual third-place finisher Iwasaki sat in fifth with a score of 162.
"The first round was really tricky because I got to come in first," said Lauwers, who rides for PJP Farm. "I walked the course a little bit, and I had some questions, especially in the first line; there was either a forward six or a little bit of a steady seven. I was just trying to make everything smooth and a little forward, and it worked out really well. It was nice to go in first and keep a high score and then come back later for the handy course."
Knowing only a point separated him from Wise, Lauwers really gave it his all in the handy round.
"Nada Wise and I, we always go neck-and-neck, and I knew she had a good horse in this class," said Lauwers. "She always is very slick, and she always goes for the win. I knew I had to keep galloping, so from the moment I picked up the gallop, I stayed on it, and I tried to turn really tight and make it harder for me to be beat."
Lauwers plan paid off. He and Hallpass earned base scores from the two judging panels of 87 and 89, plus all four high-option bonus points and an additional nine handy points from each panel for a second-round score of 198 and an overall total score of 374.
While Wise and Gucci, owned by Blackstone Farms LTD, returned to deliver a seamless handy course with base scores of 82 and 84 plus all high-option bonus points, handy scores of six from each panel for a 361 total score would widen the gap between her and Lauwers and clinch the win for Lauwers.
"It was really fun," continued Lauwers. "It worked out. We're good friends, so we always laugh about it. I came out of the ring, and Nada was like, 'You couldn't give me this one, could you!' So, maybe next year, [Nada]!"
Edging her way in between the two for second place were Iwasaki and Attendu de Lannois Z, owned by Ashland Farms. The pair earned the handy-round high score of 201 after receiving base scores of 88 from both judging panels, plus all four high-option bonus points and handy scores of eight and nine.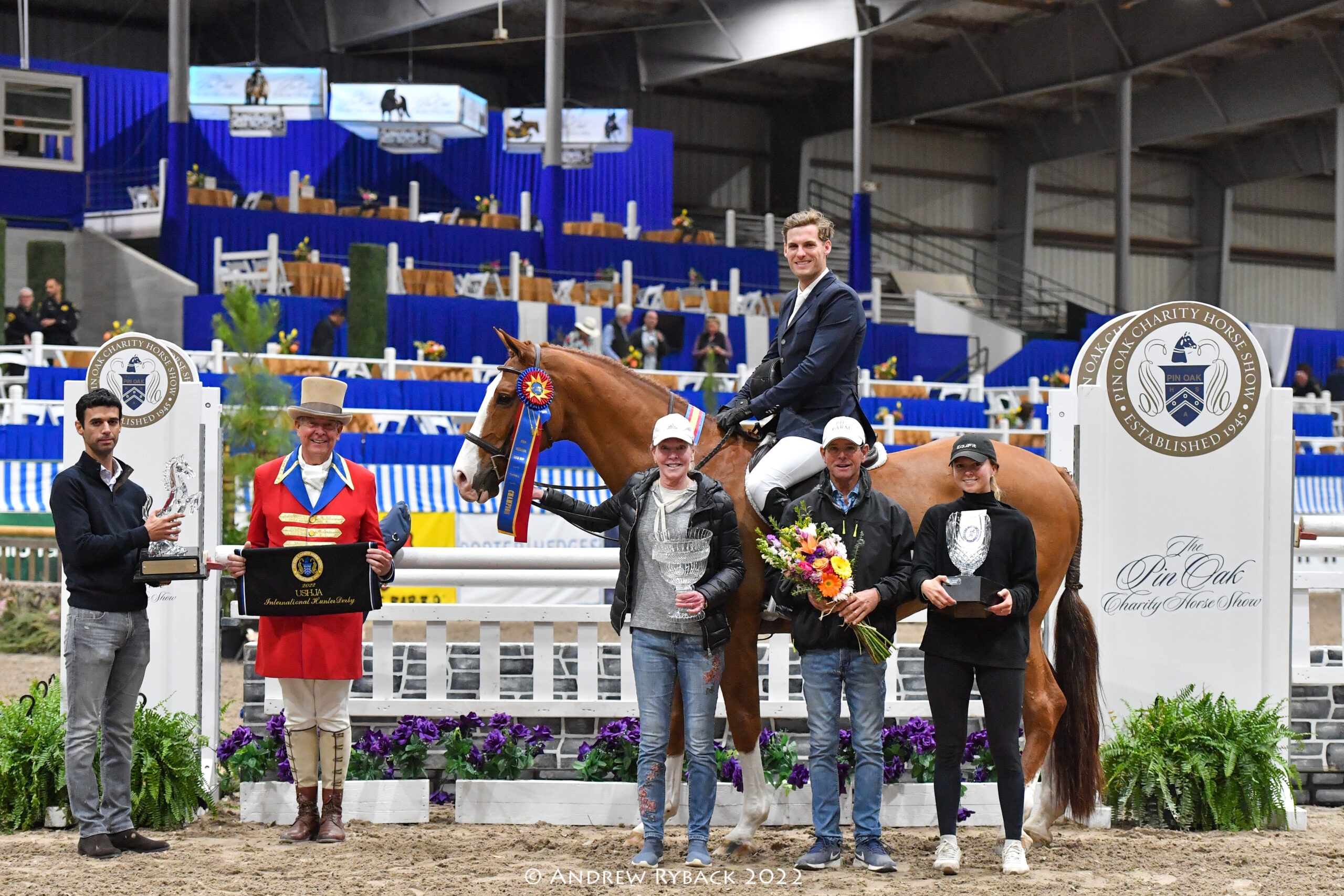 Lauwers is no stranger to hunter derby success at Pin Oak, having claimed victory in the same class in 2021 aboard Calipso and having finished second aboard Hallpass in the $30,000 USHJA International Hunter Derby held during Week I of this year's show.
"Hallpass, owned by Sue Copeland, is a horse she's had for I would say four years," said Lauwers, who began showing the 9-year-old Hanoverian gelding in 2017. "He's amazing. From the beginning, he was always game, always fun, and always easy to ride. Sue wanted to invest in a horse for herself, and it was love at first sight. She was completely in love with him. She wanted to have him, so she bought him, and she kind of stays down local with us here. When we're here, she wants me to do him in the derbies, so it's always fun to have one horse in my back pocket that I can pull out for these classes right here in Texas!"
With PJP Farm located roughly 40 minutes away in Magnolia, TX, Pin Oak is a hometown favorite show for the farm.
"Pin Oak feels like home for us," said Lauwers. "After the circuit that we do in Florida, we always look forward to getting back with our home people, because we have customers that stay here in the winter too, so we all come back together. It's a lot of fun because there's a lot of history with this show and a lot of fun at this show. It's a really nice show, especially to show for the third week here in the indoor. It's fun to have the Friday night lights action."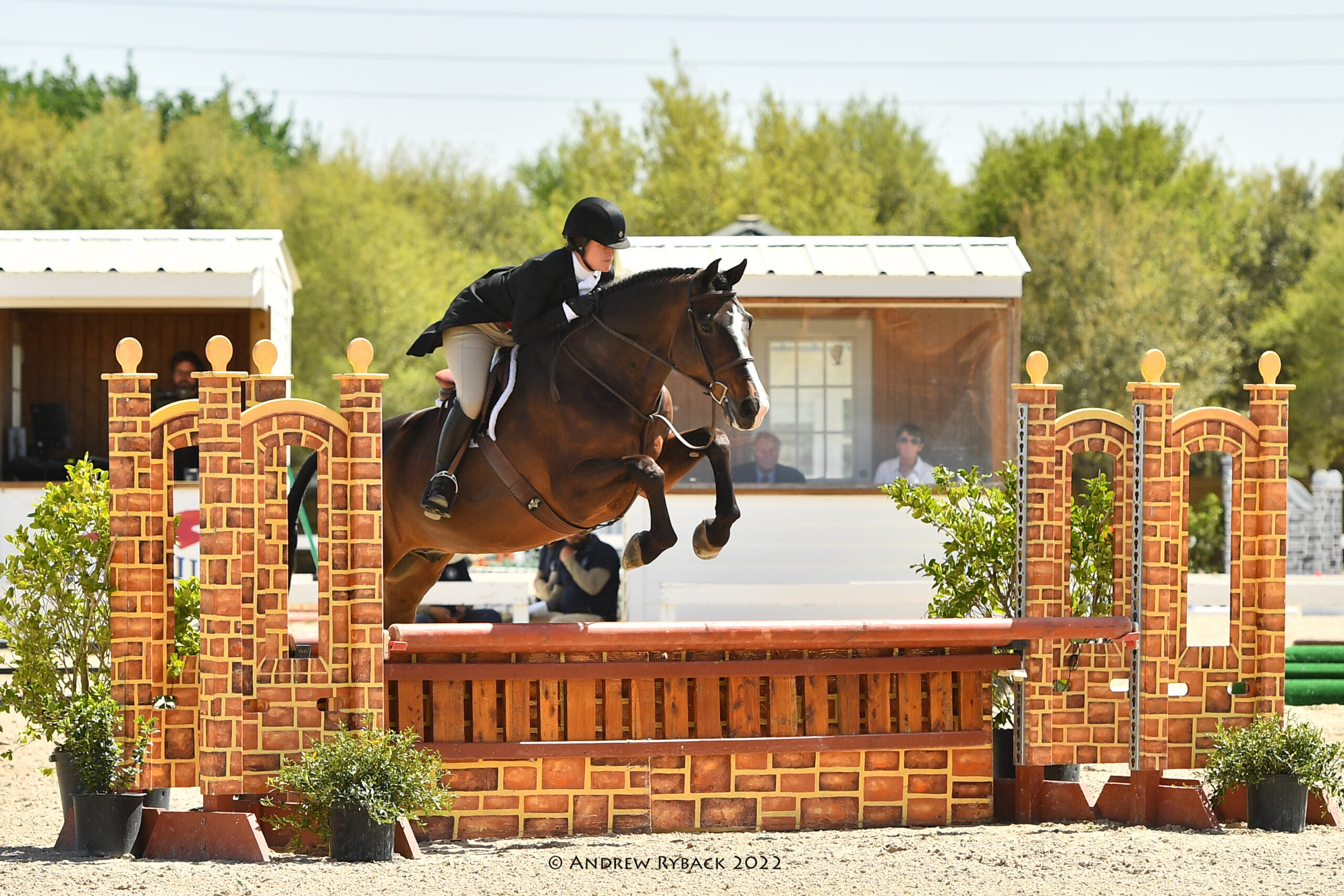 Lauwers, concluded, "I just want to thank the owner Sue Copeland, and I want to thank Peter [Pletcher], my trainer and the owner of the barn, for giving me the opportunity to ride and show these horses for him. I'm still a beginning professional, and I still need to get my feet on the ground, so it's really nice that he gives me the chance to do it on his horses. For Sue Copeland to give me a horse to do these kind of classes on is always nice, and it's really fulfilling to do a good job and give that in return."
Earlier in the day, two additional derby wins were awarded to Sally Thayer aboard State Hill and Jennifer Alfano on Enzo W.
Thayer and State Hill, owned by Joan Violin, earned the win in the $15,000 USHJA Jr./Amateur National Hunter Derby, sponsored by Heroes for Children, and Alfano and Enzo W, owned by Vandervail Ltd., took the top call in the $15,000 USHJA Open National Hunter Derby, sponsored by La Primera Hacienda.
For full results of all three hunter derby classes, visit www.HorseShowsOnline.com.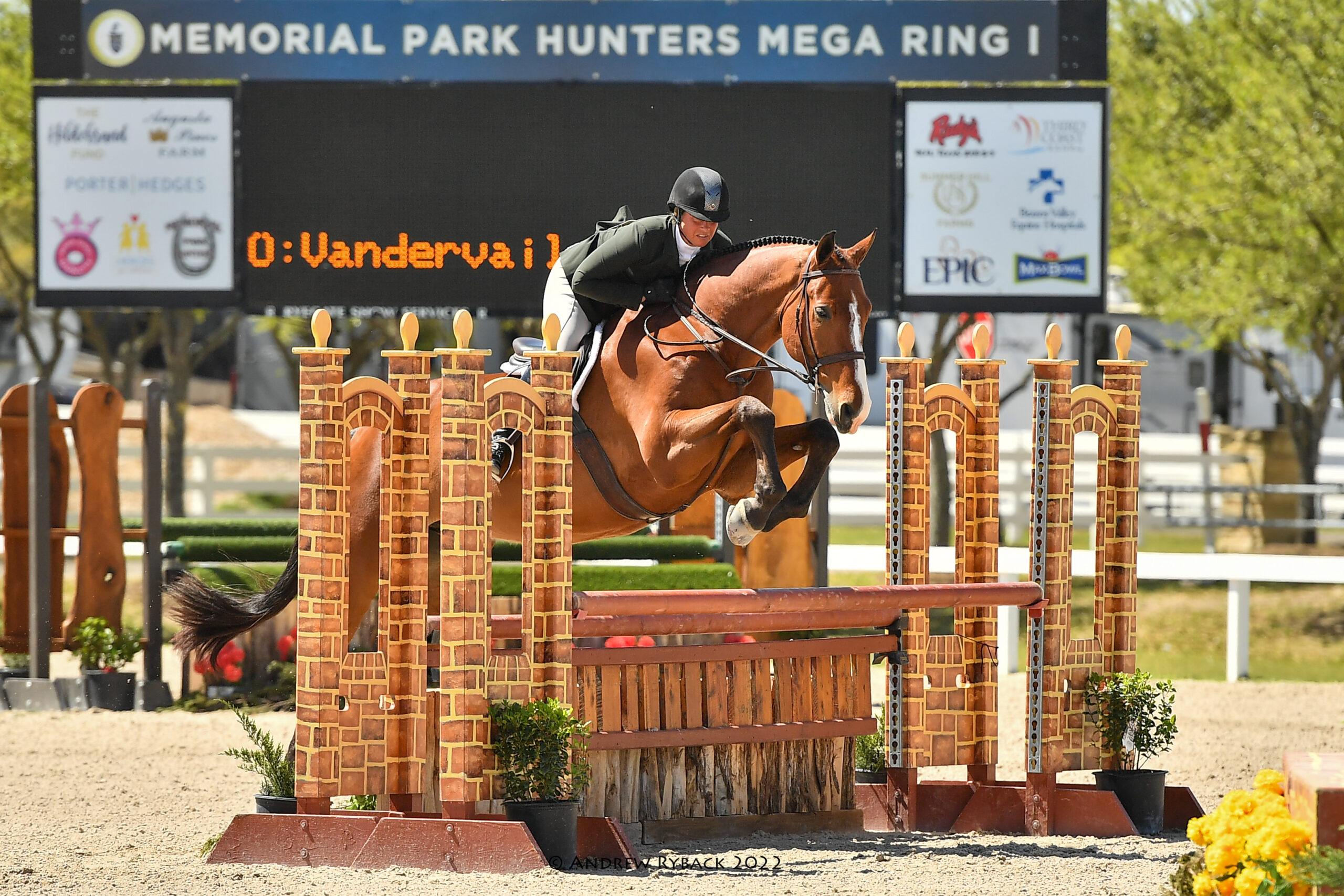 ---
This Post Brought to You by: Purina
We Shape the Future of Health & Wellbeing for Pets & People. We're Committed To Pets, People And The Planet We All Share. Purina Cares. Innovation. Quality. Safety