Edited Press Release
Wellington, FL – April 10, 2022 – The featured event of the first week of the ESP Spring Series took place on Saturday evening under the lights of the International Arena. In the final Saturday Night Lights event of the season, an international field of horses and riders vied for the lion's share of the prize money in the $35,000 Wellington National Golf Club Grand Prix, but it was ultimately American rider Kaitlin Campbell and Palina De L'Escaut who edged out the competition and galloped away with the victory.
"I've had her for almost two years now. She was with Shane Sweetnam here in Wellington before, and this is actually her first time back in Wellington since she left. She's always game, and really good under the lights," Campbell shared of her mount, who is owned by SWS Training & Sales. "It makes her really pay attention and she loves the atmosphere, so this was a perfect class for herlast hurrah. Since this is the last class she's doing here, and she's not jumping in the FEI classes next week, I wanted us to give it our all and go for it."
In the first round, riders set out over a track that featured 13 jumping efforts designed by Catsy Cruz (MEX). The field was narrowed down to eight pairs as qualifiers for the jump-off over a shortened course. Ashley Fleischhacker (USA) and Lucky Luke De Goedereede were the trailblazers, setting the pace in a clear 45.21 seconds. However, their time in the lead was short as the next entry moved up to the top of the leaderboard. Gabriel De Matos Machado (BRA) and Bonza shaved more than two seconds off her time, but the lead would change three more times before Campbell and Palina De L'Escaut stepped into the ring to test the track as the second-to-last to go. Up against a leading time set by Olympic contenders, Darragh Kenny (IRL) and VDL Cartello, the pair put in a daring effort and cleared the course in 38.78 seconds, shaving enough time off the clock to top the leaderboard and win the class.
"I know this horse super well. I have had her for a long time, and I know that she's pretty fast across the ground and turns really well. There weren't a lot of lines where you could leave out strides, which is a good jump-off for her. She is better at turning than leaving strides out, so I knew I had a pretty good chance of winning. Darragh is always super fast, but my mare is very fast across the ground," Campbell explained.
With a double-clear time of 39.32 seconds, Darragh Kenny and Heathman Farm, LLC's VDL Cartello nabbed the runner-up honors, while Matthew Williams (USA) and Dandy, owned by HD Horses LLC, rounded out the podium with their clear jump-off time of 41.48 seconds.
Although Campbell and her team will be leaving for California soon, she shared that her partner is looking forward to playing golf on Monday thanks to the free round of golf she was awarded by Wellington National Golf Club. "I'm not much of a golfer, but I work with Alex Wilson at SWS Training and Sales from California, and he's annoyingly good at it! This was the first time we've ever come to Florida together, so he'll enjoy golf on Monday, and it'll be a great way to end our winter season here."
As the grooms of the winning horse, Rosendo Cruz and Jose Peralta were the recipients of the Schneiders Groom Award for the $35,000 Wellington National Golf Club Grand Prix. Cruz, on behalf of both grooms, was presented with a bag of high-quality grooming supplies courtesy of Schneiders Tack.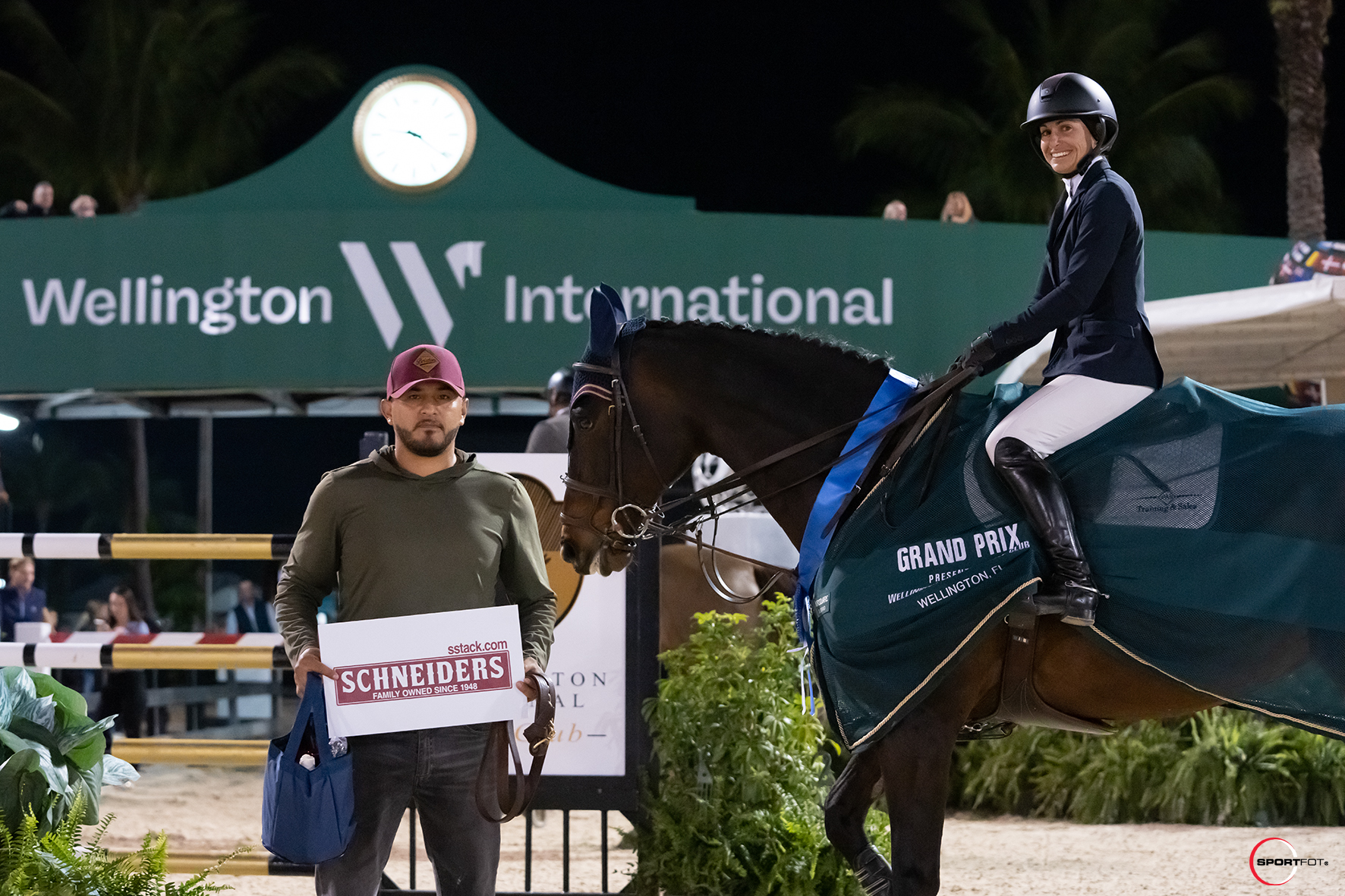 To view the full results of the $35,000 Wellington National Golf Club Grand Prix, please click here.
Just one day prior, Kenny and VDL Cartello had already earned a podium finish in the $25,000 Laura King "The Power To Win" Welcome Grand Prix. Up against a field of 44 other combinations, Kenny and VDL Cartello were one of 11 pairs to qualify for the jump-off with fault-free rounds over the first-round track. The trailblazers over the short course, the Irish partnership set the early standard in a double-clear time of 35.97 seconds, which ultimately could not be caught by the remainder of the field to solidify Kenny and VDL Cartello as the class victors. Paul O'Shea (IRL) and Sexy Beast, owned by Eye Candy Jumpers, were fractions of a second behind in 36.22 seconds for the runner-up spot, and Kenny rounded out an all-Irish podium with another top placing aboard Righteous, owned by Oakland Ventures LLC, in a double-clear time of 36.37 seconds.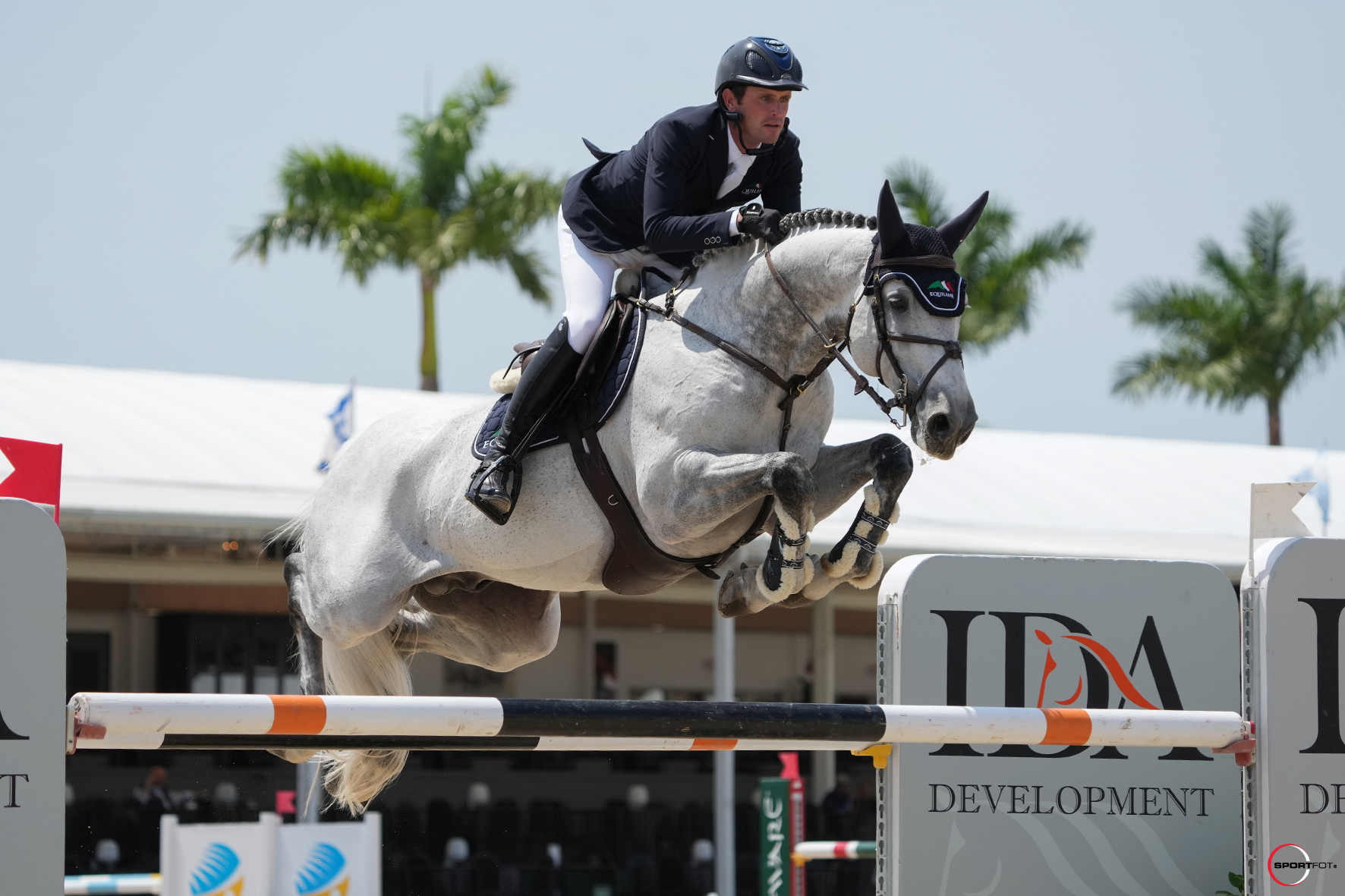 To view the full results of the $25,000 Laura King "The Power To Win" Welcome Grand Prix, please click here.
Earlier in the week, 76 contenders aimed for the top prize in the $10,000 Bainbridge Companies 1.40m Stake, which served as the qualifier for the Saturday night grand prix. Of the large group, 28 pairs advanced to the immediate jump-off, and 10 duos ultimately finished double-clear with no faults. Capturing the win by more than two seconds and the only partnership to break the 40-second mark, Jad Dana (LBN) and Fleur-de-Lis' Cherie, owned by The Cherie Group, earned the blue ribbon in 38.66 seconds. Kent Farrington (USA) rode Chato Lou, owned by Haity McNerney and Amalaya Investments, to second place without faults in 40.66 seconds, followed by Kenny on Righteous in 41.20 seconds, the start of the many ribbons during the week for the Irishman.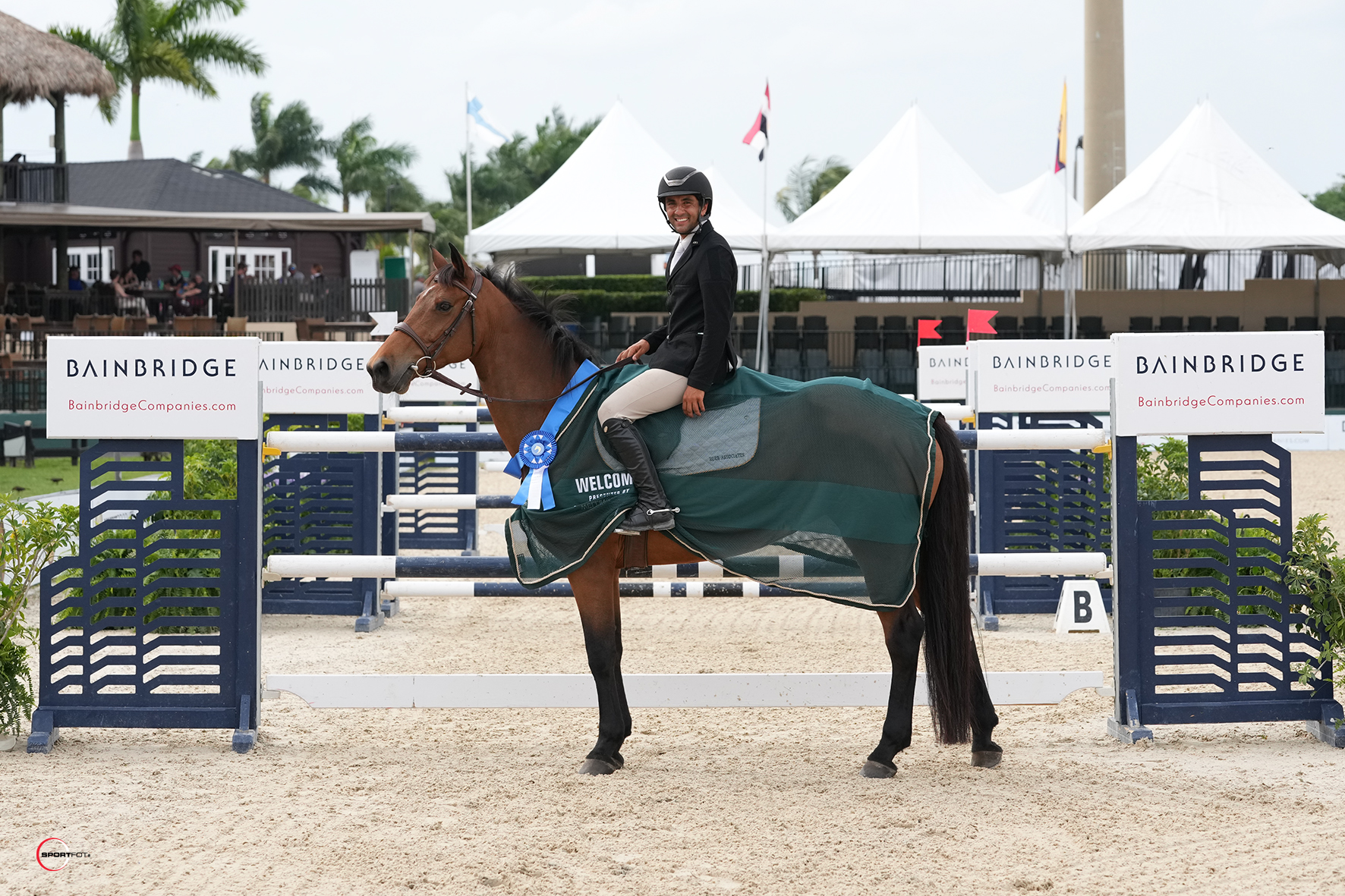 Saturday's $5,000 Omega Alpha 1.35m Classic featured 61 entries, led by Megan McDermott (USA) in the irons aboard Counter Balance LLC's Entano as the swiftest of the group. The pair tripped the timers in 35.49 seconds to conclude the contest as the fastest of the class, trailed by Kyla Makhloghi (USA) on Rosemont Farm Inc.'s Hurry Up B in 36.51 seconds for second place. Campbell's grand prix victory on Saturday was her second podium finish of the day after jumping Mecho Van't Kiezelhof, owned by Triple S Group, to the third-place time of 38.29 seconds.McDermott and Entano also earned the divisional championship tricolors, which were shared with two other pairs: Sloane Coles (USA) on Fiddlesticks Farm's Souplesse and Juan Andres Rodriguez Silva (GTM) aboard Imposant, owned by RB Showjumping.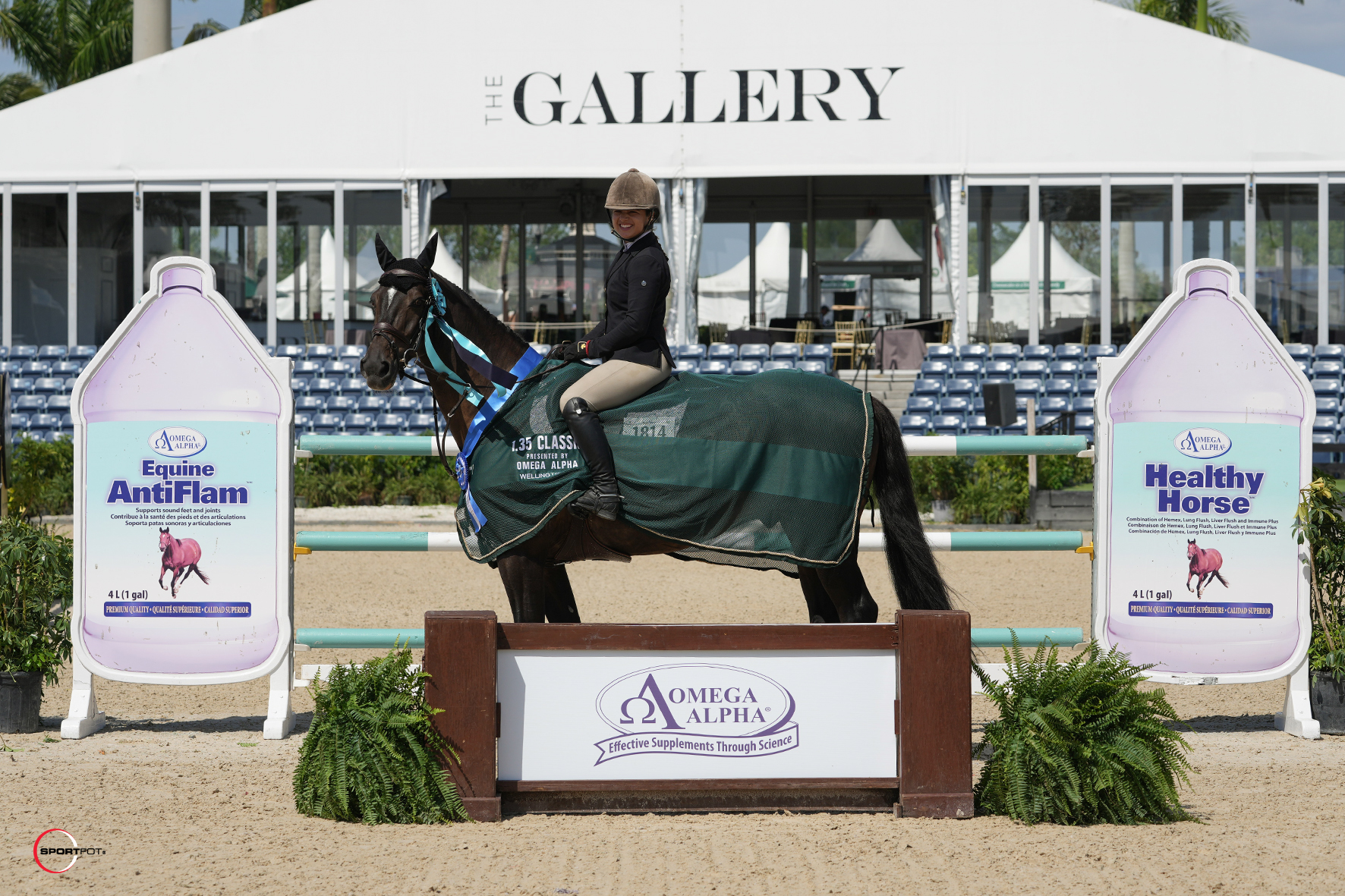 Competition in the International Arena on Sunday concluded with all-American riders placing on the podium in the $2,500 High Amateur/Junior Jumper Classic, presented by Noltrex® Vet. Sofia Cady and her own Delelyn cleared the jump-off in 34.54 seconds to top the leaderboard. Just behind the winning time, Ned Cunniffe stopped the clock at 34.75 seconds with Whipstick Farm LTD's Buckle Up to claim second place, while Corinne Sweeney captured third place with Tara M, owned by Sagamore Farms, as the fastest four-faulters.
The $2,500 Medium Amateur/Junior Jumper Classic, presented by Palm Beach Equine Clinic, on Sunday showcased 31 entries, 14 of which advanced to the jump-off. Pulling away from the pack, Lauren Little (USA) and Little Brook LLC's Elina earned the blue ribbon in a foot-perfect time of 30.98 seconds. Raina Swani (USA) and Shadowfax Equestrian LLC's Valentino Des Bleus nabbed second place in 31.87 seconds, followed by Lindsay Simmons Beale (USA) on her own Don Loma in 34.03 seconds to round out the podium. Little and Elina were also awarded the championship honors, and Swani and Valentino Des Bleus earned the overall reserve honors.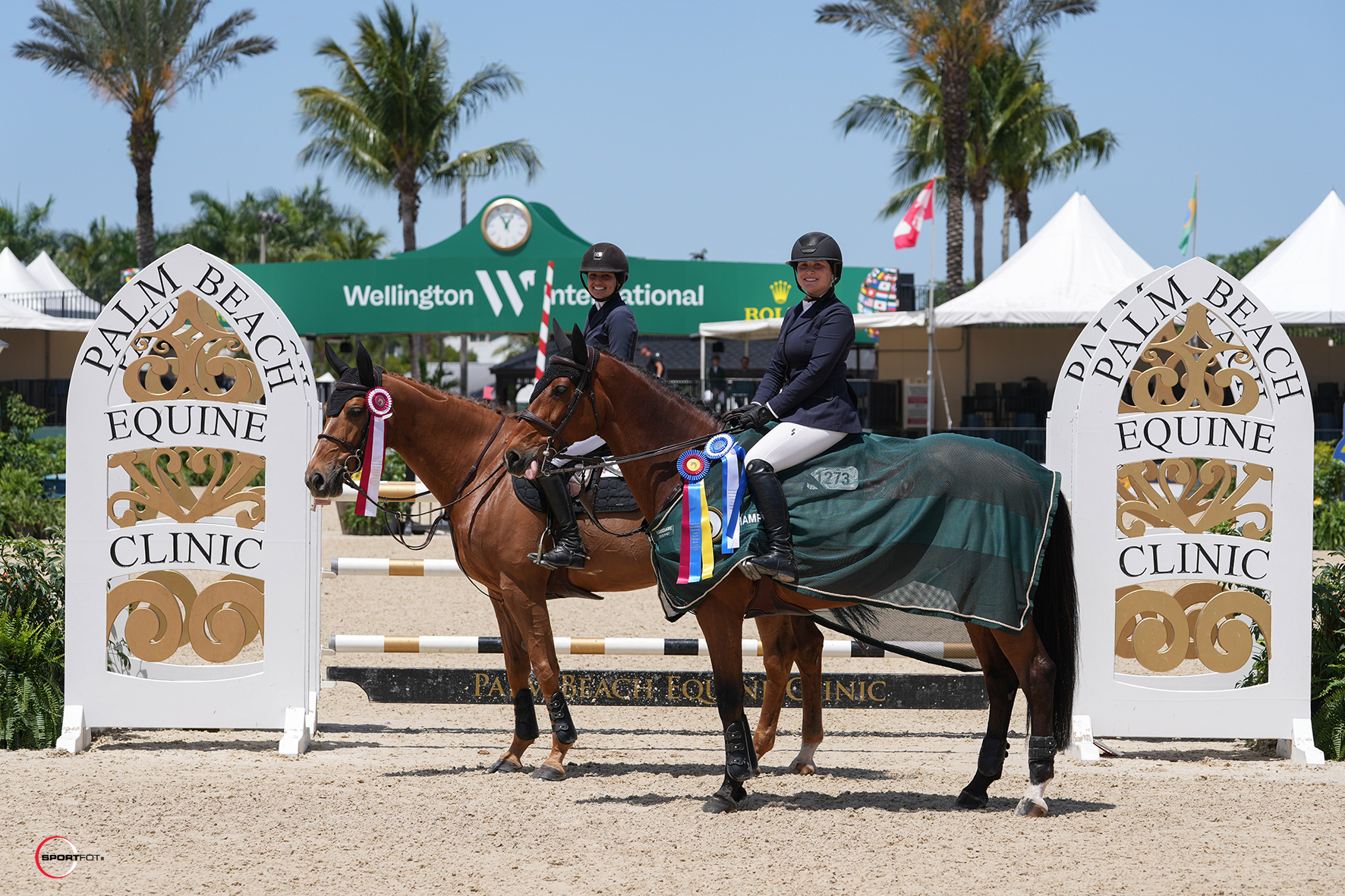 Dana had earned another victory earlier in the week in the 7 Year Old Jumpers, presented by QBS Equestrian and M. Michael Meller Sport Horses. The Lebanese rider navigated Abigail Perry's DK Daisy to victory as the only double-clear pair in 39.77 seconds. With two time faults, Sarah Hubbard (USA) and Popeye Van't Meulenhof, owned by Lindland Equine Sales LLC, earned second place, followed by Sohnke Theymann (GER) on York Story Limited's Flora de Riverland in third position as the quickest four-fault pair.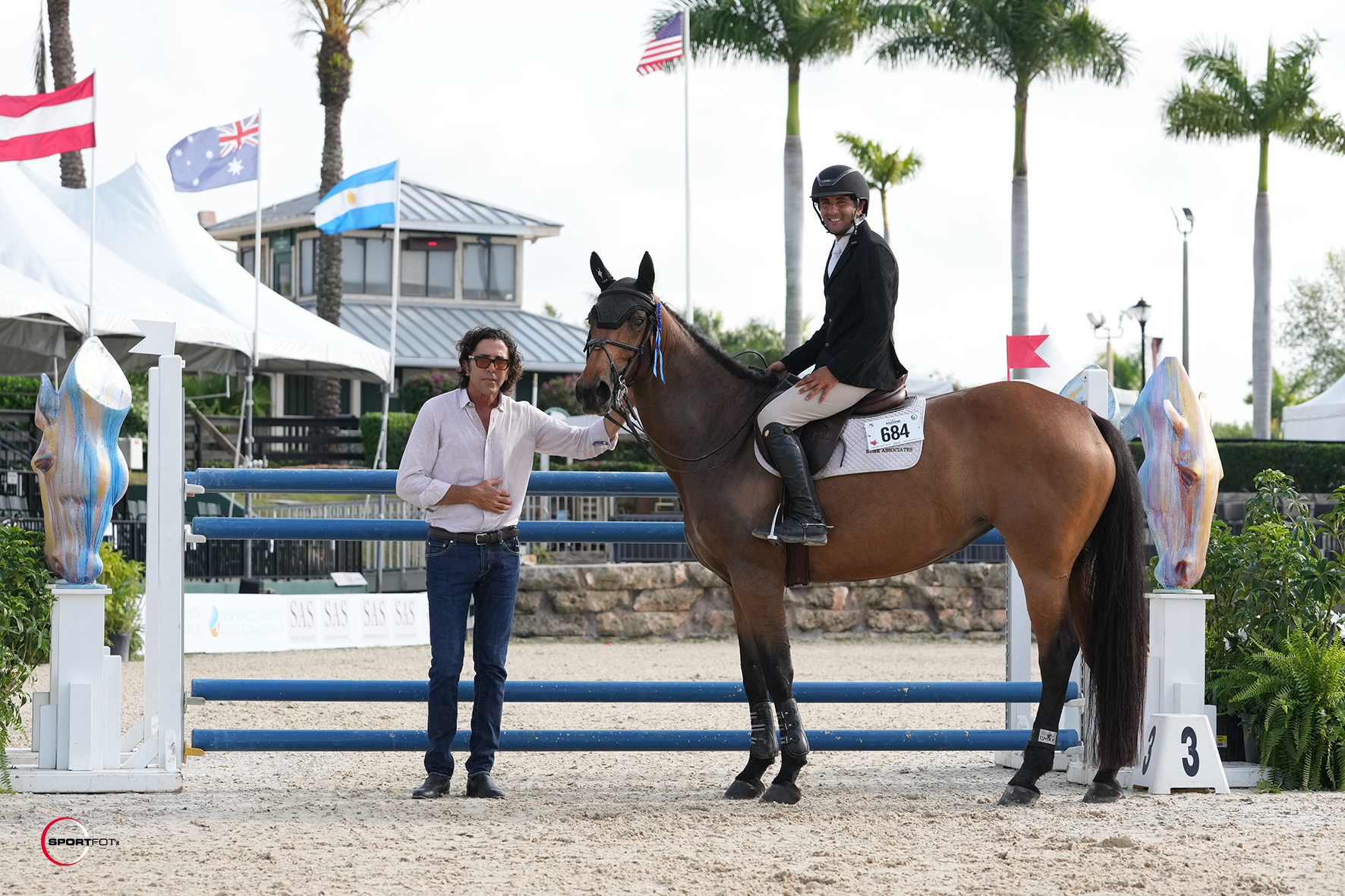 Hunter Highlights:
Amira Kettaneh of Hollis, NH, and the Khalily Equestrian LLC entry, Rainier, captured overall champion honors in the Junior Hunter 3'3″ 16-17 division, sponsored by #1 Education Place, with a trifecta of first, second, and third-place finishes. Alexander Alston of Gahanna, OH, piloted Mayfield, owned by Float On Equestrian LLC, to the reserve championship after earning two first-place ribbons, as well as a fourth and seventh place
The Adult Amateur Hunter Older division, sponsored by Resilient Fitness, awarded Paige Tredennick of Wellington, FL, and her own Tomcat championship honors thanks to consistent performances in all five of the division's classes. The pair were the clear leaders after placing first in three of the division's classes, along with a second and third-place finish. Priscilla Denegre of Middleburg, VA, and her own String of Pearls were awarded reserve champion after earning ribbons for first, second, third, fourth, and eighth.
Luca Endzweig of New York, NY, championed the Small Pony Hunter division, sponsored by Dover Saddlery, after earning two first-place ribbons and one second place with In My Dreams, owned by Twin Island, LLC. Tying for reserve was Bridget Harris of New York, NY, and Emery O'Keefe of New Canaan, CT. Harris piloted Joe Currais' entry, Smitten, to two second-place performances and three third-place finishes, while O'Keefe earned first place in two of the division's five classes aboard Sir Dragon, owned by MMK Equestrian LLC.
---
This Post Brought to You by: Purina
We Shape the Future of Health & Wellbeing for Pets & People. We're Committed To Pets, People And The Planet We All Share. Purina Cares. Innovation. Quality. Safety